Foreign travel advice
Burma
Summary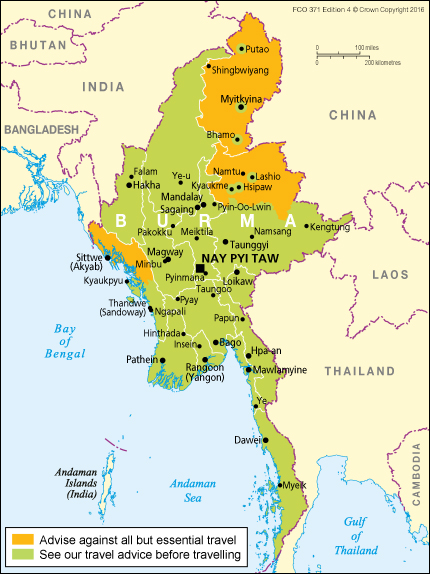 The Foreign and Commonwealth Office (FCO) advise against all but essential travel to Rakhine State except the southern townships of Kyaukpyu, Ramree, Munaung, Toungup, Thandwe (including the tourist resort of Ngapali) and Gwa. See Local travel
The FCO advise against all but essential travel to Shan State (North) (except Lashio, Kyaukme and Hsipaw town centres, and the train line from Mandalay to Lashio). See Local travel
The FCO advise against all but essential travel to Kachin State (except the towns of Myitkyina, Bhamo and Putao) due to continued risk of armed conflict. See Local travel
Political tension and unrest could happen at short notice. You should avoid all demonstrations and large gatherings. Don't take photographs or videos of the police, demonstrations, military installations or military personnel. See Political situation
The situation in ethnic states where armed groups operate is volatile. There is ongoing conflict in the north of Shan State, and in Kachin State and there remains the possibility of violent clashes in other ethnic states.
Take particular care in the border areas with Thailand, Laos or China. There were several armed clashes in Karen and Mon States in September 2014 and in Karen State in July 2015. See Local travel
There is a high threat from terrorism. There were a number of small bomb explosions in Rangoon, Taungoo and Sagaing in October 2013 and a small bomb explosion in Taunggyi in October 2015. See Terrorism
There are restrictions on freedom of movement and speech. British Embassy officials aren't allowed to travel freely outside Rangoon without permission from the Burmese government, except to a limited number of places. Consular assistance, including in an emergency, may be restricted or delayed.
Credit and debit cards are increasingly accepted in major tourist areas but some cards don't work. Check in advance that your card will work. See Money
Most visits are trouble-free.
The most common types of consular assistance are related to lost passports, petty theft and road accidents.
Take out comprehensive travel and medical insurance before you travel.