Guidance
Letter of Credit Guarantee Scheme
From:

Part of:

First published:

23 April 2013
Guide to the Letter of Credit Guarantee Scheme, how it works, its benefits, its key features and how to access the scheme.
Overview
Where a UK bank adds its confirmation to a letter of credit issued by an overseas bank to finance an export from the UK, we can typically guarantee between 50% and 90% of the value of the letter of credit.
How to apply
The steps to apply for the letter of credit guarantee scheme are:
Read this guide to check whether you wish to apply

Read the Guide for applicants on business processes and factors to find out how we make decisions on applications

Apply directly to a participating bank
We are able to accept applications under the scheme from these banks.
| Bank | Contact | Telephone | Email |
| --- | --- | --- | --- |
| ABC International Bank | Eric Balish, Head of UK & Ireland Business Development | 0203 765 4115 | eric.balish@bank-abc.com |
| BACB | Geoff Duncanson, Head of Lending | 020 7972 6902 | geoff.duncanson@bacb.co.uk |
| Barclays Bank Plc | Ashish Anand, Investment Banking Division | 020 7116 4466 | ashish.anand@barclays.com |
| HSBC Bank Plc | Fahad Noor, Trade and Supply Chain Manager | 020 7005 8030 | fahad.b.noor@hsbc.com |
| Lloyds Banking Group | Barry George, Senior Manager Trade Products | 020 7400 4588 | Barry.George@lloydsbanking.com |
| Bank of London and the Middle East | Jervis Rhodes, Head of Corporate Banking | 020 7618 0061 | jervis.rhodes@blme.com |
| National Westminster Bank Plc | Bob Brown and Chris Duggan, SolutionsLine Team | 0800 2100235 | internationalbanking@natwest.com |
| The Royal Bank of Scotland Plc | Bob Brown and Chris Duggan, SolutionsLine Team | 0800 2100235 | internationalbanking@rbs.co.uk |
| Santander UK Plc | Martin Hodges, Head of Trade | 020 7756 4627 | martin.hodges@santander.co.uk |
| Standard Chartered Bank | Amit Garg/ Katharine Steger/Ramsha Cheema/Claudia Lopes/Clint Eastwood | 020 7885 8888 | ECAProgrammes@sc.com |
| State Bank of India UK | Paul Tromans, Area Branch Manager | 01902 716050 | mgr.wolverhampton.sbiuk@statebank.com |
How the scheme works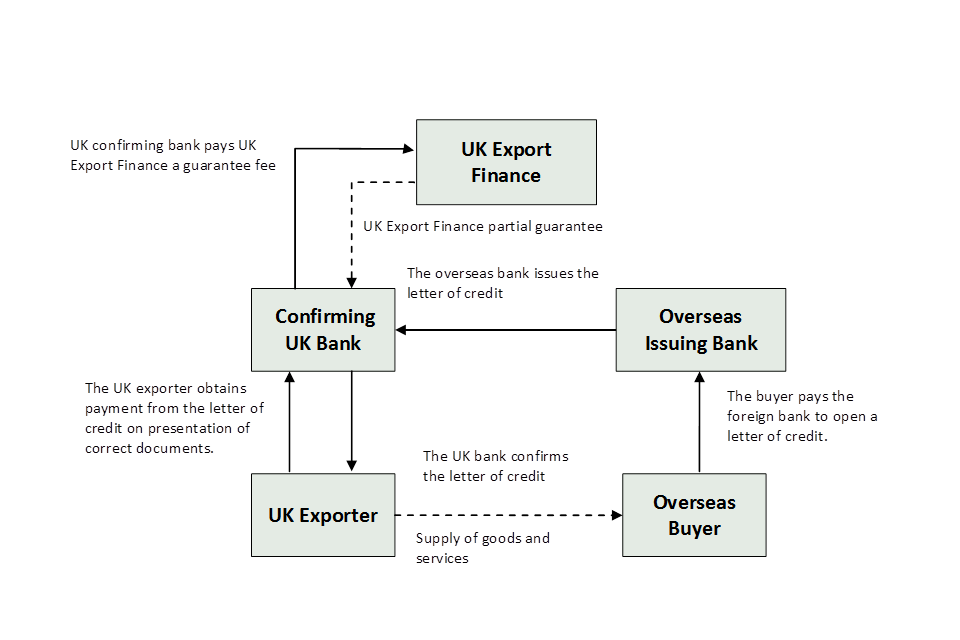 Benefits of the scheme
The benefits are:
the UK bank is able to confirm a letter of credit for the full amount where it doesn't have risk appetite on the foreign issuing bank

the UK bank receives a guarantee from us to cover the percentage of the amount due to it if the foreign issuing bank fails to reimburse payments

the exporter is protected against a default of the foreign buyer and the foreign bank
Risks covered
The UK confirming bank is protected against the failure of the issuing bank to reimburse it for payments properly made by the confirming bank under the letter of credit.
Eligibility
The following criteria must be met:
the exporter must be carrying on business in the UK

the exports must be produced in and shipped from the UK, or imported into the UK before being re-exported

the foreign issuing bank must not be based in a country belonging to the European Union or certain other high income countries

the period for presentation of documents under the letter of credit must not be longer than one year

any deferred payment period under the letter of credit must be less than one year
For longer presentation or deferred payment periods we may be able to consider support outside the terms of the scheme on a case-by-case basis. Ask your bank to enquire with us.
Maximum credit amount
There is no minimum or maximum value of a letter of credit.
Cost
The UK confirming bank pays us a guarantee fee, which is typically a proportion of the fee it receives for confirming the letter of credit.
Disclaimer
The information available in this brochure is not intended to be a comprehensive description of our letter of credit guarantee scheme and many details which are relevant to particular circumstances may have been omitted.
When considering applications from UK confirming banks, we will look at each case on its merits.
This information was last updated in March 2013.
Printable PDF version of this guide
Letter of credit guarantee scheme (PDF, 155KB, 3 pages)