Guidance
Export working capital scheme
From:

Part of:

Published:

24 April 2013

Last updated:

24 April 2017, see all updates
Find out about the Export Working Capital Scheme - how it works, which lenders are participating and how to apply.
Overview
The scheme assists UK exporters in gaining access to working capital finance (both pre and post-shipment) in respect of specific export contracts. Under the scheme, we provide partial guarantees to lenders to cover the credit risks associated with export working capital facilities. Where a lender provides such a facility in respect of a UK export contract, we can typically guarantee 80% of the risk.
Support can be accessed either through:
a standalone facility for a single export contract

through a facility line for multiple export contracts with nominated buyers
The scheme is particularly useful in circumstances where a UK exporter wins an overseas contract that is higher in value than is typical for it or succeeds in winning more overseas contracts than it has done before.
We have developed an interactive toolkit to support banks in accessing our Export Working Capital Scheme. Read the toolkit for a step-by-step guide to the Scheme.
How to apply
Exporters should not contact us directly. The scheme can only be accessed through lenders that have signed up to participate in the scheme. You can find a full list of UK participating lenders below.
The steps to apply for a guarantee under the Export Working Capital Scheme are:
Read this guide to the Export Working Capital Scheme to check whether you wish to apply.

Read the Guide for applicants on business processes and factors to find out how we make decisions on applications.

Consider whether you require a standalone facility or a facility line. A facility line will be more suitable for multiple contracts.

Apply directly to a participating lender (listed below). You will need to read the Guidance on Applying for the Export Working Capital Scheme (PDF, 100KB, 5 pages) and complete an Exporter Questionnaire (PDF, 737KB) . The Exporter Questionnaire may not be required for repeat business. You will need to complete the appropriate application form.
For a stand-alone facility complete:
For a UKEF facility line complete:
Once a UKEF guarantee facility has been agreed and a facility letter has been issued, individual guarantees can be requested by completing:
| Lender | Contact | Telephone | Email |
| --- | --- | --- | --- |
| ABN Amro | Carmen Jessurun, Head of Export Finance | 00 31 20 3833757 | carmen.jessurun@nl.abnamro.com |
| Bank of Ireland | Willie McCoy, Senior Manager, Trade Finance Business Development | 028 90 433291 | willie.mccoy@boi.com |
| Bank of Scotland Plc | Dale Woodman, Product Manager, Trade Product | 020 8936 5654 | dale.woodman@lloydsbanking.com |
| Barclays Bank Plc | Ashish Anand, Investment Banking Division | 020 7116 4466 | ashish.anand@barclays.com |
| Clydesdale Bank Plc | John Brown, Head of Trade Finance | 07464 494844 | john.brown@CYBG.com |
| Danske Bank Northern Ireland | Mark Beattie | 02890 048 642 | mark.beattie@danskebank.co.uk |
| DNB Bank ASA | Alex Collingwood, First Vice President – Trade Finance Sales | 020 7621 6038 | alex.collingwood@dnb.no |
| HSBC Bank Plc | Kamo Margaryan, Senior Trade Product Manager | n/a | kamo.margaryan@hsbc.com |
| ICICI Bank | Nishant Kumar, International Financial Institutions Group | 020 7375 5097 | nishant.kumar@icicibank.com |
| Lloyds Bank Plc | Dale Woodman, Product Manager, Trade Product | 020 8936 5654 | dale.woodman@lloydsbanking.com |
| London Forfaiting Company | Ian Lucas, Head of UK Marketing | 020 7397 1527 | ian.lucas@forfaiting.com |
| National Westminster Bank Plc | Chris Duggan, SolutionsLine Team | 0800 2100235 | internationalbanking@natwest.com |
| The Royal Bank of Scotland Plc | Chris Duggan, SolutionsLine Team | 0800 2100235 | internationalbanking@rbs.co.uk |
| Santander UK Plc | Martin Hodges, Head of Trade | 020 7029 4316 | martin.hodges@santander.co.uk |
| State Bank of India UK | Paul Tromans, Area Branch Manager | 01902 716050 | mgr.wolverhampton.sbiuk@statebank.com |
| Yorkshire Bank | John Brown, Head of Trade Finance | 07464 494844 | john.brown@CYBG.com |
How the scheme works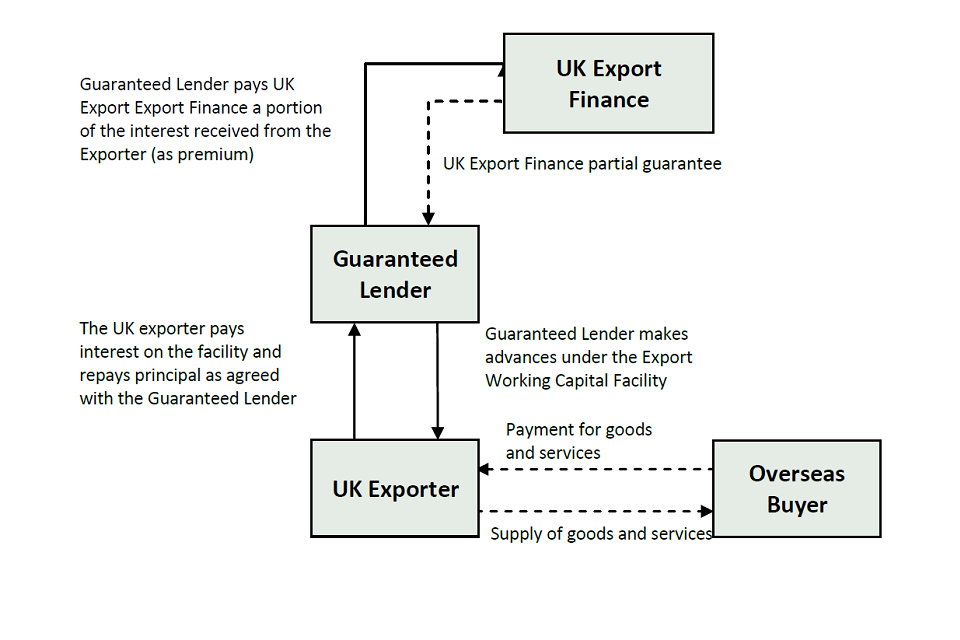 Benefits of the scheme
The principal benefit for the UK exporter is that it is able to obtain the necessary working capital finance from its lender to support an export transaction in circumstances where its lender does not have sufficient risk appetite for the full facility amount.
Risks covered
The lender is protected, to the extent of our guarantee, against the failure of the UK exporter to repay amounts due under the working capital facility upon its expiry, cancellation or termination.
Eligibility
The following criteria must be met:
the exporter must be carrying on business in the UK
the facility must relate to a contract between the exporter and a buyer outside the United Kingdom under which the exporter supplies goods and/or services to that buyer
advances under the facility must be used to pay, or reimburse the exporter for payment of, expenses incurred in tendering for or performing that export contract
the export contract must have a minimum of 20% UK content
the maximum value of the working capital facility cannot be greater than 75% of the export contract's value
Maximum or minimum facility amount
There is no maximum value for the working capital facility.
Maximum or minimum term
The facility must have a maximum term of less than 2 years. There is no minimum term.
Cost
The guaranteed lender pays us a guarantee fee which is typically a proportion of the interest margin received by the lender from the UK exporter for providing the working capital facility.
PDF version of this guide
Quick guide to the Export Working Capital Scheme (PDF, 158KB, 3 pages)
Appeals
Our export finance advisers and underwriting staff seek to work with exporters to help structure transactions and prepare applications that have a good chance of being approved. However, on occasion we are unable to progress applications (for example if a case doesn't meet our minimum risk standards). On these occasions we will explain our reasons for declining the application to the exporter.
The exporter has the right to appeal such a decision, which will involve a review of the application by UKEF officials not directly involved in the initial decision. The exporter will be informed of the outcome and how it was decided. The appeal outcome will be final.
Appeal a decision made by UKEF (PDF, 122KB, 1 page)
Disclaimer
This information is not intended to be a comprehensive description of our Export Working Capital Scheme and many details which are relevant to particular circumstances may have been omitted.
This information was last updated in September 2015
Document information
Published: 24 April 2013
Updated: 24 April 2017
Change to Security of Information Arrangements
First published.