Guidance
HMCTS reform programme: reform update
HM Courts and Tribunals Service issues a quarterly newsletter updating progress on our reform programme.
This newsletter provides an overview of the Reform programme and provides updates on individual projects.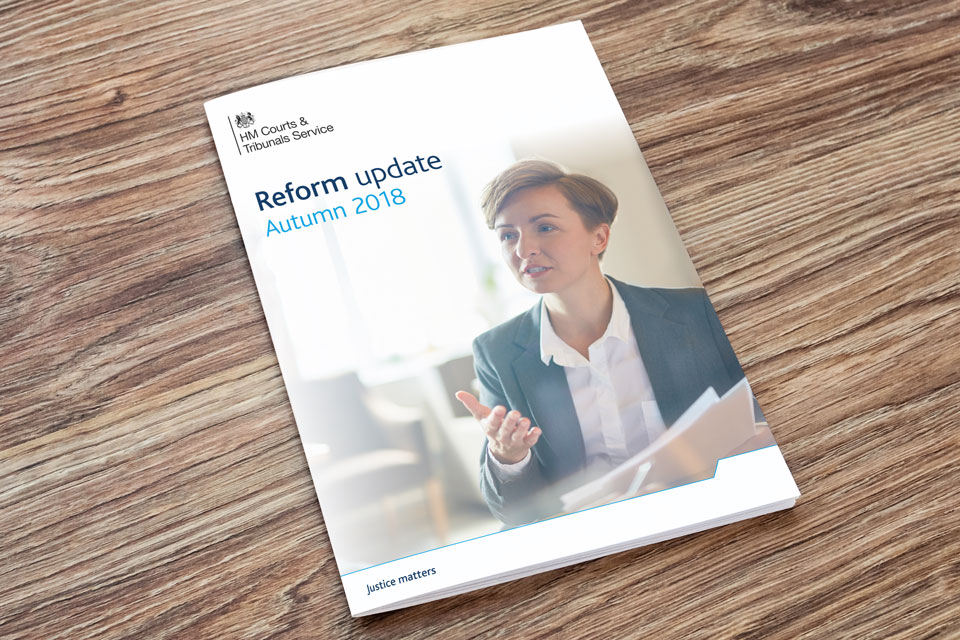 HMCTS reform programme: quarterly newsletter - September 2018 (PDF, 1.66MB, 28 pages)
A lot has happened across all jurisdictions since May, including:
the completion and evaluation of our video hearing pilot and announcement of the estate consultation outcome
in crime, work on the digital version of the Single Justice Procedure has gathered pace
uptake of the online services we've rolled out already, such as uncontested divorce and probate applications, continues to be high, and feedback positive
We continue to involve all those who work within the justice system, as well as those who care about it.
To help us continually improve, please complete our short survey. We will take into account your feedback for future issues.
Previous editions
HMCTS reform programme: quarterly newsletter - May 2018 (PDF, 1.13MB, 27 pages)
Published 6 February 2019