Guidance
G-Cloud buyers' guide
How to buy cloud services on the Digital Marketplace.
Digital Marketplace overview
The Digital Marketplace helps you find cloud technology and specialist services for digital projects. You can buy through 3 frameworks (agreements between government and suppliers).
You can buy:
cloud services (for example content delivery networks or accounting software) through the G-Cloud framework
digital outcomes, specialists and user research services through the Digital Outcomes and Specialists framework
physical datacentre space for legacy systems through the Crown Hosting Data Centres framework
Buying services through these frameworks is faster and cheaper than entering into individual procurement contracts.
All public sector organisations, including agencies and arm's length bodies, can use the Digital Marketplace. Check the list of approved organisations to see if you're eligible.
Buying cloud-based services on the Digital Marketplace
You can use the Digital Marketplace to find and compare cloud technology and support (for example content delivery networks or accounting software).
There are over 25,000 cloud services on the Digital Marketplace. These are split into 4 categories or 'lots':
Infrastructure as a Service (IaaS), for example content delivery networks or hosting
Platform as a Service (PaaS), for example platforms that provide a basis for building other services and applications
Software as a Service (SaaS), for example accounting tools or customer service management software
Specialist Cloud Services (SCS), for example IT health checks or data migrations
Read how suppliers have been evaluated.
When you use the Digital Marketplace, you're still running your own procurement as usual and must buy fairly.
Follow the buying process below:
Prepare your requirements – a list of 'must-haves' and 'wants' – and get approval to buy what you need.
Search for services on the Digital Marketplace using keywords.
Review services and apply the filters to create your shortlist.
Evaluate your options to find the cheapest or best value for money.
Choose your service, award and sign the contract (or 'call-off').
Complete the Crown Commercial Service (CCS) benefits form.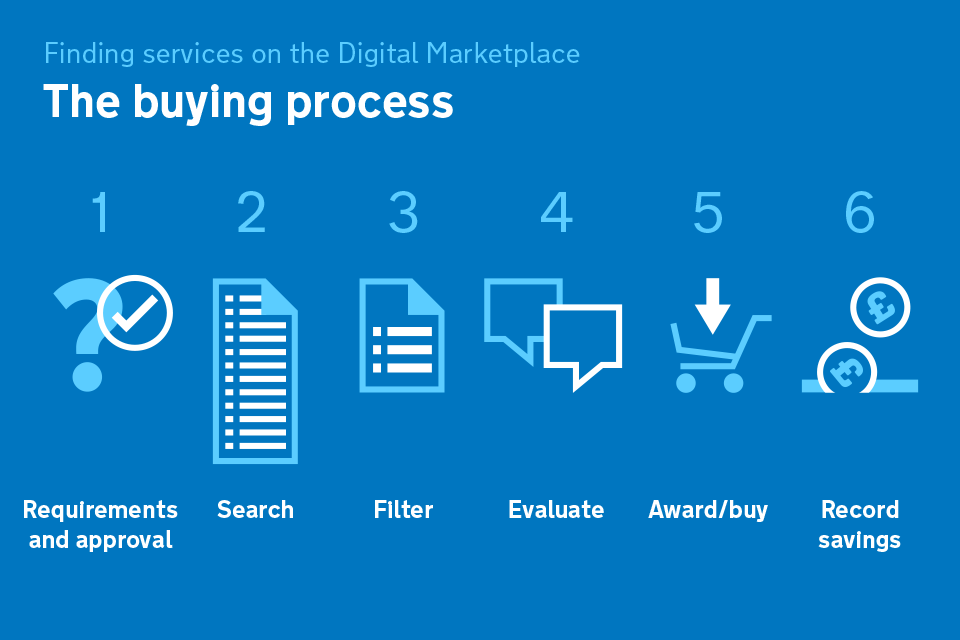 If you award a contract through G-Cloud, make sure you keep a record of all the buying process stages. You must be able to show a clear, accountable audit trail, including searches you've carried out, filters you've applied and any evaluation you've made.
1. Prepare your requirements and get approval
Working with both procurement and technical professionals can help you decide on the high-level requirements and how long your project will take. You can also talk to suppliers before you start to help you refine your requirements.
You should consider:
the funds you have available to buy the service
the technical and procurement requirements of the project
the criteria on which your choice will be based
Identify what the 'must-have' requirements are and what the 'wants' are to help you define the search terms to use. A very broad search (for example "hosting") will return a list of several services. Use this first stage to understand:
the technologies that are available
the technologies that are a good fit for your project
Read the government service manual guidance on choosing technology for what points to consider.
If you're buying for central government, you have to go through the digital and IT spend control process first.
2. Search for services
Next, use the Digital Marketplace to search for services that meet your needs. You can add keywords to create a list of services that meet your 'must-have' requirements (for example content management system and open standards) and those that could also support your 'would-like' needs (for example Firefox support, content rating and link management).
To see all the services that meet your requirements, try using different search terms to make sure you get the most complete set of results possible (for example "document management system" and "content management system").
Read the blog post on search tips for more guidance on finding the service you need. If you're looking for hosting services, consider your options.
3. Review services to create your shortlist
Create a shortlist by using the filters, and by reading the short descriptions provided by suppliers. You can find more service details in the additional documents.
Each service listing includes:
a detailed service definition document
a terms and conditions document
a pricing document
The price shown on the service listing page is the cost of the most common configuration of the service. Pricing is generally volume-based, so you should always look at the supplier's pricing document to work out the actual price of what you're going to buy.
4. Evaluate your options
There are 2 ways to review your shortlist: lowest cost or most economically advantageous tender (MEAT).
Spend some time going through the service descriptions to find the services that best meet your needs based on both requirements and budget. You can contact the suppliers and request more information about what their service offers.
Your assessment of suppliers throughout the process should always be as fair and as transparent as possible. You shouldn't unfairly exclude any services without the justification of project requirements.
For a MEAT-based assessment of suppliers, you must use the criteria in the table below, but you can decide what detailed characteristics you use and how you weight them.
| Criteria number | Direct award criteria |
| --- | --- |
| 1 | Whole life cost: cost effectiveness; price and running costs |
| 2 | Technical merit and functional fit: coverage, network capacity and performance as specified in relevant service levels |
| 3 | After-sales service management: help desk, account management function and assurance of supply of a range of services |
| 4 | Non-functional characteristics |
5. Choose your service, award and contract
Single supplier
If only one supplier meets your requirements, you can award the contract to them without doing anything else.
Multiple suppliers
There will usually be a number of services on your shortlist. If all these services meet your requirements and are very similar, you can choose one on the basis of lowest cost alone.
Often the cheapest option will be obvious, but you might need to:
look at combinations of different suppliers
get specific information about volumes
The final choice should be based on best fit rather than ruling out suppliers that don't meet either your current contract or an ideal set of terms.
If you need any clarification to help you make your final decisions, you can ask suppliers directly.
Contract
The G-Cloud framework is unlike most other frameworks because it includes the suppliers' terms and conditions. Buyers enter into a contract with suppliers to accept their terms and conditions, for example service price.
The buyer and supplier must both sign a copy of the contract before the service can be used. The maximum length of a G-Cloud contract is 24 months.
In the case of any contradiction between the contract terms and conditions and the framework terms and conditions, the framework terms will take precedence. In a contract, the terms and conditions and prices are all agreed when you sign the framework agreement. A copy of the contract must be signed by all interested parties (the buyer and supplier) before the service can be used.
Read more about:
6. Complete the CCS savings form
CCS works with departments and organisations across the public sector to improve service delivery quality and ensure every commercial relationship provides value for money. That means it has to record savings and monitor the ongoing performance of the G-Cloud frameworks.
You must fill in the CCS G-Cloud Customer Benefits Record form every time you enter into a contract. Email a copy of your G-Cloud Customer Savings Record form to gcloud-savings@ccs.gsi.gov.uk.
Your contract details won't be published.
Choosing the right G-Cloud contract document
There are 2 iterations of the G-Cloud framework on the Digital Marketplace: G-Cloud 7 and G-Cloud 8. You can buy services from either framework.
G-Cloud 7 framework
If you're buying a G-Cloud 7 service, you need to use a G-Cloud 7 contract document.
G-Cloud 8 framework
If you're buying a G-Cloud 8 service, you need to use a G-Cloud 8 contract document.
Continuing or ending G-Cloud services
Services bought via the G-Cloud framework can't be extended. Contract awards on G-Cloud can last for up to 24 months. After this period, you'll need to re-evaluate your needs and the services on offer on the Digital Marketplace. If your requirements haven't changed, you can repeat your search and check that no other services are available.
After your contract expires
If your project scope and needs remain exactly the same, you can re-enter the Digital Marketplace and re-use the same searches. That way, you can check that no new services are offered that may be better value for money. You can then enter into a new contract but must keep records to prove that your assessment has been fair.
If you have any questions about the G-Cloud framework or the buying process, email enquiries@digitalmarketplace.service.gov.uk.
Document information
Published: 24 September 2013