Guidance
European Joint Support Unit (EJSU)
Providing support for defence staff on NATO and European Union Military Staff (EUMS) postings.
European Joint Support Unit (EJSU) mission statement
To provide the necessary 'firm base' support to service personnel, civilians and their families serving with NATO and the EU in Europe and Turkey in order to deliver success on operations
EJSU is part of the Global Support Organisation (GSO) under Joint Forces Command (JFC)
Overview
A part of the Global Support Organisation (GSO), the EJSU delivers 'firm base' Support to Service Personnel, civilians and their families serving with NATO and the EU in Europe and Turkey. We also assist the Global Administration Unit (GAU) with non-NATO or EU staff who serve in Europe close to one of our locations.
The EJSU reached full operating capability on 1 April 2014 following a two year restructuring programme. The staff comprise UK military personnel from all 3 services, UK civil servants, locally employed civilians and dependant employees. With a Headquarters at Supreme Headquarters Allied Powers Europe (SHAPE), our key locations are at:
SHAPE and Brussels in Belgium
Naples, Milan, Poggio Renatico and Latina in Italy
Brunssum in the Netherlands
Ramstein and Goch in Germany
Lisbon in Portugal
Stavanger in Norway
Istanbul and Izmir in Turkey
Torrejon in Spain
Lille in France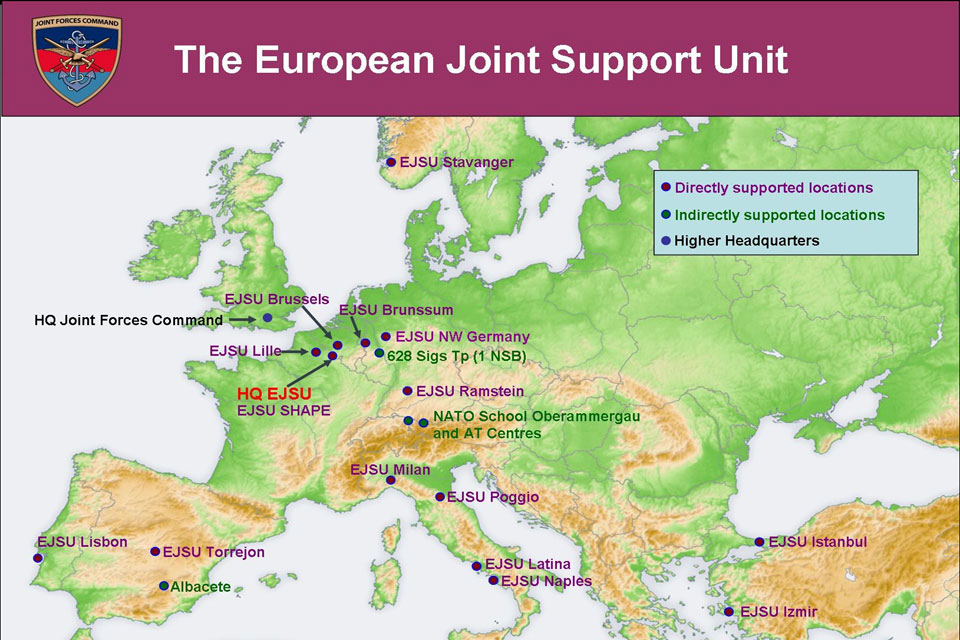 We aim to provide what you may expect in the UK schooling, medical care, housing and personnel administration. However, the level of support you may receive can be restricted by the unit size, the host nation provision and local laws and regulations.
This is important to remember when considering specialist requirements for medical matters or schooling. What may be normal in the UK may be reduced or non-existent in some locations in Europe or Turkey. The different support locations will give more information for the areas they look after. It will be critical to you and your family that you fully understand what will be available in your specific overseas area.
EJSU housing support
Housing is generally leased from private landlords and may consist of apartments or houses. The local housing office will, where possible, adhere to Tri-Service Accommodation Regulations (Joint Service Publication (JSP) 464, part 2 ) and Services accommodation code (JSP 315). This is subject to country specific building standards and market forces.
Personnel should be aware that the standards in JSP 315 are guidelines and not entitlements. There are differences between what you may be entitled to and what is available in Europe. Personnel should also be aware that they have no automatic right to refuse service families accommodation (SFA) allocation.
Because SFA may not be located close to work, schools or local facilities, it is strongly recommended that all posted personnel and their spouses can drive. Public transport does not always cover EJSU's SFA/hiring areas.
We produce service families accommodation (SFA) publications for service personnel and families living in SFA. They are generally UK specific, but may contain useful information and guidance.
EJSU education support
Education provision varies across EJSU supported areas. In some locations, Service Children's Education (SCE) primary schools are used. Where SCE schools are not available, international schools are used where possible. But parents should be aware that some of the international schools offered will not be suitable for all children and that there is no English speaking provision in some locations.
EJSU healthcare support
Healthcare is provided to service personnel and their families through British Forces (Germany) Health Services (BFGHS) across Europe.
In some locations, BFGHS provides UK military clinics for primary care. But in other locations primary care is sourced from local providers using host nation public health services, or the private sector. Secondary care is provided locally in all locations.
European Health Insurance Card
It is essential that every member of your family has a European Health Insurance Card (EHIC). You can get EHICs for free via the NHS. Be aware of companies charging for these.
Ensure you are familiar with the limitations of the EHIC. If your card is stolen or lost contact the EHIC enquiries line on Telephone: 0845 605 0707 (or +44 191 212 7500 if calling from abroad).
Insurance
It is prudent to obtain health care insurance for you and your dependents while you are posted abroad.
If you or your dependents travel away from your location of work or local town (eg. shopping across a border, a day trip or holiday) and you become ill or have an accident, BFGHS may not cover the costs of treatment.
However, all duty travel is covered by the MOD.
EJSU welfare support
Welfare is an important and fundamental way of supporting our personnel and their dependents. It is especially important in remote locations or places where you are unfamiliar.
Although our resources are spread thinly there are a number of ways you can access welfare facilities either locally or remotely. Normally, your first stop is your local support unit.
The Hive information service is also an important link in the chain. Please refer to your local support unit for further advice.
EJSU support on operational deployments
NATO operational deployments
Some NATO posts in Europe have a deployment liability and EJSU supported personnel do deploy, to operational Theatres, under NATO auspices. Personnel need to consider the possibility that their dependents may be alone for long periods in unfamiliar surroundings without easy access to family support networks in the UK.
Operational deployments after assignments supported by EJSU
Personnel considering an assignment in posts supported by EJSU should be aware that due to restrictions imposed by the NATO Status of Forces Agreements (SOFA) in Europe and the lack of spare service families accommodation (SFA) in most locations, EJSU policy is not to support retention of SFA for families once the head of household no longer holds a NATO post.
With the possible exception of those posted to campaign continuity tours, service personnel will generally be expected to resettle their family in the UK before deploying and they should take account of this in their career and personal planning.
Joint Casualty and Compassionate Centre
If circumstances should arise while your relative is on a posting, at sea or on deployment that make it necessary for you to apply for his or her return on compassionate grounds (for example, a death in the family, serious illness or a serious family crisis) you should contact the Joint Casualty and Compassionate Centre (JCCC).
EJSU and resettlement
EJSU is not funded or mandated to support personnel undertaking resettlement. While this does not preclude personnel taking up EJSU supported appointments as their final tour, they should be aware that any resettlement activity will be their responsibility to arrange. Funding will not be available to cover any additional costs that arise from being based outside the UK.
Tri-service resettlement manual
Resettlement is an entitlement based on a sliding scale depending on how many years you have served. Full information on your entitlement can be found in the 'Tri-service resettlement manual (JSP 534).
Resettlement is your personal responsibility but you do not have to it on your own, information, advice, training and help in job finding are all on offer, and all free. Duty time and some financial assistance are also available.
Travel
The use of RAF operated or MOD charter flights between the overseas base and the UK to undertake resettlement training is permissible within the rules stated within JSP 800 (Vol 2) but it is not an entitlement. Such travel may only be granted when filling unused capacity on the aircraft and is done at no additional cost to the Crown.
A flight to the UK granted on this basis implies no entitlement to return travel, and if no spare capacity exists on the return leg the costs then fall to the individual. There is no entitlement to fly to or from overseas bases to undertake resettlement training in the UK via civil airlines.
Service personnel should refer to their individual services for further guidance.
EJSU's locations
EJSU's locations provide local support and cover housing, schooling, health care, welfare, allowances and the administration of personnel.
Staff will endeavour to provide the best support they can but may be limited by the resources available, the location you live and work in, and the host nation's laws and agreements with the UK. This is an important distinction to remember: we are a guest in another country.
EJSU location contact details
To obtain EJSU location contact details and for more in depth information please click on the link below. Under "Create a New Account" follow the instructions to "Tri-Service Personnel and UKBC posted to Europe & Turkey: Request an EJSU log in". (This is a monitored proprietary system for authorised users only).
https://airspace.raf.mod.uk/airspaceLogon/
European Joint Support Unit (EJSU) support overview
EJSU attempts to match UK standards in healthcare, education, welfare and family support for personnel assigned to NATO and EUMS posts in Europe and Turkey. However, EJSU's support capability is limited and we do not always have the resources to sustain families with additional support needs, particularly in our more isolated locations. In particular, serious long-term medical conditions and children with special educational needs may not be supportable.
Personnel should be aware that EJSU will administrative action to have personnel and/or their families returned to the UK if they are not supportable abroad. It is neither financially sustainable, nor appropriate from a welfare perspective, for those with unsupportable needs to remain in EJSU supported locations.
Additional needs that arise during a tour
Where an additional need emerges during an assignment which the family were not aware of at the time of making their declaration, EJSU, in concert with the appropriate agencies, will be required to take a view on the family's continuing supportability.
Any such decision will consider the interests of the family but will also need to take into account the difficulty that providing support might place on EJSU's limited resources. This may result in the necessity to repatriate families early.
Published 12 December 2012
Last updated 28 May 2014
+ show all updates
Added updated EJSU map.
Updated to reflect the organisation name change from European Support Group (ESG) to European Joint Support Unit (EJSU).
Added link to JCCC page.
Replaced title and all the content
First published.