Speech by General Sir Chris Deverell KCB MBE ADC Gen, Commander of Joint Forces Command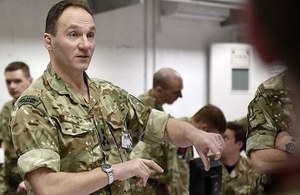 Cross-government working was strengthened in a real world military mission rehearsal.
Joint Forces Command (JFC), held an event to celebrate International Women's Day.
What we do
We provide the foundation and supporting framework for successful operations by ensuring joint capabilities like medical services, training, intelligence, information systems and cyber operations, are developed and managed. We also provide the command and control for overseas defence operations.
JFC is part of the Ministry of Defence.
Documents
Contact JFC
Joint Forces Command HQ
JFC HQ
Joint Headquarters Building 410
Northwood Headquarters
Sandy Lane, Northwood
Middlesex
HA6 3HP
Copyright and Intellectual Property Group
MOD Copyright Administrator
Poplar 2 #2214
MOD Abbey Wood
Bristol
BS34 8JH
MOD copyright licensing information.
Make an FOI request
Read about the Freedom of Information (FOI) Act and how to make a request
Check our previous releases to see if we've already answered your question
Make a new request by contacting us at:
Freedom of Information Act and Environmental Information Regulation requests
MOD Information Rights Team
Ground floor, zone D
Main Building
Whitehall
London
SW1A 2HB
Not to be used for requesting your own information (Subject Access Request), Service records including for deceased relatives, or pension enquiries.
Corporate information
Jobs and contracts