Guidance
Employ delegated driving examiners to provide driving tests
From:

Published:

23 January 2013

Applies to:

England, Scotland, and Wales
How to use your own staff to provide driving tests for employees of your company, police service or fire and rescue service.
Use delegated driving examiners
Driving tests are usually provided by the Driver and Vehicle Standards Agency (DVSA).
You can apply to DVSA for permission for your own staff to provide driving tests for your employees if you're a:
bus or haulage operating licence holder
police service
fire and rescue service
Your staff providing driving tests will be known as 'delegated driving examiners'.
Tests that can be provided
Delegated driving examiners are allowed to provide theory and practical driving tests for drivers of:
lorries
buses and coaches
public service vehicles (eg fire engines and ambulances)
Lorry, bus and coach companies
Delegated driving examiners working for lorry, bus and coach companies can test:
an employee
an employee of a sister company
As a delegated driving examiner, you can't test someone you've trained.
Public services
Delegated driving examiners working for police services and fire and rescue services can test:
an employee
an employee from the same type of service in a different area
The same delegated driving examiner can provide tests for both a police service and a fire and rescue service, but both must appoint them with DVSA.
Rules for your delegated driving examiners
When deciding whether to give permission for someone to provide driving tests, DVSA looks at if they:
have a full driving licence for the type of vehicle they're testing in
have had any convictions in the last 3 years
have been disqualified from driving
have any court cases pending against them
have any penalty points on their licence
Qualifying as a delegated driving examiner
Your employees must then:
complete an initial training course
reach an appropriate standard in the delegated driving examiner theory and practical tests
DVSA will send you more information about the qualifying process when you apply to provide driving tests.
Initial approval
When deciding if someone can be a delegated examiner DVSA considers if they:
have any criminal convictions during the previous 3 years
are a 'fit and proper' person
have reached the appropriate standard in the delegated examiner practical and theory tests
have passed the mandatory initial training course for delegated examiners
Keeping your approval
When considering whether delegated examiners can keep their approval, DVSA will take into account:
any criminal convictions the delegated examiner has committed since their initial approval
whether the delegated examiner continues to be a 'fit and proper' person
the delegated examiner's continuing ability to carry out tests to the appropriate standards
how much professional development the delegated examiner has done
Appoint and keep delegated examiners
To become and remain a delegated examiner, they must:
pass the initial training course
carry out 40 tests each year
However , fire and police services can follow agreed special arrangements to keep their authorisation. An examiner can only carry out tests specifically covered in the terms of their approval.
You must also keep records of the mandatory periodic training for each of your delegated examiners. This needs to include:
the dates and times it was done
how much was done
the type of training
Criminal convictions
You must send the details of all convictions that your potential delegated examiners received in the last 3 years. This should include and 'unspent' convictions.
You must tell DVSA straight away if one of your delegated examiners gets a conviction.
Not carrying out tests for 6 months
You must write to DVSA when a delegated examiner has not carried out any tests during the last 6 months for any one vehicle category they're approved for. For example, you must tell DVSA if they haven't carried out a lorry test for 6 months, but they are still regularly carrying out bus tests.
The delegated examiner is then not allowed to carry out any more tests in that category until DVSA confirms in writing that this restriction has been lifted.
Driving licences
You must make sure that your delegated examiners:
have a full UK, European Union or European Economic Area unrestricted car driving licence and has had it for a continuous period of at least 3 years
have an unrestricted licence for the categories of vehicle they're carrying out tests for
continue to meet these driving licence requirements throughout the term of their appointment
take the annual minimum amount of periodic training (this is to follow the rules set out in Annex IV, point 4.2 of the EU 3rd Directive)
Registration and initial training course fees
DVSA charges fees for approving and registering delegated examiners. The table sets out the fees.
Delegated examiner periodic training
To stay authorised, delegated driving examiners must take regular periodic training. There are 2 types of skills that have to be covered:
examiner skills
driving skills
Examiner skills
Examiners have to take at least 4 days every 2 years to:
keep and refresh their knowledge and examining skills
develop new competences that have become essential to do their job
make sure they continue to carry out tests to a fair and uniform standard
Driving skills
Examiners have to take at least 5 days in every 5 years.This is so they keep and develop their practical driving skills.
The training can be:
a briefing
classroom training
conventional or electronic-based learning
done on an individual or group basis
DVSA must be able to check your delegated driving examiners every year to make sure they're keeping up the required standards. DVSA can supervise:
the delegated examiner carrying out driving tests for at least half a day per year
periodic training
professional development
DVSA can also review the results of their tests.
Commercial driving instruction
Delegated driving examiners authorised by DVSA before 19 January 2013 are allowed to provide driving instruction on a commercial basis.
You must make sure that any delegated examiner appointed by you since 19 January 2013 is not carrying out commercial driving instruction in a driving school while employed by you.
You can allow your delegated driving examiners to carry out tests and train:
candidates who are employees of that organisation
potential employees of that organisation
They can't train and test the same person.
Apply to provide driving tests
You must apply to DVSA in writing for permission to provide driving tests.
Delegated Examiner Section
Driver and Vehicle Standards Agency
The Axis Building
112 Upper Parliament Street
Nottingham
NG1 6LP

You must include information about:
your organisation
the tests you want to provide
the people you want to appoint as delegated driving examiners
Your organisation
You'll need to include:
the full name of the organisation
the registered address or headquarters address (if you're not a registered company)
a copy of your certificate of incorporation if you're a registered company
a copy of your operator licence (if you have one)
the name, position and contact details of the main contact in your organisation for driving tests
confirmation that you, as the person sending the application, is an approved signatory for the purposes of the application
The tests you want to provide
You'll need to include:
details of the locations at which testing would take place
the categories of tests you want to provide, eg 'category D - bus'
the type of tests you want to provide, ie:

part 1 - licence acquisition theory
part 2 - Driver Certificate of Professional Competence theory
part 3 - licence acquisition practical
part 4 - Driver Certificate of Professional Competence practical

details of where the records about the tests would be stored
an estimate of the minimum number of tests you'll provide in the 12 months following your approval
The people you want to appoint as examiners
You'll need to include the full names and driving licence numbers of the people you want to appoint as delegated driving examiners.
When DVSA gets your application
DVSA will tell you its decision about your application within 10 working days.
You'll also get information about:
the qualifying process
the detailed rules about providing theory and practical driving tests
the detailed rules about recording tests that you provide
Run your test centre
You and your delegated examiners have to meet various standards for things like IT and staffing. These will be set out in your conditions of approval.
DVSA inspections and checks
DVSA staff must have reasonable access to your premises to check the quality and integrity of the driving tests carried out under the terms of your approval.
Although DVSA staff will make regular visits, you're responsible for following the conditions of your approval.
You'll need to show to DVSA that your procedures are effective at meeting the conditions of approval.
As a minimum, your procedures must:
make sure that you follow the terms and conditions of your approval
alert you to any breach, or likely breach, of the terms and conditions of your approval
make sure procedures are documented and accessible to both DVSA and internal stakeholders
record evidence, so that DVSA can verify their existence and operation and establish whether they're effective
The organisation and manager who made the initial application has responsibility for a delegated examiner who carries out tests for more than one employer. If 2 organisations register a delegated examiner each organisation is responsible for the delegated examiner tests carried out for their employees.
Not complying with conditions of approval
DVSA will write to you to tell you about problems it finds. You must fix these problems within a reasonable period of time.
DVSA will review the circumstances and consider each case on its merits.
For example, DVSA will take no action if you can show that any failure to follow the conditions of approval is either minor or temporary and that you've taken effective action to address any problems.
DVSA can change your approval if:
you ask it to
as part of a general change, when DVSA adds a new condition to all existing approvals
DVSA can change or remove the approval if you've failed to:
follow the conditions of your approval
pay any associated fees
When your circumstances change
You must tell DVSA as soon as possible if:
you can no longer comply with the terms and conditions of your approval
the approval is no longer appropriate
you no longer need the facility to appoint a delegated examiner
any of the information you supplied as part of your initial application is no longer valid - eg contact details
Delegated Examiner Section
Driver and Vehicle Standards Agency
The Axis Building
112 Upper Parliament Street
Nottingham
NG1 6LP

Provide theory tests
When you're approved to carry out theory tests you can only use theory test formats for in-house theory test centres (IHTTC) that are authorised and supplied by DVSA.
You must:
keep the theory test DVDs/CDs safe and transport them securely
make sure testing equiment is kept secure at all times
keep all unused and cancelled theory test certificates securely
follow the in-house theory test centre terms and conditions
You're only allowed to provide theory tests to candidates within your own organisation and for the licence categories that your examiners are approved to provide.
Provide practical driving tests
Your site and testing activities must meet the requirements in DVSA's DT1 standard operating procedure document. This sets out operational guidance for driving examiners.
All tests carried out by delegated examiners must meet the standards in the:
Rules for the vehicles you use for training and testing
Any vehicle used for tests must have a seat (with appropriate seatbelt) for use by DVSA staff while supervising the test.
The vehicles must also meet all the rules for that type of vehicle:
Licence acquisition: practical test off-road manoeuvring facilities
All tests must use appropriate off-road manoeuvring facilities for the reverse exercises.
Reverse exercise area for category C and D tests
To follow the EU Directive LGV lorry (category C) testing locations must have a barrier at the end of the reversing bay behind the yellow stopping area to simulate reversing up to a loading platform.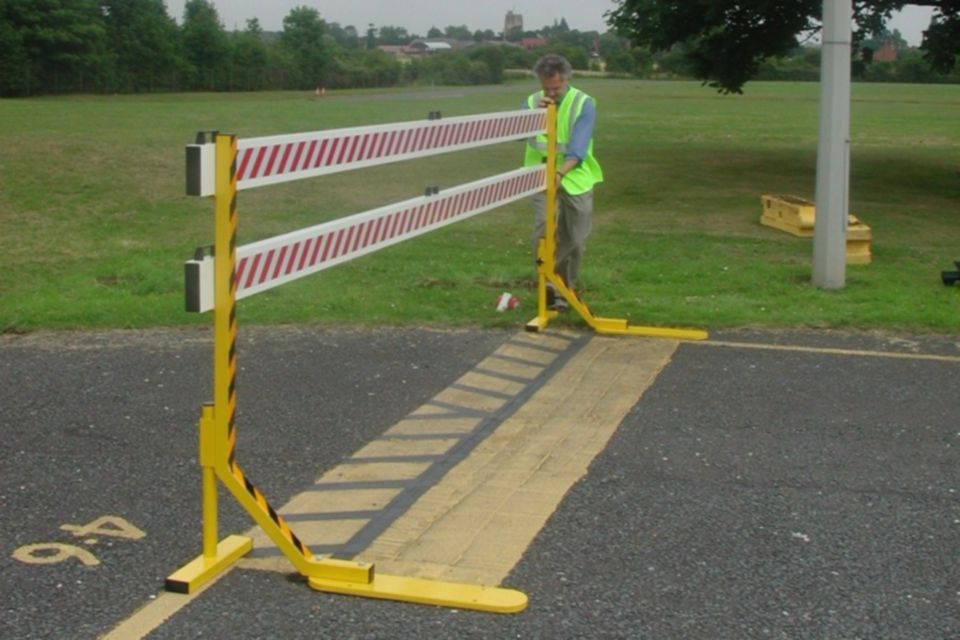 Lorry (category C) and bus (category D) reverse exercise stopping area.
Lorries need to reverse and stop with the rear of the vehicle close enough to the loading platform.To make sure of this it is necessary to mark part of the existing yellow stopping area with black stripes. However, if the reversing bay is only used to conduct bus tests the barrier and black stripes are not needed.
PDF, 55.4KB, 2 pages
This file may not be suitable for users of assistive technology. Request an accessible format.
If you use assistive technology (eg a screen reader) and need a version of this document in a more accessible format, please email customer.services@dsa.gsi.gov.uk. Please tell us what format you need. It will help us if you say what assistive technology you use.
Test routes
You should describe and record the test routes you use on a route sheet. These must be available for DVSA to inspect.
You must design test routes so that the elements set out in Schedule 8 (Specified Requirements for Practical & Unitary Test) of The Motor Vehicles (Driving Licences) Regulations 1999 (SI No. 2864) [as amended] can be fully assessed during each test:
part 1 practical test: categories A and P
part 2 practical test: categories B and B+E
part 3 practical test: categories C and C+E
part 4 practical test: categories D and D+E
Vocational vehicle test routes for the on-road element for:
all rigid vehicles must last 60 minutes
all trailer tests is 50 minutes
You should provide a significant element of urban driving in test routes. You should also include opportunities for driving on roads with national speed limits, for example dual carriageways (and motorways, C and D categories only).
Wherever possible, category C and D test routes should provide a test of ability to negotiate a steep downhill gradient.
In addition to health and safety obligations imposed by legislation, your site and testing activities must also follow the requirements contained in DVSA's DT1 standard operating procedure document.
Record delegated driving test details
You must record details of the delegated driving tests that your examiners carry out. This includes:
the notification of planned tests
recording of conducted tests
methods of payment and document
form handling procedures
You can set up a pre-funded account to make it quicker and easier to pay for the test details you record.
Complete driving test report forms
All delegated examiners must return all completed driving test report forms (DL25) to DVSA, including documents for terminated tests. DVSA will then be able to get DVLA to start to issue a driving licence, or a Driver CPC driver qualification card as appropriate.
Delegated examiners will issue driver candidates with the appropriate pass certificate if the test was a success.
Mistakes on test pass certificates
Your examiner must write 'CANCELLED' in indelible ink and large letters across the front of the certificate if a mistake is made when issuing it. They should issue a replacement certificate if appropriate.
Your records must show a cross-reference between the 2 certificates and the reasons for the cancellation.
You must keep cancelled certificates in a secure environment for 2 years. You must tell DVSA straight away if any certificates are stolen.
Keep test documents
Your delegated examiners must complete, handle and keep documents used during a test.
A delegated examiner must:
complete the driving test report form (DL25) as the test progresses
sign it at the end of the test
You must send completed DL25 forms to DVSA at the end of the day, regardless of the test outcome.
Driver and Vehicle Standards Agency
Eastgate House
Kingsmanor Business Park
Newcastle
NE1 6PB

You must store unused test pass certificates in a secure place. There should be a clear audit trail for each certificate received from DVSA and then issued by delegated examiner(s).
Rules about keeping test records
You must keep the following information, about each test conducted for 2 years for inspection by DVSA staff:
date and start/finish times of each test conducted
type of test conducted:

part 1 licence acquisition theory
part 3 licence acquisition practical
part 2 Driver CPC theory
part 4 Driver CPC practical

route details - for part 3 licence acquisition practical test only
category of test - eg category C
name of candidate
employee identification number
candidate's driver number
result of test
number of the test pass certificates issued
form DL25B
name of examiner conducting test
Document information
Published: 23 January 2013