5G Testbeds and Trials Programme
The 5G Testbeds and Trials Programme is the government's nationally coordinated programme of investment in 5G.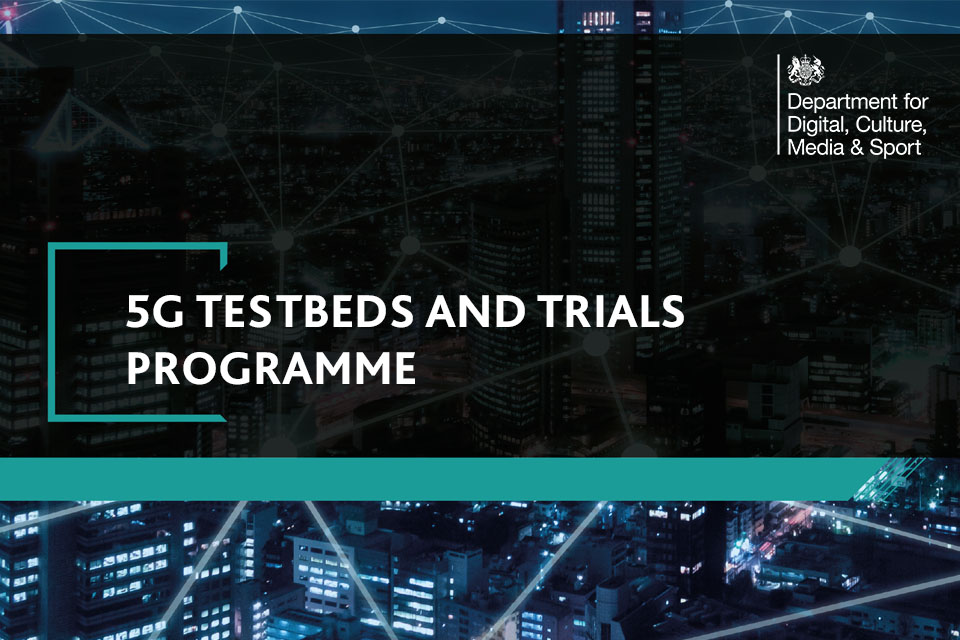 About the programme
The 5G Testbeds and Trials Programme (5GTT), part of the Department for Digital, Culture, Media & Sport (DCMS), looks to harness areas where the UK has a competitive advantage – such as in scientific research, engineering talent and our rich variety of technology businesses.
The 5G Programme is exploring the benefits and challenges of deploying 5G technologies in line with the following key objectives:
Accelerate the deployment of 5G networks and ensure the UK can take early advantage of the applications those networks can enable.

Maximise the productivity and efficiency benefits to the UK from 5G.

Create new opportunities for UK businesses at home and abroad, and encourage inward investment.
Successes so far:
The video below shows some of the benefits 5G could bring through the programme's initial portfolio of projects. See also more information on our latest projects.
Next Steps:
The 5G Programme is supporting:
This is part of the government's response to the challenge of diversifying the UK's supply market for radio equipment set out in the Diversification Strategy. Up to £30 million of government funding will be available.
The aims of the FRANC project are to:
Accelerate the development of high-performance 5G Open RAN solutions that meet UK dense urban requirements by 2025.

Attract new 5G RAN suppliers to conduct R&D in the UK, and foster professional collaborations between potential new entrants into the UK's public network.

Contribute to the delivery of the 5G Supply Chain Diversification Strategy's objectives of disaggregated supply chains, open interfaces by default, and security being a priority in network deployment.
You can find more information on the full list of winners on the UK5G website.
The project is creating a neutral host Open RAN testbed in the UK. Open RAN is an open-interface solution that is key to diversifying the UK 5G supply chain. The project has been awarded £1.6 million of grant funding.
The DCIA programme explores the challenges of using publicly owned land, buildings and street furniture to support digital infrastructure and roll out of advanced wireless connectivity. The programme is funded with £7m from the Shared Outcomes Fund. DCMS are leading delivery, in collaboration with the Department for Transport (DfT).
There are four workstreams:
Digital Asset Management: seeks to support national adoption of online tools which digitalise and automate the process of finding and securing rights-of-use of suitable locations for deployment of advanced wireless equipment. You can view the full list of winners on our latest projects page.

PFI contracts: analysing the extent and nature of Public Finance Initiative (PFI) contracts, relating to street furniture assets. This insight is being used to produce best practice guidance for local and regional authorities

Standard contracts: building a library of contracts available for local authorities to engage with digital infrastructure providers

Standards for smart infrastructure: developing publicly available specifications (PAS) for smart lamp posts.
The project will test if it is cheaper, quicker and less carbon intensive to deploy advanced fixed and mobile telecoms services whilst reducing water leakage from potable water pipes.
The competition will enable innovative technologies in the water industry and 'future proof' water and telecommunications infrastructure including de-risking the PSTN, 2G and 3G switch-off.
This will help to align policy, regulation and commercial interests across multiple Government departments and agencies as well as the private sector in the water and telecoms industries.
The project was announced on 9th August 2021 and the competition winners were announced on 6th April 2022. Projects will run up to March 2024.
Winning bids will provide insight on existing and new asset locations and feed into the Geospatial Commissions National Underground Asset Register.
Latest news
6 April 2022
8 February 2022
8 December 2021
9 August 2021
2 July 2021
13 January 2021
13 July 2020
20 February 2020
Get involved
We're keen to engage with new stakeholders who want to find out more about the 5G Programme and who want to work with government to help build the business case for 5G and actively foster the 5G ecosystem and lead on 5G R&D across the UK.
We're working with the UK5G Innovation Network (UK5G), which was created to boost and strengthen the development of the 5G ecosystem in the UK. The network currently has around 4,000 members from more than 1600 organisations.
For more information on 5G activity in the UK and insight and commentary on the latest developments coming out of the wide variety of active 5G trials, please see the UK5G Innovation Briefings.
In summer 2021 UK5G announced their sector campaigns to encourage adoption of 5G across a number of sectors including manufacturing, health and social care, transport and logistics and the creative industries.
UK5G have also recently launched their place hub on their website It's got a variety of toolkits, articles and information about related 5G Testbeds and Trials projects like DCIA, WM5G and our RCC projects. For more information visit the hub here.
Current projects
Complete list of our 5G projects
Programme findings
Read lessons learnt on the 5G Programme. More information can also be found in the 5G Programme Initial Evaluation Report.
Case studies
More case studies can be found in the Case Study Annex (first six projects, 5GUK and UK5G) in the 5G Programme Initial Evaluation Report.
Further information
11 October 2019
Overview of 5G related initiatives led or supported by the central and local governments
This document provides an overview of the actions that the Central and Local governments are taking to help create the best conditions for the private sector to invest in developing and deploying 5G in the UK in a timely and efficient manner.
Published 26 March 2021
Last updated 4 May 2022
+ show all updates
Added press releases (9th August 2021, 8th December 2021 and 8th February 2022) under 'Latest News' heading. Under 'Get Involved' heading, added paragraph above ('In the summer of 2021...') and below ('UK5G have also recently launched...') bullet points list around sector pages on manufacturing, health and social care, transport and logistics and creative industries. Added bullet points ('The aims of the FRANC projects...') and link to the winners of the FRANC competition under the 'Next Steps' heading. Added text under 'the digital infrastructure accellerator programme explores...' includinng the four workstreams. Added paragrah about the Fibre in Water competition 11/04/2022 - Amended paragraph on the Fibre in Water competition: deleted the line 'competition will close in October 2021'. Added line 'and the competition [winners were announced on 6th April 2022' with added link. Added press release for the Fibre in Water competition winners ('Water pipes in Yorkshire to deliver high-speed broadband in new trial') with description below heading: 'Fast broadband will run through water pipes in parts of South Yorkshire as part of plans to get better internet access to people quicker' Updated link: The SmartRAN Open Network Interoperability Centre (SONIC) with a grant of £1 million (https://www.digicatapult.org.uk/news-and-insights/press-releases/post/dcms-5g-diversification-strategy-leads-to-uk-interoperability-push/). This link was broken.

Updated with latest 5G Programme developments.

First published.