Speech
Women's Business Council (WBC) report launch
Speech by Culture Secretary Maria Miller at the launch of the Women's Business Council (WBC) report.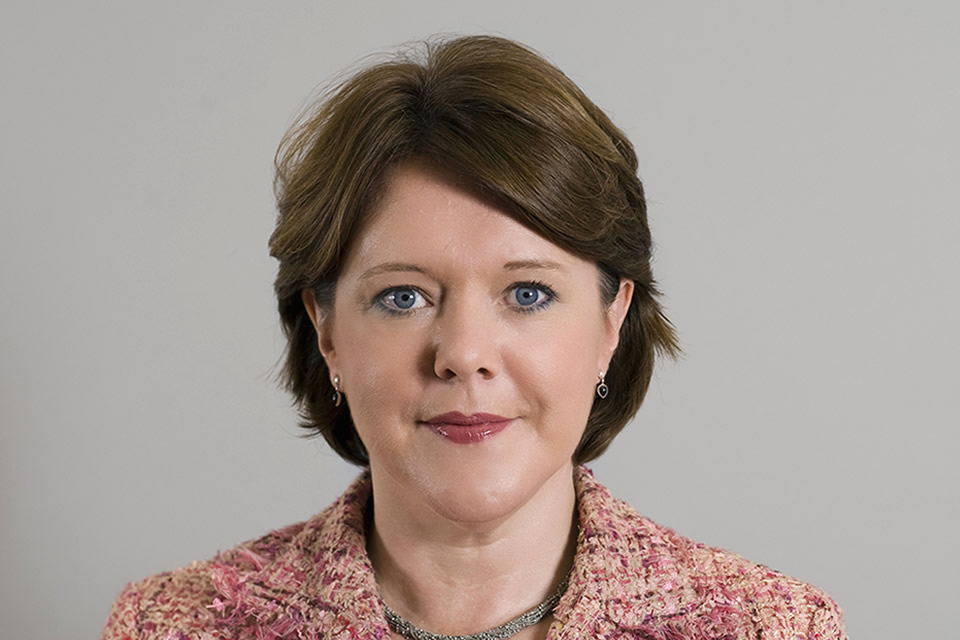 Ladies and gentlemen
Firstly, thank you to Diane and Ruby for their introduction. I'd also like to take this opportunity to thank the other members of the Women's Business Council and the staff at GEO (Government Equalities Office) who've done a fantastic pulling this report together today.
I think the fact that the question of women in the workplace remains an issue is remarkable in itself. In this this modern day and age you would have thought we'd dealt with that by now but we haven't and there remain very real challenges that women face in meeting their potential in the workplace.
The fact is that women invented the first computer language, they designed the Mars Rover and – yes, they invented the Barbie Doll. But still women are still languishing behind when it comes to recognition and reward in the workplace.
The facts really I think speak for themselves: now nearly two-third of graduates coming out of our great universities are women - and yet only a third of them go on to become managers and senior officials that are helping to run our country, our government and our businesses.
So how are we stop that talent going to waste? How are we really going understand the cost of all that untapped potential to the future prosperity of UK plc?
Now the Government's Number One priority as you all know is to champion equalities for a sense of fairness in our society, but also it's about maximises our country's prospects for economic growth as well. It makes sense to business as well as being a question of fairness.
So why is it that so many women still feel that a choice has to be made – between family or work? We all, men and women, have a role to play both in family life and in the workplace. It's not a binary yes or no, it's not about making that choice in isolation. It's about giving people options and the ability to balance their life in their long term.
And I think that proper workplace flexibility, good childcare and a real willingness to modernise our approach to work should mean that the constant sense of guilt that parents of both genders can feel - Mums and Dads - should be a thing of the past.
That's why the Government is already doing so much around shared parental leave for more people, and the right to request flexible working to more as well, to try and ensure that women's careers don't simply stall at the nursery gate. We have also announced a new tax break for childcare costs for working families, which will be worth up to £1200 per child per year.
As Ruby says, it can be the availability affordable childcare can be a real block and a barrier at the moment, and that's why we've put so much focus on the issues around that.
Already the good news is that women are indeed proving to be the engine room for the UK's economic recovery. Two thirds of women are now in work – more than ever before. The number of women employed is a third of a million higher than when the Coalition Government came to office.
More than a million women are now self-employed, making sure they can create their own workspace to meet their own needs. And that is significantly up even compared to a year ago. And I think compared to our European neighbours, we are performing well as well, but should acknowledge that we have a higher rate of women's employment than France or Poland, but still not as a good as Sweden, which leads the pack.
And at Board level, I continue to watch that situation very closely as well, we've had an increased representation has happened without resorting to quotas. And I think it's important that consistently the Government's not felt that was not the right way forward, but we need to keep a careful eye on the progress that's been made so the momentum that's been built up over the past two years continues.
And I would have to say that while I have got you all in the room today, if you can all be looking very carefully not just at yourselves but those who work with you, in terms of putting yourselves and them forward for board positions not just in the City but also on our public boards as well. They're great ways for getting further experience that can really help development in the future.
We have an amazing range of positions on our arts, sports and museum boards and I call upon every CEO to support women in their organisations to seek out those opportunities and use them as a way for developing talent in the future. This is an excellent way to not only support these organisations, but also to demonstrate that you've got the right experience for senior management positions in the future. And I think that's one of the rationales behind our Think, Act, Report initiative which many in this room will already be aware of to promote greater workplace transparency. And already from Think, Act, Report more than a hundred firms have signed up to look more deeply at how they support more women in the workplace so they don't simply "disappear off the radar" when it comes to senior executive positions.
So, the trend is in the right direction, but there is clearly much more that we need to be doing– and today's report highlights that. The priority now is to build that momentum of women's role in the workplace across the economy as a whole. It's about unlocking that untapped potential of women in the workforce more widely, and supporting women moving up through the ranks, bringing sustained benefit to the British economy in the longer term.
And to give you an example: our science, technology and engineering industries are areas of enormous economic growth - and yet they are fields where women are consistently under-represented. We want to make sure that girls and young women are studying these subjects at school and actively considering careers in those as well. Employers too have a part to play, to ensure that women can succeed in that area. When you look at the work that's been done, I would say there's more to be done.
It was great to see the Women's Business Council highlighting the great work of Proctor & Gamble as an example of company who's leading the way in this area. That industry runs tours for both teachers and pupils, networking events, external workshops and careers fairs focused on science and engineering. And by showing girls and young women what the possibilities are in terms of careers, showcasing science and technology to a whole new generation.
The launch of the Business Council's Report today is only the first step. And I am actively taking forward these recommendations by establishing a Ministerial Taskforce, to make sure that those very clear recommendations that are articulated in the report don't sit on the shelf, but are translated into actions in government too.
And the Taskforce will have a really clear focus on how women can work even more to produce that economic growth for the future, and will be made up of Ministers from all the relevant departments, and will be publishing a detailed action plan and the progress that we're making in the autumn. And I think it's by building up that momentum that we can keep up the pressure to achieve that culture change that Ruby was talking about in her comments earlier on.
Let's just reflect for a moment how much times have changed, because today is as many of you know a significant day for women in Britain. It's exactly one hundred years ago today, a woman named Emily Davidson stepped out from beneath the barrier holding back the crowd at Epsom racecourse. And she fell beneath the horse that was being run by the King – in an attempt to give prominence to the fight that was going on at the time to give women the right to vote.
She died tragically fighting for something she believed in. I doubt she could ever have imagined the situation that we find ourselves in today were we have women MPs, women Ministers, or women Secretaries of State. But all of these things are now for us a reality.
I can only wonder how the next generation will take this equalities agenda forward – and to look forward a century from now, where we might be in terms of women's role in society. I think we've come a long way, I think the report today gives us an opportunity to go even further and I hope I can involve everyone in this room to help achieve that objective.
Thank you.
Published 4 June 2013