Speech
Women of the future summit
Education Secretary Nicky Morgan speaks about government priorities for achieving gender equality and removing barriers to women's success.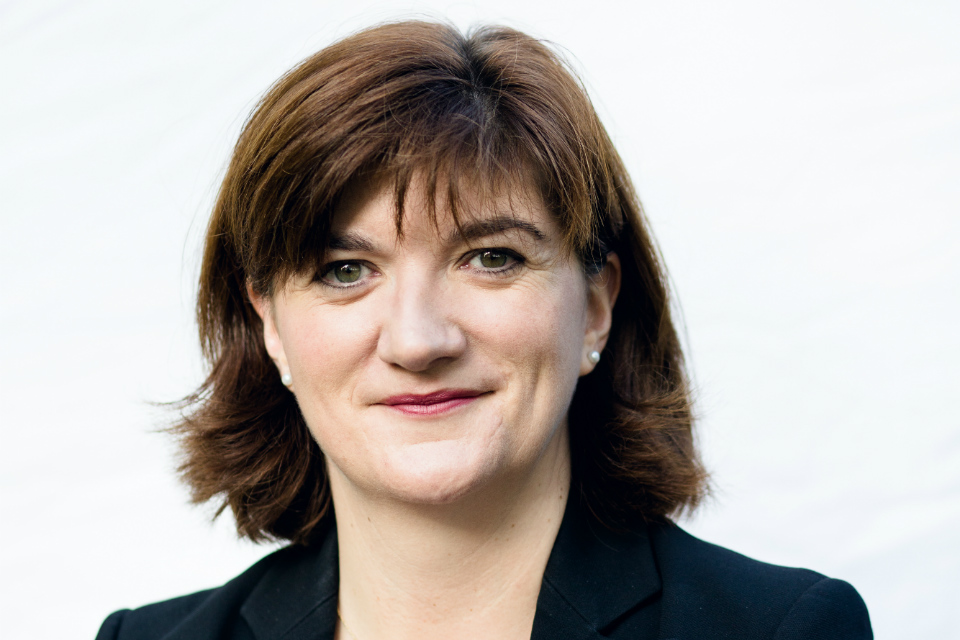 Good afternoon, it's a real privilege to be here today (27 October 2015).
Thank you Alison for that introduction and thank you to Women for the Future for having me here at this fantastic event which is showcasing the best of female leaders in a huge range of fields, it is truly inspiring.
It has been great to hear from you all and to see your achievements.
This summit and the wider 'Week of Women' is a brilliant opportunity to bring together future female leaders to build relationships and share insight and experiences.
We know that around the world, women remain under-represented at most levels of government and in senior positions within the private sector. That's why events like this are crucial in raising awareness, discussing the issues and fundamentally driving change.
This is a priority for this government
Removing barriers to women's success is a key priority for the government.
This commitment was set out in our manifesto and over the weekend I am proud to say that the Prime Minister made an ambitious announcement on eradicating gender inequality. His message was clear - 'you can't have true opportunity without real equality'.
With a firm pledge from us to tackle the gender pay gap and a determination to eliminate all-male boards in the FTSE 350, the spotlight is firmly on the equality agenda. There is no better time to be discussing, debating and raising awareness of the key issues facing women in work.
I am proud that this dedication to equality runs right to the top of government and as Minister for Women and Equalities I will continue to drive this agenda forward.
Why this is important
Gender equality is about giving everyone, whether you are a man or woman equal opportunity. This fundamental principle should apply in every workplace, in every sector, in every boardroom.
The UK economy is dependent on us better using the talent of women, capitalising on the wealth of skill and talent that female leaders can bring to our top companies.
We know that in the UK equalising women's productivity and employment to the same levels as men's could add £600 billion to our economy, clearing a third of our national debt.
Improving the gender diversity at the top of British business will help to unleash the full extent of female talent; this is not only great for women, providing positive role models in leadership positions, but it is also good for business.
If we want to make the most of half of our workforce, if we want to eliminate the gender pay gap and if we want to develop our women of the future, then we must ensure that young women believe that they can do anything they want, that their aspirations are achievable.
The economic arguments are of course important but, frankly, gender equality is also just the right thing to do.
Personal experience
As some of you might know I have been involved in 2 of the most male-dominated sectors you could imagine!
Law and politics are not professions where you often hear 'women' and 'leadership' in the same sentence, although things are changing, albeit slowly.
When I worked as a solicitor in the City there were fewer female partners – those who were there didn't really draw attention to their power as role models, but merely tried to blend in. We don't have to be like men to succeed. The book on your tables here today [10 years, 10 stories] highlights women's strong characteristics: driven, authentic, collaborative, emotionally intelligent, intuitive, kind and attentive.
I have also been involved in politics for over 25 years now and although we still have a long way to go I've seen my party go through a lot of changes in that time. I'm proud to be part of the most diverse Parliament ever - currently 29.4% of MPs are female and a third of the cabinet are women - the support provided by other female MPs made a big difference when I first became an MP in 2010, and we are doing the same with the 2015 intake.
In my current role I lead 2 government departments and I am even more conscious that to get more women involved in politics and to senior levels in government we can't leave matters to chance.
The power of inspirational women
We have all been inspired at one point in our lives by someone whose passion and dedication makes us want to fight for what we believe in and achieve our goals.
One of the women who no doubt comes into this category is Pinky Lilani who founded the Women for the Future Awards. She is one of Britain's most entrepreneurial women and a true inspiration.
And when I attended this summit last year I was able to present one of these awards to the fantastic Claire Angell from KPMG, who as a senior tax adviser in the oil and gas sector, has risen to the top of an industry dominated by men.
Through the Women's Business Council I have been able to work with some of the top businesswomen in Britain. With Ruby McGregor-Smith at the helm, the council have raised the profile of women in business and I have been inspired by the time and effort they have dedicated to this cause.
During my time in politics I have had the privilege to meet some really inspirational women who are true leaders in their fields, including the remarkable and still very young Malala Yousafzai who is leading the charge for girls education in some of the toughest corners of the world.
I have also had the pleasure of meeting the First Lady, Michelle Obama, whose memorable quote about the importance of women's contribution strikes at the very heart of why days like this are important: She said that 'no country can ever truly flourish if it stifles the potential of its women and deprives itself of the contributions of half of its citizens'.
I don't think any of us could agree more.
And as Education Secretary I have met some inspirational teachers like Doctor Vanessa Ogden, who every day inspires her pupils at Mulberry School for Girls. I believe Vanessa is in the audience today and also won an award last year - there is clearly a pattern emerging!
We've come a long way
We've come a long way over recent years when it comes to gender equality. Recognising what we've done, and the strides we've made is often just as essential as talking about what more we should do.
There has been a lot of success to build on. And I'm so proud of what we've achieved:
we've more women in work than ever before - female employment has increased with 14.6 million women now in work
there are 1 million British SMEs with women at the helm
we've helped to achieve the lowest ever gender pay gap on record
we've more than doubled women's representation on FTSE 100 boards since 2011
We're also breaking down the barriers preventing women from progressing to the top:
more than 20 million employees can now request flexible working, providing more choice for working parents
we've introduced shared parental leave because we know childcare is an issue that affects both mums and dads
we've committed to double the free hours of childcare provided for working parents of 3- and 4-year olds, from 15 hours to 30 hours a week.
Women on boards
But although we have come a long way this is not 'job done'.
As the Prime Minister reiterated over the weekend we will 'finish the fight for real equality in our country'.
That's why we have called for an end to all male boards in the FTSE 350. Because having women at the top as role models is helping to ensure that boards better reflect the customers they represent.
And personally I don't think that this is unachievable because there is clearly no shortage of women who are qualified, experienced, and who crucially want to do these jobs.
There were many people who said the talent pool from which to draw women board members simply didn't exist, how wrong they were! Looking out on this audience today it is abundantly clear that there is no shortage of talented and ambitious women.
Gender pay gap
Having more women at the top is important but we also need to tackle inequality elsewhere. A fundamental part of gender inequality is tackling the gender pay gap which is why we have committed to requiring employers to publish information on the difference between men and women's' pay.
Let me be clear there is no place for a pay gap in today's society.
And as we announced this weekend we will also expect companies to look at their bonus data as well as extending this policy to the public sector. Because what we expect of business we expect of ourselves.
We simply cannot have our young women growing up in a country where they get paid less because of their gender rather than how good they are at their work.
Girls' aspirations
That's why this must all start early, tackling inequality at its root.
For me, as you might expect, this starts in school. I care passionately about the futures of today's young women; about their academic choices, about their career successes.
We have raised girls' aspirations with 16,000 more girls taking science, technology, engineering and maths at A level since 2010. We are breaking down the traditional belief that some careers are only 'for the boys' through initiatives like the 'Your Life' campaign and the Your Daughter's Future programme.
Raising girls' aspirations in the classroom will encourage them to go on and study engineering at university or set up their own business, education is where we can grow girls' confidence, spark their ideas and teach them that regardless of gender, race, or background, they can achieve whatever they set their mind to.
Conclusion
There is no better time to be talking about women in leadership with the spotlight firmly on this agenda. 100 years on from the Suffragette movement and the fight for gender equality continues, I urge you to join this fight with the power and passion of women like Pinky.
But we aren't in this fight alone, we have inspirational men championing our cause, and a special mention goes to Lord Davies who has really been the driving force behind the women on board's agenda here in the UK.
From the top of government, the message couldn't be clearer; we are determined to eradicate gender inequality.
From the opportunities women are given in school to the ability to move up the executive pipeline, we are determined to tackle the barriers to women achieving their all.
Thank you.
Published 28 October 2015