Speech to the Oxford Media Convention
Speech by Ed Vaizey to the Oxford Media Convention, covering issues around the Communications White Paper: connectivity, content and consumer issues.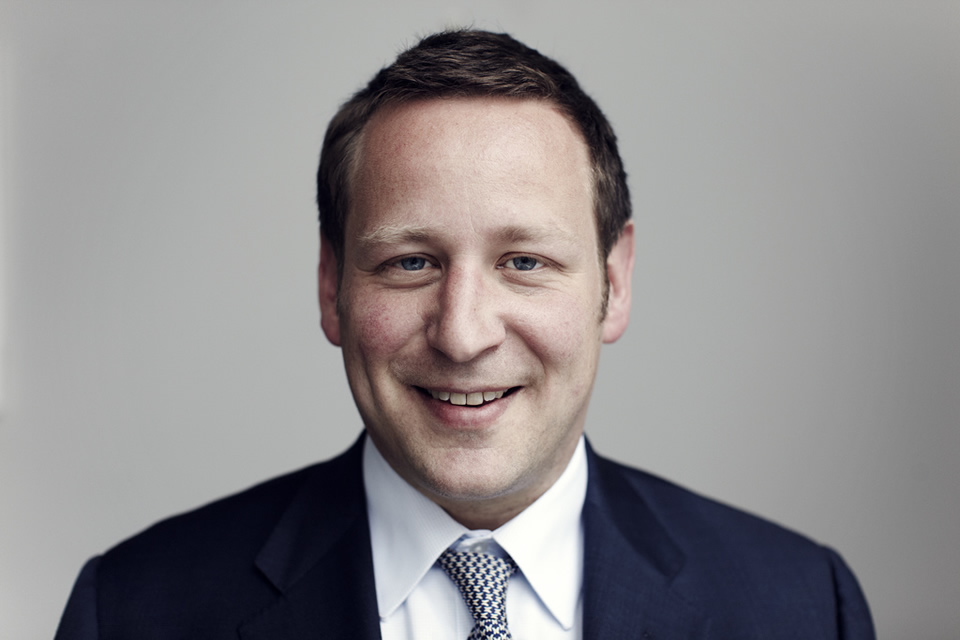 The Communications White Paper
Challenges and successes of the last year
I am delighted to be back and speaking at the Oxford Media Convention again this year. I know that you will cover a lot of topics today, including Leveson, media plurality, the protection of children on-line and 4G spectrum and the changes that will bring.
What I would like to do this morning is set out some of the issues the government intends to address in our forthcoming White Paper, to give you some insight into the issues that we think are important. Some of these issues, you will be glad to hear, overlap with your discussions later today, so we should be on the same wavelength.
But before I get into that, I wanted to reflect briefly on the UK media.
This has been one of the most challenging years.  We have had Savile, Lord MacAlpine, the Leveson Report, the spotlight has been on failures. I want to talk about the success of the British media.
The BBC covered the Olympics superbly. Channel 4 transformed forever the way the Paralympics are seen. The Mail Online became the most visited English language newspaper website in the world. There was record inwards investment in British film and television from the likes of Disney, Warner Brothers and Discovery. Skyfall became the highest grossing film of all time at the UK Box office. British consumers broke the £1 billion level in digital downloads.  And the UK advertising industry continued to lead the world in pioneering new ways of digital advertising.
So there is a huge amount to be proud of, and I am proud to represent this sector in government.
Framing the Paper
And it is on that note that I want to tell you about the White Paper that will come out later this year. The White Paper, when it is eventually published, will be the culmination of almost 2 years of discussions with industry and other stakeholders. I want to thank everyone who has contributed to this discussion: in seminars, in responses to our discussion papers, on twitter and on the blog.
There is a clear message that has come out and that is the industry wants evolution rather than revolution.
There simply isn't a great clamour for wide scale reform. People have told us that, for the most part, our regulatory framework is working well. Industry isn't being choked by regulation, something borne out by the huge success of recent years. 
And consumers are embracing new formats and technology with more enthusiasm than almost anywhere else in the world, so regulation doesn't seem to be stifling innovation.
So what are the issues we want to address? The White Paper will focus on three key areas: connectivity, content and consumer issues. I'm not going to tell you the detail what the White Paper will say, I wouldn't want to spoil the surprise, but I am going to sketch out the issues that we face in each of the key areas and how we are approaching them. 
Connectivity
First, then, I want to talk about connectivity and the infrastructure that underlies the entire communications sector, sometimes literally. We have set our goal for the UK to have the best superfast broadband network in Europe by 2015.  We are investing £830 million in digital infrastructure to achieve this, money which will support the roll out of high speed broadband in rural communities, key cities and mobile not-spots.
The issue of mobile infrastructure is particularly important right now. One part of this that you won't have been able to avoid hearing about is the introduction of 4G, indeed you are discussing it later today. We already have 4G services from EE and the spectrum auction, currently taking place under the watchful eye of Ofcom, will set the ball rolling for the arrival of 4G in the spring from a choice of operators. This will maximise the value and benefit of this scarce spectrum resource. 
But rolling out 4G isn't enough. Spectrum has many uses and there is a real need for more spectrum to be freed up and for the spectrum available to be better used. It needs to be used more flexibly; it needs to be allocated and re-allocated faster; it needs to meet the requirements of emerging technologies. In short it needs to support businesses to let them deliver for consumers.
We already have the world's most ambitious programme to release public sector spectrum.  But the White Paper will look ahead, and focus on mechanisms to ensure that we have the spectrum we need to meet the challenges ahead.
Content
But great fixed and mobile connectivity is nothing without great content.  That puts us in the UK in a fantastic position. Whether it is Television, Film, Radio or Video Games, the UK is leading the way in creating innovative, successful and entertaining content.
I was delighted when I saw the report from the Commercial Broadcasters' Association, showing that investment in UK TV increased by a third in 2012. Broadcast has set out the 'Big ambitious and bold plans' including major investment in UK content. It talks about:
"Sky establishing itself as a UK commissioner en par 'with the big boys'"
'Significant investment' from UKTV … in new domestic shows "
"The launch of 'London-based commissioning hubs'  by Discovery and National Geographic "
"Fox UK stepping up UK commissions … with an investment of £5 million."
Investment in content continues apace. We want to support this investment.
We want this level of success and investment not just to continue but to increase. That's why we are introducing tax breaks for high end TV, animation and video games to sit alongside the tax breaks already in place for the film industry.
That is why we want to provide certainty to those investing in content. That is why we have renewed the Channel 3 and Channel 5 licences, to maintain the content requirements for our Public Service Broadcasters, protecting the delivery of the world class content that we value so much.
But this isn't enough. We want the content market, the complex ecosystem of different organisations across the content production chain, to stay dynamic, flexible and responsive. We want a mix of businesses of various sizes and with difference specialisms. We want it to be competitive. So we will have to look at the impact of convergence on markets. We want to make sure that, where previously distinct markets now overlap, the regulations are appropriate and that historic regulatory differences don't inhibit competition.
We also want to see a solution to the current situation on so-called retransmission fees where Public Service Broadcasters and Licence Fee payers have paid large amounts to satellite providers for the content to be carried. We've looked very carefully at arguments on both sides and recognise that this situation has evolved over time perhaps in a way we didn't intend.
I welcome the steps Sky have taken so far to reduce retransmission fees to a much lower level. But we want them to go further, taking into account the undoubted value that PSB's offer to satellite platforms and their viewers, so that there's a level playing field: zero fees either way.
This would mirror the arrangement that is currently the case for PSBs and cable platforms, where no charges are made - an arrangement that we want to see this preserved. We're looking closely at how we can help achieve this without allowing other kinds of services, which offer no support to PSBs and therefore ultimately no advantage to consumers, to benefit.
We're not going to rush into a regulatory solution because we think there's no reason the market shouldn't be able to work out a fair equitable solution as things stand, but if the industry can't find a way to stop imposing this cost on Licence Fee payers and PSBs, we will look at our options for intervention.
Consumers
The final area I want to turn to is consumers, one that I think is particularly important in an environment where new technologies, platforms and services are emerging all the time. We want to make sure we continue to have a regulatory system that provides adequate protection for consumers.
New products of every kind are providing great new opportunities for consumers: goods that people want, services that allow us to connect, socialise and work in ways that until recently we wouldn't have thought possible. But with this comes new challenges.
The regulations that are currently in place could never have envisaged the services that we now take for granted. So we need to update regulations where necessary to fill in these gaps, but also to update the framework, to allow the flexibility to respond to these challenges as they emerge, rather than all at once every ten years.
And, of course, action by industry itself has an incredibly important role to play. One area that I personally feel very strongly about, and where action is being taken, is in making sure that children are protected from harmful content.
Now I know you'll be discussing these issues later this morning. I think it is important to stress that real strides are being made through the UK Council for Child Internet Safety. UKCCIS is a pioneering body.
It was one of the first organisations of its kind in the world, bringing together the key players in child internet safety and working with industry to give parents the tools they need to protect children: ISP delivered parental control solutions, device level solutions, and greater support and education than ever before.
So real progress is being made, but we certainly aren't making the mistake of thinking the work is done. We are working with industry to implement our new system, where every parent will be prompted to protect their child online. Protection will automatically be on if parents don't make choices. No other government has taken such radical steps before. And once this is in place, Britain will have the most robust internet child protection measures of any country in the world, bar none.
To support this, next week I will be meeting with key Internet Service Providers, the Internet Service Provider Association, Reg Bailey and Claire Perry, MP, the Prime Minister's advisor on preventing the commercialisation and sexualisation of children. We want to review what has been achieved so far, and there is a lot, and to make sure ISPs do more, particularly in terms of raising awareness of parental controls.
There are other issues of consumer protection, the biggest issue in my postbag from the public is probably silent calls, unsolicited marketing calls and spam text messages. 
Whilst direct marketing is a legitimate industry there is a need for better enforcement of the regulations to stop unwanted calls and texts. We have given enforcement bodies the teeth they need to do their work, through the powers to issue fines of up to £2 million for silent calls and £500,000 for unsolicited marketing, changes that we introduced over the last couple of years, and it is good to see Ofcom and the ICO are using these powers.
But much more needs to be done. The split of responsibilities between the Telephone Preference Service, Ofcom and the Information Commissioner's Office is confusing. The regulators need to bite, and bite hard, so that there is effective enforcement.
So we want to give greater clarity to consumers about who to turn to, and critically I want to see more effective enforcement by the regulators to move with greater precision and speed in targeting rogue players.
The final consumer issue I want to touch on is personal data. Data is absolutely crucial to the success of on-line businesses. 
It is absolutely crucial that we strike the right balance between the protection of consumers, making sure that they know how their data is being used, and the ability of business to use this data to deliver products and services that people want. 
We took exactly this approach when I fought hard to ensure that the e-privacy directive achieved its aim of flagging cookies to web users, without stifling innovation. 
We now face the same challenge with the EU Data protection proposals. We welcome the call to update these provisions. But we want to work hard with our colleagues.
I will work hard with our colleagues at the Ministry of Justice to ensure our approach to negotiations reflects the concerns of industry. At the same time it is important that industry can show that it understands the concerns that have been expressed about user privacy and make real efforts to work with our colleagues in Europe to address those concerns.
Simply balking at the proposals on the table is not good enough, this is not going to go away so we need to work together to ensure what we end up with is practical for business, and delivers real safeguards for consumers.
We are all living more connected lives, relying more on the communications industry to socialise, share, work, shop. And in this context we want everyone to feel confident that they understand and are able to manage their privacy, their interactions, their finance and their data online and across the different platforms.
And we want to make sure that where this doesn't happen people know which bodies they can turn to for support.
Getting the framework right here, the right balance between regulation and industry action, is vital. Not only is it good for consumers, it is good for business and it is good for growth.
Conclusion
We as a government don't have all the answers for all the challenges this sector will face over the next decade. In fact I am saying the opposite.
What we need is a regime that is responsive and flexible enough to regulate a fast paced environment. What we need is for these industries to continue to innovate and to take responsibility. This will give us a framework that is able to support growth and support the people of the UK in an increasingly interconnected world. This means the best infrastructure. This means we support world leading content. This means consumer confidence in this brave new world.
I'm looking forward to sharing the Paper with you all, and even more so to working with you to see this realised.
Thank you.
[Ends]
Published 23 January 2013