Speech
Speech delivered by British Ambassador to Israel at Queen's Birthday Party
The British Ambassador to Israel Matthew Gould and his wife Celia hosted 1000 guests at the Ariel Sharon Park Recycling Mountain.
"This is a bittersweet occasion for us. We have been here almost five years. We have made many friends, done many things, accumulated many happy memories. It is wonderful to see you all here, and to share this evening with you. And sad to know that in less than two months Celia, Rachel, Emily and I will be leaving Israel for good.
Our time in Israel has been a privilege. It has been a huge honour to be the first Jewish Ambassador from Britain, the country that gave my grandfather refuge, to Israel, the homeland of the Jewish people.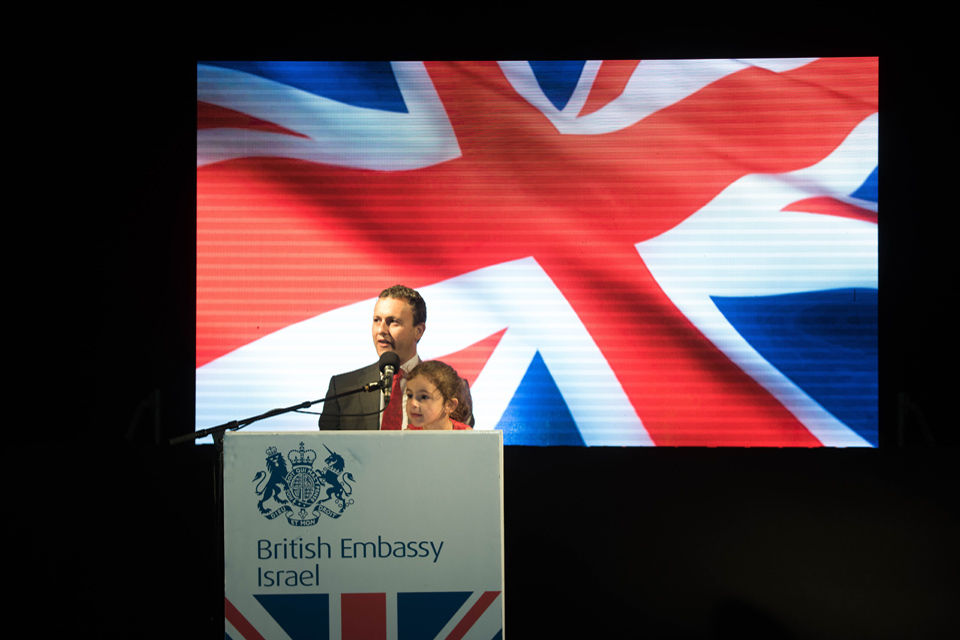 It has been an honour to build and guard the friendship between our countries, to help us strengthen our partnerships and navigate our differences, to carry with me the weight of historical baggage that we share.
One of the many things we have in common is robust democracy. A few weeks ago Israel went to the polls. In a week's time, Britain is going to the polls. These are important moments for both countries, setting the direction which our countries will take in the coming years.
But because Britain is going to the polls, civil servants like me are under strict rules to keep quiet, and in particular to say nothing that might cause controversy. In my experience, it is hard to say anything about Israel that is sure to avoid controversy. So this might have to be a short speech.
But I have been struck that on a number of issues to do with our relationship with Israel, there is a clear consensus.
First, that Britain is a friend of Israel. In particular, that we oppose attempts to delegitimize Israel. We reject those who seek to call Israel's very existence into question, or to deny Israel its right to defend itself. And we reject clearly and unequivocally calls to boycott Israel. The work that we do - to build the partnership between us – gives expression to that clear stance.
Second, that we will continue to build the security partnership. We face common threats, from terrorism to proliferation. We will continue to work together to tackle them, even as in some cases like Iran's nuclear programme we disagree on the best way to handle them.
Third, that we will continue to grow the economic partnership. In the past few years trade has grown sharply. More and more Israeli companies have invested in Britain. More and more British companies have invested in Israel. Dozens of scientific partnerships have been established. Scholarships and fellowships have been established for Israelis to study and research in the UK.
Fourth, that we will in particular continue to build the UK/Israel partnership in technology. In recent years numerous British companies have been forging alliances with Israeli innovation in a partnership that is hugely to the benefit of both sides, from agritech to pharma to financial tech to Arabic digital content. Increasing numbers of Israeli tech entrepreneurs are finding that they can take their innovation global through partnerships with Britain. Increasing numbers of British companies are finding that Israeli innovation can give them a global edge.
I hope you have seen some of the wonderful examples of these partnerships around us. If you haven't, please take a moment to check them out. And last, that we want to see progress towards peace. We know that the road to peace is not easy, that the answers are not straightforward, and that it takes two sides to make peace. But we also know that in the absence of progress towards peace, Israel loses support, and peace becomes even harder to achieve.
Israel is a wonderful, unique posting for diplomats. Always interesting, often a little bit too interesting. Israel packs in more politics, innovation, history, controversy, nature and beauty to each square kilometer than anywhere else I know.
We have travelled the length and breadth of the country, and even now we know we have only scratched the surface. As we prepare to leave, Celia and I know that nowhere will be quite the same.
And as we prepare to leave, this is a good moment for me to say thank you.
Thank you to all our sponsors for today's event, particularly Rolls Royce, Taylor Wessing and Visa.
Thank you to my wonderful team, at the Embassy and the British Council, who day by day labour hard and to the highest standards to make a reality of all Britain's ambitious goals for our relationship with Israel and for the region."
Thank you to Celia, who has been my constant companion, my best friend and my most honest critic. We started a family here, and take home with us two little girls who will always have on their passports that they were made in Israel.
Thank you to all of you, our friends, who have made our posting here so special. You have made this posting come alive for us. You have shown us warmth, and kindness, and great hospitality, and aggressive driving. We know we will take with us many memories, and also many friendships that will not end when we fly back to London.
So it gives me great pleasure, and some sadness, to propose the toast for the last time – to the President and State of Israel."
Published 1 May 2015