Speech
Sam Gyimah speaks at the Children & Young People Now awards
Childcare and Education Minister Sam Gyimah speaks to the nominees for the ninth annual Children & Young People Now (CYPN) awards.
Thank you for that very kind introduction.
It's a genuine pleasure to be here.
The last few months have confirmed to me something I already knew. There are so many talented and dedicated people working across the country with children and young people of all ages, from all backgrounds, and with all sorts of different needs - and there's a room full of the most committed professionals in front of me at the moment.
The CYPN awards rightly recognise the professionals that truly go above and beyond.
And what I'm really pleased about is that these awards are judged by the people that matter. The panel of experts who have picked tonight's winners isn't just comprised of adults, but of young people too.
And this is exactly how it should be. The young people that benefit from these services, who understand their own needs best of all, should absolutely be involved in recognising and rewarding the people who give them the support they need.
So it's right that I pay tribute to all those who have helped make this ceremony possible.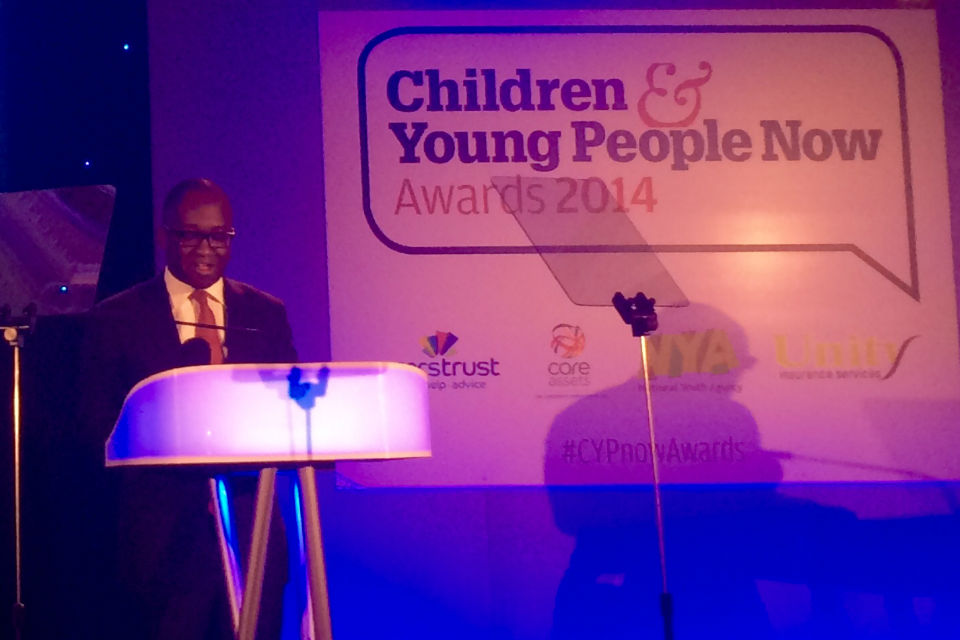 In other words, to celebrate and recognise the invaluable work of the sector.
But, if you will indulge me for just a few minutes before the evening's fun can really begin, I want to spend a moment focusing on something that can have a massive impact on children and young people's lives, and something that I care passionately about - mental health.
And I know you care too - tonight's health and wellbeing award - with 8 fantastic organisations on the shortlist, celebrating the best and most innovative practice in the sector - proves that.
The very fact I'm talking here today shows that children's mental health has a place on the political stage that hasn't been seen before. In fact, I'm the first ever DfE minister to be appointed with specific responsibility for children and adolescent mental health services (CAMHS).
And politicians from across the political spectrum are competing to have their say. Norman Lamb, Theresa May, the Deputy Prime Minister, my boss, Nicky Morgan - all have spoken in the last month about mental health services, including for children and young people. So I think it's fair to say that a lot of people care about getting it right.
But I know there's a problem with CAMHS in this country, as do those on the front line.
You see for yourselves how children's lives can be disrupted by poor mental health, from stress and anxiety about exams to incredibly serious and debilitating long-term conditions.
And you also know how hard it can sometimes be to help those young people access the support they need to get better.
Worse than that, we also know there are young people who suffer in silence, whose problems remain a hidden struggle.
And this, I believe, can be for a number of reasons.
A fear of being labelled 'different' by their peers. A fear of bullying, whether in person or online. A fear of losing friends.
It's difficult enough being a young person as it is, without wanting to admit to something that makes you stand out.
But we also know that some young people don't speak up because they don't really understand the support that's available for them - they don't see mental health services as something that can make a real difference to their lives.
And finally, there can too often be misconceptions around what mental health problems in young people look like. Poor behaviour might be more than teenage mood swings that they'll grow out of, or naughtiness that will respond to a telling-off.
But that's not to say we haven't made progress.
Our SEN and disability reforms emphasise the need for schools to look past behaviour issues to what lies behind them. And new behaviour guidance, published earlier this year, is designed to help teachers spot these differences between bad behaviour and underlying mental health problems, and to help pupils seek the right support.
I've also had the great joy of learning for myself, over recent months, about the work of dedicated charities and voluntary organisations. I particularly enjoyed hosting a round table to learn more about the good work going on across the sector, and hearing from the British Association of Counselling and Psychotherapy, Young Minds, Youth Access and Place2be.
And just earlier this week, I saw for myself the importance of listening to, and working with, young people themselves. The group of girls I met in Islington on Monday saw their school's character-building enrichment activities, the vibrant PSHE curriculum and the support provided by their form tutors, pastoral lead and on-site psychologist as part and parcel of a single whole-school approach to their well-being.
They knew where to get help if they had problems. They knew how to support their friends if they suspected something was wrong.
And this visit to Islington showed me two things.
One - the need to put young people at the heart of our approach.
And two, what good mental health provision looks like - the school took early identification and prevention so seriously that they screened all of their year 7 pupils.
So, I think there's cause to be optimistic.
I really think we're starting to see an attitude shift in society.
No longer is there the same level of stigma behind mental health conditions.
But I know we need to do more if this attitude shift is to continue in the right direction.
Which is why I was delighted to make a number of announcements earlier today that I wanted all of you here in the room tonight to hear about in person.
I am very pleased to be able to say that I have commissioned the PSHE Association to produce guidance on teaching about mental health issues in schools, helping to make schools a place where mental health needs are identified and support is provided sympathetically.
Where schools provide access to counselling services for their pupils, it can help develop a supportive culture, keeping pupils engaged with their peers and with learning.
So I'm also pleased to announce the development of a new departmental strategy that focuses on getting experts to distil what it is that makes for good counselling services in primary and secondary schools. And what the wider benefits can be - how we can unlock the potential of pupils and work out when they need more specialist help.
Because we know that more than half of adults with a mental health problem were first diagnosed in childhood, and of that number fewer than half were treated appropriately as children.
So I'm delighted to be working closely with the Department for Health and NHS England. We're working jointly with their mental health taskforce to look in detail about how we make sure that treatment is available quickly when it is needed.
Because while schools have a role to play in identifying mental health issues, teachers are not mental health professionals. Schools need the support of others to play their part and properly support all of the children and young people in their care.
And finally, as part of our voluntary and community sector grant scheme - which funds high-profile and innovative activities to improve the lives of children and their families - we've created, for the first time, a specific mental health funding strand.
And these announcements form a key part of my vision for the future of CAMHS.
It's right that we renew our focus on the character, resilience and well-being of children and young people - it's one of the department's biggest priorities over the coming months. So often it can feel like schools and teachers are judged purely on the results they achieve, on their standing in the league tables. But inextricably linked with academic successes are well-being, character, confidence - all of the ingredients that come together to create the whole child.
Mental health, especially in children and young people, can be complex. So complex that it's impossible to sum up, in one pithy sentence, in one short speech, what success should look like.
But I hope you all agree that if we continue to strive towards ending the stigma of mental illness in society once and for all - if we develop innovative and creative policy, not just driven by Whitehall but led by those on the front line - if we can make sure all schools can get hold of the guidance, knowledge, and support they need to provide for their pupils - to try and prevent problems from developing in the first place, and where they do arise, spotting them early and intervening - if pupils can admit, without fear or shame, that they're struggling and that they need help - and if they then get that help quickly and sensitively - then we're on our way.
In other words, if we reach a point where mental health is no longer a barrier to success, and where the right systems are in place to help all children unlock their potential.
I've kept you all from enjoying the rest of your dinner quite long enough now, I think!
I've focused today on mental health support, but it's only right that I end by reiterating my deepest thanks and gratitude for the support that all of you provide, across the whole spectrum of children's services.
Thank you for everything you do, and enjoy your night.
Published 21 November 2014