Oral statement to Parliament
Preventing Sexual Violence in Conflict
The Foreign Secretary has announced that the UK will hold a global summit on preventing sexual violence in conflict in June 2014.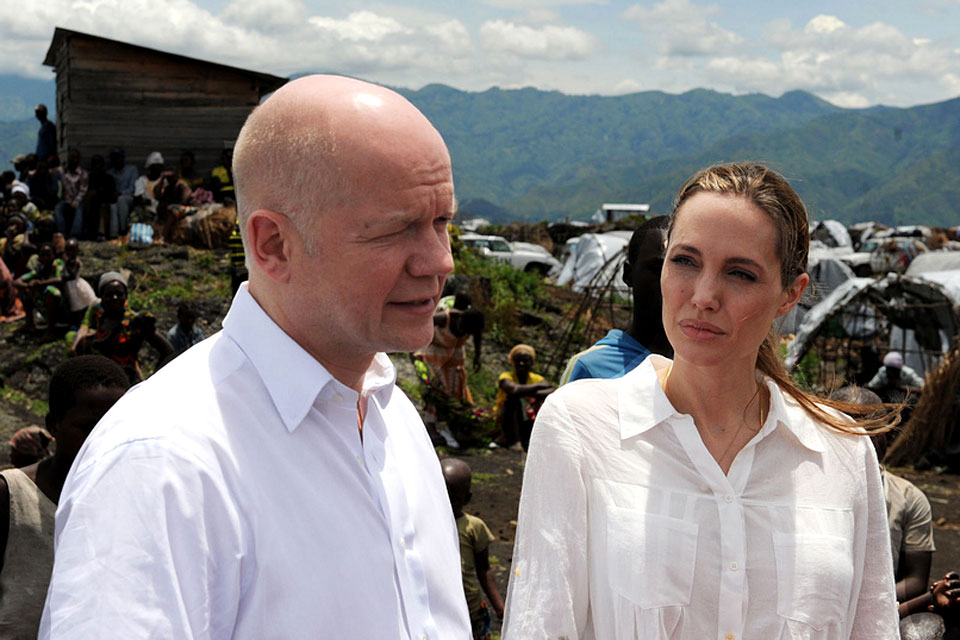 The Foreign Secretary William Hague said:
Mr Speaker, with permission I will update the House on the Government's initiative on Preventing Sexual Violence in Conflict.
This issue is not about politics, but about our common humanity; and it is not enough to be united in condemnation of it, unless we are united in action against it.
It was only when the true horror of slavery came to light in the 18th century that our nation acted against it. In our time we have come to understand the true horror of warzone sexual violence in Bosnia, Rwanda, Colombia, Somalia and many other nations, including Syria.
I will never forget meeting young women in a hospital in Goma so damaged by rape that they required surgery; or the woman in a refugee camp there who said they were being "raped like animals"; or male survivors in Sarajevo, who twenty years on still live lives shattered by trauma; or meeting women in refugee camps in Darfur who were raped collecting firewood. What they all had in common was that, unjustly, they bore the stigma and shame and loneliness, while their attackers walked free and unpunished.
This is rape used as a tactic or weapon of war; to terrorise, to humiliate and to ethnically cleanse. It destroys lives, fuels conflict, creates refugees, and is often a tragic link in a chain of human rights abuses – from sexual slavery, to forced marriage and human trafficking. Sexual violence affects men and boys as well as women and girls. It undermines reconciliation, and traps survivors in conflict, poverty and insecurity. Preventing it is a moral cause for our generation.
Our goal must be to end the use of rape as a weapon of war; no longer treating it as an inevitable consequence of conflict but a crime that can be stopped. We need to put perpetrators behind bars and restore dignity to the survivors, who are often rejected by their families, suffer illness, lack proper housing, are not employed, do not have access to education, and struggle to survive.
Ending warzone rape is the aim of the initiative I launched eighteen months ago, with Special Envoy of the High Commissioner for Refugees Angelina Jolie. I pay tribute to her for helping us to galvanise world opinion.
In April, during our Presidency the G8 adopted an historic Declaration promising to eradicate sexual violence in conflict.
In June, I chaired the meeting of the UN Security Council that unanimously adopted Resolution 2106: its first resolution on sexual violence in three years. Co-sponsored by an unprecedented 46 nations it strengthened the UN's capabilities.
In September, during and after the UN General Assembly, we put forward a new Declaration of Commitment to End Sexual Violence in Conflict, which has been endorsed by 137 countries, over two thirds of all the members of the United Nations.
At our behest they have promised not to enter into or support peace agreements that give amnesty for rape. Suspects can be arrested in any of these countries, all of whom have now recognised rape and serious sexual violence as grave breaches of the Geneva Conventions, so that the principle of universal jurisdiction applies. They will support new global efforts to give aid and justice for survivors. Every UN peacekeeping mission will now automatically include the protection of civilians against sexual violence in conflict, for the first time. Furthermore, all 137 countries have agreed to support the development of the new International Protocol on the Investigation and Documentation of Sexual Violence in conflict that we have proposed. These are all groundbreaking commitments to erode impunity and support victims.
And this month, our attendance at the Commonwealth Heads of Government meeting in Sri Lanka ensured that the final communiqué contained the first ever commitment by all 53 members states to prevent and respond to sexual violence.
We are underpinning this diplomatic campaign with practical action.
Over the last six months we have worked with leaders in 14 countries who are champions of this initiative in their regions: the Presidents of Liberia, Malawi, Senegal and Tanzania, the Prime Minister of East Timor, and the Foreign Ministers of Australia, Croatia, Denmark, Guatemala, Jordan, Mexico, South Korea, the UAE and Indonesia. I thank them all for their leadership.
We have drawn up the new draft Protocol, with experts from all over the world. It sets out ideal international standards for documenting and investigating sexual violence in conflict zones. Its purpose is to increase the number of prosecutions worldwide, by ensuring that the strongest evidence and information is collected and survivors receive proper support. Since April we have deployed our Team of Experts to the Syrian borders, the DRC, Bosnia and Herzegovina, and Kosovo, where they have trained health professionals and human rights defenders in documenting crimes, investigation standards and collecting and storing forensic evidence.
In Mali, we are deploying experts with the EU Training Mission. They have trained two battalions of soldiers so far in international humanitarian and human rights law, in a country where men in uniform have often been accused of carrying out some of the worst rapes.
We are giving new support to the UN, and have provided £1 million to support the work of the Special Representative on Sexual Violence in Conflict, Zainab Bangura, to whom I pay tribute for her inspiring work, and we will second an expert to her team in 2014.
The Department for International Development is playing a vital part. They have agreed a new approach to protecting women and girls in emergency situations with the UN and civil society, and launched a new £25 million Research and Innovation Fund to help address violence against women in conflict settings.
All this represents significant progress. Action begun by eight nations has become global. We've driven the need to end warzone sexual violence up the world's agenda, and generated a new willingness from governments around the world to take a stand on the issue.
But this is only a beginning. We will not succeed until we shatter the culture of impunity, make a real difference to the lives of survivors and stop these crimes from happening.
So while we continue our diplomacy and practical work, lobbying more countries to join us and urging those who have done so to fulfil their promises, we want to achieve another step-change in global awareness and readiness to act.
We need to bring together in one place all the people who are driving forward this initiative, to open the eyes of many others and to ensure that commitments to practical actions are really fulfilled.
As the next stage in this campaign, I have decided to convene a global summit in London from 11-13 June next year, co-chaired by me and UNHCR Special Envoy Jolie.
We will invite the states who have endorsed the Declaration, and legal, military, civil society and humanitarian representatives from around the world.
We will open up the summit to civil society and members of the public.
There will be a large fringe, enabling events on conflict prevention, women's rights, international justice, and business and human rights throughout the summit.
We will run simultaneous events in our Embassies and High Commissions on every continent, so that this is not only a summit in London but an international global event that continues around-the-clock throughout the duration of the summit.
We intend it to be the largest summit ever staged on this issue. We want to bring the world to a point of no return, creating irreversible momentum towards ending warzone rape and sexual violence worldwide.
We will ask all the countries present to make real practical commitments. We will ask them to revise their military doctrines and training, and their training and operations on peacekeeping missions. We will ask them to commit new support for local and grassroots organisations and human rights defenders. We will encourage groups of nations to form new partnerships to support conflict affected countries, to make this a priority in their Foreign Ministries, and to set up their own teams of experts as we have done. And we will launch the new International Protocol and ask all countries to ensure its implementation.
We will work ahead of the summit to secure even wider endorsement of the UN Declaration, and the participation of all the world's major powers. And we will seek ideas from civil society, other governments, UN Agencies, and regional and multilateral organisations to build the momentum.
This campaign aims to ensure that sexual violence can no longer be a feature of conflict in the 21st century. But our ultimate objective must be to eradicate all forms of violence against women and girls, in all societies.
There is no greater strategic prize for this century than the attainment of full social, economic and political rights for all women everywhere, and their full participation in their societies. We will not secure this unless we change global attitudes to women, root out discrimination and violence against them wherever it is found, including in our own countries, and show the political will to make women's participation in peace-building and conflict resolution worldwide a reality, including the Geneva Peace Conference on Syria. Our work on this stretches across government:
My Rt Hon Friend the Home Secretary has asked immigration officials to look at how to improve guidance and training on gender-based asylum claims; and is introducing a Modern Slavery Bill to give authorities the powers to investigate and prosecute human traffickers.
My Rt Hon Friend the Development Secretary has made the protection and empowerment of girls and women a priority. By 2015 the UK will have helped millions more girls and women get access to education, financial services, jobs, and land rights, and our new £35 million programme aims to reduce the practice of Female Genital Mutilation by 30% in at least 10 countries in the next 5 years.
So our country is putting new effort, new single-minded focus, new resources and new political will into advancing the rights of women and girls, and to ending warzone rape worldwide.
In 2014 we will intensify this work in every respect, drawing on the united support of this House of Commons, the work of Members from all parties, the excellence of our diplomats and aid workers and the strength of our alliances, working to end sexual violence in conflict as part of the attainment of full rights for all women everywhere, and in the strong tradition of this country's championing of human rights and freedom.
Further information
Find out more about the UK's work on preventing sexual violence in conflict
Follow the Foreign Secretary on twitter @WilliamJHague
Follow the Foreign Office on twitter @foreignoffice
Follow the Foreign Office on facebook and Google+
Published 28 November 2013