Oral statement to Parliament
Oral statement on the NHS Jimmy Savile investigations
Statement by the Secretary of State for Health in relation to the publication of 16 investigations into the activities of Savile in the NHS.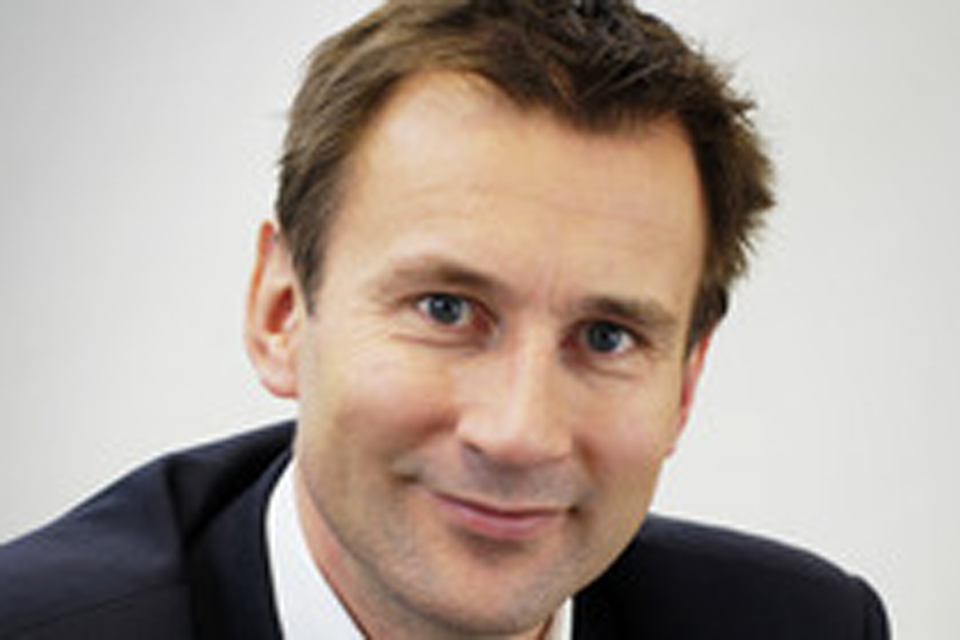 With your permission, Mr Speaker, I would like to make a statement on the NHS Jimmy Savile investigations.
Summary of publications
This morning, a further 16 investigations into the activities of Savile in the NHS were published. These include the main report from Stoke Mandeville Hospital and reports from 15 other hospitals. One report relates to Johnny Saville, the older brother of Jimmy Savile. These reports have now been laid in the library.
Whilst no system can ever be totally secure from a manipulative and deceitful predator like Savile, we learned last year that there were clear failings in the security, culture and processes of many NHS organisations, allowing terrible abuse to continue unchecked over many years.
Some victims are sadly no longer with us and others continue to suffer greatly as a result of what happened. On behalf of the government, I apologised to them last June and today I repeat that apology: what happened was horrific, caused immeasurable and often permanent damage, and betrayed vulnerable people who trusted us to keep them safe – we let them down.
As one of the Stoke Mandeville victims said:
There are so many messed up lives – although people have built up lives, you have children, you make a life, it ruins everything, your relationships with another human being – the things you are supposed to have.
Today we must show by our deeds as well as our words that we have learned the necessary lessons.
Summary of today's publications
The new reports, like those released last year, make extremely distressing reading.
In total, 177 men and women have now come forward with allegations of abuse by Jimmy Savile, covering a period beginning in 1954 to just before his death in 2011. At least 72 people who gave evidence were children at the time of the abuse, the youngest only 5 years old. The allegations included rape, assault, indecent assault and inappropriate comments or advances.
Allegations were made not in one or two places but in over 41 acute hospitals – that is almost a quarter of all NHS acute hospitals – as well as 5 mental health trusts and 2 children's hospitals. Further investigations have happened at a children's convalescent home, an ambulance service and a hospice.
There are three new investigations underway at Humber NHS Foundation Trust, Mersey Care NHS Trust and Guys and St Thomas' NHS Foundations Trust. Any further allegations received will of course be investigated as serious incidents.
In addition, the Department for Education has today published 14 reports on investigations in children's homes and education settings, and the review by Dame Janet Smith into Savile's activities at the BBC is still ongoing.
These investigations have been deeply harrowing for victims but also for the investigators themselves. I would like to put on record my thanks to everyone involved, particularly Kate Lampard and the NHS Savile Legacy Unit who provided robust oversight and assurance in an incredibly difficult job.
Stoke Mandeville
I now turn to Stoke Mandeville, the hospital with which Savile was most closely associated. The report published today reveals some shocking abuse of 60 victims that took place over more than twenty years between 1968 and 1992.
From the brave victims who have come forward, we know that Savile's activities there included groping, molestation and rape of patients, staff and visitors. Victims were predominantly, but not exclusively, female. 20 were vulnerable patients disabled with severe spinal injuries. One was a child as young as 8. Savile deliberately exploited these people because he understood their reliance on specialist care they might only be able to receive at Stoke Mandeville, making it even harder for them to speak up. This was calculating behaviour of the most abhorrent kind.
Victims included 26 visitors and 6 staff. 6 victims reported being raped, one as young as 11 or 12. Most victims were too frightened to come forward but there were nine informal complaints and one made formally. None were taken seriously.
There is no suggestion that Ministers or officials knew about these activities, but accepted governance processes were not followed in the decision to allow Savile to acquire and maintain a position of authority at the hospital.
In particular, Ministers made the expedient decision to use Savile not just to raise funds to re-develop Stoke Mandeville's National Spinal Injuries Centre but to oversee the building and running of the centre even though he had no relevant experience. Because of his celebrity and useful fundraising skills, the right questions – the hard questions – simply were not asked. Suspicions were not acted on and patients and staff were ignored. People were either too dazzled or too intimidated by the nation's favourite celebrity to confront the evil predator we now know he was. Never again must the power of money or celebrity blind us to repeated, clear signals that some extremely vulnerable people were being abused.
How have things changed
I spoke last June about how changes to processes, policies and laws over the last 30 years have made it much less likely that a predator like Savile would be able to perpetrate these crimes today.
Charity legislation is much tougher and sets out specific requirements for the auditing and examination of NHS charities' accounts.
The safeguarding system now in place is significantly improved.
The Children Act 1989, the first child sex offenders register, Criminal Records Bureau checks and the Disclosure and Barring Service have all provided further protection.
From 1 April, for the first time, the Care Act 2014 puts adult safeguarding on a legal footing and Safeguarding Adult Boards will ensure that local safeguarding arrangements act to help and protect adults.
We have also enshrined the right to speak up in staff contracts, and are amending the NHS Constitution and have changed the law to make employers responsible if whistleblowers are harassed or bullied by fellow employees. We are also consulting on how best to implement the recommendations in Sir Robert Francis's whistleblowing review.
However, proper policies and processes will not succeed if they do not go hand in hand with a change in culture where patients and staff alike feel able to speak out with any concerns – and can be confident they will be listened to. It is particularly important that children and those with physical and mental illnesses are listened to because they are the most vulnerable. And whilst we are proud to live in a society where people are innocent until proven guilty, we do have a collective responsibility to investigate all serious allegations properly in a way that simply did not happen time after time.
Lessons Learnt report
So in the light of these disturbing reports I also asked Kate Lampard to outline key themes across all the NHS investigations and to consider any further action that needs to be taken.
She considered the extent to which Savile was a product of the culture of his time and concludes that whilst he was "a one off" there are important improvements that need to be made to protect patients today.
It is a thoughtful and comprehensive report and I am today accepting in principle thirteen recommendations she makes, including on access, volunteering, safeguarding, complaints and governance.
Trusts should develop policies on visits by celebrities, and internet and social media access in hospitals.
They should review voluntary service arrangements; safeguarding resources; and the consistency of employment practices, ensuring clear executive responsibility.
They should consider if policies on the impact of volunteers on a Trust's reputation are adequate or not.
The Department with its arms length bodies will examine the possible development of a forum for NHS voluntary service managers; raising awareness of safeguarding referrals amongst NHS employers; and to what extent NHS Trust staff and volunteers should undergo refresher training in safeguarding.
I know some Trusts who produced reports last summer have started to make improvements: at one Trust they have already encouraged staff to raise concerns, updated the Trust's whistleblowing and complaints policy, and published policy on recruiting and management of volunteers. It is this kind of sensible, swift action that I want to see across the NHS.
I have therefore asked the Chief Executives of Monitor and the TDA to ensure all Trusts review their current practice in three months against these recommendations, and then to write back to me with a summary of plans and progress at each one. These plans will be fed into the government's ongoing work to tackle child sexual exploitation.
One welcome practice that Kate Lampard's report highlights is the growth in volunteering to support the work of the NHS. Overall across the NHS we estimate there are 78,000 volunteers, including 1,500 at just one Trust, King's, in London. They do a magnificent job in improving patient care every single day throughout the NHS.
We welcome this civic revolution, and today need to make sure that any safeguards put in place support its further growth by helping to protect the reputation of volunteering as well as the safety of patients. Hard cases make bad law and it would be the ultimate tragedy if Savile's legacy was to hold back the work of the NHS's true heroes who give so much to their local hospital by volunteering their time.
So whilst I agree that all volunteers working in regulated activity, typically close or unsupervised contact with patients should have an enhanced DBS check, I am not today accepting the recommendation that this should apply to all volunteers. As Kate Lampard acknowledges in her report, such a system may not, in itself, have stopped Savile.
Rather, trusts should take a considered approach to checks on all volunteers, particularly using the enhanced DBS service if there is a possibility they will be asked at a future date to work closely with patients.
They should also ensure proper safeguarding procedures are in place locally as well as the DBS process because it would be wrong to rely on a national database as a substitute for local common sense and vigilance.
The report also recommends DBS checks are redone every three years. I believe the report is correct to say Trusts must make sure their information on volunteers is up to date. But they can achieve this through asking volunteers to make use of the DBS update service which enables trusts to check DBS information regularly and avoids volunteers having to go through the DBS process multiple times. We will be advising all Trusts to do this.
Finally I intend to take action in one area of great concern that the report highlights, namely the responsibility and accountability of staff working with vulnerable people to take appropriate action when alerted to potential abuse. As the report recognises, the government substantially strengthened safeguarding arrangements since these dreadful events. However, it is clear from these reports that there should have been a much stronger incentive on staff and managers to pass the information on so that a proper investigation happened. This is clearly unacceptable, and the government has already said that we will consult on introducing a new requirement for mandatory reporting of abuse of children and vulnerable adults. The outcome of such a consultation must take full account of the need to avoid unintended consequences.
Conclusion
Let me conclude with a tribute to the victims who have had the courage to come forward – without them, these investigations would not have been possible. It is our society's shame that you were ignored for so long. But it is a tribute to your bravery that today we can take actions to prevent others going through the misery you have endured. As a result, our NHS will be made safer for thousands of children and vulnerable adults as we learn the uncomfortable lessons from this terrible tragedy. I commend this statement to the House.
Published 26 February 2015