Opening statement on Marriage (same sex couples) bill: second reading
Opening statement on the Marriage (same sex couples) bill: second reading, by Maria Miller, 5 February 2013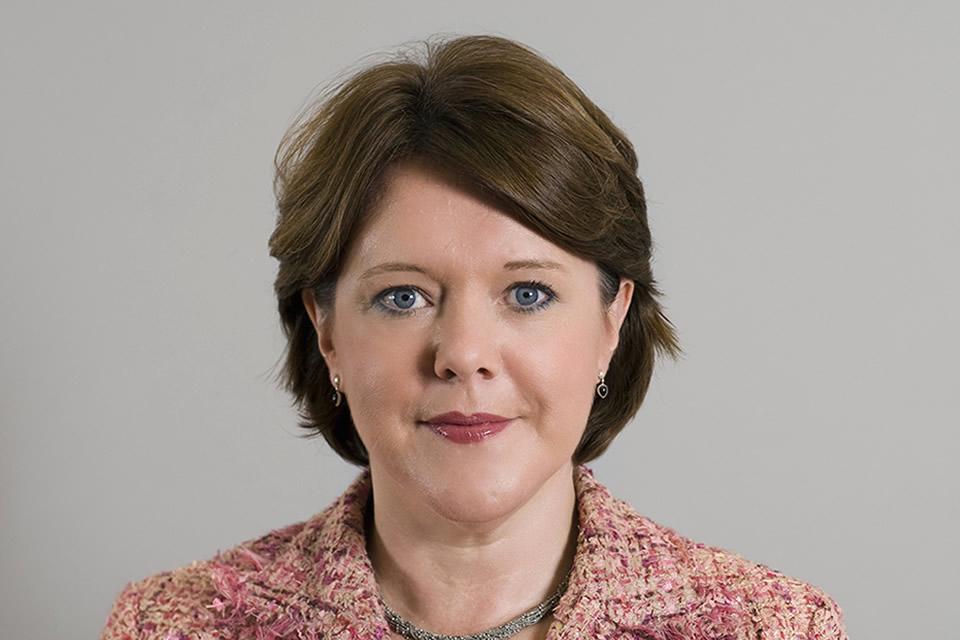 Opening statement from Secretary of State for Culture, Media and Sport and Minister for Women and Equalities Maria Miller:
I beg to move, that the Marriage (Same Sex Couples) Bill be now read a second time.
Introduction
Mr Speaker, you and I know that every marriage is different.
Indeed, any husband or wife of a member of this House has a distinct set of challenges to face every day.
But, what marriage offers us all is a lifelong partner to share our journey; a loving stable relationship to strengthen us and a mutual support throughout our lives.
I believe that this is something that should be embraced by more couples.
The depth of feeling, love and commitment is no different between same sex couples than opposite sex couples.
This Bill enables society to recognise that commitment in the same way too, through marriage.
Parliament should value people equally in the law, and enabling same sex couples to marry removes the current differentiation and distinction.
There is no single view on equal marriage from religious organisations. Some are deeply opposed, others tell us that they see this as an opportunity to take their faith to a wider community.
I know that some colleagues in this House feel they cannot agree with this Bill for principled religious reasons.
That is a stance I entirely respect.
I don't think it's the role of government to tell people what to believe. But I do think that Parliament and the state have a responsibility to treat people fairly.
Marriage Evolves
Some say this Bill re-defines marriage. But, marriage is in fact an institution with a long history of adaptation and change.
In the 19th Century, Catholics, Baptists, atheists and many others were only allowed to marry if they did so in an Anglican Church, and in the 20th Century changes were made to recognise married men and married women as equal before the law.
Suggestions that this Bill changes something that has remained unchanged for centuries, simply does not recognise the road marriage has travelled as an institution.
Civil Partnerships
Marriage should, as we've heard, be defended and promoted in every way.
To those who argue that civil partnerships exist and contain very similar rights; that marriage is 'just a word', and that this Bill is unnecessary - I say, that's not right.
A legal partnership is not perceived in the same way and does not have the same promises of responsibility and commitment as marriage.
All couples who enter a lifelong commitment together should be able to call it marriage.
Balancing faith and rights
I think from the contributions we've just heard there is no doubt about the fundamental importance of faith, in this country today.
But I do not believe that as a country we have to choose between religious belief and fairness for same sex couples.
It is important to remember that religious views on same sex marriage differ too.
The Quaker, Unitarian and Liberal Jewish communities; all of those have said they want to conduct same sex marriages.
Paul Parker, speaking for the Quakers, said the first same-sex marriage in a Quaker meeting will be and I quote: 'a wonderful day for marriage and religious freedom'.
Our proposals will ensure that all religious organisations can act in accordance with their beliefs.
Equal marriage should not come at the cost of freedom of faith, nor freedom of faith come at the cost of equal marriage. 
We are capable of accommodating both. This Bill does so in a very straight forward manner.
The Bill
Now for the provisions in the Bill. Hon Members will know that the Bill has three parts:
Part 1 enables same sex couples to marry in civil ceremonies and allows religious organisations to opt in, whilst protecting those that don't. It also protects religious ministers and allows for the conversion of a civil partnership to a marriage.
Part 2 enables an individual to change their legal gender without having to end their marriage. It also provides for overseas marriages in consulates or on armed forces bases.
Part 3 allows for the standard final provisions including secondary legislation.
Religious Protections
As Hon Members will have seen when they studied the detail of this Bill, I have been true to my word and ensured that there is clear protection of all religious organisations and ministers who are opposed to this measure.
All religious organisations - whether Jewish, Muslim, Christian or any other - will be able to decide for themselves if they want to conduct same sex marriage.
The Bill protects and promotes religious freedom through the Government's 'quadruple lock'.
These protections are absolutely carved onto the face of the Bill and are the foundation upon which the legislation is built.
Church of England and Church in Wales
I know today that for many colleagues, the crux of the issue lies around the protections particularly for the Church of England and particularly the Church in Wales, which have a unique position because of the legal duty on their clergy to marry their parishioners. In addition, because the Church of England is the established Church, its Canon law is part of the law of the land.
There is no disadvantage or indeed favourable treatment in the Bill for the Church of England or the Church in Wales.  It simply provides a pragmatic way of putting them in essentially the same position as other religious organisations - if they decide they want to marry same sex couples, then they can. 
We have worked hard with a wide range of religious organisations, including both these Churches, to ensure the protections in the Bill work.
And indeed, the Church of England has commented on the constructive way in which we have consulted with them on the issue of effective legal safeguards, ensuring that their concerns are properly accommodated.  And the Church in Wales has confirmed that the Bill provides protection for it, whilst still enabling it to make its own decision on same sex marriage.
European Court of Human Rights
Turning now to the concerns that have already been raised around legal protections also include the European Convention on Human Rights.
There has been much discussion about the powers of the European Court of Human Rights. The case law from the court is clear. The question of whether, and if so how, to allow same sex marriage must be left to individual states to decide for themselves.
"It is simply inconceivable that the Court would require a faith group to conduct same-sex marriages in breach of its own doctrines" - not my words but the words of  the eminent QCs, Lord Pannick, Baroness Kennedy and Lord Lester .
To be very clear: to believe that the Court would order that the UK require religious organisations to marry same sex couples, against their religious doctrine, relies on a combination of three highly improbable conclusions:
Firstly, the Court would need to go against its own clear precedent: that countries have wide discretion in the matter of same sex marriage.
Secondly, that the Court would need to decide that the interests of a same sex couple, who wanted a particular religious organisation to marry them, outweighed the rights and beliefs of an entire faith and its congregation as a whole. 
Thirdly, the Court would need to discount the importance of Article 9 of its own Convention which guarantees freedom of thought, conscience and religion.
And it would be re-writing the rules, not just for one religious organisation in England and Wales, but for all religious organisations in all 47 States of the Council of Europe.
Such an outcome, I believe, is inconceivable.
Wider Implications
Colleagues also want to understand the consequences of this Bill more widely.
The introduction of Equal Marriage will not marginalise those who believe that marriage should be between a man and a woman; that is clearly a mainstream view. 
But, neither will it continue to marginalise those who believe marriage can, and should, also be between a man and a man or a woman and a woman.
We will not allow one to exist at the expense of the other.
No misguided sense of political correctness will be allowed to impinge on this. It would be deeply divisive if, in righting a wrong for some, we created a wrong for others.
No teacher will be required to promote or endorse views which go against their beliefs.
No hospital chaplain or worker will have to believe in a new definition of marriage.
No religious minister will have to conduct same sex weddings.
The changes we are talking about today will not affect anyone more than they are affected already by choosing to live in a society that values tolerance and respect among its citizens.
Conclusion
Mr Speaker, despite all of the discussions and the debate, this Bill is about one thing - it's about fairness.
It is about giving those who want to get married the opportunity to do so, whilst protecting the rights of those who don't agree with same sex marriage.
Marriage is one of the most important institutions we have. It binds families and society together. It is a building block that promotes stability. This Bill supports and cultivates marriage.
And I commend the Bill to this House.
[Ends]
Published 5 February 2013