Speech
Opening speech by Ray Kyles at launch of Fit For Fashion
Acting High Commissioner Ray Kyles spoke at the launch of Fit For Fashion, a GREAT campaign collaboration to promote British brands in Asia
Please allow me to start by saying how delighted I am to be joining you here today for the launch of Fit for Fashion as the UK's Acting High Commissioner in Malaysia representing the UK Government's GREAT Campaign.
In my role I am constantly reminded about how well regarded the UK is when it comes to global fashion and the impact that British designers and fashion retailers have around the world.
Our track record in fashion really highlights the innovative and unique nature of Britain's creative industries and this has significant benefits for the nation.
Britain clearly punches above its weight when it comes to creativity. Despite containing less than 1% of the world's population it has one of the largest creative industry sectors – which includes our fashion industry.
In culture, innovation, fashion, and creativity we enjoy a unique advantage. We have great British designers and high street brands – Burberry, Paul Smith, Mulberry and TOPSHOP, T.M. Lewin, Ted Baker and Clarks amongst others – which bring together some of the world's leading fashion designers with an inimitable sense of place to create a unique product.
Our fashion industry is notoriously robust. From street style to haute couture some of the most iconic brands in contemporary fashion hail from the UK. Designers such as Stella McCartney, Jimmy Choo, Paul Smith and Vivienne Westwood help ensure that fashion is one of our biggest export successes – UK designers export two-thirds of their output, while UK footwear companies export 90% of their production around the world.
Despite these successes we cannot rest on our laurels. It is important that we continue to showcase the 'Best of British' and Asia is one of the key markets for this.
I am here today representing the GREAT campaign. This campaign was developed in the run-up to the London 2012 Olympics and Paralympics Games, to promote UK tourism, education, trade and investment, and to support the growth of our country's prosperity, under one common banner.
It is under the GREAT banner that we have partnered with UK company Fitness First and with Imagine Group to create the 'Fit For Fashion' TV show.
The show provides an innovative and unique way to showcase so many of the UK's leading companies to a multi-million pan-regional audience – while also conveying important messages about health and fitness in an engaging way.
The show's unique and entertaining mixture of fashion and fitness is sure to appeal to many across Asia and, as a result, numerous British brands have signed up to sponsor Fit for Fashion including Clarks, STORM London, Boots No7, Reebok, MINI and many others.
These brands will have the opportunity to have their products showcased to a huge audience across the region and we believe that this exposure will help grow British exports in this part of the world.
I'm particularly excited that iconic British fashion designer Zandra Rhodes, that this week announced her collaboration with Malaysian fashion house Karyaneka, will be showcasing her A/W 15 collection at KL Alta Moda as part of KL Fashion Weekend and will also be appearing as a guest celebrity in the Fit for Fashion Grand Finale. British Airways that yesterday announced that they are re-entering the Malaysian market with direct flights between KL and London will be the official airline sponsor of the Fit for Fashion series. These are two more of the many examples of the strong bilateral trade relationship the UK enjoys with Malaysia, and with more direct flights between our two countries I believe this relationship can only go from strength to strength.
Later at this event you will have the opportunity to watch two short catwalk shows featuring selected Fitness First members, the show's celebrities and seven of the contestants. All will be dressed in clothes provided by some of the British sponsors of Fit for Fashion, demonstrating the style and versatility of British designers and retailers which will also be evident throughout the course of the show's run.
The ultimate aim of the Shopping is GREAT campaign is to drive sales for British stores and back by popular demand, our second 'Shopping is GREAT' contest starts today in 40 British retail brands and over 200 stores across Malaysia. The star prize is a London Shopping Trip and £1,500 spending money courtesy of British Airways, Holiday Villa and Standard Chartered. There are also lots of star prizes worth over RM 15,000 including a Modalu 'Pippa' handbag, a year's supply of Clarks shoes, STORM London watches, Fitness First gym memberships, MINI weekend drive and shopping vouchers from lots of the British participating stores. So please go and shop in the UK stores for a chance to win one of these fabulous prizes.
I am delighted to have had this opportunity to come and talk to you all today. I am confident that Fit for Fashion, supported by the 'Shopping is GREAT' pillar of the GREAT campaign, will play an important role in helping increase recognition of the UK as a great place to shop and a great innovator and creator in today's global fashion market.
I would like to thank the Pavilion (Kuala Lumpur) for hosting this event and the many British brands present in the mall for their support.
I hope that you enjoy the rest of the day's events.
Thank you.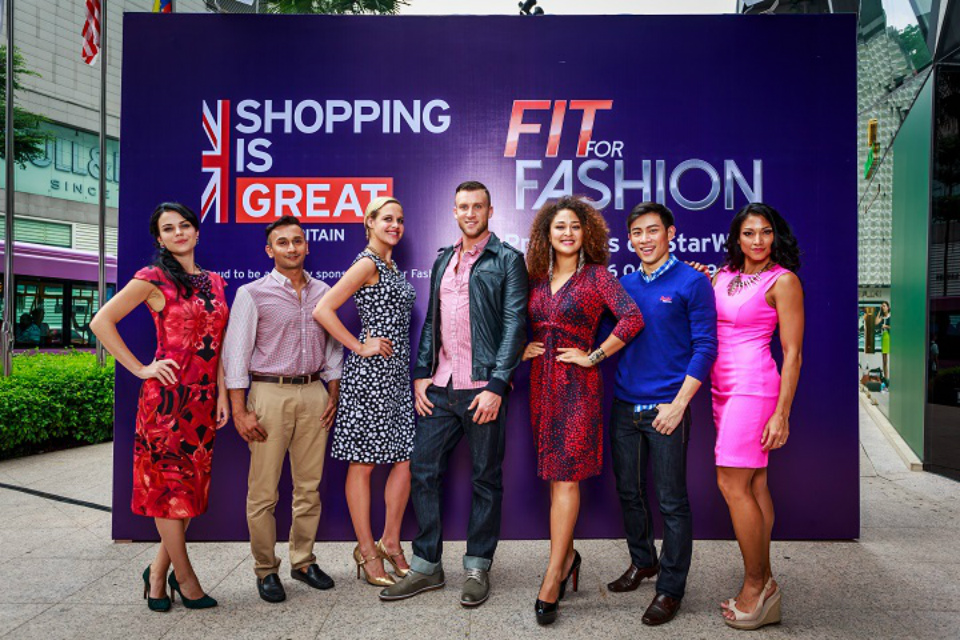 Published 2 October 2014