Speech
Nick Clegg speech at Leeds Economic Conference
The Deputy Prime Minister outlined economic opportunities in Leeds and the surrounding area and the new Northern Futures Project.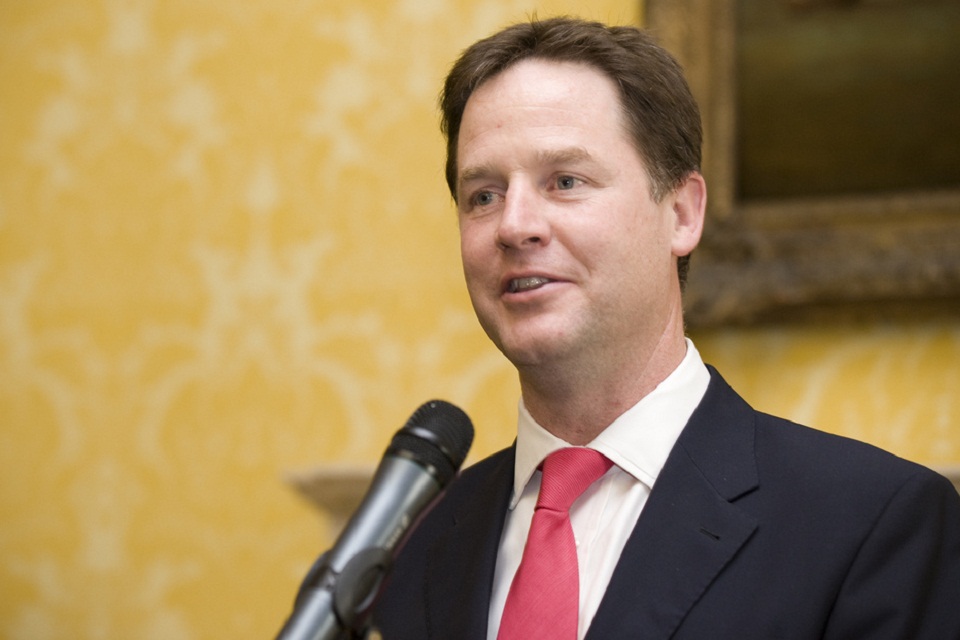 Across Yorkshire, you can feel the excitement building about tomorrow's Grand Départ. Every city, town and village in this region is determined to give the Tour De France the best send-off it's ever seen. Right from the start, they've been committed to making the most of this fantastic opportunity for the future.
Economically, it's estimated that the race could generate an extra £100 million for the UK's economy in the years to come and our more immediate target is to create at least £20 million in new trade and investment opportunities across the country.
Already, over the past 3 days, our International Business Festival has given you, as possible investors, an insight into the economic power and potential of this region, its cities and local businesses.
Today's conference aims to build on that, offering more expert analysis and information about why you should put Leeds and Yorkshire at the top of your list for investment.
Building on our strengths
I'm here to tell you that our government is backing Leeds, as one of the UK's leading cities, every step of the way.
Since 2010, we've focused on pulling the right policy levers to boost growth across the UK – with globally competitive taxes, a more attractive business environment and a commitment to develop our greatest competitive strengths.
For generations, Yorkshire has been pushing the boundaries of business innovation. That's why we chose to base our new High-Value Manufacturing Catapult just down the road in Rotherham. This cutting-edge research facility, which includes both an Advanced Manufacturing Research Centre and Nuclear Advanced Manufacturing Centre, is focused on helping companies such as Rolls Royce get ahead of their competitors in developing and using the latest techniques and technologies in their industries.
This city also has a strong commercial research base. Leeds University is helping businesses in the UK's life sciences sector identify and commercialise the latest medical technologies and processes at the UK's new Cell Therapy Catapult research facilities. While Leeds Metropolitan University recently opened a new Institute for Health and Wellbeing research and the close ties of Leeds Trinity University to the local business community mean that over 90% of its students are either working or studying 6 months after graduation.
In addition, just yesterday, the government announced that University of Bradford has been successful in its bid for funding to support a new Digital Health Zone. This will be built around 2 facilities – a Digital Exchange and Living Clinical Laboratory – near the city centre supporting business to develop and test new healthcare technologies, products and processes as well as help to create new apprenticeships and jobs.
To put it simply – Leeds City Region has the people, know-how and ideas to help your businesses get ahead. As a result, this region is playing a powerful part in securing the UK's recovery.
Across Yorkshire, growth is rising and unemployment falling. There are now more people in work in Yorkshire and the Humber than ever before. More young people are starting apprenticeships and big global names are investing here.
Investing in the future of Leeds
In May, Unilever committed over £20 million to expand its production facilities in Leeds, building on innovative processes developed at its R&D centre also based in this city.
While Siemens, working with Associated British Ports, are investing over £310 million in building 2 new factories in Hull and East Riding to assemble offshore wind turbines and manufacture turbine blades, creating 1,000 direct jobs and the expectation of many more indirectly and across the supply chain.
And I'm pleased to announce today that Sanef, the French motorway operator, is building its new £1 million frontline customer support centre in Leeds. This centre will create up to 300 jobs, including 10 new apprenticeships, and support Sanef's operations in the UK.
These companies believe in this city's future. They recognise what it can contribute to their company's success and, with government committed to investing in critical infrastructure projects like High-Speed 2 (HS2), Leeds can offer them even bigger opportunities in the decades ahead.
Better connections
We've already committed over £21 billion to phase 2 of HS2, which will link the network to Leeds, Sheffield and Manchester and improve transport connections between north and south. But I also firmly believe that this investment has to be about more than just improving capacity and cutting journey times.
If we're fully committed to enabling your companies to reach their full potential in the years ahead, then we also need to strengthen the connections between Leeds and other northern cities too – a point made in the recent Higgins' report.
For years, I've argued that Leeds, along with Sheffield and Manchester, can and should form part of a northern hub, driving economic investment and growth across the north of England.
These are 3 of Britain's biggest cities all within 45 miles of one another.
Together, they can offer investors access to flexible, highly-skilled workforces, world-class universities with cutting-edge research expertise, a strong industrial base and clusters of innovative businesses in high-growth sectors such as precision manufacturing, creative and professional services, healthcare, retail and green industries.
It is why, as part of our consultation process, I and the rest of government are open to considering possible city centre locations for HS2 in Sheffield, if that's the best solution for Yorkshire.
I also welcome the Chancellor's commitment last week to a new high-speed rail connection between Leeds and Manchester.
Driving local growth
Yet I've also always been clear that better transport links aren't enough on their own to help these northern giants fully exploit their strengths and thrive.
For that to happen, local leaders and businesses need a much bigger say in where public investment in their areas should be targeted in the future. That's why I've made it my priority in this government to give them that power and control back from Whitehall, putting them in the driving seat to steer their local economy's success.
So, back in 2010, I established the Regional Growth Fund to help UK businesses – looking to boost their future competitiveness – to leverage extra private investment.
In total, we've committed up to £2.9 billion to over 400 projects, with £280 million to support businesses in the Yorkshire and Humber area – creating and safeguarding around 63,000 jobs.
This includes our £5 million investment in local company Surgical Innovation to establish a new specialist R&D and training centre in the Leeds area, generating 327 new jobs over the next 10 years.
Round 6 of the RGF is now open, with over £200 million available. So if you're an investor in this region already, with a strong growth idea – make sure you apply. Official figures show that for every £1 we invest through the RGF, we're generating a further £5.50 in private sector funds.
We then established our landmark City Deals. The idea behind these deals was to bring together the local authorities, businesses and influential local voices which lead and support our big city hubs: giving them more control and flexibility over where they choose to spend the money available on driving local growth.
Leeds City Region, which was one of the first areas to secure a deal, is focusing on strengthening the skills of its future workforce. This includes work to increase the number of local companies employing apprentices and also give regional employers more input into local skills development and training.
The aim is to secure Leeds' position as one of the UK's leading cities in the years ahead, but it's just a beginning.
On Monday, building on the success of our City Deals, we will be announcing the first in a series of new Growth Deals.
These will extend the powers that we've already given to local leaders, with access to a £12 billion pot of funding to help them create jobs, meet the growing demand for new homes in their area and get projects essential to the competitiveness of their local economy moving.
The Local Growth Fund will be worth £2 billion every year for the next 6 years, boosting growth across every regional economy in the UK. I hope we can look forward to announcing an ambitious Growth Deal for the Leeds City Region and others on Monday.
Northern futures
The fact is that in a global economy our Northern cities like Leeds aren't just competing with other locations in the south, east or west of England. They've also got to rank against global cities like Frankfurt, Lyon, Bangalore and Chengdu for your investment.
So the question is how can we fully exploit these new local powers to create a vibrant northern hub to accelerate growth across this half of our country and put us at the top of the list of global cities?
We've also got to be realistic that the best ideas aren't going to come from Whitehall. Nobody knows more about what local economies need than the people who actually live and work day in and day out in the communities themselves.
So, today, I'm launching the next phase in our drive to generate the best ideas for stronger local growth with our new Northern Futures Project.
This is an open call to our local leaders, businesses and experts in housing, transport, planning, science and education across the north of England to answer this fundamental question: how do we build on the strengths in the north to create an economic core in the heart of the region that can compete with the biggest cities and regions in the world?
It's time for us to put aside outdated local rivalries. As we've seen with the Local Enterprise Partnerships in Leeds, Sheffield and Manchester, united we're stronger.
We want to hear your views, your opinions and ideas about how we best work together to strengthen the global competitiveness of our great northern giants like Leeds, Sheffield and Manchester and power an economic revival across the north.
Over the summer, we'll be looking at the suggestions we receive. I then plan to host an economic summit in the north this autumn to discuss how we take forward the best ideas, bringing together the influential voices who can make them happen.
Conclusion
A leader in the last industrial revolution, Leeds is determined to play its role in driving the next. Over the next 2 days, along with Sheffield, Harrogate and the rest of Yorkshire, it's going to show the world just what it's capable of achieving.
Make sure you get in there first – giving your businesses the chance to benefit from this race of a lifetime and the economic power, potential and performance of this great northern giant. Thank you.
Published 4 July 2014