News story
Deputy Prime Minister announces Northern Futures project
Nick Clegg has launched a call for ideas on ways to create an economic hub in the north of the country.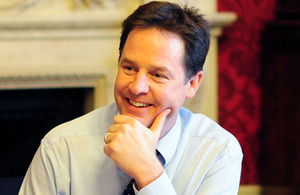 Today, the Deputy Prime Minister is launching a call to arms for civic leaders, businesses, opinion makers and the general public across the North to come forward with ideas on how to create a vibrant Northern hub so it can compete with the biggest cities around the world.
The Northern Futures project is a new approach to policymaking which means that rather than decisions being made by politicians and civil servants in Whitehall, the power is given to the people who live and work there.
In a speech in Leeds this morning, as part of the Grand Départ International Business Festival, the Deputy Prime Minister posed the question: "How do we build on the strengths in the north to create an economic core in the heart of the region that can compete with the biggest cities and regions in the world?".
The call for ideas is open to people from all walks of life - businesses, civic leaders, experts in housing, transport and science, academics, students. The following people are already on board:
Tom Riordan, Leeds City Council
John Mothersole, Sheffield City Council
Sir Richard Lease and Sir Howard Bernstein, Manchester City Council
Alexandra Jones, Centre for Cities
Hakim Yadi, Northern Health Sciences Alliance
Tom Bloxham MBE, Urban Splash
Henry Overman, London School of Economics
Jim O'Neill, RSA City Growth Commission
Julia Unwin, Joseph Rowntree Foundation
The Deputy Prime Minister said:
The fact is that in a global economy our northern cities aren't just competing with other locations in the south, east or west of England. They've also got to rank against global cities like Frankfurt, Lyon, Bangalore and Chengdu for your investment.

We've got to be realistic that the best ideas aren't going to come from Whitehall. Nobody knows more about what local economies need than the people who actually live and work day in and day out in the communities themselves.

So, today, I'm launching the next phase in our drive to generate the best ideas for stronger local growth with our new Northern Futures Project.

It's time for us to put aside outdated local rivalries. As we've seen with the Local Enterprise Partnerships in Leeds, Sheffield and Manchester, united we're stronger.
The Deputy Prime Minister will host an Economic Summit in the autumn to debate the ideas that have been submitted. Details of this will be announced in due course.
Published 4 July 2014
Last updated 8 August 2014
+ show all updates
Added link to Northern Futures website.
First published.