Speech
National Housing Federation Annual Conference
Speech by Lord David Freud.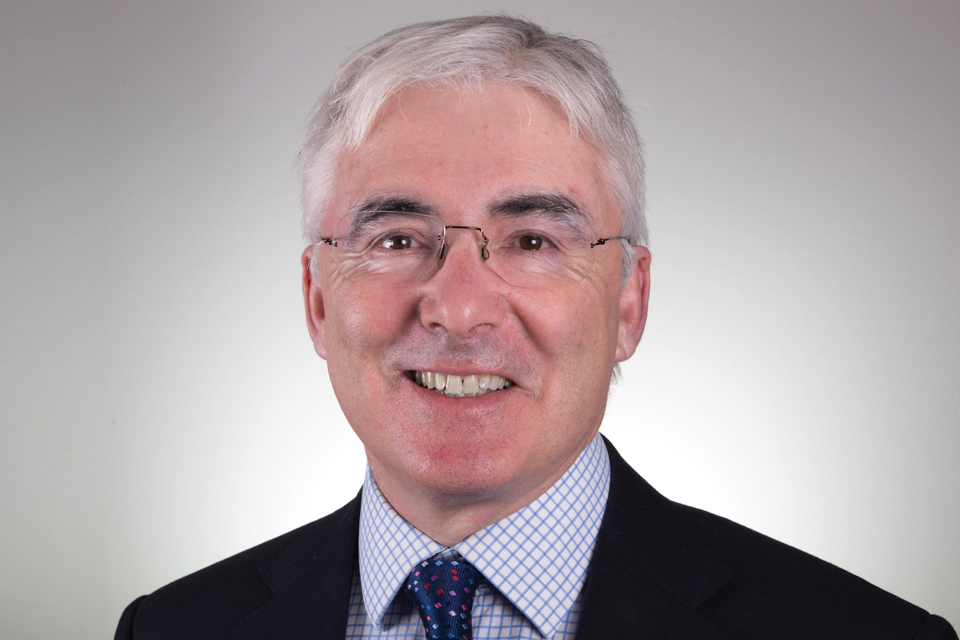 I have come to you this morning fresh from the Second Reading of the Welfare Reform Bill in the House of Lords yesterday.
This marks the first opportunity for the Lords to debate the Bill and is the next step in the legislative process.
It therefore feels like a good moment to remind ourselves of the reason for reform.
Welfare dependency in this country is rife.
The numbers speak for themselves: there are five million people on out of work benefits.
In 2010-11 Government spent £201 billion on welfare and pension payments, compared to £38 billion on defence, £91 billion on education and £121 billion on health.
Of that £201 billion we spent £22 billion on the key out of work benefits and the same again just on Housing Benefit.
Working age welfare spending has increased by over 40 per cent over the past decade, Housing Benefit spend is up almost 50 per cent.
We have to regain control of the benefits budget.
And we have to act to end welfare dependency.
Because welfare reform is not simply about reducing the benefits bill.
It is also about returning to first principles, asking ourselves what the welfare system is for and ensuring it delivers.
We want a welfare system that provides financial support for those unable to work - that goes without saying.
But for those who can work we want a system that encourages a return to employment as quickly as possible.
The current system simply does not prepare people adequately for the world of work.
The whole experience of claiming benefits has become so far removed from the experience of receiving a wage that an enormous gulf has opened up between the unemployed and those in work.
For example, benefits are paid weekly or fortnightly, whilst most employees receive a monthly salary.
Benefits are paid to individuals where as most families manage their budget as a household.
And Housing Benefit can be paid directly to landlords and councils so people never learn to budget for their housing needs themselves.
The way the system is set up encourages dependency.
Not just because people are ill-prepared for the world of work.
But also because the current welfare system actually makes it more difficult for some people to leave benefits and get a job.
Part of the problem is that we operate two completely separate systems of support for people out of work and those who are in work but low paid.
And it is not set up to support people to make the transition from one to the other.
There are too many organisations to notify of a change in circumstances.
The process is complicated and slow.
The system doesn't respond quickly enough to fluctuating incomes and this can lead to gaps as benefit payments end and tax credits start.
And for too many people being in work simply doesn't pay.
Too many people are simply better off on benefits.
Our solution is one based upon the principles of fairness and self-dependency.
We want to develop a system that works.
One which encourages people to take responsibility for themselves and their families.
One which makes the experience of receiving an income from benefits more like the experience of receiving a wage.
And one which is based around the simple goal of making work pay.
The Welfare Reform Bill will deliver this solution in the form of Universal Credit, a new single income replacement benefit for working age adults.
Universal Credit will be simple to understand and access.
It will bring together in and out of work benefits so people on low incomes receive just one type of payment.
It will create a link between the tax and benefits systems so that we can access real time information about benefit claimants' earnings and calculate their entitlement as appropriate.
This development throws open the door to more flexible working.
It means people claiming benefits will be able to take on casual work, increase their hours or work multiple jobs and have confidence that they will continue to receive welfare support at a reliable level.
Real time earnings information means we can withdraw support gradually, at a single rate, so more people will be able to work more hours and keep more of their pay.
Take this example, of a lone parent with two children, you can see as income from work increases the Universal Credit payment gradually tapers off.
Under the old system some claimants lost as much as 96 pence for every extra pound they earned.
Universal Credit reduces this to around 76 pence for modest earners and around 65 pence for low earners.
This directly improves work incentives for around 700,000 people by putting extra money in their pockets if they do extra work.
This gradual tapering will ensure that support comes when it is needed, earnings from work will boost income straightaway and people will start to see an immediate difference in their income.
The introduction of Universal Credit and other reforms contained within the Welfare Reform Bill will mean some of the poorest people in the country will benefit from more than £4 billion in welfare payments, as set out in the last impact assessment, through increased entitlement and take up.
In addition to delivering a radical new welfare system, which breaks down the barriers that stop people getting into work, we are also revolutionising employment support.
The new Work Programme replaces previous failing employment support programmes and delivers effective back to work provision for the first time.
The Work Programme is unique because we have designed a contracting framework and payment structure focused upon success.
Contractors are paid almost entirely on results and their success is measured over a long period - up to two years for those who are hardest to help.
The payment structure recognises that some people need more support than others and payments are higher for the harder to help groups.
A varied payment structure combined with longer contracts has encouraged the private and voluntary sector to invest up to £580 million in the first year.
Taken together these changes will radically change the welfare landscape.
But more importantly it will create the right conditions for cultural change.
By removing the barriers to work contained within the current system, and making the experience of claiming benefits more like that of being in work we will radically alter attitudes and crucially behaviours.
This is why Universal Credit payments must include payments for housing costs.
It is vital that we close the gulf between being out of work and having a job.
And this means benefit claimants have to manage their own finances - their full finances - so when they do find work it's easier to leave the safety of the welfare system.
I am absolutely committed to making a single Universal Credit payment per household, wherever possible.
I know that this is a significant change for the social housing sector and I am fully conscious that Housing Benefit income streams are a vital component of housing finance, particularly in terms of funding new housing.
I am determined that the introduction of Universal Credit, and therefore direct payments to tenants, does not undermine the financial stability of the housing sector.
But I remain utterly convinced that there are mechanisms available which will allow us to both introduce a single Universal Credit payment, which includes housing costs, whilst also providing protection for the sector.
So, from October 2013, in line with the introduction of Universal Credit, direct payments to tenants will be the default position for most working age benefit claimants living in social housing when they move on to the new system.
This will help narrow the gap between benefits and work.
It will be focused upon those who can stand to benefit most from this change - Housing Benefit claimants, of working age, who are capable of managing their own finances.
We have done some analysis of housing benefit claimants in the social rented sector.
We estimate the switch to direct payments to tenants will be completely new to around 20 per cent of your tenants.
These are people who currently have no experience of budgeting and paying their own rent.
And these are the people we most need to target, those who are furthest away from the labour market.
The remaining 80 per cent of tenants will see no change at all or are already partially managing their budget and perhaps will not feel the change quite so keenly.
So, let's have a look at the analysis and see who this change will affect.
Let's go around the chart clockwise, starting with the largest group.
Thirty-five per cent of tenants do not claim Housing Benefit and will therefore be entirely unaffected by these changes.
Next is the 10 per cent labelled "partial HB" on the chart - these are working age households who receive a partial Housing Benefit payment and have to top up their rent from their income.
This means they already have some experience of managing their own budgets and therefore moving to direct payments to tenants should be more straight-forward for them to manage.
You can see next on the chart we've marked out an estimated 10 per cent of tenants as "vulnerable".
I fully appreciate that some of your tenants simply cannot manage their own finances. I know some people are very vulnerable and this change is just not appropriate for them. We estimate that roughly between five and 10 per cent of all tenants fall into this category. For these vulnerable people we will continue to pay housing costs direct to landlord.
And then, pensioners, we estimate 25 per cent of tenants in the social rented sector are pensioners claiming Housing Benefit.
I have decided that for pensioner tenants who receive housing support, we will retain the status quo. The vast majority will continue to have the housing cost element of Universal Credit paid direct to the landlord.
New pensioners, after the introduction of Universal Credit, will be able to choose whether they receive their housing payment or it goes straight to the landlord.
This choice will be extended across the social housing sector to include both current and future pensioners in both local authority and housing association properties.
And that brings us back to the 20 per cent for whom direct payments to tenants will be completely new.
The reality is that shifting to direct payments to tenants will potentially affect 30 per cent of social sector tenants.
And the number of tenants completely new to this, those people who currently have no involvement managing their rent payments but will need to under the new system is only around 20 per cent.
So, the question is how do we support that 20 per cent to make the change? How do we support them to manage their own budgets, as they would need to if they were in work?
I have been working with the banks and with credit unions to explore what some of that support could look like.
We have started to identify the kind of support that already exists and assess how effective it is.
We have also started to explore a range of new ideas which could include prioritised direct debits or escrow accounts.
And we are looking at some of the incentives landlords already offer tenants to encourage them to pay their rent on time.
The aim is to do everything we can to help people manage their finances and not fall into arrears with their rent.
We are not just going to move from one system to another overnight. Moving people to direct payments to tenants will be a gradual process, starting with new claimants from October 2013 and with a managed, gradual transition for existing claimants. And there will be plenty of support available throughout the process.
It is in everybody's interests to make direct payments to tenants a success.
Increasing the number of social rented sector tenants who are in work can only be a positive thing.
For tenants, work can bring increased wealth, stability, improved health and well-being and can encourage people to have a greater stake in their communities.
For landlords, higher employment can mean better neighbourhoods.
And whilst this may not show through in cash terms immediately, it will show in the value of your housing stock.
I see moving to a system of direct payments for tenants as simply an extension of the work many of you already do to help tenants find work.
I know there are a number of extremely good projects aimed at helping tenants in the social rented sector find work and ultimately get into a position where they can leave benefits for good.
Direct payments to tenants is simply another tool to help people achieve independence from welfare dependency.
That's what welfare reform is all about - that's the final goal - to bring an end to long-term benefit dependency and begin a cultural transformation. 
Moving to direct payments to tenants is a key part of our approach.
And we want to continue to work with the industry to develop appropriate safeguards and ensure a smooth transition to direct payments to tenants.
With this in mind, I am pleased to announce today that we will run around half a dozen demonstration projects to look at how direct payments to tenants will work.
These projects will investigate two specific issues:
Firstly, how do we support people to manage their finances so they don't miss rent payments and are able to manage their own budgets?
And secondly, how do we support landlords if people do miss rent payments?
But let me clear from the outset, these demonstration projects are not testing out **if **we should introduce direct payments to tenants.
The demonstration projects will test the best way to support landlords under the new system of direct payments to tenants.
And will specifically test different methods of implementation to ensure we get the transition to direct payments to tenants right.
The projects will also look at potential safeguards for landlords.
For example, we want to have in place a trigger which switches the housing payment to direct to landlords if tenants start to get behind with their rent.
How this trigger will operate - whether it's by number of payments, amount of money, length of time - are all questions for the demonstration projects.
But what isn't in any doubt is its existence.
The trigger will be there to protect landlords from persistent failure to pay and to reassure your lenders by providing a safety net so income streams remain secure.
We also want to make sure landlords don't miss out if a tenant does consistently miss rent payments. For instance, this could mean providing a mechanism for reclaiming rent arrears from Universal Credit payments - again this is something the demonstration projects will investigate.
Between now and Christmas we are looking for around six local authorities and partner housing associations to volunteer for these demonstration projects.
This is a real opportunity to get in at the design level and make the change to direct payments to tenants work for you.
We're going to launch the projects in June 2012, so there's going to be a lot of hard work over the next few months but getting involved now means you'll be ahead of the game when direct payments become a reality in October 2013.
If you are interested, there's further information available on the DWP website and you can get in touch with the Housing team at DWP using these details.
So, just before I close, what I hope you take away from today is this, direct payments to tenants is on its way.
However how we get there, the route we take, is something we can discuss.
I am entirely open to testing out the best ways to provide support and safeguards to protect the industry whilst making this change.
In the end we all want the same thing, to ensure people living in the social housing sector get the support they need.
We are all aiming for the same finish line, for the majority of tenants employment is both possible and desirable.
So, we have to start putting the parts in place to drive people towards this goal.
Direct payments to tenants is a key element of the wider transformation we are aiming to achieve with Welfare Reform.
Universal Credit, the Work Programme, the ongoing efforts around financial inclusion, all come together to build momentum towards work and away from benefit dependency.
We all know the benefits having a job can bring.
Not just in terms of increased wealth and stability.
But the wider benefits of improved health and wellbeing, the social aspects of work.
The transformation it can bring to communities when people leave benefits and move into work.
The cultural transformation we know work can bring.
That is the ultimate goal of the Government's reforms and something I think we all want not just for social housing tenants but for society as a whole.
Published 14 September 2011