Speech
Korean War Memorial Ground-Breaking Ceremony
From:

Part of:

Published:

5 November 2013

Delivered on:
This was published under the 2010 to 2015 Conservative and Liberal Democrat coalition government
Foreign Office Minister Hugo Swire: Britain's contribution in the Korean Peninsula, under the United Nations banner, will never be forgotten.
Foreign Office Minister Hugo Swire:
Madam President, Your Royal Highnesses, Your Excellencies, Lords, Ladies and Gentlemen – and particularly the veterans of the Korean War. I am delighted to welcome you all to the ground-breaking ceremony for the new Korean War Memorial.
I am particularly pleased that so many of those who were instrumental in bringing this memorial to fruition are here today. I would like to single out Lady Rothermere and her Foundation, who played such a vital role. But I know there are many, many others who have given up their time and dedicated themselves to this project - from locating the site, to commissioning and agreeing this wonderful design, to securing planning approval - and for whom today will be an important, and moving, day. Above all, I would like to thank The Republic of Korea and President Park Geun-hye, who have so generously supported the memorial in recognition of our shared history.
Britain's contribution in the Korean Peninsula, under the United Nations banner, will never be forgotten. Around 82,000 British men and women, many of them National Servicemen, went to fight on behalf of democracy and freedom, far from home, alongside soldiers from South Korea itself and from 20 other countries. Many of them heroically gave up their lives. This memorial will serve as a permanent reminder of the sacrifices made during the war, and will be a place where veterans and future generations can go to remember what they achieved.
For today, as we honour the losses, we also celebrate the Republic of Korea as a vibrant and thriving democracy, an economic powerhouse, and a friend to Britain. 2013 is the 60th anniversary of the armistice. It is also the 130th year of diplomatic relations between our two countries. And as President Park Geun-hye now pays tribute to the past, by breaking the ground on the spot where the Memorial is to be built, she is also laying the foundation for an ever stronger and deeper relationship between us in the future.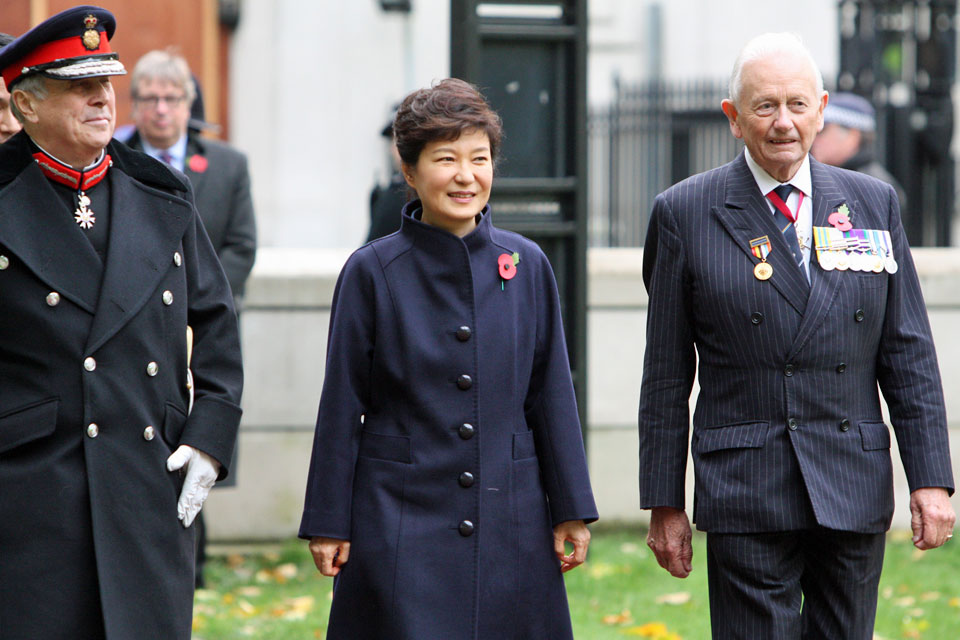 Further information
The Foreign Secretary William Hague welcomed South Korean President Park Geun-Hye to the UK
Follow Foreign Office Minister Hugo Swire on twitter @HugoSwire
Follow the Foreign Office on twitter @foreignoffice
Follow the Foreign Office on facebook and Google+
Document information
Published: 5 November 2013