Speech
Justine Greening keynote speech at Somalia Trade and Investment event
International Development Secretary's keynote speech at Somalia Trade and Investment event held following the London conference on Somalia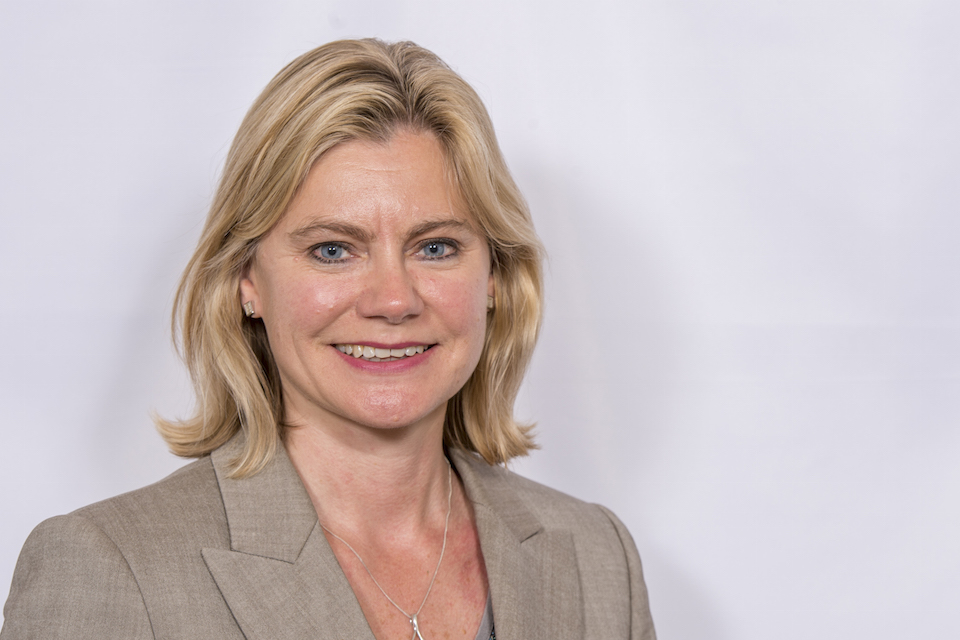 Welcome and Introduction
Welcome, and thank you all for coming.
Yesterday the Prime Minister hosted a major international conference on Somalia. It was inspiring to see 50 world leaders come together to support the Federal Government of Somalia in its efforts to rise up again after 20 years of conflict. Yesterday's conference focused on finding ways for the international community to help Somalia in implementing its plans for improving their security and governance. In particular it was designed to enable Somalia to develop their armed forces, reform the police force, improve the justice system, and reduce corruption.
Helping Somalia to get back on its feet will be a long term project, and we do not approach the task lightly. There are still major challenges, and Somalia will continue to need the support of its friends and neighbours for some time to come. But a number of important things are changing. There is a new parliament, chosen by Somalia's clan leaders in the most representative process there has been in decades. There is a new government with a coherent vision for the future. And the militant organisation Al Shabaab has been expelled from over a dozen towns and cities across South Central Somalia.
Given Somalia's recent history, it may surprise some of you to see the British Government promoting Somali business opportunities. But one of the most encouraging developments of recent years has been how the Somali people have taken advantage of the relative levels of security to rebuild their lives. And business has been at the forefront of this renaissance. Mogadishu in particular is alive with the sound of people refurbishing their businesses and shops.
This is good news as it is only through investment, trade and jobs that Somalia's dependence on aid will end. Simply put, jobs help people lift themselves out of poverty, for good. And you need investment and trade for economic growth and jobs.
It's economic growth that defeats poverty. The facts are compelling – wherever long-term per capita growth has been higher than 3%, we have also seen significant falls in poverty. Look at Vietnam – a threefold increase in per capita GDP resulted in poverty levels falling from 64% in 1993 to 17% in 2008.
Importance for Somalia
Jobs are even more important for countries emerging from conflict.
We know that economic factors play a central role in both starting and maintaining conflict. But they can also play a key role in reducing conflict. In the short term there must be a peace dividend for peace to hold – immediate, tangible benefits of peace. Economic opportunities are a key part of this. The Somali population is young and has high levels of unemployment with 73% of Somalis living on less than $2 a day. Inclusive growth can raise income levels and create jobs, giving young Somalis economic security and a stake in the future. A job provides an alternative to taking up arms.
That means that increased business in countries like Somalia can, if done in a conflict-sensitive way, promote stability. And a vibrant private sector can play an even bigger role. It can fill the gaps in provision of basic services, reaching the places that a government can struggle to reach and driving innovation to solve tough problems.
The private sector can help rebuild the infrastructure that has been destroyed by conflict, which the state needs to deliver. In other words, a thriving private sector can help build state capacity. An example of this is the port of Beira in Mozambique where a Public Private Partnership between the state port and railway company CFM and the Dutch operator Cornelder has seen the container capacity grow to 100,000 more per year.
And that isn't all.
An expanding private sector and development of a tax system is a core part of state-building because it increases government revenues to pay civil service salaries, or deliver basic services.
You simply can't build a sustainable public sector without helping to build a private sector. Sustainable public services need a funding stream of tax receipts and that means a thriving private sector. A strategy to do one without the other risks a short term improvement for people in poverty without a long term plan to make sure those gains are locked in. This means that economic development and growth must always be a top priority for any country.
What Somalia needs to do
Somaliland has already made great strides to support the private sector. In the World Bank's ease of doing business report for 2012, it came above the Sub-Saharan African average on important issues such as construction permits, getting electricity and registering property.
The Somali people have a long standing history of trade, and a tradition of enterprise and innovation. One of the achievements of this entrepreneurialism is that the Somali private sector has continued to grow over the last 20 years, filling the gaps as the state retreated and overcoming many difficulties. It has invested in the financial sector, supported private schools, paid for security - to name just a few. Somalis enjoy some of the cheapest mobile phone tariffs in the world and have access to mobile banking.
But the private sector will be constrained without more support and investment. Private sector growth, one that provides opportunities for all, leads to employment, innovation, and the tax revenues that are needed for public services. Without jobs to provide incomes for people, or the taxation produced by growth to sustainably fund public services, there is no escape from poverty and aid dependency.
Sustainable growth and development require improved rule of law, enforceable property and land rights, better regulations, reduced trade barriers, proper infrastructure, a functioning tax system, and increased transparency, which is even more important when it comes to natural resources. Establishing security, law and order and strong public financial management are the necessary first steps to give the private sector the confidence to invest. President Hassan Sheikh has rightly made these areas his top priorities, and, as we heard yesterday, progress is already being made.
Investor confidence is growing, and new opportunities for business are emerging across South Central Somalia, Puntland and Somaliland. At present this is largely being driven by the Somali diaspora, who have an important role to play in supporting economic regeneration. But there are also opportunities for non-Somali investors who have not traditionally operated in the Somali market.
And it is never too early for the private sector to become engaged in dialogue about reform with the government and for them together to set out priorities for economic growth. Although it will take time, work can begin to improve the business environment by beginning to set down the right regulations governing business activities and the financial sector.
Established business people also have a responsibility to ensure there is a level playing field for everyone and new businesses are not stifled by unfair, uncompetitive practices. In this way they can contribute to good governance in Somalia limiting the opportunities for corruption and reinforcing sound public financial management.
What DFID and international community can do to help
All of us here have a role to play in promoting economic growth and stability in Somalia; we can encourage domestic investment, support improving the enabling environment - addressing issues like regulations, property rights, tax and transparency - and we can encourage responsible inward investment. The International Financial Institutions such as the International Monetary Fund and the World Bank can support the Government to formulate its growth strategy and develop its macroeconomic environment. And it is the IFIs that can provide the large scale finance necessary for infrastructure development to reduce the high costs of doing business. I'm glad to say that the African Development Bank and the World Bank are already engaged.
The UK is also playing its part.
We are providing £17.9 million over 4 years for development investments in agricultural and livestock production that will stimulate economic growth. We will also work with government authorities to develop policies that will make it easier for both local people and foreign investors to start and run successful businesses in Somalia. The aim is to create the conditions that enable local markets to flourish, and encourage government authorities to work with businesses to create an enabling environment that favours fair competition.
Last year this programme supported projects that employed more than 15,000 Somali people. Thirty five percent of these were women because investing in girls and women is the smart thing to do, as well as the right thing. By unleashing their potential, we see returns for girls and women themselves, their families and communities, and for their economies and countries. We know that when a woman generates her own income she re-invests 90% of it in her family and community.
Our private sector programme has shown that innovative ways of getting goods to the market have the potential to transform communities in Somalia. And we are listening to Somali Government and businesses – about what they would find most helpful. It's time to see more donors supporting private sector development in Somalia. There is more that the international community can do. For example, in Ethiopia, the DFID-supported Investment Climate Facility for Africa (ICF) worked with the Ethiopia Revenue and Customs Authority (ERCA) to set up the first electronic filing of tax returns in Ethiopia. It now takes just 1 day to submit a tax application and effect payment and over 65% of tax revenue is collected using the new service.
However the evidence suggests that it is foreign direct investment that can make the biggest difference to post-conflict economies. Investment does not offer just new capital, but infrastructure development, employment and technical know-how. It anchors a country into the world economy which is shown to reduce the likelihood of a return to conflict. Promoting trade opportunities in events such as this one today encourages investors to get in early. That in turn helps speed up the rate of regeneration, leading to jobs and sustainable incomes for poor Somalis.
DFID is developing a comprehensive and responsible strategy to work with businesses interested in responsible investment in developing countries. We are reaching out to businesses of all sizes that can make a difference in poor countries. I am taking an ambitious approach because I want to see DFID as a hub for knowledge sharing and advice and providing in-country support, where projects have a clear development gain for the countries concerned. And this is especially important in countries coming out of conflict to encourage new investors to properly assess the risk and see the potential.
As 28 top CEOs wrote in a joint letter to the Financial Times on March 11, "This isn't about corporate social responsibility; we know that developing countries will be major markets and important sources of supply in the future, in fact many already are. Developing countries become emerging economies and emerging economies become the engines of future global growth and prosperity." Many investors are already knocking on the door with an eye on Somalia's potentially rich natural resources. Again what will be critical will be transparency and fair negotiations which cannot be emphasised enough. I commend the session later today on the importance of transparency for the extractive industry.
The UK's CDC has committed to work in the fragile states where investment is most needed and we hope to see CDC investing in Somalia when it finds the right opportunities. The diaspora will be another source of foreign direct investment. Diaspora investors are well placed to manage risks because of their access to local knowledge. They can be a vital source of skills and business contacts in the region, the Gulf and the west and can bring experience of corporate governance and transparency. They are often the early investors following conflict.
As well as extractives, we know that the opportunities for African agriculture are huge. Africa's agribusiness sector is projected to treble to $1 trillion by 2030. But the UK knows that investment in agriculture is risky – crops can fail due to too little rain, pests or can perish on the way to market. It is even more challenging in a country which is coming out of conflict. To share that risk with the private sector the UK supports the Africa Enterprise Challenge Fund. This is a $200m investment fund in innovative agribusiness ideas that are commercially viable and have high returns in jobs and increased returns to small holder farmers.
It is supporting 6 companies to grow their businesses in South Sudan and has recently announced that it will provide loans and grants to 9 businesses in Somalia. Thanks to the Enterprise Fund, these businesses will revitalise production and processing in Somalia. For example myrrh production for export to world markets, fish canning and manufacture of savoury snacks. Trade and networks across the region are also critical. Somalia would undoubtedly benefit from joining regional blocs. But even now informal trade networks play a vital part in the economic life of the region. We know the ability of Somali informal cross-border traders to survive and adapt to change. This is another indication of the versatility and robustness of Somali traders.
Gulf countries have long played an important role as Somalia's major trading partner for sectors such as livestock, meat and sesame. By sharing skills and by helping Somalia to import skilled personnel and certification standards, they have had a positive impact on Somalia's international trade. And Gulf countries also play a leading role in supporting infrastructure development in many developing countries.
Today is an opportunity for us to come together to discuss the opportunities opening up across South Central Somalia, Puntland and Somaliland and face up to the challenges. It's in part a celebration of what the private sector is already doing in Somalia. And it is a chance for new alliances and widening of networks. And ultimately today will help Somalia on its way to economic growth and an end to aid dependency.
Published 8 May 2013