Forestry Minister: We are committed to future of our woodlands
Minister Rutley addressed forestry stakeholders on the importance of tree planting in Northumberland.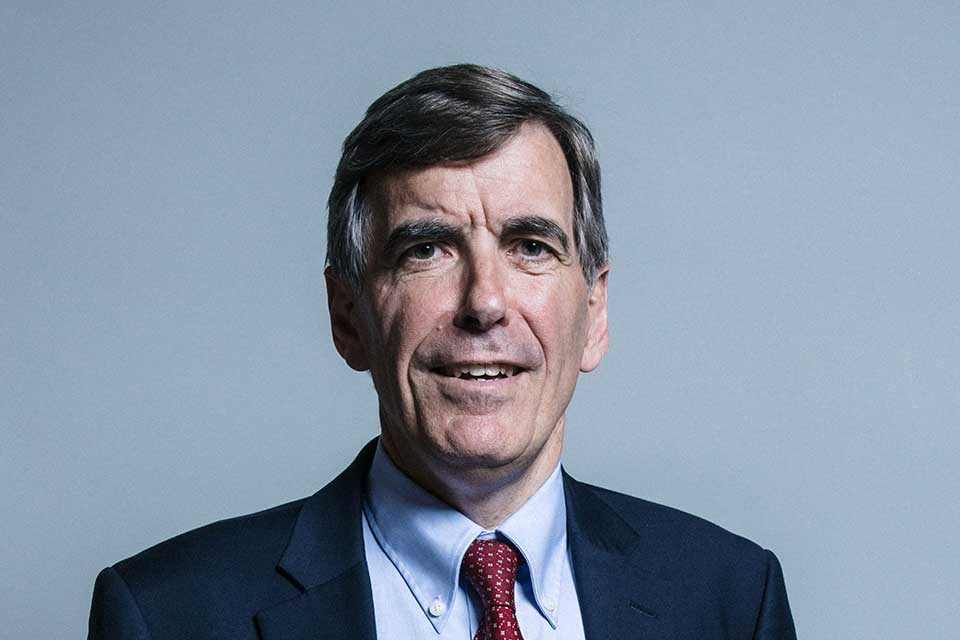 I would like to thank all of you here at Egger for hosting this event. It is clear your operations are impressive and your enthusiasm infectious. It is obvious your work is pivotal to the local economy, with over 600 people employed here and, when you add in in the supply chain, the wider impact on the economy is formidable.
It has been very clear over recent months, and the last year, the real desire to make sure there is a proper and improved supply of wood. I recognise a lot more needs to be done to address that, but also to address the even bigger issue of planting trees, and I believe passionately that Northumberland has to be at the heart of our plans as a government and our plans for England. The government is truly committed to the future of our woodlands, recognising their importance to society, the natural world and the fight against climate change. Northumberland is already important to English forestry, and will have a vital role to play in our ambitions for forestry in the future.
Woodland cover here is already 18 per cent, compared to the England average of 10 per cent. We now need to seize the opportunity that forestry offers to raise our ambitions and develop our transformative plans to tackle climate change. We know that working in partnership is vital to tackling climate change and in unlocking the potential for tree planting. It is good to see so many valued stakeholders attending this roundtable meeting. We all have a role to play in helping shape future plans for tree planting and forestry that will help in the fight against climate change – not just for this county, but across the country.
As the Secretary of State for the Environment said in a speech earlier this week; time is running out for the environment if we continue the way we are, and it is indeed later than we all think. The United Kingdom is now one of the most nature depleted countries in the world, and the factors driving these losses are varied and interconnected. Urbanisation, unsustainable agricultural intensification, deforestation, water stress and of course climate change. The new Environment Bill will set the direction for environmental improvements in this country for generations to come, to help leave the environment in a better state than we found it. And as we leave the EU our new Environmental Land Management system will present new opportunities, for example funding the planting of millions of trees in this country – just one part of the government's holistic effort to tackle climate change.
I want woodland and forestry to seize the opportunities this will create, and I know how important it will be for all of us to work together to do just that. I welcome the Prime Minister's announcement last month that the UK will eradicate its net contribution to climate change by 2050. The UK is a world leader in tackling this global challenge, being the first country to raise climate change on the international stage, introduce long-term legally-binding carbon reduction targets, and cutting emissions further than all the other G20 countries.
As you know better than most, tree planting is increasingly recognised as an effective way to reduce net emissions and respond to the climate emergency. Forests are not only a carbon sink, but also help in preventing the erosion of soils and reducing flood risks, while also providing us with fantastic recreational spaces. Right here, in Northumberland, Kielder Forest is a great example of the benefits to people that forestry can offer. It is one of the most popular visited attractions in the county, as I know first-hand. At the same time, it is vital for carbon reduction as the largest forest in England.
Net zero certainly presents an implementation challenge, but a clear opportunity for forestry. We have yet to determine exactly what it means for forestry policy – but it is obvious we need to go further, and we need to go faster. The level of our ambition, and how we will achieve it, is something we will be consulting on in the Tree Strategy later in the year. It is clear much more work needs to be done. We are already improving our rate of tree planting in England, recognising that our forests, street trees and parklands help create healthier places for us to work and live.
The government is committed to planting 11 million trees over the course of this parliament by 2022, with over 3.5 million trees planted to date and 15 million trees planted since 2010. Whilst our longer term aspiration is to increase woodland cover in England from 10 to 12 per cent – that is the same as planting an area the size of Dorset. But the truth is our aspirations need to go beyond that. Although I am proud of our record on this issue, I strongly believe we must raise our level of ambition and plant more trees - we need to go a lot further. I see the North of England playing an integral part of this, and Northumberland especially so.
Elsewhere in the North we have kick-started a vast Northern Forest, which will see 50 million trees planted from Liverpool to Hull. We are also working with local authorities to prevent unnecessary tree felling, and we have also established the Woodland Carbon Guarantee fund which will provide £50 million to encourage large scale afforestation. We have allocated £10 million to plant 130,000 new trees in urban areas as part of our Urban Tree Challenge Fund, which will also help meet the government's aim of planting one million urban street trees by 2022.
We have also established the first pilot Forestry Investment Zone in Cumbria, encouraging large-scale planting. Many are keen to set up something similar in Northumberland, where there are good examples already of large-scale tree planting due to government funding, including Doddington North Moor where over 600,000 trees will be planted. We have also recently re-appointed our National Tree Champion, Sir William Worsley, to help lead our Tree Strategy and drive forward planting rates.
But this is not just about government. How we work together in partnership is critical to how we accelerate tree planting to the level it needs to be. I am very much looking forward to the roundtable discussion that will build on the conversations we have already had, and look at how we can continue to work together – not only in Northumberland. I hope this becomes a habit, because if we are to meet our ambitions we must work in partnership. We have to bring a coalition together to drive through the change we need, and I hope that this is a defining moment in bringing together stakeholders to drive that change through. I recognise that Defra has to step up and do more as well.
Let me conclude by saying, the public interest in – and demand for – environmental action is accelerating, both on climate change and biodiversity, and forestry must play its part. So we must now all work together to recognise the opportunity this presents for Northumberland, our country and indeed our planet.
Published 19 July 2019