Speech
Foreign Secretary closes Global Summit to End Sexual Violence in Conflict
William Hague: ...an unprecedented display of unity and political will on this subject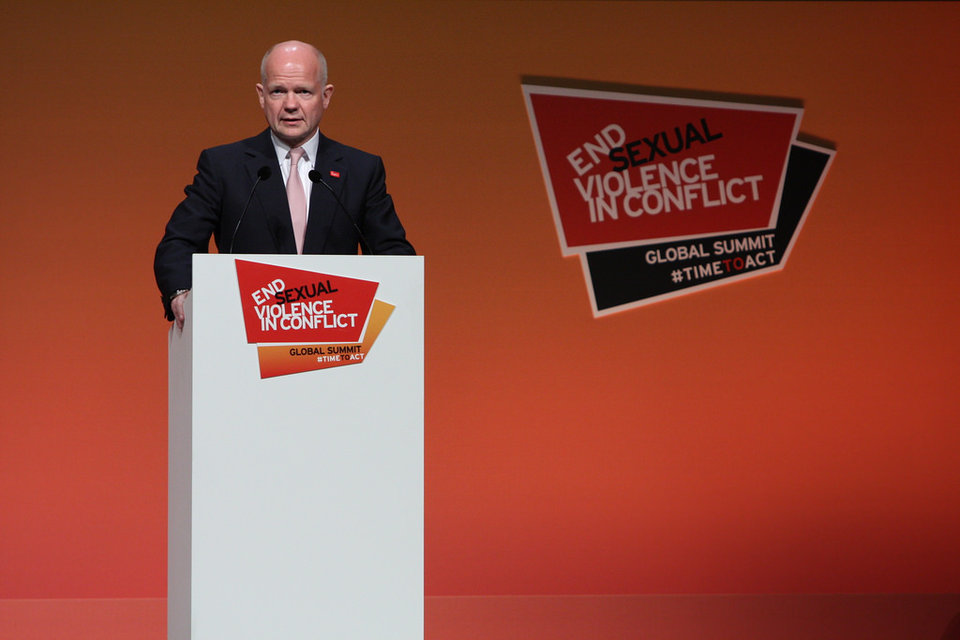 Never in my time as Foreign Secretary so far on any foreign policy issue have I seen such an extraordinary and inspiring gathering as we have had over the last few days.
So many people have worked so hard for so many years on this issue and it has always seemed that the odds were totally against them.
But it turns out from this Summit that we can bring together a whole army from around the globe – an army of people of all ages, from all walks of life, spanning every religion and every conceivable cultural difference, from artists to legal experts and doctors, all united with the common vision of ending warzone rape and sexual violence and now it has been put together this army is not going to be disbanded. It is going to go on to success.
It is unique, because it is not made up solely or even largely of men, but draws an immense part of its strength from women.
Listening to the stories of suffering overcome and communities rebuilt through the effort, resilience and wisdom of women we have felt truly inspired this week
For the fact that we have never given this issue the prominence it deserves owes much to societal attitudes and failings: our failure never decisively to reject and condemn the denial or stifling of the full expression of women's rights over a very long time.
We have tolerated and still do tolerate violence and discrimination against women in many forms in all quarters of the world, and women still do not occupy their rightful place in the economics, in diplomacy and government of many nations.
And I am saddened that women and women's groups still have to ask to be included at the negotiating table, as if it were a concession to be granted, or a right to be begrudgingly accorded, when in fact it is the only route to better decisions and stronger and safer societies.
We should not have to be reminded, as governments, that women must have a seat in every forum of decision-making, and it should not be the uphill struggle that it is to overturn the habits of centuries and establish new precedents and norms for full female participation.
Indeed when we succeed in the future in returning to peace negotiations in Syria there is no excuse for them not including the full participation for women.
And if there is one overriding impression and conviction I take away from these four days, among so many enriching and inspiring experiences, it is that any survivor, woman, man, girl or boy, who can talk about their experiences of rape and turn suffering into strength and wisdom and compassion for others is a person who shows real courage and strength and leadership.
We need the wisdom and experience gathered here at this summit to percolate through all our efforts and our foreign policy.
We need to be absolutely clear across the world that the stigma attached to victims is not only unjust, it is utterly misplaced and could not be further from the truth, obscuring not only the humanity we share but the immense contribution survivors can and should be allowed to make to their societies.
The stigma of rape is so intolerable because it heaps injustice upon injustice, thrusting those who have suffered into positions of even deeper marginalisation and exclusion in which the tools to retain and regain their dignity and status are put even further out of reach.
And I sincerely hope that one of the outcomes of this Summit will be to change forever the way that we who have taken part view survivors, not just of rape but of the many other gross injustices that scar our world.
And I believe after four years as Foreign Secretary of the United Kingdom, and twenty-six years in public life in this country, I am convinced that the greatest strategic prize for our century is the full social, political and economic empowerment of women everywhere and this subject is part of that.
I feel that on this issue, that is an important part of that, we have made immense progress this week and I pay tribute to all the leaders, I will not name them all, there are so many, who have spoken at this Summit, and who have joined the Call for Action.
And what a formidable, powerful speech that was from Secretary Kerry to send us on our way at the end of this Summit.
I am proud we have had here more than 70 Ministers, more than 123 countries, an unprecedented display of unity and political will on this subject;
1000 experts taking part in 20 sessions looking at every aspect of this issue from children affected by conflict to investigating and prosecuting these crimes to the role of faith leaders, military and peace-keeping reforms and how to prevent and respond to sexual violence in humanitarian emergencies.
We have seen widespread support for the first ever International Protocol on how to document and investigate sexual violence in conflict and a commitment to translate it, disseminate it and implement it comprehensively.
We've seen funding for survivors, including from the United States and the United Kingdom;
New national strategies and plans developed, including by Somalia, supported by the international community;
New support to help a million more children go to school in Nigeria;
Thousands of members of the public joining us here and taking part in events around the world around the clock to make this truly a Summit like no other.
And now we have done so much this week, we must go on to do even more, and accelerate our work over the coming months and years.
We must follow up the implementation of the international protocol, and move towards practical action that makes a difference on the ground in some of the worst-affected countries.
We will be consulting you all on how we go about this, drawing on the many powerful ideas that have come out of this Summit. And indeed, many of those ideas have come from young people, who gave such a great display of their feelings, their power and their ingenuity today.
And so I thank you all for coming to take part in this Global Summit. I hope it is a moment we will look back on and say this is where we started to tip the tipping point.
This was where we started to turn the tide.
This was where we demonstrated to millions of people that it is possible to succeed in defeating and ending sexual violence in conflict.
But we will not relent, we will not rest at any time in the coming months to make sure we now turn into practical implementation the many commitments and the tremendous support that we have seen from all over the globe here in London this week.
Thank you so much for being part of it.
Follow the Summit live
There are several ways you can keep up-to-date with developments at the summit:
Published 13 June 2014