David Cameron's speech at business event in Mumbai
The Prime Minister gave a speech in Mumbai on the first day of his visit to India.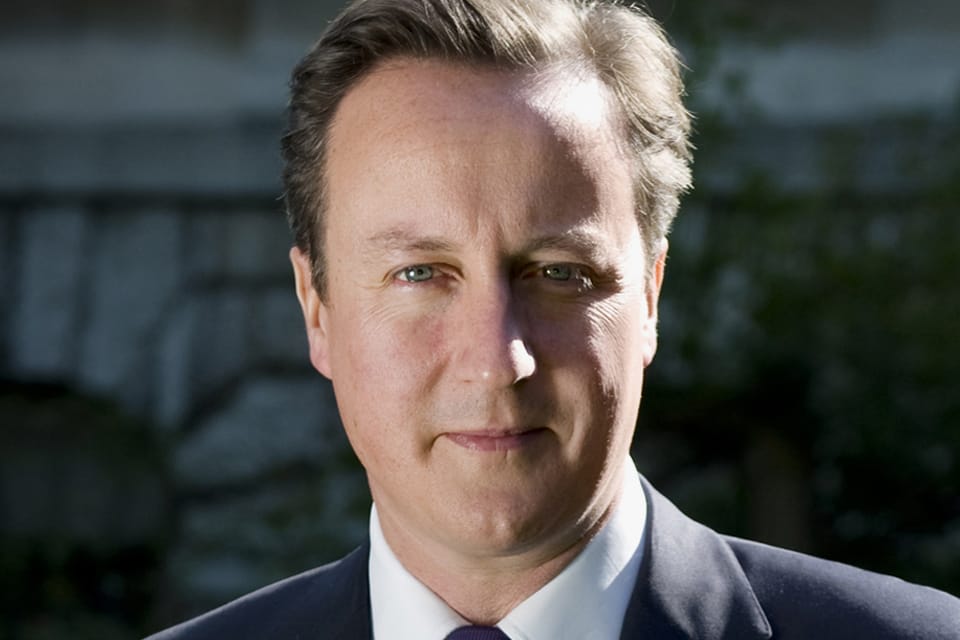 The fact that I've only been Prime Minister for two and half years but this is my second visit to India with a really large, high quality, business delegation, I hope that shows how seriously we are taking the British-Indian relationship.  We see this as a real opportunity for both our countries.  And this is the biggest business delegation that has ever left Britain's shores and another sign of how much we care about this relationship. 
Whenever I come to India, I'm struck by the incredible vibrancy of your democracy, the huge strength of your diversity and, of course, the massive power of your economy, which is going to be the world's number three by 2030.  And the message that we have on this visit is that we want Britain and India to be partners for growth, partners of choice over the coming decades.  And we think we both have enormous amounts to offer each other. 
Obviously, I want to give the commercial for investing in Britain.  We've cut our rates of corporation tax down to the lowest levels in the G7.  We are the gateway to Europe's massive single market.  We have a business friendly government.  We're investing in apprenticeships.  We're helping businesses in every way we can to make sure that Britain competes and succeeds in what I call the global race. 
But, frankly, this visit to India goes so much further than simply encouraging investment into our country.  I think there are real opportunities, and I just want to mention three of them.
First of all, yes, this must be a relationship about business, about growth, about jobs and prosperity, but I think it's a relationship that can go so much further.  On the business front, I think the news is good.  Britain is now the largest European investor into India.  Indian investment into Britain is more than half of the total that comes to the whole of the EU, so we have a very good basis on which to build.  But you can see from the business delegation I've brought, how we see this relationship going far beyond business.  We have brought some of Britain's best universities, including the Open University and Cambridge.  We brought with us some of Britain's finest cultural institutions, including the British Museum and the British Library.  We brought one of Britain's great exports to the world, Premier League Football, which I think you take quite a close interest in in India as well.  So I see this relationship going so much wider, much, much further than simply business. 
The second point I would make is that this relationship, from our perspective, and I believe from the Indian perspective, too, is all about the future rather than the past.  Of course, we have the links of the past, ties of history, language and culture, and that's a very good starting point, but we are really focused on the future.  We look at what is happening in India, and the fact that you are going to double your spending as a share of GDP on health care and we want to be in there with you, manufacturing those drugs, building those hospitals, planning your health services for the future and we have many businesses with us here today. 
We see your plans for 40 million extra university places, and we want to be in there with you, partnering our universities, helping to provide those courses and, of course, welcoming Indian students to Britain.  On all the aspects of your future development here in India, of the infrastructure that you are going to build, or some of the exciting proposals we are looking at together like a corridor between Mumbai and Bangalore with new towns along the way and great planning of economic growth.  We want to explore that with you.  So this is very much focused on the future rather than the past.
And the third point I wanted to make is that I believe that the British-India relationship is not just another relationship that our two countries should have around the world.  I think it is quite a special relationship, because think of some of the things that our countries share.  You are the world's largest democracy; we're one of the oldest democracies.  You have extraordinary strength through the fact that Sikh, Hindu, Muslim, Christians live together in harmony, we have achieved the same in Britain.  But we also jointly face that scourge of terrorism that we have to fight and we will stand together and fight it together.  And there's no better place to say that than here in Mumbai.  And when we look at the links between our countries, over a million and a half British Indians living and contributing extraordinarily to our country, I think it strengthens the idea that this is not just another relationship but a special relationship. 
And I hope one of the things we can have achieve on this visit, is for both the British side and the Indian side to look at any barriers there are to cooperation between us and work together to remove those barriers.  That is certainly the spirit in which I come to India on this visit. 
We've looked at issues like visas and said, 'Yes, we've already got the biggest visa operation that the British have anywhere in the world right here in India, but we want to improve it.'  We already give nine out of ten visas that anyone applies to to travel to the United Kingdom.  But I can announce today that we're going to introduce for businesses a same-day visa service because we want you to come to our country quickly, to invest in our country and to support our country.
We already have some 40,000 students from India coming to the United Kingdom.  President Hollande isn't here for me to hear me say this, but I think that's ten times as many go to France, and we want to make sure that the multiple only grows; and so a very clear message on my visit.
There is no limit to the number of Indian students who can come and study at British universities as long as they have a basic English qualification and a place at those - at one of those universities and there's no limit to the number that can stay and work in graduate employment.  I think it's a very clear, very straight-forward offer to a new generation of extremely bright and talented Indian students to come to Britain.  I know that Indian business and the Indian government want to have more investment, more technology transfer, including at the highest level.  So I can announce as well today that we're going to be rewriting our rules on the high-level technology that we're prepared to share with our Indian partners to make it one of the closest partnerships we have anywhere in the world.
So as I say, Britain is looking to take down the barriers.  And one of the cases we're making this week is we hope that the Indian government will continue with the brilliant work that it's doing to open up the Indian economy to take down barriers and to make it easier to do business here in India. 
We want to make sure that just as we welcome Indian investment into the UK so it's easier for British firms, including insurance, banking, retail to invest in this vibrant and fast-growing economy.  And I think that the British, I hope you'd agree, are in a strong position to make this argument because when I look at the effect of Indian investment into the UK, I only see positives.  I am positively proud of the fact that Indian investment is now responsible for Jaguar Land Rover, a massive international success story, as revitalised British steel production is even now refining our crude oil and also, of course, owning Tetley Tea.  And it doesn't get any more British than that. 
We positively welcome that sort of investment.  One of our USPs, one of our key propositions in Britain when we look to the rest of the world is we want our economy to be the most open, the most welcoming, the most easy to start a business, invest a business, grow a business and indeed get money into that business by floating on any of our stock exchanges.  And it's great that the Stock Exchange, another great British institution, is here with us on this visit. 
So, that is why I believe this can be a truly special partnership.  The time to forge that partnership is now while the British economy is starting to recover from the difficulties of the last few years as the Indian economy, I believe, will power ahead to be one of the great powerhouses of the future. 
So I'm fantastically excited by the agenda.  There's a lot for us to discuss this week.  I hope that all the businesses here will look at forming new partnerships, making new friends while they're here in India.  And I hope that Indian businesses that have invested in Britain will look to increase that investment, and those that haven't yet looked to Britain will really look at what our country can do. 
I think the Olympics and the Paralympics were a fantastic advertisement for what Britain is capable of and the face that we can show the world. 
But, above all, thank you for the welcome.  Thank you for the good work you're going to do here.  This is a special partnership.  Let's make the most of it.  Thank you very much indeed.
Published 18 February 2013