Speech
Damian Green speech at College of Policing inaugural conference
Speech given by Damian Green on Wednesday 16 October at the College of Policing's inaugural conference.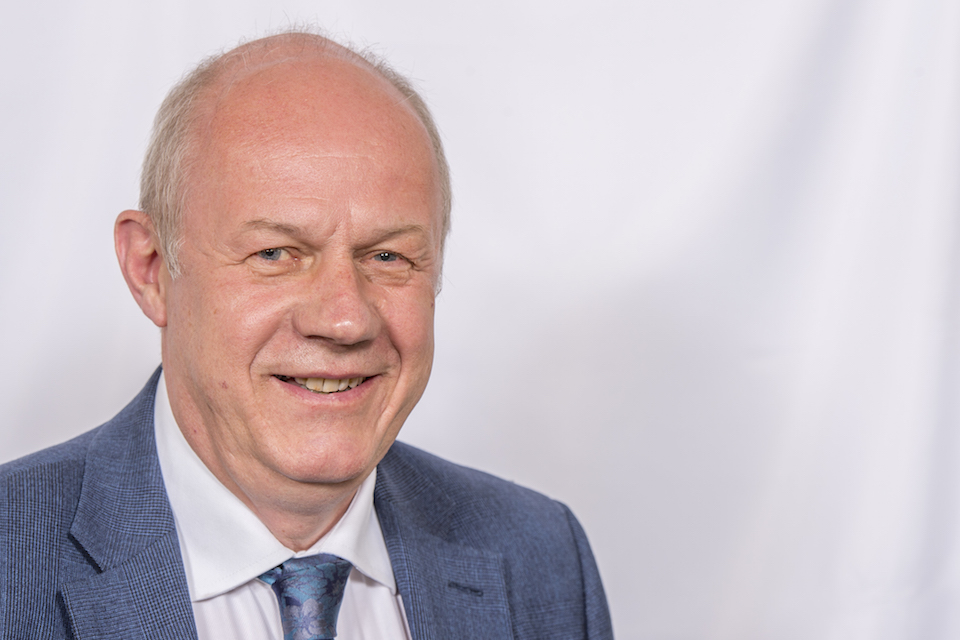 I mostly want to celebrate the opening of the College of Policing. But, in the circumstances, I should also make a short comment on recent developments in the Andrew Mitchell case. The Home Secretary has set out the Government's position on the IPCC statement, and while we wait for the CPS decision I do not want to comment further on the detail.
I do want to make a couple of points clear. The vast majority of police officers do operate honestly; we should never forget that the police do a dangerous job and put their lives on the line for the public. The Police Bravery Awards, which I will be attending tomorrow, are a testament to the truly courageous and important work that the police do.
But whilst I can say with confidence that corruption and misconduct in the police are thankfully the rare exception and not the norm, where it does occur - that is, in the small minority of officers whose behaviour is entirely unacceptable - it can have a corrosive effect on the reputation of all police officers, undermines justice and fundamentally strikes at the heart of public confidence in the police. None of us wants to see that and we must make sure that bad behaviour of that kind must be eradicated completely.
It used to be said that policing was the last unreformed public service.
I don't think anyone could realistically cast that aspersion at the profession after the three years of radical reforms that we've instituted in government. Police and Crime Commissioners and the National Crime Agency are hugely significant structural changes; the reform of the IPCC will bring about ethical changes; and the empowerment of the public through democracy and transparency are massive cultural changes.
But, as I set out in a speech to the think tank Reform earlier this year, change must be a continuous thing. And while there may be landmarks in the process of change, like the advent of the College of Policing, they must be islands along the way in the gradual flow of improvement – not destinations in themselves.
PCCs and the NCA have the potential to transform policing at all levels – from the grassroots work of the neighbourhood officer all the way to the top-level work against international drugs cartels. But that potential will be missed if policing lacks that constant flow of improvement.
And that is precisely where the College of Policing comes in. The most important constituent parts of the police force are, of course, the more than 220,000 police officers, PCSOs, specials and police staff that make up its ranks. For our structural reforms to reach the heights of which we think they are capable, we need those officers to come along for the ride, to be a part of the continuous flow of improvement, and, at the risk of extending the metaphor, to help in its navigation.
The College will increase professionalism across all levels of policing and give opportunities for all ranks to have their say in how the work will be delivered. I hope that gives officers a new sense of ownership of the profession and a new determination to shape it for the better from within.
But there is another crucial development that I want to see the College help bring about – and that is a transformation of the way policing is perceived by the public at large. Surveys show that despite everything public trust in policing remains high and it is in all our interests that remains the case.
I am sure police still retain their well-deserved reputation for bravery, dedication, public service and commitment. But is that enough? Are our sights set at a high enough level? Shouldn't we also want police recognised for their problem solving ability, their ingenuity, their creativity, their intelligence?
The recent flood of applications for a handful of jobs at Wiltshire Police and the 4,000 applications for 200 jobs at Avon and Somerset Police shows policing also still retains its reputation as an attractive career. There's no public policing I can draw on, but I am guessing those applicants were attracted by the public service elements of the job, the excitement it offered and the long-term stability of the career. I wonder how many of them thought of the opportunities to develop management and leadership skills, the chance to join a dynamic and changing profession and the possibilities of developing transferrable skills that would enable them to move backwards and forwards between high-powered private and public sector jobs.
I think we do need to look afresh and set our sights higher.
I do not think, traditionally, policing has been ambitious enough in this area. And I want the College to change that ambition, to put it on a higher plane, to build a profession that is truly attractive to all. As a constituency MP I am often called upon to speak to students in Years 12 and 13. In these discussions, they talk about their hopes for the future. In among the usual desires to be a barrister, a doctor, or, even sometimes, a politician, it would be nice to hear more of them speak of their hopes to become a detective, or a chief constable? For too many people, that's just not seen as an aspiration.
We often talk about a need to make policing more representative – especially in terms of sex, race and sexual orientation – and I will return to that in a second. But they are not the only differences that make up the variegated tapestry of the diverse society that is modern-day Britain. Policing needs to become more representative in other ways too, both culturally and socially.
One of the changes I have in mind is the huge expansion in higher education in this country has mirrored changes in the jobs market. A university education is now seen as a staple for the career choices of many of our young people. So it is no surprise that 49% of all school leavers now go on to study for a degree. But that move towards more education is not being matched in the police, where levels of graduates remain way below that 49% level. Research shows that fewer than a third of those assessed by the police recruitment centre over the last three years had a degree. Entry to the police is clearly not keeping pace with changes to the country's education patterns.
Now, some people will say that policing should be one of those professions that is only open to graduates. I am not one of them. Policing is a huge profession which calls for a similarly large range of skills and abilities. And I would never regard academic attainment in itself to be a sufficient qualification for all the challenges that policing holds. But I would point out that the world has changed and policing must move with it.
Two decades ago, investigating a computer crime would probably have involved arresting a shoplifter at Dixons. Now it is more likely to refer to a complex internet-based scamming operation, potentially spanning many different countries. There is clearly a role here for people with significant academic ability, ideally those trained in computer science. That is obviously just one small snapshot of the challenges faced by modern policing – in the 15 minutes I have to address you I could not hope to address all of them. But think of the other degree-level qualifications that could assist in a career in policing – economics, languages, management, law.
As I said, I would never argue for a degree-level entry to be introduced to policing, but I do want the College to turn it into a career that is more attractive to the right sort of graduates. Policing I believe very, very strongly should be regarded as one of the great professions, alongside those of the law and medicine. And as much as I would like to hear sixth form students talking of their ambitions to enter it, so I would like more of their parents to have that aspiration for their children. The proposals we announced earlier this week on direct entry will make it easier for people with different skills, perhaps gained in the private sector, with or without degrees, to bring them into policing at senior ranks and to advance more quickly through the profession.
But the real work to make a long-lasting change to the perceptions of policing as an aspirational career choice will come through the College.
Of course, the challenge to the College goes way beyond simply making policing a more attractive career option for school leavers. It must also change the culture of policing from within. As well as conducting its core duties of improving overall professionalism, it will lead a transformation in how police officers do their jobs, and, crucially, the way they do their jobs.
One of its first jobs – and it cannot be more timely – is the work it is doing to develop a Code of Ethics to underpin policing throughout the profession, one which will be just as relevant to a Chief Constable of 30 years' experience and a new starter in their first day in the job. The code will have statutory force and will be used as the basis for testing throughout policing careers. It will be a very important document. It will be issued for consultation shortly and I hope that very many people contribute to it.
The public also expects policing in Cumbria to be carried out in the same way that it is in Cornwall and that of Norfolk to be the equal of Northumbria. While people might like to see a familiar badge when they greet their local neighbourhood officer, they will have less patience with the 43-force model being if their local force falls behind standards elsewhere. Our police.uk website gives people the opportunity to compare force performance and our introduction of PCCs gives them a way of expressing dissatisfaction if they don't like what they find. The College has the ability to ensure those regional variations are fewer than they were before. Experts within the College itself already studying 'what works' in policing and will produce a new evidence-based model for forces to adopt. This has been a real gap in our armoury in the past. They will identify the best work going on across the country and ensure it is shared quickly with the other forces. The speed of sharing best practice has been difficult in the past and I hope the College will make a difference to that.
Taken together, I hope all these transformational elements will help produce a revolution in the way policing is delivered. Although, on reflection, perhaps revolution is the wrong word. Perhaps it would be more apt to describe it as a evolutionary process. For while I hope – and indeed expect – the College to produce far-reaching results, I very much hope they will be delivered in a collaborative way and with all police officers using their skills and experience to help shape the vital process of modernisation.
And I also hope, to return to my first point, that it will make policing a more attractive profession to all, so that policing becomes more representative of the people it serves.
So more representative of the proportion of the population going on to degrees and post-graduate education; more representative in terms of race; more representative in terms of sexual orientation. And this is not just a hope rooted in some sort of politically correct notion of what is right, but also in a notion of what is more productive for the police. For having a police force that more accurately represents the people it serves can only strengthen the link between officer and citizen and that can only strengthen policing in the long run, in both practical ways and in raising and maintaining public confidence.
The College's Releasing Potential programme should mark a significant step towards these long-running aims and, again, it will be able to share best practice across all 43 forces wherever it finds good work.
You may think my words today have set out an ambitious wish-list. Indeed, I hope you think it is ambitious wish list. Our needs for the country for the future of policing require no less than great ambition. We already have a very able police force, one that has produced a drop in crime rates of more than 10% over the past few years under this government despite the straightening circumstances we find ourselves in.
But I want an even better police force, one that can continue its recent successes into the future and confront head-on the ever-changing nature of criminality. I don't think that policing will get any easier, if anything it will get more complex. I have every confidence that the police will respond. And I want the College of Policing to be at the vanguard of that transformation, keeping our police forces among the best in the world to keep our streets safe.
Published 16 October 2013
Last updated 15 November 2013
+ show all updates
Slightly amended speech
First published.