Speech
Chancellor's speech to students at Peking University
At the start of a five-day trade trip to China, Chancellor of the Exchequer, George Osborne delivers a speech to students at Peking University.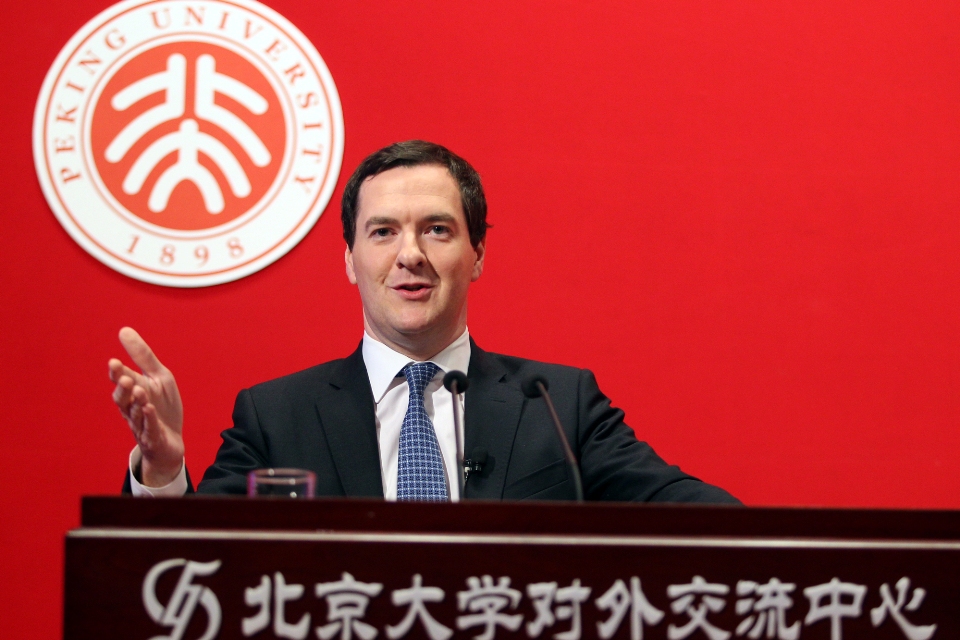 It is an honour to be here at one of the great places of learning in the world – and to be among you, the students who are going to shape the future of that world.
This is my first visit to Peking University but not my first visit to Beijing. I came twenty years ago, when I was little more than a student.
That was twenty years ago – and I have been back to China many times, first as a young politician, and now again as my country's finance minister.
What everyone says when they return again and again to China is how quickly your country is changing.
And it's true.
Each time I come back here, there are spectacular new buildings, new railways and new airports, exciting new companies to visit, and the prosperity of the people I see around me has grown and grown.
But let me tell you what I also see when I come back here. The things that haven't changed:
The pride of the Chinese people in their country.
The depth and sophistication of the Chinese culture.
The value you place on consistency and stability and on friendship.
And although with each visit I make I come to know more about your great country, I also, with each visit, realise that there is more and more I don't know and that I want to learn.
Two years ago, the then Chinese Vice Premier Wang Qishan came to London.
He was, at the time, my opposite number in our two countries' economic and financial dialogue.
We sat next to each other at dinner and spoke about the histories and the cultures of our two nations.
I come here at the head of a delegation of government ministers and business leaders to conduct our latest Economic and Financial dialogue.
I look forward to meeting later today, your Vice Premier Ma Kai, whose reputation for economic reform and diligence impresses all.
I come here at the same time as our Mayor of London, my friend Boris Johnson, who is here in Beijing also promoting our capital's economic links. And over the next four days, we will work to conclude important commercial deals that will create thousands of jobs in both of our countries.
But I hope that this visit of mine is about much more than a collection of business deals.
What I really want it to be about is strengthening the understanding between our two nations, deepening our friendship, and working out where, by working together, we can improve the lives of all our citizens.
We are two nations on other sides of the globe – but we have much in common.
We are two ancient and proud civilisations, each whose culture has spread far beyond our shores.
We are two great trading nations, with a shared interest in keeping the trade routes of the world open and free.
We are two countries that care about the world and want to influence its future direction.
Yes we have differences, different political systems, and attach value to different things.
And we should not be afraid of pointing out where we disagree. But let us do it in a way that is respectful of each other, and tries to understand each other.
And let us always try to overcome our differences and work together in peaceful cooperation.
Because ultimately we want the same thing. A better life for all our citizens.
I will be candid with you.
There are some in the West who see China growing and they are nervous.
They think of the world as a cake - and the bigger the slice that China takes, the smaller the slice that they will get.
I totally and utterly reject that pessimistic view.
If we make the whole cake bigger, then all our peoples will benefit.
That should be the basis of our relationship with China.
I don't want Britain to resent China's success, I want us to celebrate it.
I don't want us to try to resist your economic progress, I want Britain to share in it.
And I want this week us all to take the next big step in the relationship between Britain and China.
Because more jobs and investment in China mean more jobs and investment in Britain. And that equals better lives for all.
That is what this visit is all about:
Britain and China, taking the next big step.
What is so exciting at the moment is the sheer number of areas where we can work and collaborate together.
As China reforms and grows we are more complimentary.
In science, in finance, in urban redevelopment, in energy, in trade, in services and in our creative industries.
That's why our leaders have called the relationship between Britain and China a "Partnership for Growth".
And as China becomes a knowledge economy, that partnership can only deepen.
Yesterday, I flew here directly from the Annual Meetings of the International Monetary Fund in Washington DC.
Our two countries are both senior members of that important organisation.
We heard in the presentations there in Washington that while many risks remain, the global economy is recovering.
Certainly, the UK economy is recovering - and that is because we have tackled our problems directly and consistently.
The result is that there are now more people in work in Britain than ever before, and we are becoming one of the most competitive places in the world to do business.
But as we recover, we in Britain need to make sure our recovery is more balanced than it was in the past; that we rely less on debt-fuelled consumption and more on investment and exports.
China too is striving under its new leadership to achieve more balanced and sustainable growth – and for you that means the opposite.
Rebalancing from investment to consumption.
This is part of President Xi's vision to achieve the 'China Dream'.
I applaud what the President and Premier Li have already achieved on the path of reform.
We're excited about the new idea of the Shanghai Free Trade Zone. That is all part of developing services and we in Britain want to be part of it because services is such a strength of our economy.
For working together as "Partners for Growth", we can achieve ever more.
Long gone, thankfully, are the days when Western politicians turned up here and simply demanded that China open up its economy to Western companies.
Long gone too are the days when all that Chinese companies appeared to offer was cheap, high volume and low quality manufacturing.
One of my tasks this week is to explain to the British people just how far China has come, how sophisticated your businesses are, and how advanced you are in the fields of high tech and science.
And one of my principal goals this week is not just to increase British investment in China. But to increase Chinese investment in Britain.
Here again, let me be quite candid with you.
Not every country in the world is happy to see foreign investment - including Chinese investment.
There are some countries, including some in Europe, who think the answer to the global race is to erect trade barriers and find all sorts of ways of making clear that Chinese investment is not welcome.
Britain isn't one of those countries.
Indeed, I would go as far as to say that there is no country in the west that is more open to investment - especially from China.
For your investment means jobs at home for us.
Who owns a large share of the London water supply – and a share of Heathrow airport?
The China Investment Corporation.
Some nations wouldn't want Chinese investment in critical infrastructure like water and airports. We welcome it.
Just as you welcomed the British design partnerships that built Beijing Terminal 3.
In fact, yesterday I announced a new partnership, involving Beijing Construction and Engineering Group that will see £800 million of investment into the new Manchester Airport City development and could contribute 16,000 jobs in the North West of England.
That's good for Manchester. Good for Britain – and good for China too.
And take your great high-tech company, Huawei.
There are some Western governments that have blocked Huawei from making investments.
Not Britain.
Quite the opposite.
That is why I was pleased to welcome Huawei's opening of a flagship office in our country in June, and of £1.3bn of investment that came with it.
And this week I will travel myself to visit the company's global headquarters in Shenzhen to see what more we can do together.
Indeed, one of the most exciting opportunities for collaboration between our two economies is in the field of high tech.
For those in the West who still harbour outdated views of the Chinese economy as the home only of low cost, low quality manufacturing, I say come to see the new giants of the internet age, meet as I will companies like Tencent, with over 230 million users of WeChat, or Rekoo, Asia's largest social gaming company - born in China, nurtured in China and ready now to expand across the world.
We want to collaborate with China and Chinese businesses in areas like technology, bioscience, green energy and third generation nuclear power that are at the cutting edge of the world economy.
In all these areas, let's take the next big step together.
It is a partnership of growth and a partnership of equals.
Last year, Britain became the most popular destination in Europe for Chinese investment.
And last year, goods exports from Britain to China grew faster than any other European nation.
As your country and its people grow richer, I hope you will want more of the goods and services Britain can supply.
Our modern pharmaceuticals.
Our premier luxury brands like Burberry and Paul Smith.
Our excellent cars from Jaguar Land Rover and Bentley.
Our aero-engines from Rolls Royce and airplanes from Airbus.
Our high quality film and television, from James Bond to Downton Abbey.
One area where Britain excels is finance – and I want Chinese families to have the security that comes from British pensions and insurance and banking services.
One of the most exciting developments in our Economic and Financial Dialogue has been the work we have done together on the internationalisation of the RMB.
A great nation like China should have a great global currency.
The pace at which you develop it must be a matter for Chinese policymakers, and later today I will meet with Governor Zhou of the People's Bank of China to discuss that.
But it is my personal mission that as you develop an international role for the RMB, you develop that role through the international centre of finance – London.
Two years ago, we began that process from scratch at our last economic dialogue. Today, as a result, 62% of RMB payments outside of mainland China and Hong Kong are made in London.
Tomorrow, in our latest dialogue, I look forward to taking further big steps forward in making London a home of Chinese banks, Chinese bonds an Chinese finance.
I've talked of friendship, of a global economic partnership and of the business our two nations can do together.
But we are in a university – and I want to end where it all begins, with learning.
For knowledge and understanding of our world is what makes us human.
One of the greatest students of this university was the poet Xu Zhimo.
He studied here, but he also studied at the great British University of Cambridge.
He drew on China's rich heritage - and also on Britain's too.
One of his most famous poems is called 'Farewell Cambridge" – Zai bie Kang qiao.
You are the students of today who will write the poems of tomorrow.
And you will make the scientific discoveries of the future too.
Let us do that together.
The cooperation between Chinese scientists and British scientists is one of the strongest in the world – and I'd like it stronger still.
This great university should be at the heart of that.
So I am delighted to announce here the establishment of a new partnership between Peking University and Manchester University in the UK with the creation of a new joint centre for Genomic Medicine.
Here in the oldest and most prestigious medical school in China, let's work together on the medicines of tomorrow.
This partnership will – I hope – give even more of you the chance to come to Britain and study there.
Already 130,000 students like you do.
I want more of you to come. And more Chinese visitors too.
Let me make this clear to you and to the whole of China.
There is no limit to the number of Chinese who can study in Britain.
No limit to the number of Chinese tourists who can visit.
No limit on the amount of business we can do together.
For in the end what is a true dialogue?
Not just a meeting between governments.
Not just a conference of politicians.
A real dialogue is where people get together, and talk, and learn, and understand and embrace the future together.
So let Britain and China take our next big step together – for the view of the future is worth it.
Thank you.
Published 14 October 2013