CBI: employee health and absence breakfast
Speech by Lord David Freud, Minister for Welfare Reform.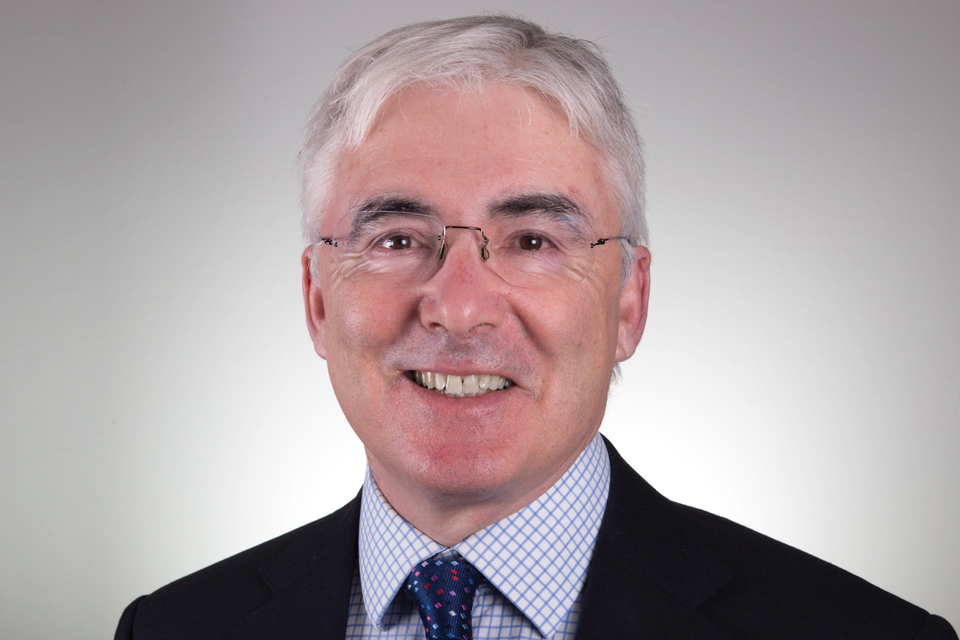 The CBI's absence review has become a significant source of information around absence management.
The monitoring you have so conscientiously carried out since the 1980s has contributed to our overall understanding of sickness absence and your continued thoughtful work in this area is welcome.
Of course our understanding of these issues is now much more sophisticated than it was in the early 1980s. There has been a radical shift in the way we understand the interaction between work and ill-health. Crucially we no longer see work as bad for you but instead recognise that it is an important part of recovery.
I was very lucky when I wrote my own paper on work and welfare that, just three months before, Waddell and Burton had produced a very thorough piece of research which essentially concluded that work is good for you.
My own report, prepared for the previous Government, focused on those people who had already fallen out of the labour market as a result of health issues.
My task was to look at how we could support this group, particularly those who could work, to reconnect with the labour market and eventually leave benefits and get back into work.
That work is ongoing, the Government's Welfare Reform plans include reassessing 1.5 million people currently claiming incapacity benefits and providing tailored support for those who can work through the new Work Programme.
Early indications show that more than a third are found immediately fit for work, with a further 38 per cent capable of work, if they receive the right support.
Many of those people have been on benefits for a number of years and will need intensive support before they are able to return to work.
Department for Work and Pensions analysis shows that of the 2.6 million claiming incapacity benefits, over half have been on benefit for at least 5 years, and a third have been on benefit for 10 years or more.
The revolutionary thing about the Work Programme is that we have designed the payment structure to recognise that some people will need extra support and we will pay more for those who are harder to help, up to £14,000 per person in some cases.
Increasingly we understand that remedies may not just be medical, that we need to take a much broader social approach to ill-health.
On a recent visit to Turning Point, which specialises in helping people with complex problems like mental health issues, or addiction, I was really interested to learn that confidence and assertiveness training was by far the skill they most invested in - simply building people up to cope with work, to believe that they could succeed was often enough to set them on a path back into employment.
Aaron Antonovsky and his theory of salutogenesis has really shaped thinking in this area. Very simply put Antonovsky says stop worrying about ill health and start worrying about health resilience.
We all get knocked about by life and occasionally by work, but the people who cope are the ones who already have a sense of coherence. Essentially those of us who have some meaning through our jobs, relationships, and whatever else we feel is important will cope better than those people who do not have those things.
So, we need to build up that sense of coherence in people to ensure they have the wherewithal to cope. Antonovsky's also found that this was true for both mental and physical ailments. If you have a sense of coherence you are better placed to deal with both and less likely to become ill.
This theory is really important as we start to think about what we as Government and you as employers can do to support people to stay in work and reduce the burden that sickness absence places on all of us.
We need to support people before they hit crisis point and end up long term sick and prevent them from entering the benefits system.
Research by Waddell and Burton suggests there is strong evidence that the longer the duration of sickness absence the greater the obstacles and the lower the chances of return to work.
Their evidence also shows that more than 90 per cent of people with common health problems can be helped back to work by simple healthcare and workplace management measures - so we're not talking here about complex interventions. This is why government is piloting projects like the Fit for Work Service which I will talk about in a bit more detail later on.
It seems the message is getting through, three quarters of the employers surveyed by the CBI this year said improving employee well-being was a priority for the coming year, and 89 per cent said they had stress management policies.
But as this survey demonstrates we continue to have a shadow welfare system made up of the occupational and statutory sick pay elements that sit in the twilight zone between employment and benefits.
Whilst there has been a welcome fall in the number of employers who feel people are taking time off as paid sick leave when they are not ill, around a fifth still believe employees feel paid sick leave is an unofficial top up for annual leave. 
Similarly there is a small minority in the welfare system that has a sense of entitlement to benefits that reaches beyond mere need.
We have a shared challenge to rebalance perceptions of rights and responsibilities and break this cycle of dependency.
The current legislative system means that by the time someone starts to claim benefits they may have been out of work for many months, and in that time have moved further and further from the workplace, making the job of getting them back into employment that much harder. 
This situation prompted me to review the whole system of sickness absence. In January the Government appointed independent reviewers David Frost of the British Chambers of Commerce and Dame Carol Black, the National Director of Health and Work to investigate the current situation and develop some recommendations for improvements.
Early insights from the review suggests the picture may be far more complicated than we had realised.
For example, people do not always follow a linear journey from 28 weeks on Statutory Sick Pay to eventually claiming sickness-related benefits. In many cases, people who flow onto benefits come more or less directly from work thus entering the state's auspices rather earlier.
This may reflect the nature of employment contracts and in general raises interesting questions about the different incentives and issues facing employers. It appears for example that people may be disproportionately arriving on state benefit from smaller firms.
Furthermore, some interesting questions are arising around the variety of employer provision: Why is it that some firms take out insurance against the risk of sickness absence whilst most do not? And why is there such a variation in the nature of occupational sick pay arrangements which firms pay over and above the statutory minimum?
As part of the review the team will be exploring exactly what is happening and where the financial and other incentives are in the system for both employers and employees. As employers with a practical expertise your input to some of these questions will be most valuable.
Moving on, I want to address some of the issues raised by the CBI's survey around the Fit Note.
The introduction of the Fit Note was the first major change to the Medical Statement since the formation of the NHS - it will take a little while to bed in.
I know the employers you surveyed felt training was key, with 71 per cent believing GPs have not received adequate training to use the fit note differently to the sick note.
We have completed in partnership with the Royal College of General Practioners intensive face to face training with over 3,000 GPs who can now take this new knowledge back to their practices and train others. Government in partnership with professional bodies have also developed an online resource and training module for GPs.
Now we are focusing our efforts on ensuring health and work training is included as part of the training medical students and trainee GPs already do - embedding this knowledge at the earliest opportunity.
On the GP side the feedback has been very encouraging; DWP research has found 70 per cent of GPs believe it has helped their patients make a phased return to work.
The Fit Note is also, albeit slowly, proving its use to employers, the CBI survey found 41 per cent of employers are using the Fit Note to guide their occupational health interventions.
What is key for the fit note to succeed is the engagement of all three parties in the process. The GP, the employer and not forgetting the employee. Where all three are signed up, then the benefits of the fit note are fully realised; where they are not then this becomes infinitely more difficult.
We have to accept that it will take a little while for GPs and employers to establish this new kind of relationship. Engaging with the process is crucial; a recent EEF survey found that those employers who made proactive contact with their local GPs to discuss the kind of adjustments they could make received more helpful and useful Fit Notes.
The CBI's own report this year has found that those firms that are investing time and energy in managing sickness absence are seeing rewards. The best performing firms have reduced the average number of days per employee lost to sickness absence to 2.2 days, meanwhile the worst performing firms lose on average 10.7 days per employee - almost five times as much.
We need to keep plugging away at this, because if we crack it then the potential savings to your bottom line are huge - we can really start eating into the £17bn lost to sickness absence.
There is definitely room for more frequent and better quality early interventions when people are struggling at work.
A recurring theme is the crucial role line managers play in maintaining contact with the employee, conducting back to work interviews and discussing reasonable adjustments.
Government has been piloting a number of initiatives to provide health-related support to keep people in work or to help them return from a period of sickness absence - for example Occupational Health Advice Services for small businesses and the Fit for Work pilots.
Over the last year the Fit for Work pilots helped over 6,500 working people in the early stages of sickness through case-managed support. Early results have been encouraging and last week we announced that we would extend seven of the pilots, continuing to ensure support for those in the early stages of sickness absence until March 2013.
This is a serious issue, the numbers involved and the impact it has on business and productivity are in themselves enough to encourage Government to act. But more than that there is a moral obligation to deal with the current system which I increasingly believe is encouraging dependency and creating barriers to employment.
Published 24 May 2011