Speech
'Burn survivors should not be ignored'
Remarks by Rudy Fernandez, British Deputy High Commission Chennai at inaugural of new integrated Burn-Care Centre in Kerala, 23 November.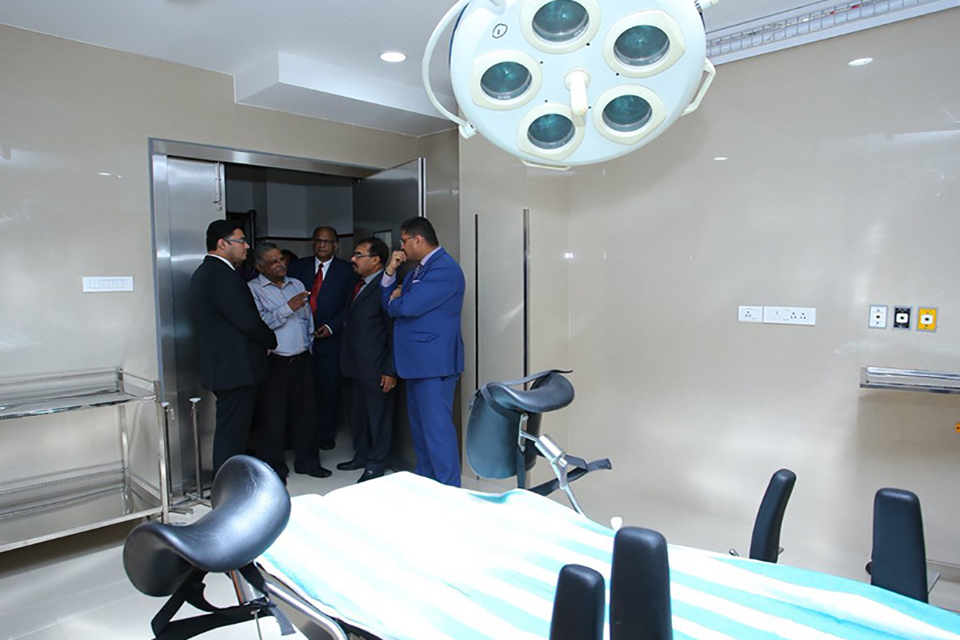 Welcome and thank you all, dignitaries and guests, for coming today.
Dr K G Alexander, Chairman of Kerala's Baby Memorial Hospital (BMH), warm congratulations to you and your team for transforming BMH from its humble beginnings as a 52-bed hospital in the 1980s. You can be proud of what you offer now - an 800-bed super and multi-speciality hospital, with over 40 medical and surgical departments and 16 operation theatres.
Your team of 300 doctors and over 2,000 nursing, paramedical are a part of India's reputation as a global healthcare destination and partner. They're living your motto – 'more than care!'
I'm delighted that BMH's new state-of-the-art Burns ICU is being inaugurated today. It is your 15th ICU and a testament to your commitment to not just general healthcare but also to offering the widest possible range of intensive care.
I'm not sure how authoritative and accurate the latest figures of burn incidence are. Both reporting of burns and their recording in official medico-legal information systems is apparently incomplete, inconsistent. Many say that if anything, incidents are under-reported. But according to media reports some 7 million suffer burn injuries in India every year, most of them women and children. Sadly, at least 1.4 lakh succumb to their injuries.
Of course not all burns are a result of violence. Many are genuine domestic or industrial accidents, but many, many others are the result of violence and even where self-inflicted are a result of an environment of violence.
While it certainly helps to have better, more accurate facts and figures, we all need to be increasingly sensitive to look beyond the statistics at the women, their children and sometimes entire families who are caught up in this violence – importantly, the terrifying aftermath of severe burns lasts long after the single incident.
Barring a handful of private hospitals the majority of burn-care is government-led. Happily, it is a large and growing public infrastructure.
For instance, India's Health Ministry's National Programme for Prevention and Management of Burn Injuries (NPPMBI) is an extraordinary programme that supports government medical colleges and hospitals who wish to set up their own Burn Units. I understand that Kerala is also an intended beneficiary state, with the A A Rahim Memorial District Hospital in Kollam having received approval for the establishment of a new burn unit during the 12th Five Year Plan.
Of course state government hospitals have their own long-standing burn-care support. This state-level effort has been complemented over several years by national centres of excellence in education, research, training, advocacy, awareness such as the National Burns Centre in Mumbai and the National Academy of Burns India in New Delhi.
Against this backdrop, BMH is showing the way.
Through this new investment BMH is supporting the message of India's central and state governments – to reach out to burn survivors who need specialist care. I hope that more state-level medical colleges and hospitals will accept and leverage the Indian government's offer of help to strengthen their burn-care infrastructure.
But BMH is also doing something brave and bold by offering its own message to private healthcare – that burn survivors should not be ignored. I hope that other private healthcare groups across India will consider the fine example you have set.
We are pleased that BMH's new ICU will serve burn survivors because it reinforces some of our global work in this region. For instance, in recent years we've supported burn survivors in Bangladesh. Through the Manusher Jonno Foundation (MJF), we supported some of the excellent awareness and advocacy work by the Acid Survivors Foundation in Bangladesh.
This year in India we're supporting an initiative that will help women survivors of burn violence, not just acid burn but any kind of burn - kerosene, gas stove, alcohol or chemical burns. We're supporting because we believe that burns are a uniquely horrifying form of violence against women and need unique and intensive pre and post-hospital care.
Finally, I'm delighted to hear about some long-standing links that BMH's team has with the UK. Many of you have trained and worked in the UK health sector for several years. These include your CEO, Dr Soman Jacob, your Chief of Orthopaedics, Dr Mani, your Consultant Neonatologist, Dr Ranjith. And several of your doctors have Honorary Fellowships from UK Royal Colleges. I hope that you will develop those links even further with the UK and tell us where and how we can help.
Thank you once again.
Published 25 November 2016