Speech
British Diplomacy in the Information Age
Speech given by Deputy Head of Mission on 3 April. This is an English transcript of the speech, exactly as it was delivered
Dear guests and participants,
I would like to thank the Kazakhstan Institute of Management, Economics and Strategic Research for their invitation to this Research Conference and for the opportunity to speak in front of such a distinguished audience.
You might be wondering about the title of my talk and how it fits in with the title of this session: 'The Future of Kazakhstan in the Global Community'. But there is a logic, I promise. I suggest we look at this a little differently; in this case how the example of promoting what, for want of a better term we call 'UK Plc', can be helpful to Kazakhstan as it promotes its own brand, both at home and overseas.
Our modern information age is an era characterised by wide and free public access to information and the ability to freely distribute this information. 24-hours access to information gives new opportunities to governments but also poses additional requirements and creates risks. On one side, it requires greater transparency and accountability from government in all spheres, on the other it provides more ways to deliver our messages and raise the understanding among the public of our policies.
In this modern information age diplomacy can no longer be seen as simply government-to-government links. It includes in itself much broader terms and as a result uses a wide range of modern techniques and instruments. In an age of global communications, building links with people overseas matters as much to foreign policy as talking to governments. We also need to think about engaging with people in the UK– despite the fact that our business is foreign policy we need to address and inform our domestic audience as well.
That is why modern diplomacy takes many different forms which we, as a government, have to master if we are to meet our goals. Given the time limitations I will focus on only two of them.
The British Foreign Office was first created in 1782 and from that time we have always tried to keep pace with new developments and innovations. Where we are today would be unimaginable to my colleagues from all those years ago. Each area of our modern diplomatic work: researching and writing reports; formulating and implementing policy; promoting UK values; and communicating core messages, now involves the use of digital tools and platforms. Today we cannot imagine how to work without the internet. And I say that as someone who joined the Foreign and Commonwealth Office at a time when we did not use e-mail!
Looking at a specific example, the Arab Spring provided the starkest demonstration of how digital media is changing the world and transforming diplomacy. The British Foreign Secretary, William Hague, talked about this in his speech on Britain's Foreign Policy in a Networked World in July 2010. He described a world in which: "There is now a mass of connections between individuals, civil society, businesses, pressure groups and charitable organisations which are also part of the relations between nations and which are being rapidly accelerated by the internet." He set out Britain's intention to pursue a Foreign Policy that: "makes the most of the abundant opportunities of the 21st century".
New technologies, and as a result new commentary generated by any member of the public, has ensured that digital diplomacy means are a vital way of communicating with the public. Digital media has become an essential part of our work and allowed us to not only explain what we think but also to engage more widely. One of the most positive things about social media is the ability to interact with people, to hear their views and positions and to respond on their needs and requests. Sometimes we are unable to respond to everything we see, but we read it all, and it all feeds into our thinking and understanding.
Social media breaks barriers. Our blogs, Twitter, and Facebook profiles are a direct window to explain the work we do. And at the same they are a platform for people to make themselves heard by Ministers and senior public servants. Q & A sessions on Twitter are already a traditional way for our Foreign Secretary and senior Foreign Ministers and officials to communicate with the public and address their concerns.
Last week William Hague welcomed a student, Gopal Rao, to the Foreign and Commonwealth Office in London. This meeting was the result of a competition launched by the Foreign Secretary earlier in the year to thank his c. 220,000 Twitter followers for their comments, engagement and ideas. After the meeting the Foreign Secretary said: "Through social media politicians have opportunities to engage a wider group of people than ever before, and this was a perfect example of the value of this".
We as British diplomats aim to take the maximum advantage from all social media channels. These allow us to reach a wide variety of people, at minimal cost. This is especially valuable in our Consular work: utilisation of the digital sphere allows us to easily disseminate consular information and services whilst releasing resources to be used for those British nationals most in need. Without sounding melodramatic we have had real examples of when a Tweet from a British national in trouble has been picked up by a Consular Officer allowing us to literally save a life.
Indeed social media is the right (and easiest) way to build and engage those interested in what we do. That is why the Foreign and Commonwealth Office is so active in the digital space. Nearly all of our Embassies and Consulates and most of our senior staff, including Ambassadors and Deputies overseas can be found on Twitter. And many of these accounts our popular. Whilst no member of the British Foreign and Commonwealth Office can beat Rhianna and her 35m followers the Foreign Secretary doesn't do too bad with some 220,000 followers. Tens of thousands of people also follow our Facebook pages. Today in order to be heard and understood you need to choose the right platform – a platform that can be accessed anytime, anywhere and on any digital device.
Social media therefore needs to be seen as a vital part of the toolkit of a modern diplomat and indeed the modern nation state. Digital diplomacy is a key element for any country to conduct its foreign policy. Moreover digital diplomacy also helps us deliver numerous projects under the second type of modern diplomacy I'd like to talk about.
This is Public Diplomacy - a diplomatic trend which gathered popularity in the last century and which continues to expand in popularity. In short public diplomacy is a tool to communicate with foreign publics and explain our thinking to them.
This diplomacy can best be characterised as a two-way dialogue between the government and a foreign public or between publics from two different countries.
The Foreign and Commonwealth Office conducts numerous public diplomacy campaigns and projects. Their implementation involves many different aspects: activity in the digital sphere; meetings with members of the public and civil societies; press conferences; and interviews. Indeed what I am doing here with you today is an example of public diplomacy.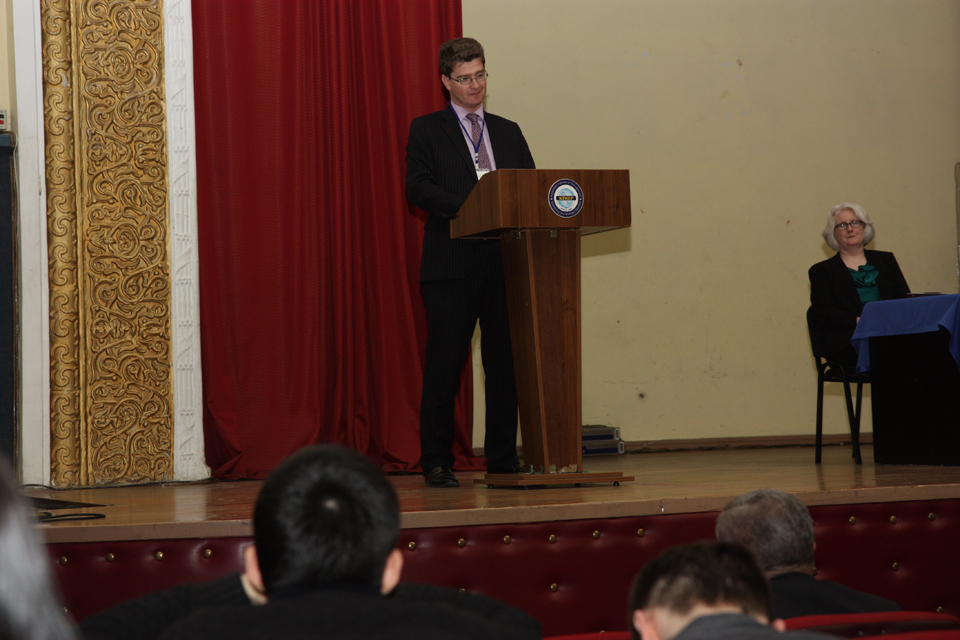 In 2012, the year of the London Olympic and Paralympic Games, British Embassies around the world held hundreds of events devoted to London 2012. The purpose was to promote the UK and our activities. The British Embassy in Kazakhstan also participated and realised several initiatives ranging from being involved in the Olympic day at the Astana stadium to an online photo competition.
The popularity and power of sport and the Olympic Games especially, raised the UK's profile as a modern and innovative country open to the world. It brought significant economic benefits to the economy: increased numbers of visitors and tourists; and increased foreign investment volumes and business contracts. Public diplomacy is not only about raising awareness, it's about real economic benefits. In the modern world where the economy is key we need to use every advantage to promote and build our economies. Strange as it may seem, public diplomacy allows us to do that.
To continue this theme one of our ongoing and most successful examples of public diplomacy is the 'GREAT campaign'. This is the British Government's most ambitious international campaign ever. It showcases the very best of what Britain has to offer and is designed to encourage the world to visit, study and do business with the UK. GREAT brings together several British Government departments. These include: the Foreign and Commonwealth Office; UK Trade & Investment; VisitBritain; and the British Council. In the initial phase of this campaign, from February 2012 to March 2013 over £500m of additional trade and business for the UK was generated. A total of some £600-£800m on a total spend of only £30m is predicted. The numbers speak for themselves, the benefits of pursuing public diplomacy are clear.
Public diplomacy means relationships between publics and with government's. It also means that it is important to look beyond traditional partners. That is why the Foreign and Commonwealth Office has several public diplomacy partners, such as the British Council, the Wilton Park think tank, and the BBC World Service. All these organisations build strong relationships with people overseas through: cultural and educational programmes; conferences; and other events. Marshall and Chevening Scholarships also help. Young people who have studied in the UK obtain invaluable experience of life in a different country developing positive people-to-people relationships in the process.
All aspects of public diplomacy should be seen as positive things. This is not about propaganda, it is about an exchange of views, ideas and thinking beneficial to us all. Yes part of it is designed to promote our own country but not blindly or at the expense of all other views. The UK has seen the benefits of such engagement as we develop our policies and promote our ideas and businesses. I welcome Kazakhstan's steps in the same direction. The UK is always ready to share its experiences in this regard should that be helpful.
Thank you for your time and attention. I wish you fruitful discussions and I hope to see you all on Twitter!
Published 7 April 2014