Speech
Big Society Awards address
The Prime Minister thanked the winners of the Big Society Awards at a reception at Number 10.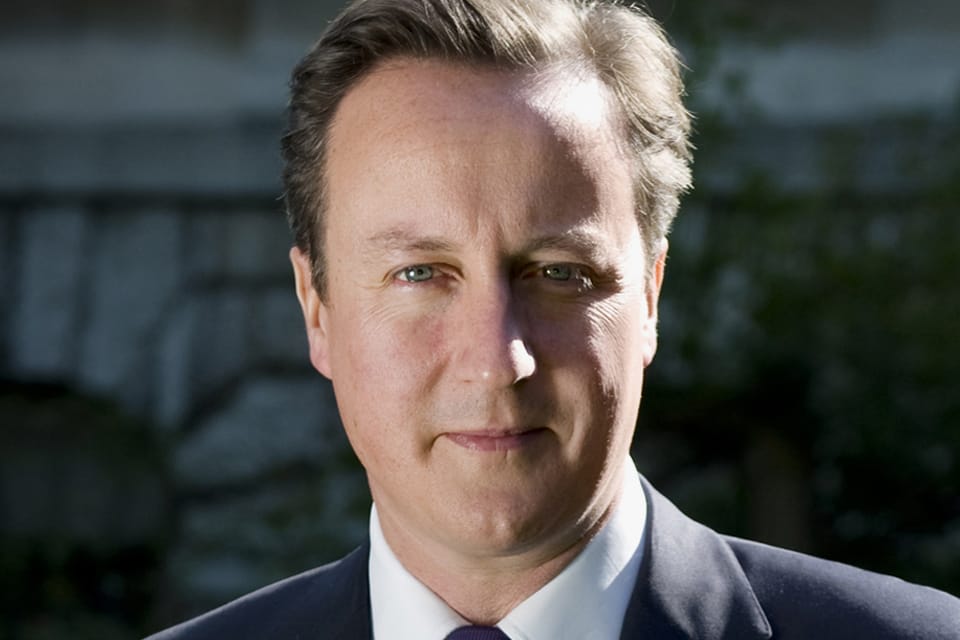 Prime Minister
Good evening, everybody. A very warm welcome to Number 10 Downing Street.
Now, the great thing about Number 10 Downing Street is the opportunity to open your doors and have receptions for people up in these great state rooms and I can't think of a better group of people to have a reception with than the winners of the Big Society Awards because you've all done extraordinary things in your communities and it's great to welcome you here.
I just wanted to say a word about why this is so important to me and to this government, the whole concept of the Big Society Awards.
The idea of the Big Society can be put very simply. It's just that if we think of all the problems in our world and in our communities, there's no way that the government, even if it had all the money in the world, would be able to solve them because so often the best way of solving a problem is for people to come together and to work out the best way of improving their communities and improving their lives. That's what fires up the Big Society and I think when you look at the winners who are here tonight they're extraordinarily diverse in the brilliant things that you've done, whether it's teaching elderly people how to use a computer, whether it is saving an open-air swimming pool for community use, whether it's helping to make sure that children have a healthy breakfast before they start school. These are all extraordinarily important and brilliant ideas, and ideas that have come from you and you've managed to put them together and make them work.
Now, that doesn't mean government has nothing to do with this. I think government should be trying to help in every way it can to build and promote the Big Society and that is what we aim to do chiefly in three different ways. We aim to do it by passing power as far down as possible, giving power to local authorities and below local authorities to neighbourhoods and community groups and it's great to see the neighbourhood group from Anfield in Liverpool here today as one of our winners.
The second thing we aim to do is to open up our public services so those of you who want to run a new nursery or run a great school for local children or to provide something in our health service are able to work with public services that have been opened up, that can cooperate and collaborate with individuals and community groups.
The third thing we aim to do is to encourage volunteering and charitable giving and social action in all our communities. Government doesn't have a magic wand to do this but there are lots of things that we can do to help make it easier to give of your time or give of your money and give of your effort. So those are the three pillars, if you like, of what the government does to help promote the Big Society.
But there is, if you like, a fourth leg to the stool and that is to say that government should play a role in celebrating great practice and great things in our community and that's what the Big Society Awards are all about. They are, if you like, a way of saying that there are a thousand points of light out there in our community, people doing great things, and we should do more as a country to celebrate them.
Sometimes people say to me 'Well, of course the Big Society's been going for thousands of years'. People of a religious disposition tend to say it's been going on for exactly 2010 years and I say 'Yes, I agree, it has been.' We're not claiming to have invented the idea of a bigger, stronger society where individuals and community groups do more. What we want to do is just to promote and encourage and enhance it in every way that we can because when I look round the room and I think of the things that all of you have done, my question is a simple one. How do we help you do more of what you do? How do we help more people come forward and do the sorts of things that you do? And that is what fires up the government with those three things we're going to try and do: devolve the power, open up the public services, help promote volunteering and charitable giving and social action.
And there are some specific things that I hope will make a difference particularly to those institutions here tonight that want to expand, that want to take the great thing they're doing in one community - for instance the great sports organisation I've been talking to in Bedford - take a great organisation and make it happen in other parts of the country. And that's what the Big Society bank - Big Society Capital - is all about. We've taken the money, literally, from the dormant banks and building societies where people have left money for decade after decade and they've forgotten that it's there, and we've put it into a Big Society bank that can lend money and grant money to organisations like yours who want to expand and grow and do the brilliant thing you do in one part of the country in many other parts of the country.
We also want to help you with the volunteering and the social action that you drive in so many of your communities, particularly by getting young people interested in volunteering and that's what National Citizen Service is all about, where we're saying to 16-year-olds 'Wouldn't it be a great thing to spend your summer after your GCSEs actually coming together with other young people, going and living in a different part of the country, learning about how great it can be serving your community and doing something on behalf of others?'
It was Gandhi who said that sometimes the best way to find yourself is to lose yourself in the service of others. I'm sure that all of you have found that in your own very special ways and I think we should be encouraging more young people to do that as well.
But tonight is really about a celebration of what you've achieved and above all a very big thank you from me, from the government, from the country for the service that you've given to your community. You're not just volunteers and brilliant people who give of service; you're also incredibly entrepreneurial, incredibly inventive. The things that you do are things that the state and the government and the local government failed to do. You thought of a brilliant way of doing something to help others and for that I'm very grateful. Enjoy, thank you, you're marvellous. Thank you very much indeed.
Published 6 December 2011