Speech
Acting British High Commissioner Steven Chandler's remarks at the Pacific Climate Change Roundtable
The Pacific Climate Change Roundtable was held in Nadi from 3-5 July.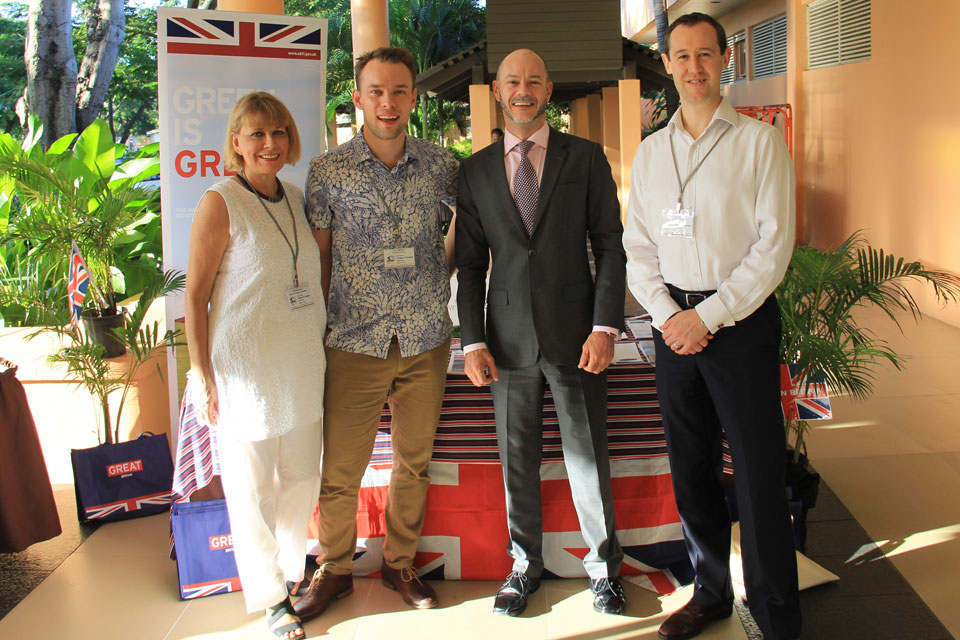 The UK is working to take a leadership position on tackling climate change. Domestically we have a legally binding target to reduce emissions by 80% by 2050, internationally we are one of the largest providers of climate finance, and remain active in the international negotiations working for an ambitious agreement. I want you to see the UK as a key partner for you in meeting your national climate change objectives.
I'm delighted to be leading a British delegation of 5 from Wellington, Auckland and Suva. This shows the importance the UK attaches to this forum.
I'd like to start by thanking and congratulating SPREP for organising this roundtable, and indeed to the Government of Fiji for hosting and chairing so competently. Even though I've only joined the meeting today I have learned a great deal. It has been an extremely informative exchange of ideas.
It is great to see such a broad range of climate change experts and practitioners, donor partners, CROP agencies and representatives from countries across the region coming together in the spirit of collaboration to address what is of course the most pressing and dominant issue affecting the Pacific.
Access to International Climate Finance has been a key theme of these discussions. I'd like to highlight some of the ways in which the UK is supporting the Pacific to adapt to and manage the threats posed by climate change.
The UK has committed £2.9 billion, about US$4.5 billion, to an international climate fund, half of which is being spent on adaptation.
You may be surprised to learn that the UK is already spending tens of millions of dollars in the Pacific helping your islands adapt to the terrible impacts of climate change. This is primarily delivered through a suite of multilateral funds and organisations, rather than with a UK badge on it, and so often goes under the radar.
One of our main channels is through the EU, where the UK contributes about one sixth of the European Development fund. I am delighted to see the EU upping their game on climate change in the region with events such as the Pacific Energy Summit in NZ in March, and the Global Climate Change Alliance.
I would also like to highlight the Pilot Programme for Climate Resilience (PPCR) as the UK contributes approximately half of the total budget of US$225million. Of this, US$75 million has already been committed to the Pacific: 25m to PNG, 25m to Samoa, 15m to Tonga and 10m to SPREP for a major regional initiative. The UK is delighted to be playing such an important role in a ground-breaking programme developing new approaches to climate finance.
I would also like to draw your attention to an important joint UK-German initiative, launched very recently, called the International NAMA Facility. This will support developing countries that show leadership on climate change to implement Nationally Appropriate Mitigation Actions or NAMAs. This will be a useful new resource for Pacific countries and we are supporting SPREP's efforts to develop a regional bid to the Facility.
Through the Climate Development Knowledge Network or CDKN the UK is supporting developing countries – particularly Small Island Developing States – in the UNFCCC negotiations. CDKN is providing direct support to the AOSIS Secretariat. And in the Marshall Islands CDKN is working with the Government to deliver a climate diplomacy strategy. Two years ago we hosted a workshop with SPREP for Pacific negotiators ahead of the COP in Durban. We are hoping to replicate the success of this event with another workshop later this year. I can also announce that the UK intends to host a side event at the Pacific Islands Forum on climate diplomacy and hope your ministers will be able to participate.
Of course the UK is also a major contributor to the World Bank, Asian Development Bank, UNDP and the Commonwealth Secretariat.
We also provide some bilateral assistance through our High Commissions in Suva, Honiara and Port Moresby and Wellington. Climate change is a major focus of our work and there are more details on our website.
As the newest member of SPREP we are increasing our cooperation and support with countries in the region across the full range of climate and environment issues.
I would like to say a quick word on the UN climate negotiations.
Looking towards to the next Conference of the Parties in Warsaw in November I would like to emphasise the important role that Pacific Island Countries have in advocating for an ambitious, legally binding agreement.
You speak as the moral heart of the negotiations. We recognise the threats you face, which have been eloquently and effectively articulated by AOSIS. We are resolved to work with you in addressing them. In Durban the UK, EU and AOSIS worked together in partnership to secure the Durban Platform. Together we achieved a progressive outcome. We hope this can be repeated later this year in Warsaw and Paris in 2015.
Finally I would like to highlight the significant expertise of British companies in the area of renewable energy, particularly: wind, solar and tidal. I hope some of you will have taken the opportunity to visit our trade stand outside or spoken with our trade manager, Barbara, where you can find out more about companies that can help deliver your renewable energy goals.
As a major provider of climate finance and as a constructive partner in the international negotiations, I want you to see the UK as a key partner for you on the issues that matter most.
Thank you.
See photos
More on the Pacific Climate Change Roundtable
Published 8 July 2013
Last updated 11 July 2013
+ show all updates
Added link to photos.
First published.