Guidance
Workplace health: applying All Our Health
Updated 20 April 2018
© Crown copyright 2018
This publication is licensed under the terms of the Open Government Licence v3.0 except where otherwise stated. To view this licence, visit nationalarchives.gov.uk/doc/open-government-licence/version/3 or write to the Information Policy Team, The National Archives, Kew, London TW9 4DU, or email: psi@nationalarchives.gsi.gov.uk.
Where we have identified any third party copyright information you will need to obtain permission from the copyright holders concerned.
This publication is available at https://www.gov.uk/government/publications/workplace-health-applying-all-our-health/workplace-health-applying-all-our-health
Introduction
Employment is a primary determinant of health, impacting both directly and indirectly on the individual, their families and communities. Unemployment is associated with an increased risk of mortality and morbidity, including limiting illness, cardiovascular disease, poor mental health, suicide and health-damaging behaviours. Individuals unemployed for more than 6 months have lower wellbeing than those unemployed for less time. Health-related worklessness can be defined as individuals not in employment for a health reason.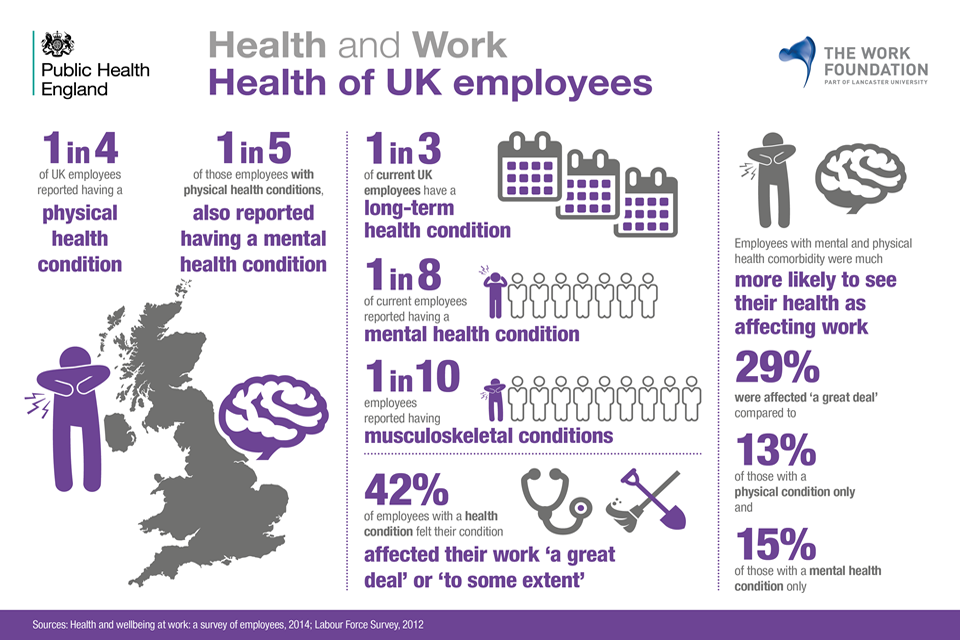 There are substantial variations in employment rates across groups and health conditions. In particular, people with histories of substance misuse and those affected by mental ill health often face barriers in securing employment.
Workplace health is promoting and managing the health and wellbeing of staff and includes managing sickness absence and presenteeism (a person physically at work, but unproductive). Workplace health interventions include activities undertaken within the workplace by an employer or others to address these issues, and action to address health and safety risks.
75%1 of adults are in employment, on average spending a third of their waking hours in the workplace. Evidence shows that good work is good for health and that a bad working environment – characterised by low levels of job control and organisational fairness, and a high effort-reward imbalance – may contribute to poor health. Therefore, workplaces are also a good setting for engaging people in health improvement activity.
The biggest challenges to workplace health in the UK are:
99%2 of private businesses and a third of the workforce are employed by small and medium-sized enterprises (SMEs), and limited access to resources make some less likely to implement workplace initiatives
lack of robust data on employment and health outcomes data such as no collection of employment data within the NHS
few financial incentives exist to encourage organisations to invest in the health and wellbeing of their staff (for example tax incentives)
Facts about workplace health
Working for a healthier tomorrow found that the annual economic costs of sickness absence and worklessness is estimated to be over £100 billion.
Health and Safety Executive statistics show:
annual cost to society in 2013 to 2014 due to workplace injuries and ill health (excluding cancer) was £14.3 billion
137 million days3 in 2016 were lost to sickness absence in the UK
Office for National Statistics4 reported that in 2016:
minor illnesses (such as coughs and colds) were the most common reason for sickness absence in 2016, accounting for approximately 34 million days lost (24.8% of the total days lost)
22% of sickness absences are caused by musculoskeletal conditions (including back pain, neck, and upper limb problems)
11.5% of sickness absences were as a result of mental health issues (including stress, depression, anxiety and serious conditions) were the next most common reason for sickness absence, resulting in 15.8 million days lost (11.5%)
lower sickness absence rates in the private sector (1.7%) but the gap with the public sector (2.9%) has narrowed over past 20 years
sickness rates are highest in the larger public sector organisations for those working in the health sector
self-employed people are less likely than employees to have a spell of sickness
the largest workforces report highest sickness levels
sickness absence is lowest for managers, directors and senior officials
Core principles for healthcare professionals
Healthcare professionals should:
know the needs of individuals, communities and population and the services available
think about the resources available in health and wellbeing systems
understand specific activities which can prevent, protect, and promote health
Interventions
Population level
Healthcare professionals working within commissioning, management or policy and partnership roles should be aware of the interventions that may be available to promote health through the workplace at population level, which include:
promoting work as a health outcome
embedding the 'health first' approach emphasising management of health conditions of people on health-related welfare benefits before addressing employability in all programmes and initiatives
being aware of the potential for the workplace to be a source of ill-health, such as through accidents, stress, exposure to potential harms
promoting health interventions to workplaces of all types within their area, enabling individual health behaviours to be addressed at scale (including groups not easily reached through traditional services)
promoting comprehensive methods of managing health within an integrated workplace programme which combines occupation health and HR: for example an evidence-based local accreditation scheme or PHE Employer Toolkits
leading by example by recommending and encouraging each NHS organisation to promote health internally
encouraging local health risk reduction and promotion programmes (such as NHS Health Checks, One You campaign, NHS Stop Smoking Services) to partner with employers for delivery within or linked to workplaces
promoting and increasing awareness of national programmes, guidance and legislation on employment to those with disabilities, long-term or fluctuating health conditions
as commissioners, ensuring that promotion of workplace health and the use of workplaces as a delivery setting is prominent within commissioned healthcare services
encouraging Health and Wellbeing Boards to include workplace health in their Joint Strategic Needs Assessment (JSNA) and commissioning of services to address the needs of the population
ensuring that staff are involved in the development and leadership of any population level interventions on health in workplace settings
integrating multidisciplinary occupational health advice in care pathways
Community level
Community health professionals and providers of specialist services can have an impact by:
supporting local authority (LA) and national employment programmes
promoting training of line managers in business, starting with LA staff
working in partnership with LA public health teams to ensure that activity on workplace health is reaching the maximum amount of businesses
encouraging people to stay active, connected, eat well and reduce alcohol consumption
using national data profiles or tools to understand the health needs of the local community
using the PHE wider determinants tool to understand the impact the wider determinants have on the health needs of the local community
Family and individual level
Healthcare professionals can have an impact on an individual level by:
supporting the co-location of employment services and individual placement support in healthcare settings
promoting work as a health outcome
issuing 'fit notes' which help people on long term sick leave back into work by changing perceptions of work capability
using the 'health first' approach, emphasising management of health conditions of people on health-related welfare benefits before addressing employability
promoting active workforces and active workplaces
making it easy for people to stay active and connected to people around them
Measuring outcomes
Public Health Outcomes Framework (PHOF)
There are 8 PHOF indicators that relate to employment.
Health and Social Care Information Centre (HSCIC)
There are 26 HSCIC indicators that relate to employment.
To view these go to the HSCIC indicator portal and type 'employment' in the search box in the top left corner.
Commissioning for Quality and Innovation (CQUIN)
The CQUIN outlined 3 areas where NHS England would like providers to make progress in improving their health and wellbeing offer to employees:
national list identifier: national NHS staff health and wellbeing
indicator name: improvement of health and wellbeing of NHS staff
description of indicator: achieving a 5 percentage point improvement in 2 of the 3 NHS annual staff survey questions on health and wellbeing, MSK and stress
The 5 percentage point improvement should be achieved over a period of 2 years, with the baseline survey being the 2016 staff survey.
Guidance
NICE guidelines
Promoting mental wellbeing at work (PH22) is guidance for those who have a direct or indirect role in, and responsibility for, promoting mental wellbeing at work.
Managing long-term sickness and incapacity for work (PH19) is guidance for all those who manage long-term (or recurring short- or long-term) sickness absence and incapacity, including employers and people working in the NHS.
Workplace interventions to promote smoking cessation (PH5) is guidance for all those involved in providing employees with help to stop smoking.
Promoting physical activity in the workplace (PH13) is guidance is for employers and professionals in small, medium and large organisations, especially those working in human resources or occupational health.
Workplace health: policy and management practices (NG13) covers how to improve the health and wellbeing of employees, with a focus on organisational culture and the role of line managers.
Health and Safety Executive guidance includes:
health and safety for disabled people and their employers
off sick and worried about your job? Steps you can take to help your return to work
working together to prevent sickness absence becoming job loss
practical advice for safety and other trade union representatives
how to tackle work related stress
working together to reduce stress at work
managing sickness absence and return to work in small businesses
making the best use of lifting and handling aids
managing upper limb disorders in the workplace
don't mix it: a guide for employers on alcohol at work
drug misuse at work
consulting employees on health and safety
health and safety made simple: the basic for your business