Guidance
UK airspace policy consultation: introduction
Published 22 February 2017
This guidance was withdrawn on
© Crown copyright 2017
This publication is licensed under the terms of the Open Government Licence v3.0 except where otherwise stated. To view this licence, visit nationalarchives.gov.uk/doc/open-government-licence/version/3 or write to the Information Policy Team, The National Archives, Kew, London TW9 4DU, or email: psi@nationalarchives.gsi.gov.uk.
Where we have identified any third party copyright information you will need to obtain permission from the copyright holders concerned.
This publication is available at https://www.gov.uk/government/publications/uk-airspace-policy-consultation-introduction/uk-airspace-policy-consultation-introduction
Why are we here?
What is airspace and airspace change?
Airspace is the volume of space above ground level and extends as far as aircraft can fly. Where the UK's roads are used by pedestrians, cars, cyclists and buses, our skies are occupied with aircraft of many kinds. As with roads, airspace has to be managed so that those using it can do so safely and efficiently. To achieve this management, there are rules on who can use airspace and how. All arrangements for UK airspace follow internationally agreed safety and operational practices.
How does this fit in with Heathrow?
The government's aim is to ensure that the airspace policy framework is up to the challenges ahead in modernising airspace and delivering the proposed new north-west runway at Heathrow. To do that we are making proposals to achieve:
greater clarity and transparency in decision making and the way noise is handled
increased focus on engagement and locally-informed solutions
improvements to the evidence base which inform airspace decisions, particularly on the noise impacts
clarity and consistency in the way airspace change decisions are made and why
What are we asking from you?
We are asking for people and organisations across the UK to give us their thoughts on our proposals via the airspace policy consultation. Please utilise the staff and information at this event to ensure we answer as many of your questions as possible.
The need for change
Demand for air transport is increasing. Today, 3 and a half times as many flights operate to and from UK airports than in 1970, and yet our system for managing the UK's airspace dates back over 50 years. It needs modernising and futureproofing.
Modernising our airspace can bring real improvements. For example, reduced stacking near our airports could mean fewer delays for passengers, lower emissions and less noise for local communities. Modernising our airspace is about exploiting the latest technology to unlock the national social and economic benefits which a thriving aviation sector offers.
The management of airspace has a direct effect on those living locally to flightpaths and airports – such as Heathrow – and this brings with it a difficult balance of priorities.
We are therefore proposing a new framework for balancing the benefits to the economy with the impact on communities.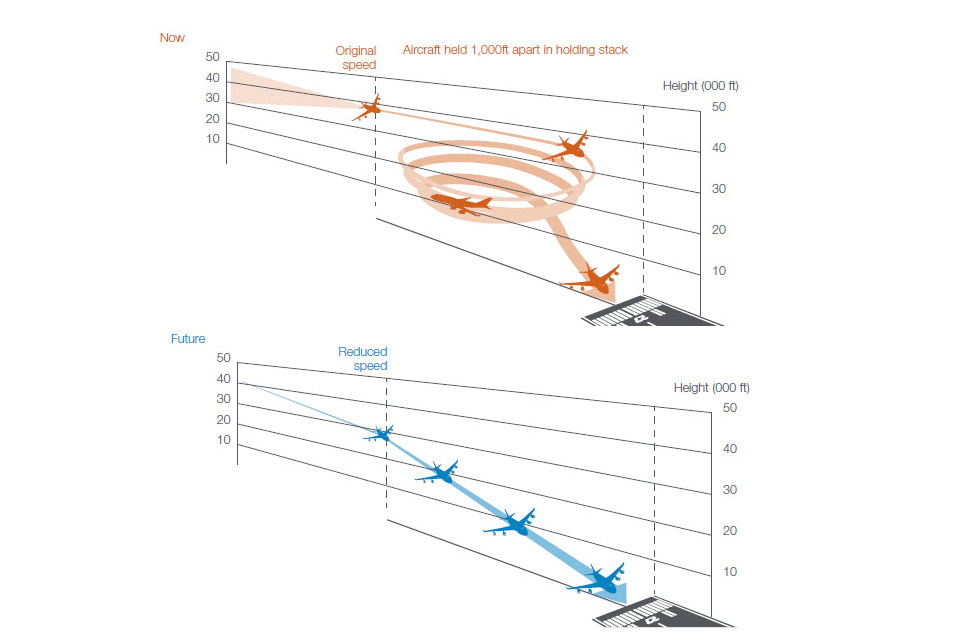 The decision-making system
Timeline
There are several points at which decisions on airspace are taken. For example when:
a new airport is proposed, or more capacity is proposed at an existing airport
there are new or altered airspace arrangements
Each stage provides an opportunity for communities and other interested parties to influence the decisions which will affect them.
If a planning decision means that new airspace arrangements will be needed (for example when there is a new runway), the planning process can serve as a precursor to the airspace change process.
Decision timeline
| Planning – infrastructure decisions | Airspace | Ongoing noise management |
| --- | --- | --- |
| Runways | Permanent routes eg standard instrument departure routes, holding stacks, standard arrival routes | Noise action plan, where applicable, at least every 5 years - decision maker dependent on change proposed |
| Terminals and ground infrastructure | Designation of airspace eg controlled or uncontrolled | Measures arising from noise action plan eg operating restrictions or changes to procedures such as airline departure and arrival requirements |
| Planning conditions on new infrastructure or changes in use eg increased movement cap | Planned and permanent changes to air traffic control's day-to-day operational procedures | Other actions to prevent or address noise issues eg may arise through regular engagement |
| Other associated noise mitigations eg noise envelope, respite regime |   |   |
| Rare | Fairly rare | Varies dependent on change |
| Takes ~ 2 to 5 years | Takes ~ 2 to 3 years | Takes ~ 1 to 3 years |
Framework
We recognise that there must also be a clear picture of who is responsible for taking decisions, and why.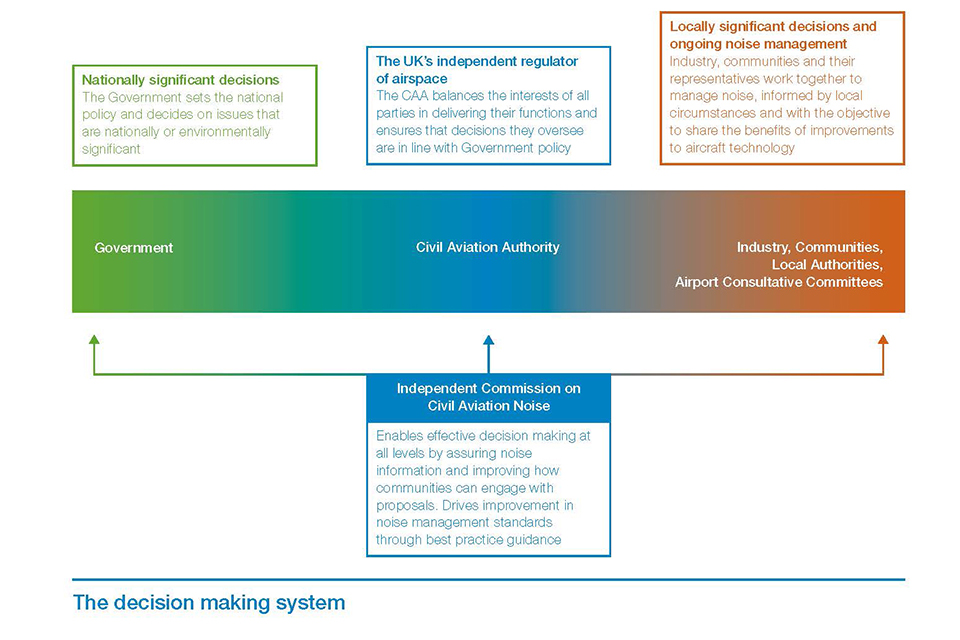 Our guiding principles are:
Airspace changes must be overseen by the Civil Aviation Authority (CAA), the UK's independent airspace regulator. It has the knowledge and expertise to ensure all decisions prioritise safety, whilst being balanced against other important factors, including local views.
There will be some occasions when it is appropriate for the government to intervene directly. For example, the decision to expand Heathrow is clearly of national significance. The framework will incorporate a new 'call-in' function which allows for the Secretary of State, in certain circumstances, to intervene in a decision.
Decisions on how aircraft noise is best distributed should be based on effective local engagement and taken locally, or informed by local circumstances. Consideration of different options should include the pros and cons of concentrating traffic on single routes to minimise the number of people who are overflown, and of multiple routes to provide maximum relief or respite from noise.