Policy paper
Think, Act, Report
Published 16 July 2015
© Crown copyright 2015
This publication is licensed under the terms of the Open Government Licence v3.0 except where otherwise stated. To view this licence, visit nationalarchives.gov.uk/doc/open-government-licence/version/3 or write to the Information Policy Team, The National Archives, Kew, London TW9 4DU, or email: psi@nationalarchives.gsi.gov.uk.
Where we have identified any third party copyright information you will need to obtain permission from the copyright holders concerned.
This publication is available at https://www.gov.uk/government/publications/think-act-report/think-act-report
What is Think, Act, Report?
Think, Act, Report provides a simple step-by-step framework to help companies think about gender equality in their workforces, particularly in relation to recruitment, retention, promotion and pay.
Think, Act, Report encourages companies to:
Think: identify any issues around gender equality, collecting and considering relevant data from across the company
Act: take action to address those issues
Report: on progress, publish information on how they are doing, sharing best practice and case studies
Companies supporting the initiative range from those just starting to think about gender equality issues to those with action plans and reporting mechanisms already in place. What they share is a common desire to be more transparent about workforce issues and disseminate best practice.
Leading companies, such as Tesco, PwC, Bupa, Centrica, Virgin Media, Royal Bank of Scotland, Unilever, BAE Systems, easyjet, Carillion, Eversheds and BT are already involved, see a full list of the companies that have joined the scheme.
You can read about actions companies are taking to improve gender equality in their workplaces and the results they have achieved in our Think, Act, Report case studies.
Further business views and Think, Act, Report progress updates are available in our annual progress reports.
Sign up now
If you are representing an organisation you can sign up to Think, Act, Report through our online registration form.
Why we need to Think, Act, Report
Despite progress over many years, the difference between men's and women's average earnings is still around 20%. This is partly because the vast majority of low-paid jobs, in areas such as secretarial work and childcare, are still done by women.
The evidence also suggests that, even when they are working in better paid professions, women generally occupy less senior positions than men - especially after career breaks - and are sometimes less well-paid than their male peers for comparable jobs.
The three infographics below illustrate the full-time gender pay gap over time showing how women are over three times as likely to work part-time as men; the gender pay gap between men and women for a range of jobs and; women's employment rates compared to men after having their first child.
The full-time gender pay gap over time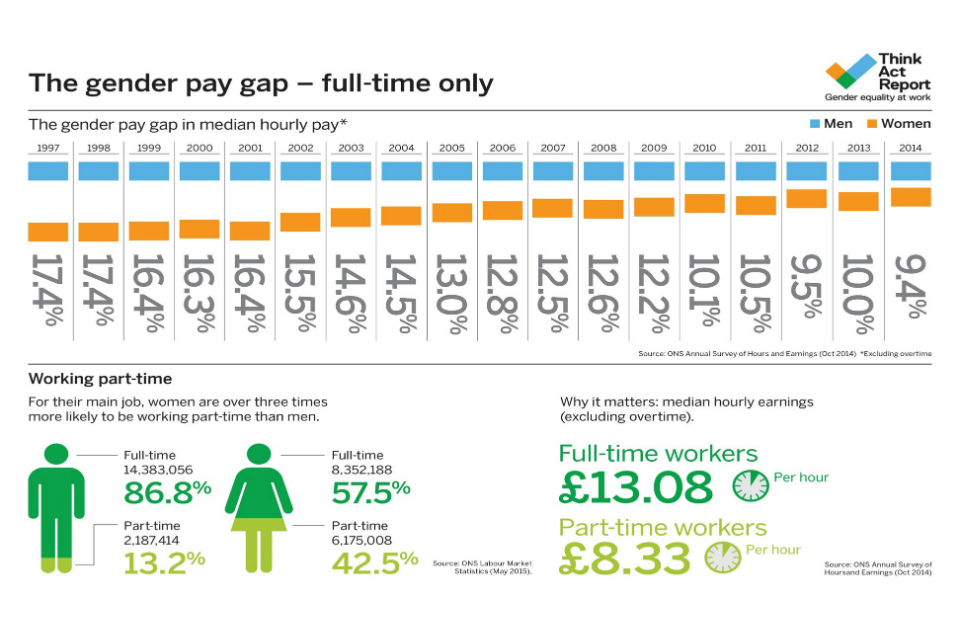 Gender pay gap by profession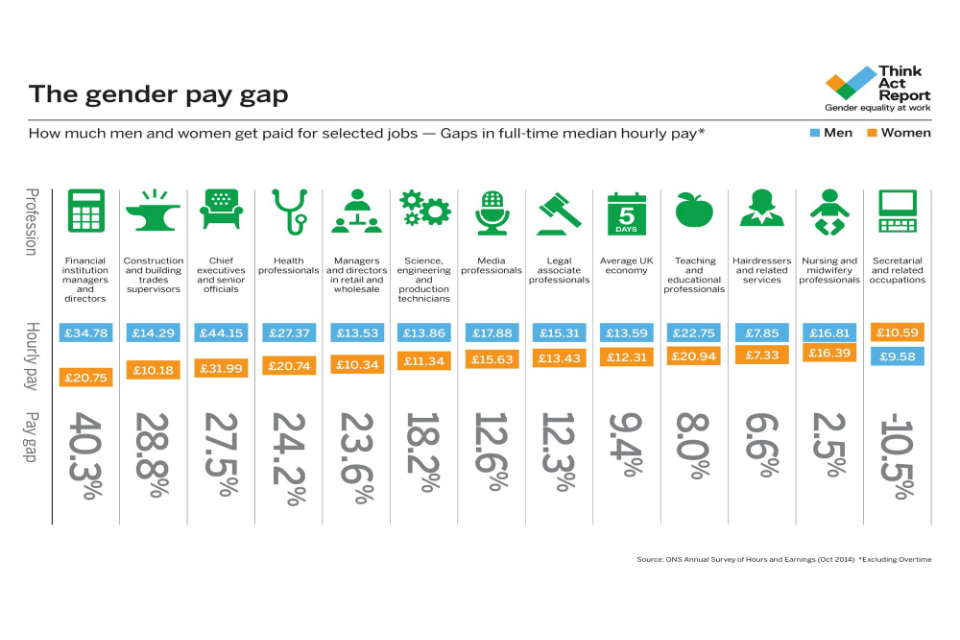 The impact of having children on the employment rates of men and women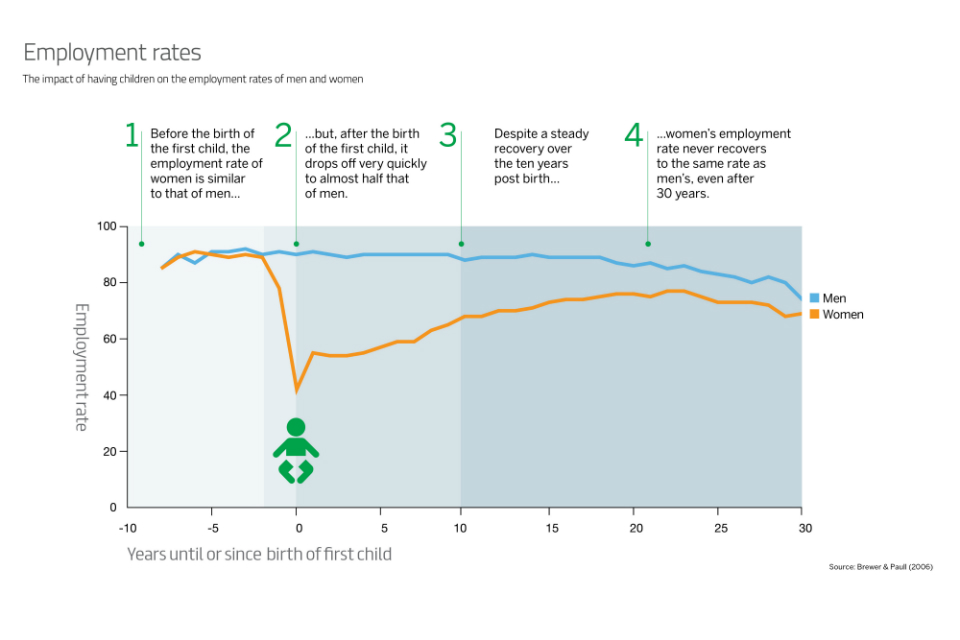 Information companies should report
Think, Act, Report encourages companies to publish as much information as possible, but it's a voluntary initiative and companies can choose what they make public, and where.
You can choose to report the measures that you consider the most relevant and appropriate. The framework lists 3 types of measures:
narrative measures: a description of the organisation's approach and actions, to provide context for any figures that are reported (this could include results from staff surveys)
workforce measures: for example, the gender composition of the workforce as a whole, or representation at different levels
pay measures: for example, the overall gender pay gap, full-time gender pay gap for men and women's starting salaries
The Government has committed to introduce regulations requiring companies with a minimum of 250 employees to report some form of gender pay gap data. A wide-ranging consultation with business and other stakeholders is being conducted to inform the shape these regulations will take.
Benefits of joining Think, Act, Report
Research suggests that companies with more diverse boards achieve higher sales and higher returns. It also shows that women make 70% of household purchasing decisions. Companies need decision-makers who can understand and respond to their customers. It will help you understand your customers better and shows your commitment to doing the right thing.
The Women's Business Council tells us that by equalising men and women's participation rates we could add 10%+ to the size of our economy by 2030 and that better use of women's skills could be worth £15-23 billion to our economy each year.
It also tells us that currently 2.2million women who are not working want to work and another 1.3million women in work would like to do more hours.
There are also strong reputational benefits for being recognised as thinking and acting on barriers for women and reporting on progress. Making public the work you are undertaking to support and promote your female employees helps to make your organisation a more attractive place to work, thereby helping you to recruit, retain and develop talented female members of staff.
If you are already one of the best employers for women, why not champion the principles of Think, Act, Report? Be a leader in your sector and encourage others to follow. Promoting your support for Think, Act, Report will give you an opportunity to highlight the good work you are doing.