Guidance
Smoking and tobacco: applying All Our Health
Updated 4 August 2017
© Crown copyright 2017
This publication is licensed under the terms of the Open Government Licence v3.0 except where otherwise stated. To view this licence, visit nationalarchives.gov.uk/doc/open-government-licence/version/3 or write to the Information Policy Team, The National Archives, Kew, London TW9 4DU, or email: psi@nationalarchives.gsi.gov.uk.
Where we have identified any third party copyright information you will need to obtain permission from the copyright holders concerned.
This publication is available at https://www.gov.uk/government/publications/smoking-and-tobacco-applying-all-our-health/smoking-and-tobacco-applying-all-our-health
Introduction
Smoking is harmful not only to smokers but also to the people around them. Estimates of youth smoking rates show smoking rates have fallen considerably since the 1960s but around 8 million people in England still smoke with 90% having started before the age of 19.
Tobacco use remains one of the biggest public health challenges. Statistics show that rates of smoking have declined over the past decades. However, around 18% of adults in England still smoke. In 2013 to 2014, there were over 1.6 million hospital admissions for adults aged 35 and over with a primary diagnosis of a disease that can be caused by smoking; approximately 4,500 admissions per day on average.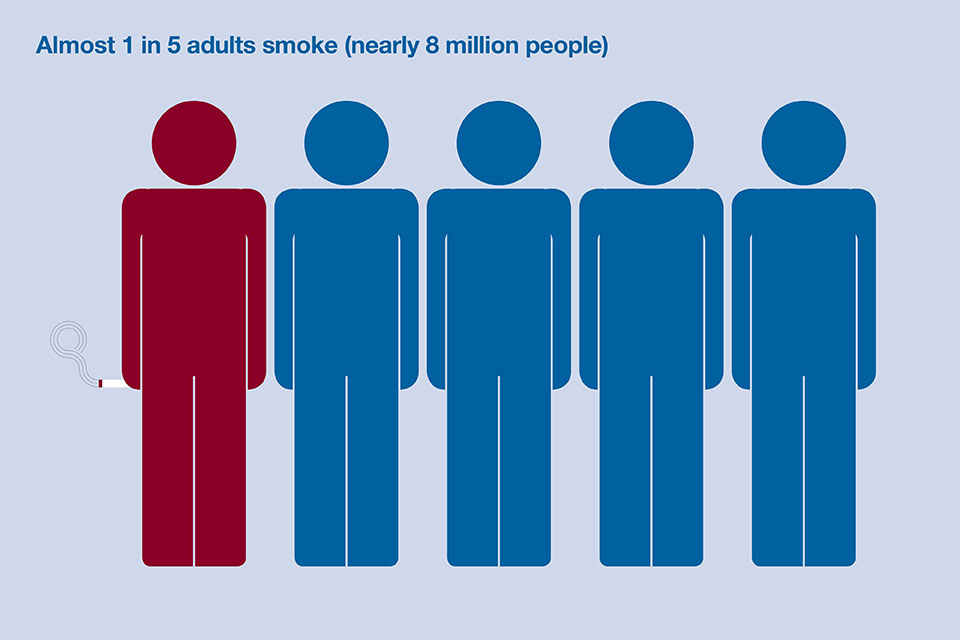 Opinions and lifestyle survey (PDF, 140KB, 10 pages) shows smoking rates are much higher in some social groups, including those with the low incomes and people with mental health problems. These groups suffer the highest smoking-related illness and death, with smoking accounting for at least half the difference in life expectance between the richest and poorest communities.
Facts about smoking and tobacco
The Health & Social Care Information Centre (PDF, 240KB, 9 pages) reports that smoking is the primary cause of preventable morbidity and premature death, accounting for more than the next 6 most common causes combined: drug use, road accidents, other accidents and falls, preventable diabetes, suicide and alcohol abuse.
Cancer Research UK (PDF, 600KB, 6 pages) estimates that smoking causes nearly a fifth of all cancer cases in the UK, and more than a quarter of all cancer deaths.
The Royal College of Physicians (PDF, 1.06MB, 207 pages) estimates that illnesses among children caused by exposure to second-hand smoke lead to an estimated 300,000 general practice consultations and about 9,500 hospital admissions in the UK each year. Smoking during pregnancy causes up to 2,200 premature births, 5,000 miscarriages and 300 perinatal deaths every year in the UK.
Smoking is a childhood addiction, not an adult choice. The majority of smokers start in their teenage years with very few starting after the age of 20. It is estimated that approximately 207,000 children aged between 11 and 15 start smoking each year in the UK, with 18% of 15 year olds classified as regular and occasional smokers.
Core principles for healthcare professionals
Healthcare professionals should:
know the needs of individuals, communities and population groups, and the services available
think about the resources available in health and wellbeing systems
understand specific activities which can prevent, protect, and promote
Interventions
Population level
Healthcare professionals should be aware of the interventions at population level, which include:
Community level
Community health professionals and providers of specialist services can have an impact by:
ensuring there are effective identification, referral and feedback pathways in place for pregnant women who smoke
raising awareness of dangers associated with secondhand smoke, for both pregnant women and babies or children
undertaking training on promoting smokefree homes and cars
having appropriate links between all healthcare professionals working with pregnant women to provide support and consistent messaging on smoking both during and beyond pregnancy, including midwifery and health visiting teams, family nurses and children centres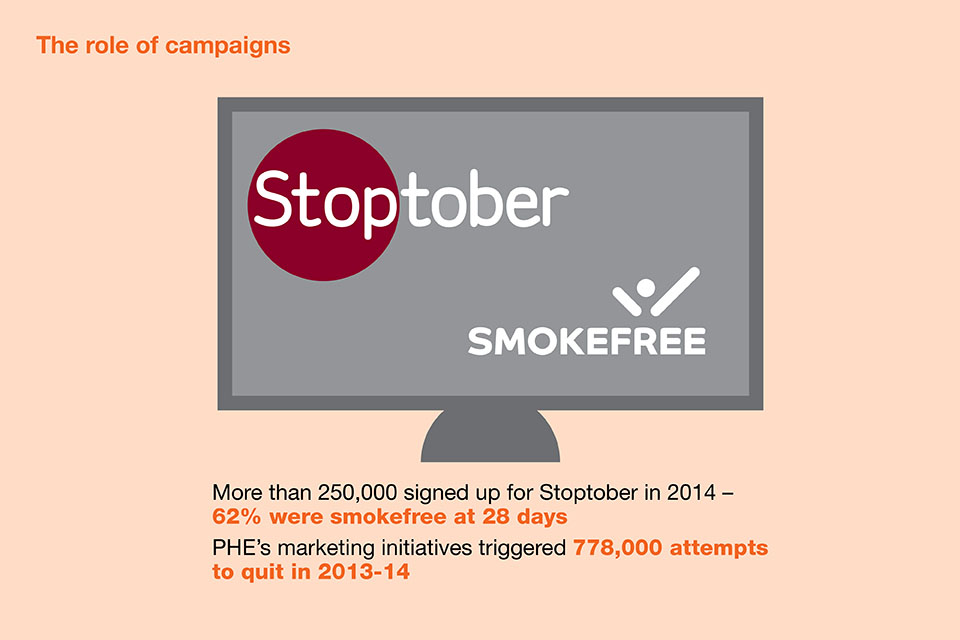 Family and individual level
Healthcare professionals can have an impact on an individual level by:
conducting carbon monoxide screening for all pregnant women at booking (and other) appointments, for those with elevated levels referred via an opt-out pathway for specialist stop smoking support
providing stop smoking interventions which should take a women-centred approach, with an emphasis on complete cessation as the only way of ensuring that the unborn baby is not at risk from smoking
encouraging partners and family members who smoke to stop, or for those who are not willing or able to stop smoking completely to consider harm reduction options and taking steps to protect the pregnant women and baby or children from secondhand smoke
following up on progress, or readiness to quit, throughout pregnancy and beyond, including discussing actions that can be taken to prevent relapse
Measuring outcomes
The Local Tobacco Control Profiles contain 46 indicators related to smoking.
There are 9 smoking-related outcome indicators in the Public Health Outcomes Framework:
low birth-weight of term babies (2.01)
smoking status at time of delivery (2.03)
smoking prevalence and smoking in routine and manual groups (2.14)
infant mortality (4.01)
under 75 years mortality rate from cardiovascular disease considered preventable (4.04ii)
under 75 years mortality rate from cancers considered preventable (4.05ii)
under 75 years mortality rate from respiratory disease considered preventable (4.07ii)
There are 45 indicators in the Health and Social Care Information Centre related to smoking (enter 'smoking' in the search box).
The Everyday Interactions Measuring Impact Toolkit provides a quick, straightforward and easy way for health care professionals (HCPs) to record and measure their public health impact in a uniform and comparable way.
The smoking and tobacco impact pathway is recommended for healthcare professionals to record and measure actions undertaken as part of routine care which impact on adult obesity.
Examples of good practice
Commissioning
Local authority public health commissioners work through multi-agency partnerships to commission high-quality, evidence-based 'comprehensive tobacco control' interventions. These achieve positive outcomes for individuals, families and communities, by:
effective working between local authority-led public health, the NHS, mental health services, adult social care, regulatory services, children's services and criminal justice agencies
bringing partner agencies or services providers together into cost-effective delivery systems
operating transparently according to assessed need
fully involving service users and local communities
Resources to support commissioning
The Tobacco Control JSNA Support Pack (PDF, 280KB, 5 pages) shows available tools and datasets to support the case for local tobacco control interventions.
A framework for assessing local tobacco control activity is available through the CLeaR model (PDF, 540KB, 12 pages). This is a self-assessment tool, followed by peer challenge if required, for local authorities to use as part of their review, reflection and development process.
The National Support Team produced A comprehensive guide to achieving effective local tobacco control: evidence, support and publications to support local partners' in developing a strategic approach to tobacco control and reducing inequalities.
Stop smoking services
Stop smoking services are highly cost-effective and form a key part of tobacco control programmes and efforts to reduce health inequalities. The provision of high-quality local stop smoking services is essential for reducing health inequalities and improving health for local populations. All health and social care services can play a key role in identifying smokers and referring people to stop smoking services.
Groups that are known to experience a high smoking prevalence may particularly benefit from specialist advice and support. These include:
routine and manual workers
people with mental health disorders
prisoners
LGBT communities
certain black and minority ethnic groups
Stop smoking services are able to tailor support to address the needs of these and other groups such as pregnant women who smoke and their families.
A stop smoking programme will take place over a minimum of 6 weeks, but could last up to 12 weeks or more, and will be available in a range of different settings throughout the local community.
Guidance, tools, research and examples can be obtained from the National Centre for Smoking Cessation and Training.
Reducing maternal smoking rates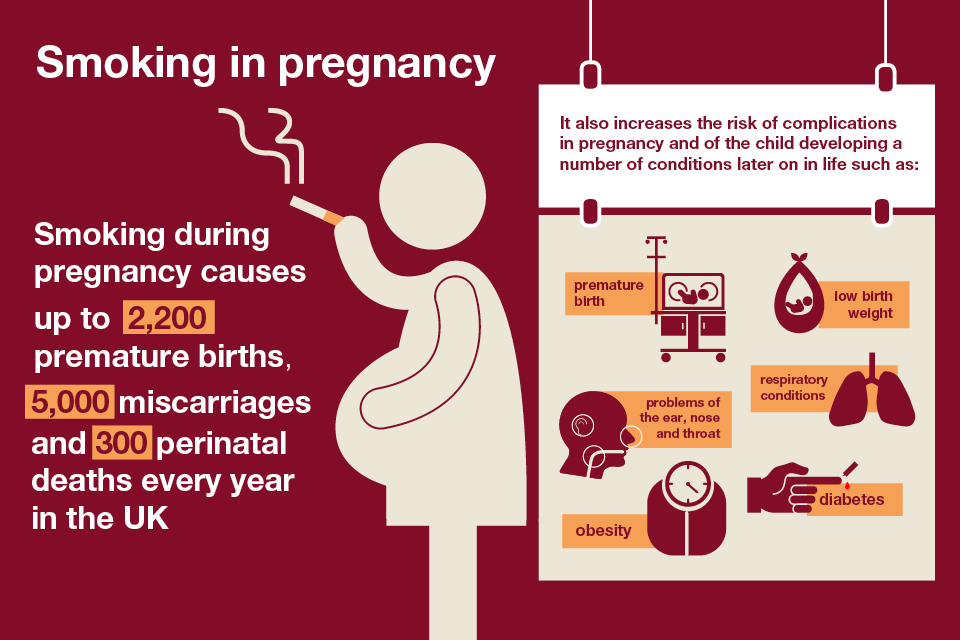 Statistics on women's smoking status at time of delivery presents the latest results and trends from the women's smoking status at time of delivery (SATOD) data collection in England.
Reducing rates of smoking in pregnancy is a national and local priority. While rates have been declining, 10.6% of women are still recorded as smoking at the time of delivery with significant geographical difference, including 1.3% in Westminster and 25% in Blackpool. This means that around 70,000 babies are born each year to mothers who smoke.
NICE guideline PH26 provides a number of recommendations for implementing a system-wide approach to identifying and supporting women to stop smoking during and following pregnancy. These include:
identifying women who smoke by conducting carbon monoxide (CO) screening of all pregnant women at the booking (and other antenatal) appointments and referring anyone with elevated levels to stop smoking services or specialists
contacting those referred immediately and offering support and advice to help with stopping smoking
providing evidence-based interventions from a train practitioner
working with partners and family members who may also smoke to stop, support the pregnant women attempting to quit and maintain a smokefree home
A range of materials are available to support this approach including further briefings, online training and information on carbon monoxide screening.
See National Centre for Smoking Cessation and Training and the Smoking in Pregnancy Challenge Group.
Guidance
NICE guidance
Smoking: brief interventions and referral (PH1) is guidance for GPs and other professionals working in local health services such as in primary care trusts, pharmacies, dental practices and NHS hospitals.
Stop smoking services (PH10) advises the NHS, local authorities and their partners on the range of services that should be available for everyone who smokes or uses tobacco in any form.
Smoking: stopping in pregnancy and following childbirth (PH26) is guidance for anyone who has a responsibility for helping women to stop smoking when pregnant and following childbirth.
Smoking: harm reduction (PH45) is guidance aimed at anyone involved in providing advice about stopping smoking, including those working in smoking cessation services.
Smoking: acute, maternity and mental health services (PH48) is guidance to support smoking cessation, temporary abstinence from smoking and smokefree policies in all secondary care settings.
Smoking: workplace interventions (PH5) is guidance for anyone involved in providing employees with help to stop smoking.
Smoking: preventing uptake in children and young children (PH14) is guidance for anyone responsible for the health and wellbeing of children and young people aged under 18.
Smoking prevention in schools (PH23) is guidance for anyone responsible for preventing the uptake of smoking by children and young people aged under 19.
NICE quality standards
Smoking cessation: supporting people to stop smoking (QS43) covers smoking cessation, which includes support for people to stop smoking and for people accessing smoking cessation services.
Smoking: reducing and preventing tobacco use (QS82) is relevant to anyone involved in protecting health and promoting healthy behaviour among children, young people and adults.
Other NICE information
Tobacco return on investment tool helps decision making in tobacco control at local and sub-national levels.
Tobacco (LGB24) summarises NICE's recommendations for local authorities and partner organisations on tobacco, aimed at health and wellbeing boards.
Related NICE guidance
Substance misuse interventions for vulnerable under 25s (PH4) is guidance for NHS practitioners and others involved in reducing substance misuse among vulnerable and disadvantaged children and young people under the age of 25.
Cardiovascular disease prevention(PH25) is guidance for government, the NHS, local authorities, industry and all those whose actions influence the population's cardiovascular health.
Oral health: local authorities and partners (PH55) provides recommendations on undertaking oral health needs assessments, developing a local strategy on oral health and delivering community-based interventions and activities.
Other guidance
Delivering better oral health is an evidence-based toolkit to support dental teams in improving their patient's oral and general health and includes sections on alcohol, tobacco control and diet advice.