National AI Strategy - AI Action Plan
Published 18 July 2022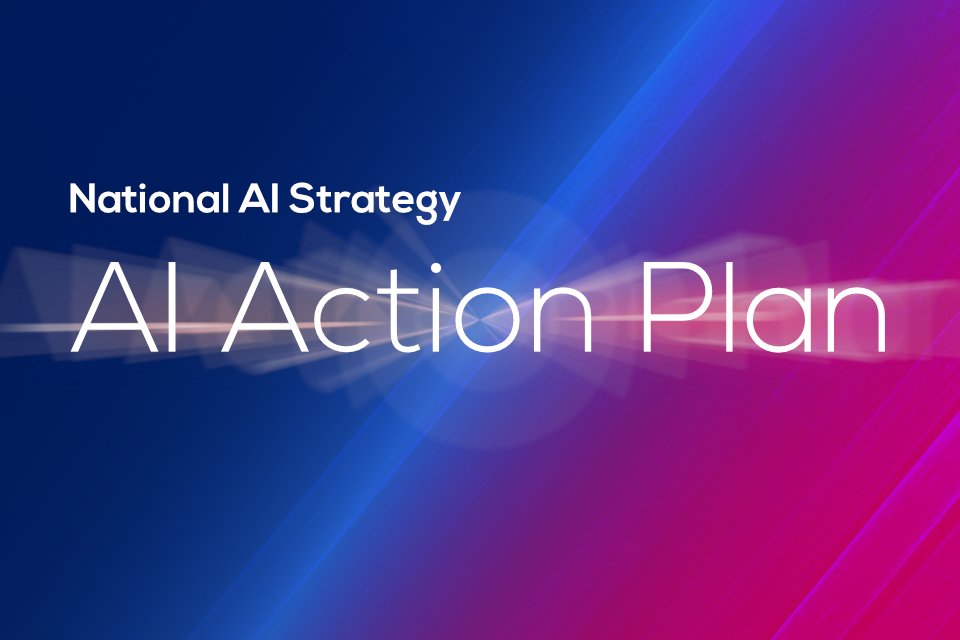 Ministerial foreword
Like the steam engine, electricity, or the internet, Artificial Intelligence is a general purpose technology – with the potential to revolutionise every aspect of our lives, help realise our ambitions to be a science superpower, and to foster economic growth across the UK.
The UK excels at AI – from scientific research, where we rank third in the world for number of academic journal citations; to investment – receiving more investment in AI companies than France and Germany combined in 2021.
As a Government, we are committed to unlocking the enormous benefits of AI across our economy and society. That is why we have invested over £2.3 billion in AI since 2014, which has been bolstered year-on-year by ambitious announcements such as the creation of the NHS AI Lab to drive use of AI in improving healthcare, to the creation of Turing AI World-leading Researcher Fellowships, to ensure the UK attracts and retains the best and brightest AI talent. Last September, we also published the National AI Strategy – a 10-year vision to ensure the UK is the best place to start and grow an AI business and to strengthen our position as a global AI leader.
As AI underpins ever more aspects of our society and economy, it is vital that we drive forward our ambitious and coherent cross-government approach. That is why we are pleased to publish the AI Action Plan - the first update of AI activity from across government since the AI Strategy was published. It showcases the wide range of ways in which government is taking action to unleash AI innovation and its benefits across the UK.
Of course, government action alone is not sufficient and we look forward to working closely with industry, academia and civil society to support the UK's AI ecosystem to thrive.
Rt Hon Nadine Dorries MP
Secretary of State for Digital, Culture, Media and Sport
Rt Hon Kwasi Kwarteng MP
Secretary of State for Business, Energy and Industrial Strategy
Introduction
Last year, the UK Government published its National AI Strategy, setting out a vision to strengthen the UK's position as an AI and science superpower over the coming decade. We put forward the following overarching pillars to guide the Strategy:
Investing and planning for the long term needs of the AI ecosystem to continue our leadership as a science and AI superpower;
Supporting the transition to an AI-enabled economy, capturing the benefits of innovation in the UK, and ensuring AI benefits all sectors and regions;
Ensuring the UK gets the national and international governance of AI technologies right to encourage innovation, investment, and protect the public and our fundamental values.
In the Strategy, we committed to setting out a plan which describes how we are executing against this vision. This document provides an overview of progress in the context of a rapidly evolving AI ecosystem within a similarly evolving global context. This Action Plan will be updated each year to show how government is:
- delivering against our vision and strategic goals to strengthen the UK's position as an AI leader; - building the evidence base to better monitor and assess progress; and - making sure our approach is future-proofed and that we are responding effectively to the latest and most impactful AI developments.
This Action Plan provides a summary of government's progress since we published the National AI Strategy last September. It describes the range of ambitious actions we have taken, from new funding for AI postgraduate skills, to publishing the government's Defence AI Strategy, to setting out the government's emerging pro-innovation approach to regulating AI.
As we drive forward our ambitious strategy, we are committed to developing appropriate metrics to track delivery against our vision. We are developing new baseline data on the size and scale of the UK's AI sector. We will return to this evidence base in future iterations of the Action Plan.
2022 Progress

Update
Pillar One: Investing in the long term needs of the AI ecosystem
Pillar One sets out how we will maintain the UK's position as a global AI superpower and ensure the UK continues to lead in the research, development, commercialisation and deployment of AI. We need to invest in, plan for, secure and unlock the critical inputs that underpin AI innovation.
Government's aim is to greatly increase the type, frequency and scale of AI discoveries which are developed and exploited in the UK. We have delivered on a range of commitments made in the National AI Strategy as well as launched new activity to promote the aims of Pillar One. These are summarised below.
Ensuring innovators have access to the data and computing resources necessary for AI development and delivery
The Department for Culture, Media and Sport (DCMS) published a framework for enabling better data availability in the wider economy in line with Mission 1 of the National Data Strategy, to set the correct conditions to make private and third sector data more usable, accessible and available across the UK, while protecting data rights and IP.
The Department for Business, Energy & Industrial Strategy (BEIS) launched a consultation on the value of and options for a UK capability in digital twinning and wider 'Cyber-Physical Infrastructure', to ​​help unleash innovation and realise the national resilience benefits of cyber-physical systems.
Since publishing the Strategy:
The Department of Health & Social Care (DHSC) has also committed to continue supporting leading innovators and researchers who are working with AI and health, alongside the development of Trusted Research Environments for secure access to health data. This will accelerate the testing, evaluation and adoption of safe, ethical and effective AI in health.
DCMS has launched a review into the Future of Compute. The review will produce recommendations to form the basis of a long-term plan for the government's approach to compute. Serving as input to this review, The Alan Turing Institute has led a UKRI supported evidence-based review into the UK's digital research infrastructure needs for AI.
Her Majesty's Treasury (HMT) has announced a reform of R&D tax reliefs, expanding qualifying expenditure to include data and cloud compute costs, reinforcing the UK's status as a science superpower.
Guaranteeing that the UK is growing and attracting a diverse and talented workforce with the right AI skills and investment for the future
Since publishing the Strategy:
Making sure the UK's research, development and innovation system continues to be world leading
UKRI, through the Engineering and Physical Sciences Research Council (EPSRC) continues to fund the development of Open Source Software via the Software Sustainability Institute (Universities of Edinburgh, Manchester, Oxford and Southampton, with partners in the UK and internationally) with £6.8 million funding until 2023 to raise awareness, build communities, provide training, communications support and develop policy around open source.
UKRI, via EPSRC, is increasing its investment into The Alan Turing Institute to enable the Turing to connect to the new research hubs and connect, convene and coordinate AI research across the UK ecosystem.
The Prime Minister announced the US UK Declaration on AI R&D to deepen collaboration with the United States to drive technological breakthroughs in AI between the US and UK through, bootstrapping existing R&D partnerships with a further £0.5 million in 2021/22 from the Global Research and Innovation Programme.
Over the next 12 months, our focus through this Pillar will be continued investment into the underpinning enablers of AI. We will boost diversity in AI through AI and data science conversion courses and through a second wave of World Leading AI Fellowships, will address the needs of the wider ecosystem in key strategic areas such as compute capacity, and we will also reinforce our academic excellence in the development and understanding of fundamental AI.
Pillar Two: Ensuring AI benefits all sectors and regions
Pillar Two describes our ambition to ensure that all sectors and regions of the UK economy can benefit from the positive transformation that AI will bring. The government will back the domestic design and development of the next generation of AI systems, and support British business to adopt them, grow and become more productive. The UK has historically been excellent at developing new technologies but less so at commercialising them into products and services.
Government's aim is to diffuse AI across the whole economy to drive the highest amount of economic and productivity growth due to AI. We have delivered on a range of commitments made in the National AI Strategy as well as launched new activity to promote the aims of Pillar Two. These are summarised below.
Supporting AI businesses on their commercial journey and understanding the factors that influence organisations' decisions to adopt AI, and promoting AI innovation
The Office for AI has published new research alongside Oxford Insights and Cambridge Econometrics to explore how AI R&D is successfully commercialised and brought to market.
The Intellectual Property Office (IPO) has published the government response to its consultation on copyright and patents for artificial intelligence, setting out its proposed changes to copyright law to make it easier to analyse material for the purposes of machine learning.
The Ministry of Defence (MoD) has published the AI Defence Strategy, setting out its vision to ensure in terms of AI, the MoD will be the world's most effective, efficient, trusted and influential Defence organisation for its size. This includes through: transforming into an AI-ready organisation; accelerating adoption of mature AI technologies and the development of next generation capabilities; strengthening collaboration with the UK AI ecosystem; and working with partners to address AI-related global security policy challenges.
Since publishing the Strategy:
The Office for AI has published new research that models current and future estimates of the adoption of artificial intelligence technologies, and the expenditure on AI technologies and AI-related labour in the UK.
Innovate UK will be publishing over the summer the first of several vital technology programmes. £35 million of government investment is available into the AI sector for businesses to realise the potential of AI across a wide number of applications to increase adoption and diffusion throughout the UK
Innovate UK and EPSRC have announced W(AI)finder, an online tool that allows users to identify companies, funders, incubators and academic institutions involved in AI products, services and research. It is intended to provide an easy and faster way to navigate the UK AI ecosystem, by individuals and organisations wishing to engage with relevant stakeholders.
Leveraging the whole public sector's capacity to create demand for AI and markets for new services and ensure all can benefit from AI
Since publishing the Strategy:
HMRC has begun developing an AI Strategy to make use of AI technologies in departmental workflows and decision making.
The Home Office has committed over £7 million towards developing the Child Abuse Image Database (CAID) which includes, in part, the use of AI to help counter the threat of increasing online child sexual abuse.
The Department for Transport is committed to developing safety and cyber security in Connected Automated Mobility (CAM) via the Centre for Controlled and Autonomous Vehicles. AI will be used in the assurance processes and assurance processes will support the development and deployment of AI in CAM.
The Rural Payments Agency, a Defra arms length body is updating its crop map of England (CROME) land classification dataset, which uses AI to determine land use and crop type from Earth Observation Data
BEIS will establish a consortium of energy and AI industry experts to run an advisory group that will propose a series of AI and decarbonisation projects for the government to fund through its Net Zero Innovation Portfolio.
Crown Commercial Services have renewed the AI Marketplace Dynamic Purchase System for public sector buyers of AI solutions until November 2023.
DHSC and BEIS have made £200 million available for Trusted Research Environments to support NHS-led health research into diagnostics and treatment through new privacy-preserving platforms and clinical research services.
DHSC has committed £1.4 million towards research on AI and racial and ethnic inequalities. Research will advance AI and data-driven technologies in the health sector so that they better meet the needs of minority ethnic populations.
Pillar two will drive work across government focused on where AI can be used to better deliver on the government's objectives, including the government's Innovation Strategy - working alongside the Office for Science and Technology Strategy. This will help to ensure the benefits of AI technologies are realised across the whole economy.
Pillar Three: Governing AI effectively
In a world where systematic international competition will have significant impacts on security and prosperity around the world, the government wants the UK to be the most trustworthy jurisdiction for the development and use of AI, one that protects the public and the consumer while increasing confidence and investment in AI technologies in the UK.
Pillar Three focuses on the governance of the development and use of AI in the UK. We are delivering a range of actions to support this ambition, as set out below.
Establishing an AI governance framework, and developing practical governance tools and standards
Since publishing the Strategy:
The Office for AI has published a policy paper setting out government's emerging pro-innovation approach to regulating AI, to drive innovation while also promoting public trust in the development and deployment of AI.

DHSC is collaborating internationally with the G7 on AI governance, focusing on the principles for the evaluation of artificial intelligence or machine learning-enabled medical devices to assure safety, effectiveness and ethicality.
Government Communications Headquarters (GCHQ) is developing internal policy and governance for ethical and legally compliant AI. They are teaming with partners to ensure that AI policies and government are highly aligned.
The MOD launched the Defence AI Centre to accelerate AI adoption across the Armed Forces by: championing AI development, understanding, and use; enabling AI adoption by providing common services, best practice, and expertise; and innovating by rapidly developing, delivering, and scaling carefully selected AI projects that offer breakthroughs in strategic advantage.
MoD has published a policy statement, titled Ambitious, Safe, Responsible: Our approach to the delivery of AI-enabled capability in Defence, detailing how they will augment its robust and long-standing approach to legal, ethical and safety issues to address challenges related to the use of AI technology.
UKRI, through its Arts and Humanities Research Council, has launched the UK's first major research programme on AI ethics and regulation with collaborating partner, the Ada Lovelace Institute. The new £8.5 million research programme will build public trust in AI and related data-driven technologies where it is merited, and ensure the UK remains at the global forefront of AI research development, deployment, and governance.
DHSC has published a report on the use of an Algorithmic Impact Assessments for data access in a healthcare context with the Ada Lovelace Institute
Working with our partners around the world to promote our approach internationally
The UK Government has continued to actively engage in multilateral forums addressing AI issues, such as the OECD, Council of Europe, UNESCO, the Future Tech Forum and the Global Partnership on AI.
BEIS and Office for AI invested £1 million to the Global Partnership on AI to advance research on data justice, collaborating with The Alan Turing Institute and 12 pilot partners in low and medium income countries.
Since publishing the Strategy:
DCMS and the Foreign, Commonwealth, and Development Office (FCDO) will set out government's top international priorities for AI in the upcoming International Technology Strategy, to show how we will promote the responsible development, use and adoption of AI, and shape the global AI governance in line with UK values and priorities.
Over the next twelve months, government's focus will be to building on the outline proposals set out in this month's AI governance policy paper. Towards the end of the year, a White Paper will set out a pro-innovation approach to govern AI, driving prosperity and building trust in its use. Alongside this, work will continue to develop AI standards for a UK context. We will seek stakeholder input and continue international influence to promote these objectives.
Looking ahead
We are still at the early stages of delivering on our ambitious ten year plan to cement the UK's role as an AI superpower. Departments are working together to drive forward action to invest in the long term needs of the AI ecosystem, to support the transition to an AI-enabled economy, and put the right governance approach in place for AI technologies.
As AI increasingly touches ever more aspects of our economy and society, making sure we take an ambitious joined up approach across government - as well as work closely with the AI Council and external partners - will be critical. Through this, we can unleash the benefits of AI and cement the UK's role as an AI leader.