Guidance
Musculoskeletal Health: applying All Our Health
Published 3 January 2019
© Crown copyright 2019
This publication is licensed under the terms of the Open Government Licence v3.0 except where otherwise stated. To view this licence, visit nationalarchives.gov.uk/doc/open-government-licence/version/3 or write to the Information Policy Team, The National Archives, Kew, London TW9 4DU, or email: psi@nationalarchives.gsi.gov.uk.
Where we have identified any third party copyright information you will need to obtain permission from the copyright holders concerned.
This publication is available at https://www.gov.uk/government/publications/musculoskeletal-health-applying-all-our-health/musculoskeletal-health-applying-all-our-health
Why promote Musculoskeletal Health in your professional practice?
Good musculoskeletal health (MSK) is an important component of maintaining a person's functional abilities throughout the life course. It is also fundamental to healthy ageing, which the World Health Organization (WHO) has characterised as 'the process of developing and maintaining the functional ability that enables wellbeing in older age'.
Social perceptions of ageing are gradually changing. People increasingly expect to lead independent, active and pain-free lives in their older years. For many people this includes remaining part of the workforce. For most this includes an active retirement, without the fear of pain and falls.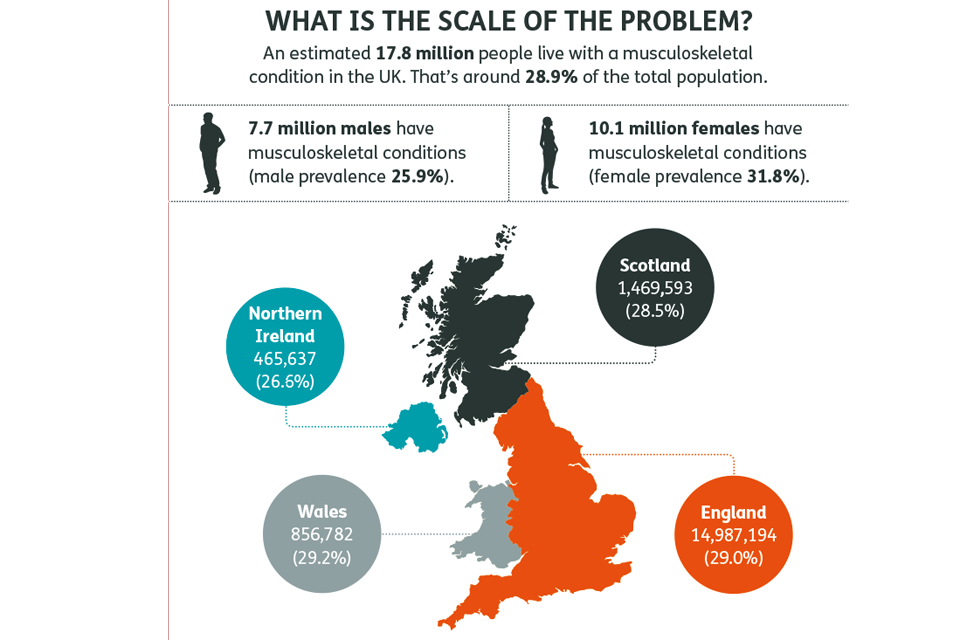 MSK conditions are a group of conditions that affect the bones, joints, muscles and spine, and are a common cause of severe long term pain and physical disability. There are 3 groups of MSK conditions:
inflammatory conditions, for example, rheumatoid arthritis
conditions of MSK pain, for example, osteoarthritis, back pain
osteoporosis and fragility fractures, for example, fracture after fall from standing height
While life expectancy has risen, many people are living longer in poorer health - particularly those in more deprived parts of the country. The older a person is, the more likely they are to experience chronic diseases and disabilities such as poor musculoskeletal health.
Each year, 20% of people in the UK see a doctor about a MSK problem. There are multiple risk factors that can heighten people's susceptibility to MSK problems - these include physical inactivity, being overweight or obese, diets deficient in vitamin D or calcium, smoking, older age and genetic predisposition to some MSK conditions.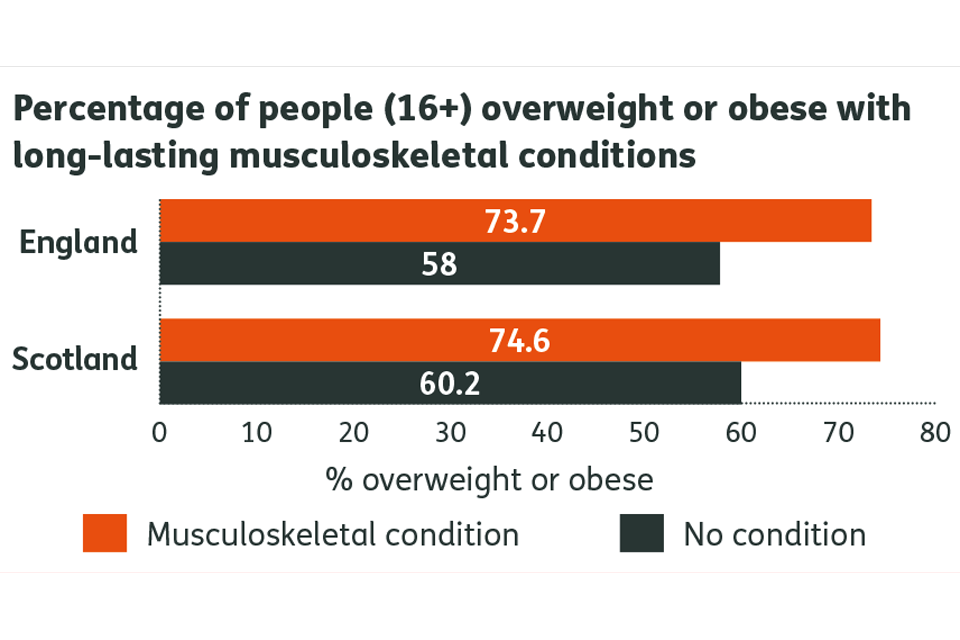 Fractures, which are often a consequence of a fall, are one of the most serious MSK problems seen in the older population. An audit by the Royal College of Physicians found that fractures and falls in people aged 65 and over account for over 4 million hospital bed days each year in England. MSK conditions account for the third largest area of NHS spend, approximately £5 billion each year.
The pain and disability of poor MSK health limits independence and the ability to participate in family, social and working life. According to Versus Arthritis, only 59.4% of people of working age with a MSK condition are in work, and around 1 in 5 people with arthritis has depression.
In 2016, MSK problems were the second most common cause of sickness absence, which accounted for 30.8 million days lost in work (22.4% of total sickness absence), surpassed only by absence due to minor illness such as cough and colds.
MSK and comorbidities: an important issue
The term 'comorbidity' is sometimes used, referring to any additional conditions that people may have, beyond the main one being addressed. The presence of any long-term condition is associated with a drop in quality of life (self-reported Quality of Life score of 0.79), but if arthritis or back pain is present as one of the long-term conditions then the drop is greater (self-reported Quality of Life score of 0.71). Approximately 4 out of 10 people (36%) with comorbidity are living with a physical and a mental health condition.
Four out of five people with osteoarthritis have at least one other long-term condition such as hypertension, cardiovascular disease or depression. Among people over 45 years of age who report living with a major long-term condition, more than 3 out of 10 also have a musculoskeletal condition. By 2025 there will be an estimated 9.1 million people living with one or more long-term conditions in the UK.
Assessment for people with complex needs requires a joined up approach - taking into account the physical, social and mental needs of the individual.
This 'All Our Health' Musculoskeletal Health information has been created to help all health professionals:
understand specific interventions that will encourage individuals to make healthy behaviour changes, to lower the risk of developing MSK conditions and prevent falls
think about the resources and services available in your area, that can help people to access services that support prevention, early detection and treatment of musculoskeletal conditions
Interventions to prevent the onset of MSK
There are steps that we can take throughout our lives to maintain healthy productive lives, reduce the risk of developing MSK conditions and better manage our health.
Encourage your patients to make healthy lifestyle behaviour changes to lower the risk of developing MSK conditions and prevent falls.
Physical activity
Adults in England should aim to take part in at least 150 minutes of moderate intensity physical activity each week, in bouts of 10 minutes or more, according to physical activity guidelines for adults from the UK Chief Medical Officers (CMOs).
Moderate intensity physical activities, such as brisk walking or cycling, cause adults to get warmer and breathe harder and their hearts to beat faster, but they can still carry on a conversation.
All adults should aim to be active daily, and should be undertaking physical activity to improve muscle strength on at least 2 days a week, such as exercising with weights, yoga or carrying heavy shopping. This can help lower the risk of sarcopenia, or loss of muscle mass, which is associated with ageing but can occur in response to immobility at any age.
In older adults, poor muscle strength increases the risk of a fall by 76% and those who have already had a fall are three times more likely to fall again. Strengthening and balance activities not only help to prevent this but also help improve your mood, sleeping patterns, increase your energy levels and reduce the risk of an early death.
An evidence review commissioned by Public Health England (PHE) and the Centre for Ageing Better has found that muscle and bone strengthening and balance activities continue to have great health benefits for all adults, including older adults aged 65 years and over.
Activities found to have the most benefit for muscle and bone strengthening include:
ball games
racket sports
dance
Nordic walking
bowls
resistance training (usually training with weights, but including body weight exercises which can be performed anywhere)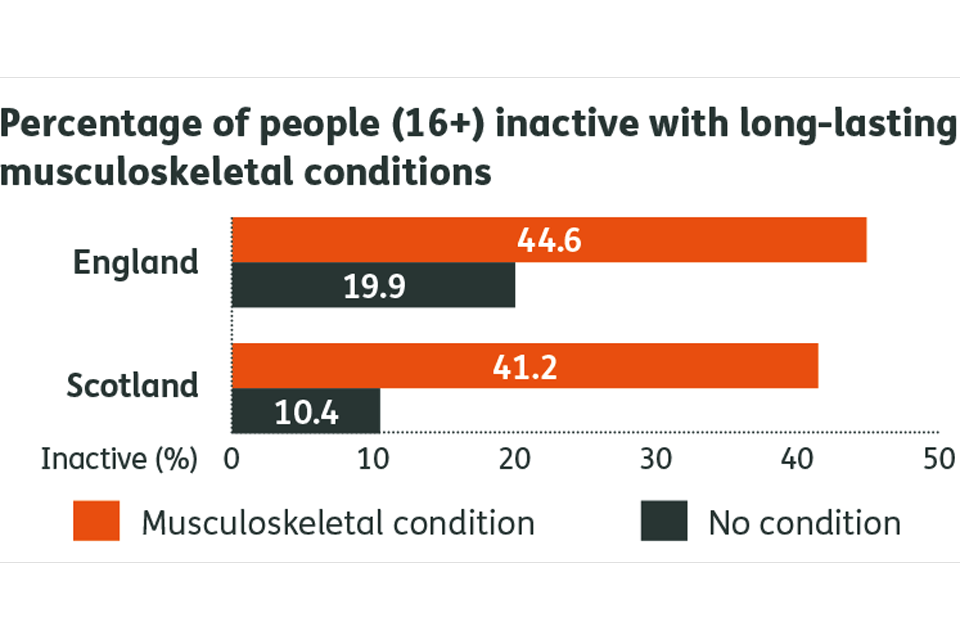 Many people with MSK conditions often mistakenly believe that physical activity will make their condition worse when it can actually benefit them. Versus Arthritis has produced the Musculoskeletal Physical Activity Commissioning Pyramid which sets out the 4 tiers of provision that could be provided to maximise people's opportunities for physical activity. The goal is to reduce symptoms, increase self-efficacy and restore confidence to be more independently physically active.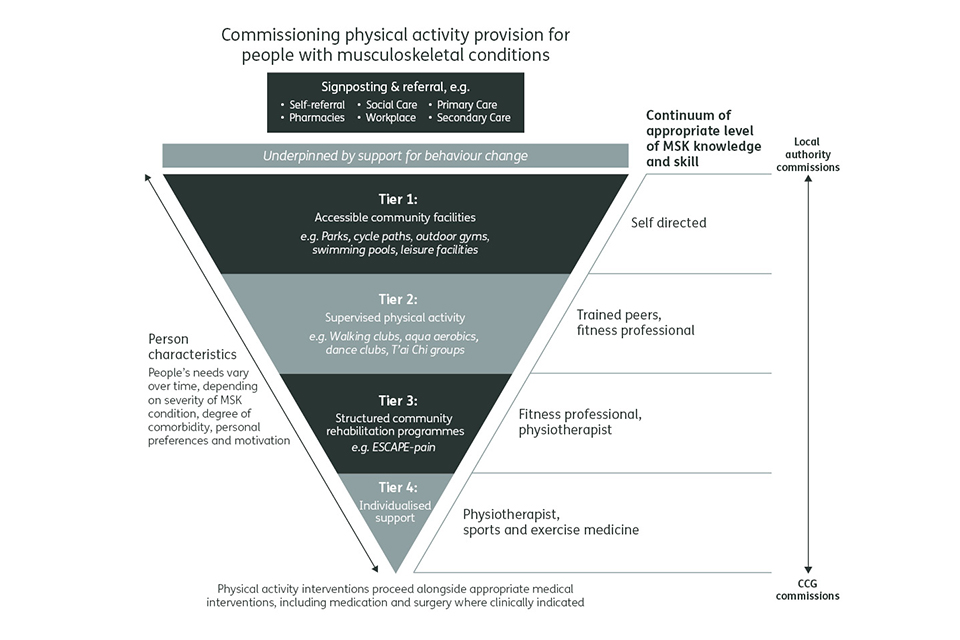 Maintain a healthy weight and balanced diet
Supporting people to maintain a healthy weight - along with advocating the CMO's recommendations for physical activity across the life course - can reduce the risks of developing MSK conditions such as back and neck pain and osteoarthritis of the knee and hip.
People with a healthy weight are less likely to develop osteoarthritis of the knee than those who are obese.
A healthy balanced diet is also important for good bone health to prevent osteoporosis in later life. The Scientific Advisory Committee on Nutrition (SACN) identifies vitamin D and calcium as important dietary components for MSK health through maintaining healthy bones, teeth and muscles.
Public Health England (PHE) advises that in spring and summer, the majority of the population get enough vitamin D through sunlight on the skin and a healthy, balanced diet. During autumn and winter, everyone will need to rely on dietary sources of vitamin D. Since it is difficult for people to meet the 10 microgram recommendation from consuming foods naturally containing or fortified with vitamin D, people are advised to consider taking a daily supplement containing 10 micrograms of vitamin D in autumn and winter.
People whose skin has little or no exposure to the sun, like those in institutions such as care homes, or who always cover their skin when outside, risk vitamin D deficiency and need to take a supplement throughout the year. Ethnic minority groups with dark skin, from African, Afro-Caribbean and South Asian backgrounds, may not get enough vitamin D from sunlight in the summer and therefore should consider taking a supplement all year round.
Calcium is needed for good bone health. Eating a diet consistent with the Eatwell Guide will provide all the calcium your body needs.
Smoking
is associated with poorer development of the hip, spine and neck, and lower bone mineral density among men as young as 18 to 20
has a particularly greater impact on reduced bone mineral density among postmenopausal women
is associated with more bone fractures and slower healing and is associated with up to a 40% increase in the risk of hip fractures among men
is a significant cause of rheumatoid arthritis, especially among men, and can also reduce the impact of treatment
Smokers and ex-smokers experience 60% more pain in the back, neck and legs and a 114% increase in disabling lower back pain.
A PHE commissioned review showed that smoking plays a role in the progressive decline of the body's major systems, including MSK.
Mental wellbeing
Mental health conditions can increase the likelihood of developing some MSK disorders. For example, people with depression are at greater risk of developing back pain. MSK conditions can also have a significant impact on mental health as living with a painful condition can lead to anxiety and depression, and depression is four times more common among people in persistent pain compared with those without pain.
A recent study found that 33.9% of older adults (over 50) with MSK pain also have persistent anxiety issues, and 22% have a persistent depression problem. Mental health also has an impact on a person's ability to deal with an MSK problem.
Taking Action
If you're a front-line health professional:
all healthcare practitioners should consider how they can influence behaviour to improve MSK health as part of making every contact count (MECC)
raise awareness about the positive actions - such as strength and balance type activity - that individuals can take to look after their bones, muscles and joints across & during their life
provide information to enable individuals who may be at risk, or have developed early signs of an MSK disorder, to access appropriate help and support in a timely manner
encourage behavior change, through the use of evidence based interventions
ensure that people with comorbidities can take part in a care and support planning process, using standardised tools to explore and record pain and functional limitations - and that they understand how these affect their daily activities
If you're a team leader or manager:
promote a team culture where staff know that they should talk to their patients about healthy lifestyles - 'Making Every Contact Count' initiatives should include musculoskeletal health
use the MSK core skills and capabilities framework to identify the training and development needs of your workforce. Raising the standards for a quality based service approach
ensure all employees are aware of the tools and resources to assist in raising awareness about the main risk factors associated with MSK health, and signpost to the support available in the local area such as PHE's One You resources and MECC
promote the use of the MSK ROI Toolkit, alerting commissioners and providers to the benefits of scaling up the interventions like Escape Pain
promote the use of tools and resources to support employers and employees such as the MSK Employers Toolkit and the Mental Health Employers Toolkit
facilitate access to local physical activity provision for those with an MSK condition
ensure all employees are aware of local MSK protocols and care pathways to avoid delay in referral for assessment and treatment
If you're a senior leader:
include MSK in health and wellbeing boards' Joint Strategic Needs Assessment (JSNA) and STP discussions, including planning for complex needs such as people who have more than one long term condition
consider the MSK needs of the local workforce, to create a culture whereby the physical and mental wellbeing needs of the workforce are a priority. All employees are encouraged to report any issues relating to musculoskeletal health at an early stage
include MSK health in the education and training needs of the workforce, to equip them to deliver high-quality MSK advice and interventions
promote the use of evidence based interventions, through influencing commissioners and strategic leaders in the organisation
support the scale-up of best practice examples
encourage high-level, executive staff to act as MSK workplace champions
Measuring impact
As a health professional there are a range of reasons why it is important to measure your impact and demonstrate the value of your contribution:
record, report and share improvements in your patients MSK health and behaviour changes you might measure as a result of your practice
use of the MSK- HQ Patient Questionnaire to monitor improvement
the 'Everyday Interactions measuring impact toolkit' provides a quick, straightforward and easy way for health care professionals to record and measure their public health impact in a uniform and comparable way
Resources
Advice for patients and the public