National Statistics
Why do people come to the UK? (3) To study
Published 29 November 2018
© Crown copyright 2018
This publication is licensed under the terms of the Open Government Licence v3.0 except where otherwise stated. To view this licence, visit nationalarchives.gov.uk/doc/open-government-licence/version/3 or write to the Information Policy Team, The National Archives, Kew, London TW9 4DU, or email: psi@nationalarchives.gsi.gov.uk.
Where we have identified any third party copyright information you will need to obtain permission from the copyright holders concerned.
This publication is available at https://www.gov.uk/government/publications/immigration-statistics-year-ending-september-2018/why-do-people-come-to-the-uk-3-to-study
We welcome your feedback
The content and format of the quarterly release and associated data tables are currently being reviewed. This means the release may be subject to change in the future. If you have any comments, or suggestions for the development of this report, please provide feedback by emailing MigrationStatsEnquiries@homeoffice.gov.uk. Please include the words 'PUBLICATION FEEDBACK' in the subject of your email.
See section 6 of the 'About this release' section for more details.
Data relate to the year ending September 2018 and all comparisons are with the year ending September 2017, unless indicated otherwise.
This section contains data on:
Tier 4 (Sponsored study) visas
Confirmations of Acceptance for Studies (CAS) by education sector
Short-term students
In January 2018, the Higher Education Statistics Agency (HESA) published its latest 'Higher Education Student Statistics UK', for the academic year 2016 to 2017. HESA publishes data on new entrants to UK HE providers.
ONS publishes LTIM estimates in its 'Migration Statistics Quarterly report' (MSQR). The ONS report includes estimates from the International Passenger Survey (IPS) on the number of people coming to the UK with the intention of staying for 12 months or more for work, study, family, and other reasons. Estimates are available for EU, non-EU, and British nationals. See the ONS article 'Comparing sources of international migration statistics' for further information.
We provide a more detailed commentary on an annual basis. This is included in 'Immigration statistics, year ending June 2018'.
1.

Immigration for study reasons

In the year ending September 2018, there were 239,595 Tier 4 (Sponsored study) visas granted (including dependants), a 7% increase on the previous year, and the highest level since 2011.

There were notable increases in the number of Tier 4 (Sponsored study) visas granted to Chinese nationals (up 12% to 98,814) and Indian nationals (up 33% to 18,735). Chinese and Indian nationals together accounted for just under half (41% and 8% respectively) of all Tier 4 visas granted.

The vast majority (97%) of Tier 4 (Sponsored study) visas resulted in a grant.
Table 1: Top 5 nationalities granted Tier 4 (Sponsored study) visas, year ending September 2018 compared with year ending September 2017
| Country of nationality | Year ending September 2017 | Year ending September 2018 | Change | Percentage change |
| --- | --- | --- | --- | --- |
| China | 88,231 | 98,814 | +10,583 | +12% |
| India | 14,074 | 18,735 | +4,661 | +33% |
| United States | 15,033 | 14,900 | -133 | -1% |
| Hong Kong | 9,329 | 9,208 | -121 | -1% |
| Saudi Arabia | 8,349 | 8,135 | -214 | -3% |
| Total | 224,163 | 239,595 | +15,432 | +7% |
Source:
Entry clearance visas table vi 06 q (volume 2)
In the year ending September 2018, the number of sponsored Student visa applications (main applicants) rose 8% to 228,725. This was driven by increases in applications for the Higher education (university) sector, which increased by 9% to 194,152, and is the highest level on record. The Higher Education sector accounted for 85% of all sponsored visa applications. Of these, applications from:
Russell Group universities increased by 11% to 96,652
other universities increased by 8% to 97,500
Figure 1: Sponsored visa applications by sector,1,2,3 year ending December 2010 to September 2018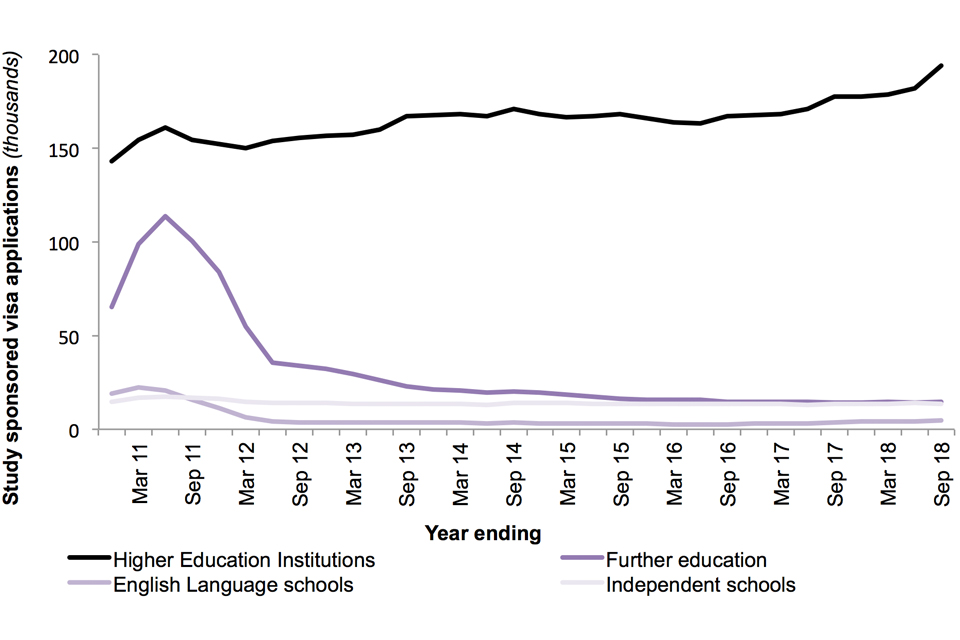 Source:
Chart notes:
'Higher Education Institutions' relate to UK-based universities.
'Further education' relates to tertiary, further education or other colleges.
Most of the fall in the Further education sector's sponsored visa applications since the peak in mid-2011 has been accounted for by the revocation of licences issued to sponsors (see the user guide for further details).
In addition to the Tier 4 (Sponsored study) visas granted, there were 113,625 Short-term study visas granted, a 7% increase on the previous year, and the highest level on record.
2.

About these statistics

The statistics in this section provide an indication of the number of people who have an intention to enter the UK for study reasons.

Entry clearance visas allow an individual to enter and stay in the UK within the period for which the visa is valid. EEA nationals do not require a visa to enter the UK.

Data in this section refer to the number of Entry clearance visas granted for study reasons. If an individual is granted a visa more than once in a given period, this will be counted as multiple grants in the statistics. If an individual leaves and re-enters the UK a number of times within the period for which a visa is valid, this will be counted as one grant in the statistics.

The data do not show whether, or when, an individual actually arrived in the UK, what they did on arrival to the UK or how long they stayed in the UK.

Year-on-year comparisons of the number of decisions can be affected by quarterly fluctuations in the data. Such fluctuations can be examined in more detail in the quarterly data that are available in the published tables.

Tier 4 (Sponsored study) provides a route for students to study with an approved education provider. It was implemented from 31 March 2009, replacing previous entry routes for study. This category includes all Tier 4 and, prior to 31 March 2009, pre-PBS equivalent visas.

To apply for a Student visa or for an extension of stay as a student (Tier 4), individuals must use a confirmation of acceptance for studies (CAS) from a sponsoring educational institution. Study visas applied for with a CAS are also referred to as 'Sponsored visa applications'.

The Short-term study visa (previously described as Student visitor) allows individuals to come to the UK for 6 months (or 11 months if they will be studying an English language course). Individuals with this visa cannot extend their stay. Admissions data shows much higher number of Short-term student admissions from non-EEA nationals than the number of Short-term student visas granted, as many student visitor admissions are from nationalities that are not required to obtain a visa if they wish to come to the UK as a short-term student for 6 months or less (such as US nationals).

For information on EEA and non-EEA nationals studying at Higher education institutions, HESA provide a range of data on all aspects of the UK higher education sector.
3.

Data tables

Data on student immigration can be found in the following tables:

Sponsorship tables
Visas tables volume 1
Visas tables volume 2
Visas tables volume 3
Admissions tables
Extensions tables