Advice on switching bulk LPG supplier
Published 24 May 2022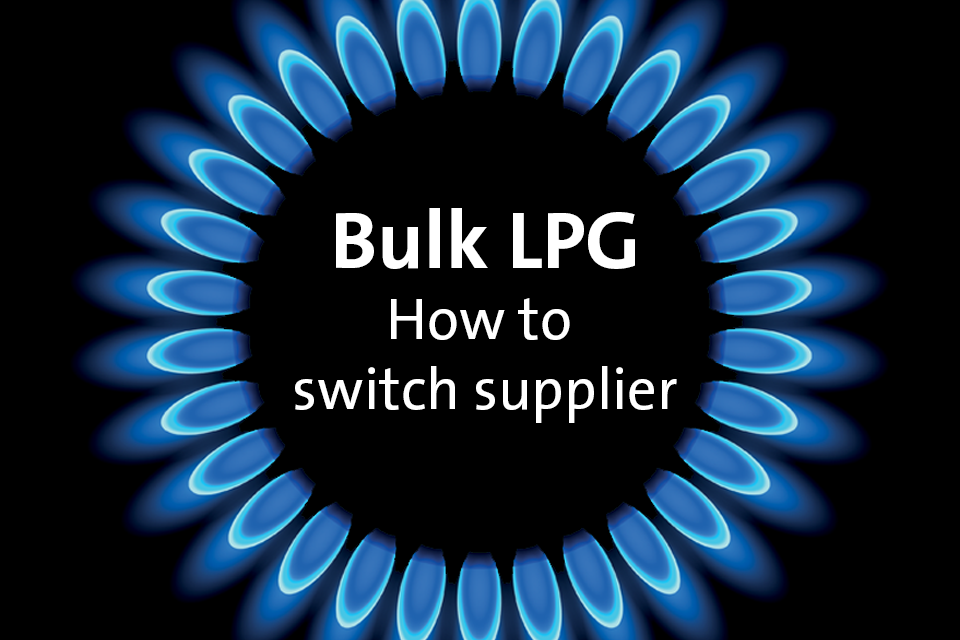 Liquefied petroleum gas (LPG) is an essential fuel for heating homes across the UK.
For many people, LPG is a significant household cost. It's important for households to be able to choose the best supplier for their needs and budget.
Typically, LPG is supplied through tanks that are already installed or provided to customers by their chosen supplier.
Exclusive-supply contracts
Whether you're using LPG for the first time or have an existing LPG contract with a supplier, you might be required to sign an exclusive contract, and your supplier will typically own the tank and provide LPG to you.
Signing an exclusive contract means that you're tied to one provider of LPG for a maximum period of 2 years.
However, customers have the right to change supplier either during a contract or at the end of the exclusive period and LPG suppliers must make it easy for customers to do this. Information on how to switch must be provided to you in all new contracts and every invoice you receive from your supplier.
Something gone wrong?
If your exclusive supply contract is for longer than 2 years, then it may be unlawful. See below for information on how to report this problem.
Switching LPG suppliers
You can switch supplier either during or at the end of your exclusive contract period.
In order to switch supplier, you can contact:
your current supplier and tell them you want to terminate your contact with them to transfer to another supplier; or
a new supplier to say you want to transfer to their services
We recommended you contact both a new supplier and your current supplier to complete the switch. The switch is usually completed within 28 days, unless the tank needs to be replaced.
Switching at the end of your contract
If you are out of the exclusivity period of your contract, which can only be 2 years long, your current provider can't charge you a fee to switch.
Switching before the end of your contract
If you want to switch supplier before your contract ends, your current supplier must tell you how you can switch but you may have to pay a fee for ending your contract early. Your provider must tell you the fees involved and the notice period you'll need to provide, which can't be longer than 42 days.
Something gone wrong?
If information about switching isn't clear, or the notice period in your contract is longer than 42 days, see below for information on how to report this problem.
If you've been charged to switch at the end of your contract, see below for information on how to report this problem.
Comparing LPG providers
Suppliers will have different charges for taking on new customers that want to switch. It's worth comparing suppliers and their costs before choosing a new supplier. Search for suppliers in your area by using the Liquid Gas UK website .
What happens to the LPG tank when you switch?
When most customers switch suppliers, their LPG tank will not change and the new supplier will take ownership and responsibility for it.
However, some new suppliers will want to replace your tank as they prefer to fill tanks that they've installed. If this is the case, you'll need to ask your existing supplier to remove its tank before the new one is put in place.
Your existing supplier must sell the tank to your new supplier if the new supplier wants to buy it.
You should not be charged for the removal of existing tanks.
Owning your LPG tank
If you own your tank, your new supplier can either remove it or purchase it from you. If they purchase the tank, you will need to agree a price with them.
Report an LPG supplier
If you have a complaint about a possible breach of the Domestic Bulk Liquefied Petroleum Gas Market Investigation Order contact us at RemediesMonitoringTeam@cma.gov.uk. The Order requires that:
exclusivity periods (where you are tied to one supplier) can't be longer than 2 years
the period of notice to end supply agreements must not exceed 42 days
suppliers must provide helpful information to customers on switching
an existing supplier can't, at the time of tank transfer, charge the customer any costs directly connected with the transfer of an LPG tank to a new supplier.
Please note that the CMA doesn't intervene on behalf of individuals customers, but we do enforce the requirements of the Order. If you think your supplier has misinformed or overcharged you, get in touch with the relevant consumer advice organisation in your area.