1. PEOPLE: enabling a lifetime of contribution
Published 9 August 2018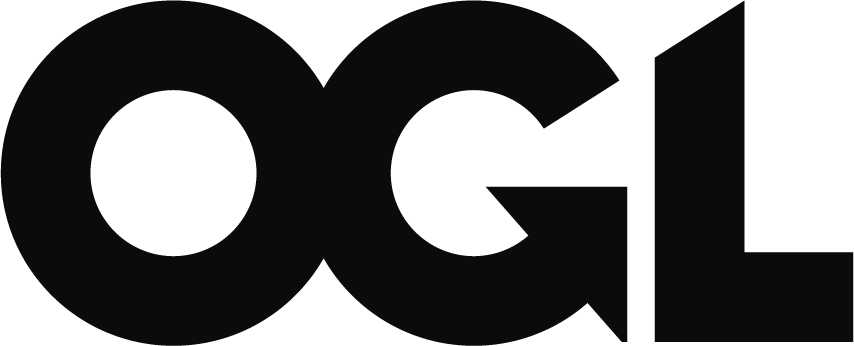 © Crown copyright 2018
This publication is licensed under the terms of the Open Government Licence v3.0 except where otherwise stated. To view this licence, visit nationalarchives.gov.uk/doc/open-government-licence/version/3 or write to the Information Policy Team, The National Archives, Kew, London TW9 4DU, or email: psi@nationalarchives.gov.uk.
Where we have identified any third party copyright information you will need to obtain permission from the copyright holders concerned.
This publication is available at https://www.gov.uk/government/publications/civil-society-strategy-building-a-future-that-works-for-everyone/1-people-enabling-a-lifetime-of-contribution
Introduction
From individuals' acts of kindness to their neighbours, to the work of charities and faith groups, to mass movements for change, people taking action is the bedrock of a strong society. The emerging social and economic model of the future has responsible citizens at its heart: the 21st century needs 'people power' more than ever.
England has a great record of people helping others. Almost a quarter of the population formally volunteer at least once a month, and many more do so informally. Almost two thirds of the adult population give their time to a social cause at least once a year.[footnote 10] Among young people, 40% take part in meaningful community action.[footnote 11]
Taking action on the issues people care about has enormous benefits for individuals and for society. There is evidence that being involved is good for your health and that it can lead to increased life satisfaction, wellbeing, and self-esteem.[footnote 12] It helps develop empathy, problem solving, cooperation, grit, and community involvement.[footnote 13]
These benefits can build healthier, more connected communities and are increasingly necessary in the world of work.[footnote 14] The government is continuing to build an evidence base for what works by testing and enabling the development of initiatives that have an impact, based on work with Nesta through the Centre for Social Action, the Enabling Social Action programme, and the #iwill campaign and fund.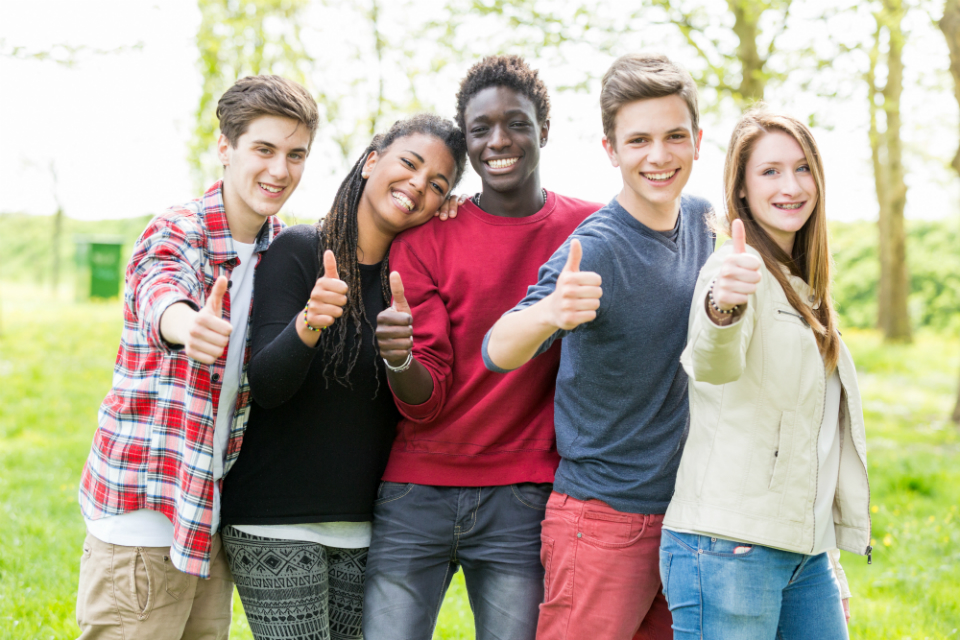 People should be able to take positive action on issues that they care about throughout their lives. Ideally, the habit forms early. Research suggests that if children are involved in action for the benefit of others before the age of 10, they are twice as likely to sustain it throughout their lifetime as young people who only start at age 16 to 18.[footnote 15]
Despite the personal and societal benefits of getting involved and making a difference, there are a number of obstacles in the way of people becoming the active citizens that many wish to be. Our engagement exercise revealed a range of practical and emotional barriers to participation. These include 'red tape', such as multiple forms, antiquated offline processes, rigid volunteering profiles, and inflexible opportunities that do not fit around other commitments. People also feel they need 'permission' before getting involved or believe they lack the necessary skills, capability, and confidence.
The government's vision is for people from varying backgrounds and of all ages to be able to thrive, connect with each other, and give back to their communities - building an integrated society that works for everyone, in which people have a sense of control over their future and that of their community.
To do this, people will have the ability to flex and adapt their contributions to fit with their life circumstances. Throughout their lifetime, they will have the skills and confidence to take action on issues they care about, with flexible and inclusive opportunities that will enable them to contribute alongside other responsibilities and personal circumstances.
Mission 1: A connected, resourceful society
Loneliness and social connections
The government values the role of civil society in supporting people and communities through friendship, neighbourliness, groups, and clubs. Strong relationships, support networks, and a sense of belonging are associated with higher wellbeing,[footnote 16] and social capital is linked to a range of benefits for society and individuals.[footnote 17]
In January 2018, the Prime Minister announced that Tracey Crouch MP would lead cross-government work on loneliness. This will include a strategy on tackling loneliness in England, due to be published by the end of 2018.[footnote 18] The government will also develop the evidence-base around the impact of different initiatives in tackling loneliness and establish appropriate indicators of loneliness across all ages.
In June 2018, we announced £20.5 million of grant-funding for charities and community groups working to bring communities together. This is made up of the £11.5 million Building Connections Fund, a partnership between the government, Big Lottery Fund, and Co-op Foundation, plus an additional £9 million through separate funds run by the People's Postcode Lottery and the Health Lotteries.
In the same month, June 2018, the consultation on the government's Integrated Communities Strategy green paper concluded. Supported by £50 million in total, the government is funding community based English language learning, working in partnership with five integration areas to develop ambitious local integration strategies, seeking proposals to support the Integration Innovation Fund, and backing the establishment of a professional Cohesion and Integration Network. The government will publish its response to the consultation later this year.
Civil society and disaster response
Civil society has played an important role in responding to major incidents such as the terrorist attacks in London and Manchester, the Grenfell Tower fire in 2017, and flooding, for example in Cumbria in 2015. Civil society organisations have been involved in all stages of response to these major incidents from first response through fundraising and distribution to recovery and longer term support for communities. National organisations can bring their capability, expertise and resources to bear, while local organisations understand the needs of, and are trusted by, their local communities.
Civil society organisations, supported by the Charity Commission, are currently developing a framework to strengthen the coordination of their activity.[footnote 19] In January 2018, the Charity Commission convened a roundtable attended by 25 large and small charities, umbrella bodies, fundraising platforms, and charity regulators to coordinate the social sector's future response to national critical incidents. The meeting was to review lessons learned from the incidents in 2017, hear feedback from beneficiaries and those affected, and see how the sector could maximise its effectiveness in any future response to national incidents.
The project is making good progress and is considering first response, fundraising, fund-distribution, and recovery. The Charity Commission and the government have also been working with civil society to tackle barriers to their effective response.
As part of these efforts the government will actively explore further initiatives based on the learnings from the funding model adopted by the social sector during the Grenfell response. These could include looking at models that reduce the burden on community organisations of accessing funding and maximising the use of assets and local knowledge to respond to community issues and ambitions.
Ministerial statement: policing and civil society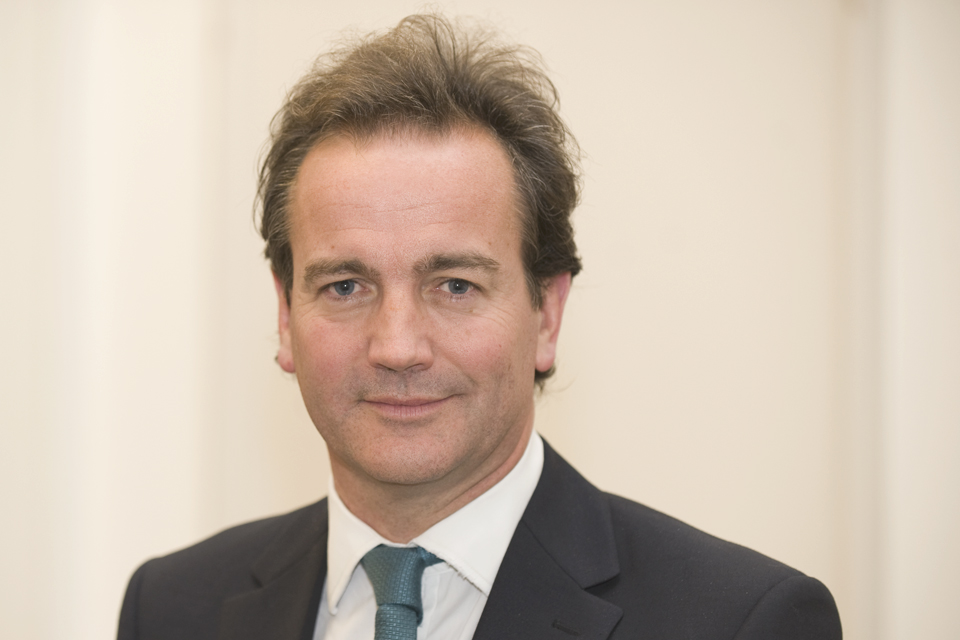 The Rt Hon Nick Hurd MP, Minister of State for Policing and the Fire Service says:
As a former Minister for Civil Society, I know the crucial role that the social sector plays in bringing us together, giving people a voice and strengthening the community. As Policing Minister, I also know the importance of volunteers to one of our most important public services.

Volunteers have long formed part of the fabric of policing - special constables (policing volunteers with full policing powers) have existed in various forms since 1831. As the demand on policing changes and becomes increasingly complex, the additional skills and experience that volunteers bring to police teams are more important than ever. The Citizens in Policing programme supports volunteers from across all ages and backgrounds to get involved in keeping their communities safe - from the Mini Police at primary school, through the Volunteer Police Cadet programme for young people, to adult roles in the Special Constabulary or as Police Support Volunteers.

I have been astounded and thoroughly impressed by the breadth of contributions made by volunteers. At last year's Lord Ferrers Awards for volunteers in policing, finalists included volunteers using specialist cyber skills to work on digital investigations, a special constable working with the Ambulance Service to improve patient experience following serious incidents, and volunteer police cadets organising residential camps for young people affected by the Grenfell fire. The Policing and Crime Act 2017 supported that diversity of voluntary roles by enabling chief officers to designate a wider range of powers on volunteers.

It is not only volunteers working directly for police forces who contribute to preventing crime and supporting victims. The Police also work on a daily basis alongside a range of other volunteer-led organisations, like Neighbourhood Watch and Victim Support. Local Neighbourhood Watch groups set their own priorities working alongside police forces on everything from reclaiming parks for the whole community that have been taken over by gangs, to helping people keep safe online and making sure that communities are aware of current scams and threats. They also play an essential role by making sure that the vulnerable are safe and checking that the elderly and infirm are not putting themselves at undue risk. Volunteers also support Police and Crime Commissioners to hold their local police force to account - checking the care of people in police custody, the welfare of their working animals or providing advice through Independent Advisory Groups.

As well as bringing different skills and backgrounds to policing, volunteers help to forge vital links between the police and local communities. I would like to thank these volunteers for everything they do to support our police forces, and to encourage people from all backgrounds to get involved and make sure that the police, at all times, should maintain a relationship with the public that gives reality to the historic tradition that the police are the public and the public are the police.
Case study: Grenfell voluntary, community and social enterprise organisation funding approach
By the Ministry of Housing, Communities and Local Government
In the aftermath of the Grenfell Tower fire we all saw the vital role that local and national civil society organisations made to ensuring help was given to those who needed it. The government worked in close partnership with funders and civil society representatives to support this vital work.
This included working in partnership with London Funders on a series of collaborative grant programmes, giving greater autonomy to organisations that had a better understanding of the issues and needs on the ground.
The government sought to reduce the bureaucratic barriers that would have prevented funding reaching those who needed it the most, and aimed to strike the right balance between knowing when to step in and when to get out of the way. This way of working was helped by all parties forging good relationships and working flexibly to a common purpose. It is important that the government in particular looks at what it did differently to support the local civil society response and applies these lessons more broadly.
The Community Core Costs Fund distributed £1,148,789, largely granted from the Ministry of Housing, Communities and Local Government, with some additional independent funding, to 100 community organisations to help meet the immediate costs of responding to the emergency. Funders stepped outside their normal practices in the following key ways:
collaborative delivery: led and facilitated by The Tudor Trust, grant managers from seven different funders were involved in community outreach to understand the needs, and collective decision-making on that same day
retrospective funding: organisations could ask for funds to cover costs they had already incurred
commitment to speed: organisations had cash in the bank the day after their application was approved. The programme was announced within two weeks of the fire, and the funds were allocated within a month
light-touch: a commitment to very light processes throughout, including a simple application form, which could be completed on the spot at outreach surgeries and a follow-up monitoring call
The Children and Young People Funders Coalition enabled a total of eight independent foundations and local and central government funders (Big Lottery Fund, The Tudor Trust, BBC Children in Need, City Bridge Trust, John Lyon's Charity, The Kensington and Chelsea Foundation, Royal Borough of Kensington and Chelsea, and Department for Education) to distribute £1,078,000 to 61 community organisations for summer holiday activities starting less than eight weeks after the fire. A second phase secured funding of £1,288,553 from 10 funders to support young people's needs over the forthcoming school year. Funders stepped outside their normal practices in the following key ways:
a single application form: applicants made one request for funding to multiple funders. This was posted on a shared online matching portal developed by London Funders and used by all participating funders to select bids that met their criteria
shared intelligence: John Lyon's Charity initiated and facilitated the fund and provided an initial check of the triage function. All funders, to a greater or lesser extent, relied on its local knowledge and expertise as part of their own due diligence
quick learning: the Coalition evolved and adapted in response to feedback from community organisations and funders. This delivered, for example, improvements to the portal, greater clarity of funding commitments, and clearer communication with applicants and grantees at each stage
London Funders commissioned a learning evaluation of this approach from the Institute for Voluntary Action Research. This is set out in their report 'The Possible, not the Perfect: Learning from funder responses to emergencies'.
This identifies learning for responding to future emergencies, along with recommendations for funder's day to day grant making practice. This include streamlining core processes, acting collectively to reduce the burden of fundraising for community organisations, shifting towards a relationship based funding approach, and learning together.
London Funders is working with its members from across sectors to put these recommendations into practice – for example, through City Bridge Trust's Cornerstone Fund, which will make use of the online portal to engage aligned funders to make grants to civil society support organisations to deliver London-wide systems change projects.
Mission 2: People in charge
Active, mobilised citizens
To realise the vision of a lifetime of contribution, we need active and mobilised citizens who are able and willing to play a responsible role in their communities. We also need the government and public sector agencies to open up and involve people in the decisions that affect their lives and that of their communities.
In 2017, the government published its Democratic Engagement Plan, 'Every Voice Matters: building a democracy that works for everyone', which makes explicit the importance of the social sector in helping to reach audiences that are less likely to respond to traditional channels.[footnote 20] The social sector has also been an expert partner in the delivery of many democratic engagement projects, including the co-creation of democratic engagement resources. For example, the Democratic Engagement team at the Cabinet Office has previously worked with civil society groups to develop lessons and activities for young people, to create an easy read guide to voting, and to deliver a social media campaign guide. Government has also held the first National Democracy Week in 2018 which was developed and delivered in partnership with the National Democracy Week Council, a collective of forty organisations, including many from civil society.
The Localism Commission report examined the need for 'localism' to be considered from a different perspective, moving away from seeing it as giving away power from the top down to seeing it as harnessing the power that already exists within local communities.[footnote 21] This means harnessing communities' collective ideas, innovation, creativity, local knowledge and fostering their sense of belonging, connectedness, and shared identity.
People should be supported to find their own solutions to challenges in their communities, encouraging a sense of confidence and control. At the touch points where individuals come into contact with public services, there is a huge opportunity for services to empower people, rather than treat them as passive beneficiaries. Public sector workers, from Jobcentre staff to social workers, prison officers to teachers and doctors, have a critical role to play in enabling people to feel hopeful about their lives, identify their own goals, and build confidence. The systems that these vital frontline staff work within should facilitate this, not undermine their ability to empower people.
During the engagement exercise people said they felt they needed permission to act, as well as needing the skills and confidence to take action. A precondition of community action is the confidence of individuals in their own capacity to make change in their lives and the world around them. This inner confidence, called 'self-efficacy', is the hidden resource of our society.[footnote 22] There is also evidence that high levels of self-efficacy are linked to a "better health, higher achievement, and better social integration".[footnote 23]
To support community action, as well as all the other personal and economic benefits that flow from people becoming more socially active, the Department for Digital, Culture, Media and Sport will explore where appropriate, ways of putting 'self-efficacy' at the heart of programme evaluation. This means that policy and services will be judged on how far they help people develop confidence and capability for personal and social responsibility.
The government will work with Nesta, Osca and Big Lottery Fund on the Good Help programme, which aims to ensure that when people have contact with public services, this contact empowers them to take action and increase their sense of control over their lives.
Community organising builds relationships and inspires local communities to deliver positive social and political change led by residents. The government has trained 6,500 individual community organisers, including 900 young people, who between 2010 and 2014 listened to over 150,000 residents, worked in over 400 neighbourhoods, and supported over 2,000 community projects which mobilised people to take grassroots action on the issues that they care about.
Between 2017 and 2020 another 3,500 people will be trained in community organising through a national network of Social Action Hubs and partnerships with public and social sector organisations.
The government will consider how best to support and encourage the sustainability and spread of community organising in the longer term. We know that where Community Organisers are at work, people feel a stronger sense of belonging to their neighbourhood, they feel more valued, and they become more likely to team up and improve their area.[footnote 24]
To enfranchise individuals and grow 'self-efficacy', it is crucial that people of all ages have the skills they need to fully participate in society. As outlined in the government's UK Digital Strategy, while we live in an increasingly online world, a significant part of the population remains digitally excluded and the latest data shows that the slowest adopters of basic digital skills are disabled and older people.[footnote 25] [footnote 26] The government is committed to addressing this digital divide, between those who have been able to embrace the digital world and those who have not.
Civil society is uniquely placed to reach the most excluded in our society, and could play a crucial role in helping others to be able to use digital technology to navigate the digital economy and society. The government is eager to work in partnership with civil society to tackle the digital skills gap, and in future will aim for interventions and learnings from these two groups to be scaled and shared with other digitally excluded groups.
More broadly, we are committed to helping to mobilise the time and talents of people of all ages, including those in later life, and of all faiths, communities, and backgrounds. We know that there are health and wellbeing benefits associated with making community contributions.[footnote 27]
We are working in partnership with Nesta to back innovations which support these volunteering opportunities, especially for older adults. For example, our recently launched Connected Communities Innovation Fund is supporting projects that mobilise people across their lifetime to help them and their communities to thrive. The projects are focusing on areas where volunteering can have an impact alongside public services, around themes such as community connections and thriving places, community resilience in emergencies, digital innovation or improving our environment.[footnote 28]
To support these opportunities further, our forthcoming review with the Centre for Ageing Better will set out principles for how to most effectively support people in later life to contribute their time, skills, and experience to their communities.
Case study: Community Organisers - building relationships across diverse communities
In 1992 local people set up the Selby Trust in Tottenham in recognition of the need for a multi-purpose centre led by the community and civil society organisations. The centre is located in an area of high deprivation. It brings together a rich mix of individuals and organisations, primarily from black and minority ethnic backgrounds, refugees and other historically excluded communities locally and beyond.
As part of its commitment to strengthening the wider Tottenham community, the Selby Trust is training 120 local people in community organising between 2017 and 2020. It is one of 20 Social Action Hubs across England that the government is supporting through the Community Organising Expansion Programme.
The Selby Trust has a wide-ranging, ambitious vision as a Social Action Hub to embed community organising in relationships at all levels between residents, hubs, institutions, and within communities on their doorstep.
Leading the community organising work at the Selby Trust is Moussa Amine Sylla. Moussa's work has led to local people setting up a highly successful food project. Tasted Not Wasted connects the food waste from retailers to emerging enterprises led by black and minority ethnic women from the Kurdish and Somali communities in Tottenham.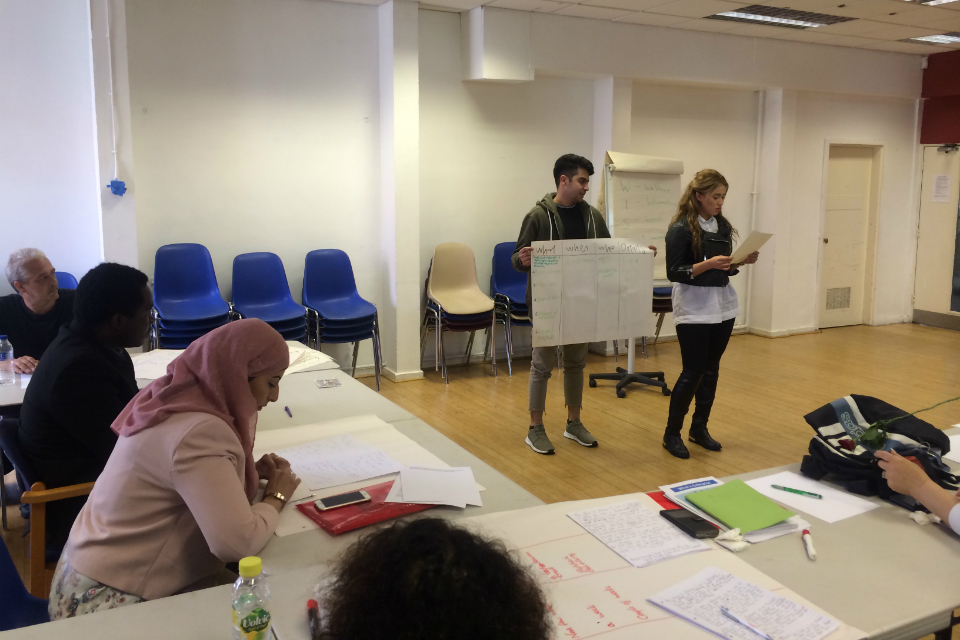 Government and public sector open to citizen input
The government wishes to create opportunities for people to change their own lives and the world around them, for instance by involving them in national and local decision-making, and in public service design and delivery.
Chapter 2 'Places' details the government's ambition to pass meaningful power to local places. As well as increased devolution from Westminster to cities and towns, this means we will work with local authorities to trial innovative forms of participatory democracy to involve people in the decision-making that affects their daily lives.
People want the opportunity to affect the life of their neighbourhoods, to have a say in local decision-making and to play a part in making change happen. Usually it is the people who deal with issues every day, who know the best way to tackle them. But they are rarely asked their opinion or given the opportunity to be part of the solution. The government wants to change this dynamic and find ways to open up decisions and services to input by people.
The government is currently running the Place Based Social Action programme with Big Lottery Fund. This enables residents, community groups, businesses, service providers, and the local authority to work collaboratively to create a shared vision for the future of their place, and address local priorities through co-production of services, volunteering, and community action. The response to this opportunity - the demand from local authorities and civil society organisations wishing to take part - has been considerable.
The government will explore how we can build on existing programmes, such as the Place Based Social Action programme and Communities Fund, so that collaborative working between people and statutory and non-statutory organisations to identify issues, and develop and deliver solutions together, becomes more widespread. As set out in Chapter 5 'The public sector', the government also expects public services to become more receptive and supportive towards citizens wishing to play a role in service design and delivery. One of the big advantages experienced by the growing number of public service mutuals as an alternative delivery mechanism is the freedom to innovate and diversify beyond the 'basic' contract and work beyond traditional organisational boundaries.
Through the Enabling Social Action programme, we are working in partnership with the Universities of Sheffield and Hull to support local authority commissioners to co-design and co-deliver services with local people, service users, and civil society organisations. Similarly the government has also worked with Leeds Beckett University.
The government will build up good practice by local authority commissioners working with service users on user-centred and community-led service provision. The government will create a peer network to enable commissioners, voluntary, community, and social enterprise organisations, and councillors to share information, learning, and good practice across the country to create a long-term culture change in local authorities.
There is also an opportunity to support volunteering in the health service. As Nigel Edwards, CEO of the Nuffield Trust, puts it, "there is a huge resource of 'people power' available to the NHS and social care if relationships can be made to work - an army considerably larger than the NHS workforce."[footnote 29]
NHS England will strengthen volunteering within the NHS, spreading impact volunteering opportunities in priority areas across the NHS.
Building on the Centre for Social Action, the #iwill Fund, and the Enabling Social Action programme, the government will look at how to further embed and scale people taking action as a core part of how public services are delivered and explore how the government can best continue to back and scale high impact social value initiatives.
Mission 3: Opportunities for young people
The government is committed to making sure all young people have opportunities to develop the skills, networks, and resilience that can improve their life chances, fulfil their potential, and to support them to avoid negative pathways in future, including those at risk of serious violence or exploitation.
The government makes a significant investment in helping young people participate in culture and sport. The government has announced almost £500 million of funding between 2016 and 2020 for a diverse portfolio of music and arts education programmes that are designed to improve access to the arts for all children, regardless of their background, and to develop talent across the country. This includes £300 million for music education hubs, almost £120 million for the Music and Dance Scheme, which allows exceptionally talented children to attend specialist music and dance institutions, and over £16 million for cultural education programmes including Saturday Art and Design Clubs, the National Youth Dance Company and the BFI's Film Academy programme.
Between 2016 and 2021, Sport England is investing over £194 million in projects focusing on children and young people. This includes specific funding for college and university students, as well as a £3 million Potentials Fund, which looks at ways to get young people aged between 10 and 20 involved in social action and volunteering using sport and physical activity. Up to £34 million will go towards Satellite Clubs: outposts of community sports clubs on school or college campuses which encourage young people to transition from school sport to being active in their own time.
The government and Big Lottery Fund are jointly investing £80 million until 2020, through the Youth Investment Fund and #iwill Fund, in voluntary and community organisations that work with young people.
The government continues to make significant investment in the National Citizen Service (see 'Habits of social responsibility') and is currently designing the £90 million dormant accounts funding to help young people facing barriers to work to reach their full potential (see 'Helping the most disadvantaged young people').
Local youth services
The public funding of open access youth services has always been the responsibility of local authorities.
The government recognises that despite the pressures on public sector finances new thinking has emerged, supporting innovation, new partnerships, and collaboration spanning public, private, and civil society partners. One model is Local Young People's Foundations where imaginative local trusts, such as John Lyon's Charity, local government, business, and the independent youth sector have come together to develop new partnerships and services for young people. Another is that of mutuals such as Knowsley Youth Mutual, an organisation run jointly by staff and young people, which was supported by the government to spin out from the local council and continues to thrive in its fourth year of operation. There is also the Onside Youth Zone programme, providing large, state-of-the-art '21st century youth clubs' in towns and cities across England, funded through a partnership of councils, businesses, and philanthropists.
While the government recognises the priority that local authorities must place on functions such as child protection, it also recognises the transformational impact that youth services and trained youth workers can have, especially for young people facing multiple barriers or disadvantage. The guidance which sets out the statutory duty on local authorities has not been revised since 2012. Much has happened to change the way these services are provided in the intervening years. The government will therefore review the guidance which sets out the statutory duty placed on local authorities to provide appropriate local youth services. We expect that the review will provide greater clarity of government's expectations, including the value added by good youth work.
The government recognises that, to date, not enough has been done to identify and articulate the benefits of high quality youth work and is committed to improving the quality of the data and evidence base. Over the past four years we have set up and invested £1 million in the Centre for Youth Impact. The aim is to review and build the evidence base for the effectiveness of youth services to establish what works and develop a shared approach to evaluation and the understanding of impact. The government is also supporting a £1 million evaluation of over 90 projects across the UK, engaging hundreds of thousands of young people, through the Youth Investment Fund. As a result of this, by the end of 2020 we aim to have a shared impact measurement framework for open access youth provision that uses data to improve services, measure outcomes, and predict likely impact. This will be supplemented by a solid evidence base of what works in open-access youth services.
Habits of social responsibility
Alongside providing opportunities, the government also wants to empower young people to shape the future of the country. This means helping them to develop the skills and habits of social responsibility during their childhood and youth.
A significant youth programme is the National Citizen Service, set up by the government in 2011.[footnote 30] This year the National Citizen Service is expected to reach its 500,000th participant. The programme is helping to create a more responsible, more cohesive, and more engaged society. Consecutive independent evaluations show that following the National Citizen Service participants are more likely to use their time to help others.[footnote 31] National Citizen Service will continue to support young people to develop vital skills, build confidence and resilience, and help to tackle issues they care about. The government wants it to be a key step in young people's development that is fully embedded in the wider youth sector.
In 2017, the National Citizen Service Act received Royal Assent and the National Citizen Service Trust was granted a Royal Charter. Together these changes will establish the National Citizen Service Trust as an independent public body that is accountable to Parliament and ministers, and give us the statutory power to fund this organisation to deliver the National Citizen Service programme.
From the age of 18, young people can take part in the International Citizen Service, which deploys 18 to 25 year olds from the UK on three month placements to tackle the causes of poverty overseas. This helps prepare young people for a lifetime of social action when they return from their placement to the UK, and helps to extend Britain's culture of civic participation abroad.
Through the #iwill Fund, supported by the government and Big Lottery Fund, 20 new match-funding partners have created opportunities for young people to take action on issues they care about in areas such as environmental action, education, health, loneliness, and sport, along with opportunities in specific geographies. The government estimates that this will lead to at least 650,000 new opportunities for young people to take part, though this is likely to increase as we make further investment. This year the #iwill campaign has been working with NHS England, the Department of Health and Social Care and wider partners to celebrate 70 years of the NHS. In 2019 the campaign will work with the Department of Food, Environment and Rural Affairs to focus on engaging young people in helping the environment and supporting the 25 Year Environment Plan.
Helping the most disadvantaged young people
The government recognises that some young people require additional support, advice, and guidance to access the full range of opportunities available to them, and in our current and future work the government will seek to ensure this support is in place.
In January the government announced that £90 million from dormant bank accounts would be spent to help young people facing barriers to work to meet their full potential with particular focus on the data from the Race Disparity Audit.[footnote 32]
This pot of money is unique. By being outside the usual constraints of government funding, we are free to consider bold approaches to investing in long-term solutions. We also have a great opportunity to properly test and evaluate different interventions over time, leaving a legacy of increased youth employment in target areas, a decreased black and minority ethnic youth employment gap nationally, and a solid evidence base for targeted interventions supporting the most disadvantaged young people, including those at risk of serious violence.
To effectively support young people with multiple barriers to employment we need a team effort. This is why we will work with Big Lottery Fund to direct this funding to a new organisation, which will operate independent of government to harness the experience of grassroots youth workers, businesses, and other local services to build a strong partnership of support around each young person. The government has consulted with the youth sector, employers, and with young people on this programme. It is putting the young people that we want to benefit from this money at the centre of designing the programme.
The government will also work with uniformed youth groups to consider how they can further expand in disadvantaged areas.
In addition, the Inclusive Economy Partnership (see Chapter 4 'The private sector') is exploring how the work that businesses do to help young people gain employment could support the ambition of the new £90 million initiative which is to be funded by dormant accounts.
Given the particular challenges faced by children in care and care leavers, government is launching the care leaver covenant, which provides a way for wider civil society to pledge concrete offers of support to care leavers – such as work experience, internships or mentoring support – that help them to make a smooth transition from care to independence.
Social responsibility in and out of school
Schools also play an important role. The government believes that social action, volunteering, and active citizenship opportunities are most effective when they are reinforced by knowledge of the rationale for being a good citizen. Citizenship teaching in schools, both as a discrete curriculum subject and as part of a whole-school approach, has been shown to enhance and reinforce participation individually and at school level. Citizenship, for example, is a mandatory part of the national curriculum in maintained secondary schools. At Key Stage 3 pupils are taught about the roles played by public institutions and voluntary groups in society, and the ways in which citizens work together to improve their communities, including opportunities to participate in school-based activities. At Key Stage 4 pupils are taught about the different ways in which a citizen can contribute to the improvement of their community, to include the opportunity to participate actively in community volunteering, as well as other forms of responsible activity.
There are many examples of programmes, such as the 'Community Apprentice' run by Envision, that work in schools to help young people set up their own social action projects and develop skills. The Association for Citizenship Teaching (ACT) has also produced a set of resources for schools including ready-made activities that link the National Citizen Service and citizenship education for use in lessons or as off-timetable activities and school events. The Department for Education is working with a number of local authorities to pilot how a multi-agency approach in out-of-school settings such as these can support safeguarding and help ensure children and young people have access to these opportunities in a safe environment. The Department for Education has committed £3 million to deliver this pilot.
The Department for Digital, Culture, Media and Sport will work with the Department for Education to develop proposals to help young people gain the attributes needed for active and positive citizenship. This includes options to support citizenship education in primary and secondary schools to giving opportunities for young people to come together to tackle the local issues they care about within school and in the wider community.
There is also a need for businesses to recognise the skills that job applicants have developed through youth voluntary action. This is why we are pleased to support the commitment made by the Careers and Enterprise Company to create a toolkit to help embed social action as part of a young person's career pathway. The government is also impressed with the work of Business in the Community to enable culture change in businesses recruiting young people, supporting them to place emphasis on skills and attitude and the attributes that young people develop through social action, as well as on work experience and educational qualifications (see the government's response to the Full Time Social Action Review).[footnote 33]
Building on our offer for young people
Now is the time to consider how we can broaden our approach so that all young people from an early age can access a range of positive and integrated activities including youth programmes, cultural activities, and volunteering. The government wishes to build on the cross-sector partnership created by the #iwill campaign to explore how the existing offer for young people can be improved.
We anticipate that there are opportunities to better coordinate existing national and local activities and support young people to access and shape them more effectively. This would include youth organisations, such as uniformed groups and youth clubs, as well as the National Citizen Service, businesses, and public services.
Young people and national policy design
It is essential that central government engages meaningfully with young people when it is creating policy or designing programmes which affect them. The government would like to change the culture of policy design and implementation so that young people are systematically involved in shaping the policies that affect them. As an individual put it during the engagement exercise: "Young people have a voice, we don't need to give them one, we just need to listen more to the one they already have".
The government is committed to working with the youth sector to develop more effective channels of communication between all parts of the sector, young people themselves, and central government. As part of the Civil Society Strategy, we have engaged with young people both through workshops and through the online platform and we are grateful for their input. The Department for Digital, Culture, Media and Sport is ambitious to lead the way in enabling effective youth participation in national policy-making and to pioneer approaches which can be adopted across government.
A Civil Society Youth Steering Group will be set up within the Department for Digital, Culture, Media and Sport to oversee the development and implementation of policies affecting young people, including the plans set out above.
The Department for Digital, Culture, Media and Sport will also set up a national Young Commissioners and Inspectors Group to involve young people directly and meaningfully in the commissioning, monitoring and evaluation of national programmes affecting young people.
With respect to future policy, the government will build systems to ensure that young people both have their views heard and are able to play a role in delivery. As a first step, new digital solutions will be explored to enable large numbers of young people to play a role in consultations and programme design across the government.
Case study: The National Citizen Service - individual experience, Rais Aslam
The National Citizen Service is a government-backed programme established in 2011 to help build a more cohesive, mobile and engaged society. By bringing together young people from different backgrounds for a unique shared experience on a two to four week programme, the National Citizen Service helps them to become better individuals, and in turn better citizens. The National Citizen Service participants have now given ten million hours​ in social action.
At the age of just 17, Rais, from Bradford, has started up his own not-for-profit business, aimed at providing education for girls in Africa – something he would never have done were it not for him going on the National Citizen Service programme.
Having travelled extensively as a teen, Rais was used to new environments, but said "the National Citizen Service was like nothing I'd experienced. It was great to meet so many young people who actually want to make a change – I'm so grateful for that." After developing his confidence on the programme and beginning to see how much of a difference he could make in the world, he began seeking business advice from the National Citizen Service to start his own company.
Once given the advice he needed, Rais set up a project called 'Africademics' which is designed to advocate for girls' rights in Africa. At present, he manages a team of four who are focused on enabling existing schools in Africa to adopt a set curriculum with extra-curricular activities, by finding teachers and voluntary staff to deliver them.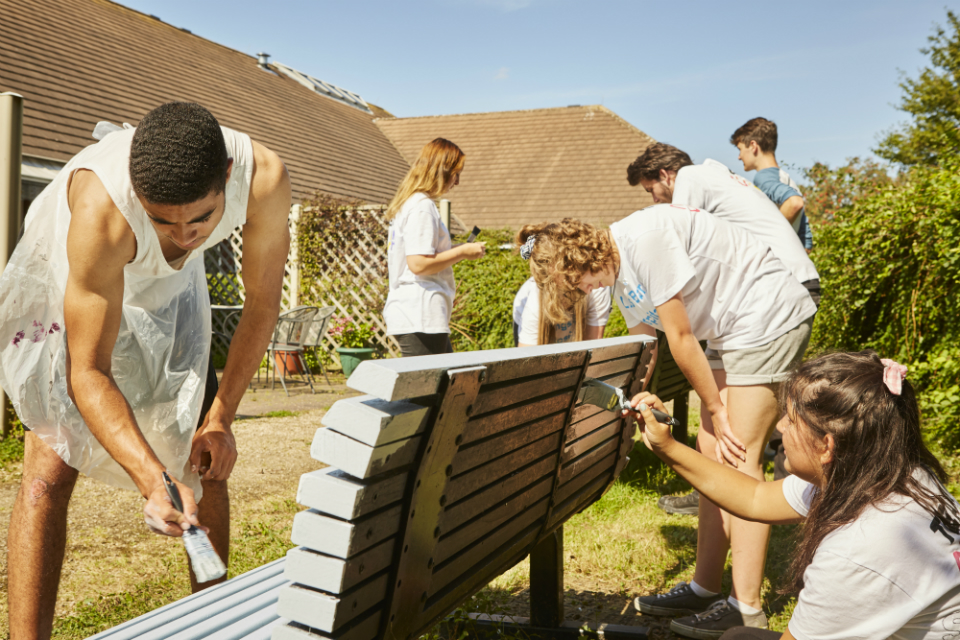 Case study: Team London Young Ambassadors - young people improving their schools and communities
Team London Young Ambassadors is the Mayor of London's school volunteering programme. It connects young Londoners with their communities through social action.
Since launching in 2013, thousands of young people have improved their school and communities by setting up projects on issues they really care about, such as LGBTQ+, food poverty, homelessness, bullying, gender equality and refugees. Through the support received from the #iwill Fund Team London Young Ambassadors will enter its second phase of delivery, which focuses on deepening engagement and reaching young people who have not previously volunteered.
Schools that participate in the Young Ambassadors programme attend an assembly and a workshop to introduce them to volunteering. Schools also get invitations to youth summits, handbooks and campaign kits. They are also eligible to apply for reward and recognition opportunities such as small grants funding and Team London Awards. The programme is delivered by WE Charity.
91% of young people involved have demonstrated increased leadership among their peers, from organising projects and events to encouraging their peers to get involved. 89% of young people feel a greater connection to their local community. The programme has reached 2,116 schools - 85% of all London schools. Over 430,000 young people have been engaged.
An example of a school social action project under the programme has taken place at Hendon School in Barnet. Students have made a significant impact on mental health awareness across their borough through the 'Stamp Out Stigma' (SOS) Campaign. They have led discussions with Barnet Council and the Clinical Commissioning Group to improve mental health services, obtained funding for school teachers in Barnet to receive First Aid Mental Health training, and worked with Middlesex University to design an App which helps users find mental health care in Barnet. Students are also passionate about the role of peer education and host an annual mental health conference for local schools which includes workshops, inspirational speeches and resources from mental health charities. They are also co-designing a mental health peer-mentoring scheme, which will be rolled out in all schools across the borough. Students are offering the voice of young people in Barnet, including presenting a paper to the CEO of BEH-Mental Health Trust.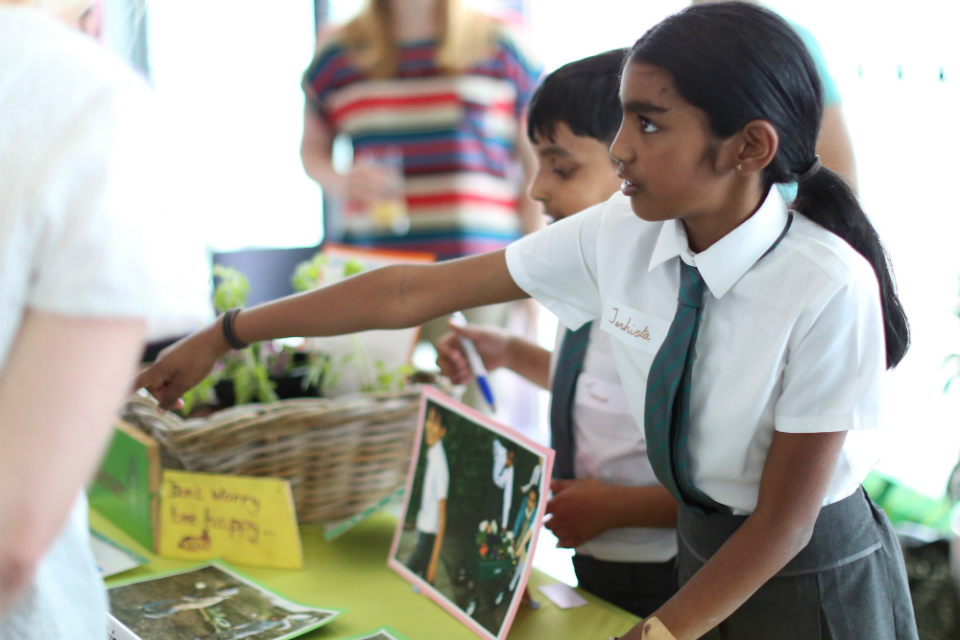 Ministerial statement: crime and civil society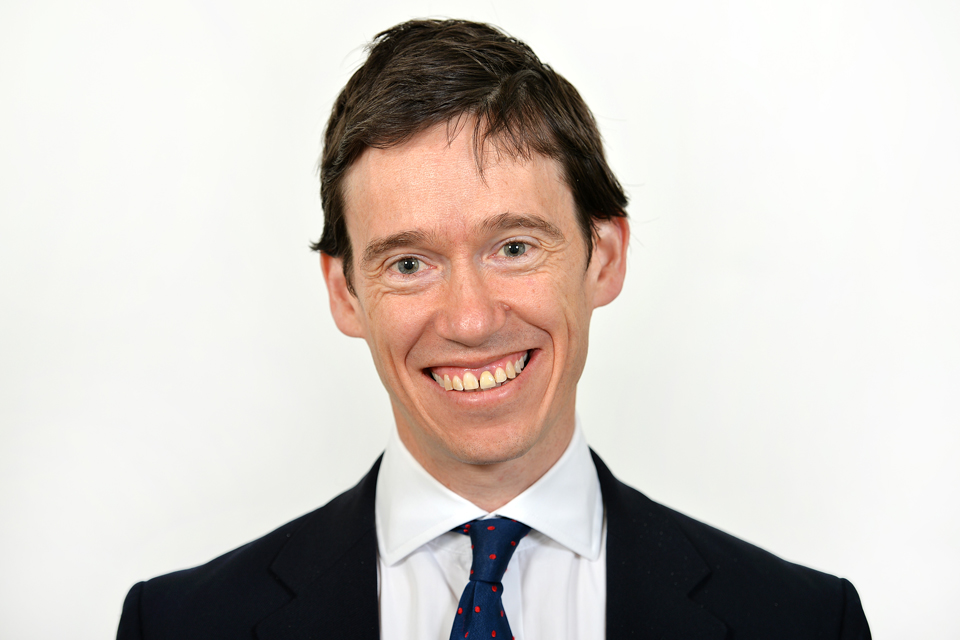 Rory Stewart OBE MP, Minister of State for the Ministry of Justice says:
Civil society plays a central role in the fight against crime. Services and projects working with young people in the community can set them on the right path, encouraging them to make positive choices. Civil society is uniquely well placed to tackle the root causes of offending and provide young people with the skills and resilience to lead productive lives free from crime.

If people do get involved in crime, the wider social sector is a vital partner to the Prison and Probation Service. Charities and social enterprises work in custody with young and adult offenders to address their offending behaviour, deliver family support and education, and help them to prepare for release. Often, it is volunteers and charity workers - including former offenders who have turned their own lives around - who meet ex-offenders at the prison gate and help them resettle in the community.

The government is committed to supporting this 'end-to-end' role of civil society in the criminal justice system. The government's Serious Violence Strategy, published in April 2018, announced a collaboration between a range of government departments and partners in the social and private sectors.[footnote 34] Our ongoing reforms to the prison and probation systems will give a greater role to social sector providers in the delivery of major contracts for prison management and rehabilitation.

Just as we know that society cannot arrest and imprison its way out of crime, we know the state cannot reduce offending on its own. Crime is a social phenomenon and society, as well as the state, needs to play its part in stopping it.