Press release
Government invests £2.7 million to bring communities together through volunteering
£2.7 million is to be invested in communities across the country, the Minister for Sport and Civil Society Tracey Crouch announced today.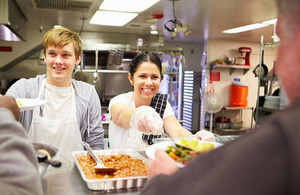 The Connected Communities Innovation Fund, delivered in partnership with the Department for Digital, Culture, Media and Sport (DCMS) and innovation foundation Nesta, will support people and places to thrive through the power of volunteering. The fund also builds on the work already underway between DCMS and Nesta to encourage people of all ages to volunteer and to ensure people see social action as a routine part of their lives.
16 grantees will receive a portion of the fund, with projects using the money to develop and test early stage ideas as well as scaling programmes which are currently having a positive impact.
Examples of projects that will receive funding are:
EqualArts who will receive £244,000 to expand it's HenPower project across the country. The programme uses hen-keeping to build relationships between care home residents and the wider community and helps to improve wellbeing, while reducing loneliness and depression.
The Restart Project will be given £204,000 for its project that aims to prevent electronic waste by training people in their community to repair devices instead of throwing them away.
Volunteer Action North East Lincolnshire (VANEL) will be handed £77,500 to scale the works its doing to harness the skills of retiring and retired blue lights service personnel to help the community prepare, respond and recover from emergencies.
Tracey Crouch, Minister for Sport and Civil Society said:
Volunteering has a hugely beneficial impact on people's lives. It has the power to harness community spirit and strengthen local areas by improving people's wellbeing and decreasing social isolation .

This investment will create more opportunities for people to share their skills while supporting people in need - it will also help provide a rewarding experience for the volunteers themselves. I am looking forward to seeing the impact it has on a range of areas over the next few years.
Carrie Deacon, Head of Social Action Innovation at Nesta, said:
We know that when citizens share their time, knowledge and skills alongside public services, communities can achieve great things together. By supporting these innovative social action projects to develop and grow we know they will transform lives, and make a significant impact on some of the biggest social challenges we face. We're excited to be supporting these projects over the next two years.
ENDS
NOTES TO EDITORS:
The Connected Communities Innovation Fund will support the best innovations that mobilise many more people throughout their lives, to support people and places to thrive, alongside public services.
The Connected Innovation Funds grantees are:
British Red Cross will receive £75,000 to transform their ways of working by shifting their focus to community assets. They will train community groups to support each other during times of need, particularly responding to and recovering from emergencies in a confident and consistent manner, testing the initiative in three London boroughs.
Cities of Service will receive £235,425 to scale its 'The Next Generation project model which mobilises volunteers to meet city-wide challenges with four local authorities to involve more people to improve their lives and their neighbourhood.
Church Action on Poverty will receive £170,250 to expand it's Self-Reliant Groups model which arrange for a small groups of people - usually from disadvantaged backgrounds - to meet weekly, save money, share skills, and use their savings to set up micro-enterprises or support one another with loans.
Equal Arts will receive £244,000 to expand it's HenPower project by 60% across the country. The project uses hen-keeping to build relationships between care home residents and wider communities to improve wellbeing, reduce loneliness and depression.
Grandparents Plus will receive £276,94 for its 'Kinship Connect' project that brings together kinship carers to help themselves by building face to face and online communities of support.
Hull UK City of Culture 2017 Ltd will receive £250,000 for a project that will build on the success of Hull's City of Culture year by mobilising more volunteers to enhance the wellbeing of Hull residents, encouraging social interaction, building confidence and generating confidence to take part, with a focus on tackling isolation.
In2Science will receive £250,000 to support local 16-17 olds from disadvantaged backgrounds to go on to study STEM degrees at university by leveraging the expertise and passion of local scientists, engineers, and technology and maths professionals.
Library of Things will receive £74,978 to reinvents libraries and improves lives by providing cheap access to useful things like power and gardening tools, cleaning equipment and by enabling volunteer-led skill-sharing events. They will use the grant to formalise their model, develop their volunteering offer and grow their team to scale sustainably.
Neighbourhood and Home Watch Network will receive £74,987 to develop a volunteer-led support programme for older people who have experienced fraud, or are at greater risk of being a victim of fraud, by working in partnership with local police, victim support and charities.
North Yorkshire County Council will receive £100,000 for it's 'Enhance North Yorkshire' project which coordinates individual volunteers and established groups within the Voluntary Community and Social Enterprise sector and local businesses to support collaborative emergency response and management, building on their successful volunteer-led Major Incident Response Team which has already responded to 170 emergencies in North Yorkshire.
Oomph! Will receive £84,950 to improve the mental and physical outcomes of frail, lonely older people through volunteer-led walks that connect them to the community.
The Restart Project will receive £204,000 to prevents electronic waste by changes the way people consume electronics. The project will host 'Restart Parties' where volunteers repair electronic devices and train people in the community to repair their own devices.
The Southampton Collective will receive £75,000 to empower communities to take action on air pollution by training volunteer citizen-scientists to build and deploy low-cost air quality monitors around Southampton to generate data, raise awareness and ultimately change behaviour to tackle air pollution in the city.
UpRising Leadership will receive £270,000 for it's '1 Million Mentors' programme which aims to ensure every young person in the country has access to a trained mentor as they transition into adulthood. They aim to train and match a million mentors to a million young people over the next ten years. They will use the funding to expand their work in 14 new areas in the West Midlands, Greater Manchester and London.
Volunteer Action North East Lincolnshire will receive £77,500 to scale this work up to harness the skills of even more retiring and retired blue lights service personnel to help the community to prepare for, respond to, and recover from emergencies.
Volunteer Centre Camden will receive £86,925 for its Coordinating And Mobilising Emergency Response Activists project which will involve volunteers in emergency responses in the London Boroughs of Camden and Hammersmith and Fulham. The programme will develop a bank of known and trusted volunteers for local authorities, so they can be activated to support and collaborate with public service responses.
Each of the organisations' progress will be documented and findings published on Nesta's website.
Published 16 May 2018