4. THE PRIVATE SECTOR: promoting business, finance and tech for good
Published 9 August 2018
© Crown copyright 2018
This publication is licensed under the terms of the Open Government Licence v3.0 except where otherwise stated. To view this licence, visit nationalarchives.gov.uk/doc/open-government-licence/version/3 or write to the Information Policy Team, The National Archives, Kew, London TW9 4DU, or email: psi@nationalarchives.gov.uk.
Where we have identified any third party copyright information you will need to obtain permission from the copyright holders concerned.
This publication is available at https://www.gov.uk/government/publications/civil-society-strategy-building-a-future-that-works-for-everyone/4-the-private-sector-promoting-business-finance-and-tech-for-good
Introduction
Responsible business is essential to building a stronger society that works for everyone. The government's Industrial Strategy prioritises long-term business growth as central for national prosperity, and we support responsible business as a force for good in our society. Therefore this chapter is addressed to all businesses and investors, as well as civil society organisations.
Our leading businesses increasingly put social and environmental responsibility at the heart of what they do. It is key to their strategies for long-term, sustainable value, including how they manage risk, and how they sustain public and investor trust in their brands and business models.
Alongside this, a new generation of businesses now go further and commit themselves explicitly to social and environmental purposes or missions, alongside profit, in their goods, services and how they operate. The same goes for the role of finance and technology. In both these areas, the UK leads the world in creating social value. New models of social finance and social impact investing are opening new sources of capital to organisations that tackle social challenges, as well as enabling people to use their financial assets to invest in line with their values. The potential of digital and data to transform our society for the better - enhancing collaboration, enabling innovation, and creating efficiencies - is significant, and already we are seeing great progress.
In both areas, however, we have a long way to go to realise this potential. Too little of the UK's £6.9 trillion investment capital is devoted to businesses and sectors which directly create social and environmental capital. Too few civil society organisations are realising the opportunities that tech offers them. We risk falling behind as other countries catch up with the financial innovations the UK has led the way in.
Now more than ever, contributing to building a strong society should be part of being a successful business in the UK. We want to show to trading partners, investors, suppliers, and consumers worldwide that the UK is not just one of the best places to do business, but where we aim to do business the best. We also want to build on the leadership shown by the UK in developing responsible business practices internationally.
Growing socially and environmentally impactful businesses can be supported by the right sort of financing that facilitates a focus on delivering mission related objectives alongside financial returns. Social impact investment is particularly appropriate to these businesses and the UK has been a pioneer in its development. This can create a virtuous circle in which impact focused investors finances responsible businesses. These in turn serve engaged consumers, meet social needs, and distribute profits which can be reinvested. The government wants to continue to grow the market for social impact investing.
An increasing number of people want to reflect their values in the things they choose to buy, the places they live and visit, and the jobs they do. People care about the impact that their choices have on our environment and humankind. Social impact investing provides individuals with the opportunity to embed their values in their saving and investment choices, empowering them to use their assets to create the world they want to live in.
The UK will continue to have a thriving tech for good sector, and continue to lead the world in social finance innovations. Civil society will be able to take advantage of technological innovations to help solve some of the most pressing social challenges.
Mission 10: responsible business
Supporting responsible businesses
The government supports responsible businesses. Our Industrial Strategy provides the context for an ambitious, long-term plan to help responsible businesses create better, higher paid jobs in every part of the UK, with investment in the skills, industries, and infrastructure of the future. Now, with this Strategy, we want to take the role of responsible businesses further. We are exploring new opportunities for responsible businesses to connect with the social sector to tackle social challenges, and we also support the important role which civil society organisations play to hold businesses to account with, for example, ethical expectations of their products or global supply relationships.
The government's vision is one where responsible businesses will play a key role as a force for good in our society. A responsible business might be seen as one which:
pays its fair share of tax
aims for positive interactions and relationships with its employees, shareholders, customers, and suppliers
is transparent and accountable to its shareholders
is open and communicates what it does for society and the environment
trades fairly with its customers and suppliers
recognises the responsibilities it has to treat its employees fairly, including through levels of pay
protects the natural environment from its impacts and uses resources sustainably
genuinely invests in and becomes part of the communities in which it operates
Our leading businesses put these precepts into practice. Examples include supporting diversity in their organisations and family friendly working practice, offering apprenticeships and work experience, considering the environmental footprint of their goods and services, paying their suppliers promptly, and sourcing from local small firms.
The government is supporting these developments in a range of ways, at home and internationally. It is driving business action to become more inclusive and representative of the UK population, improving the gender balance in business leadership and targeting barriers to participation and progression by black, asian and ethnic minority people.
The government is implementing the Good Work Plan to respond to Matthew Taylor's review of the labour market and modern working practices, to focus on improving the quality of jobs and the wellbeing of workers across our economy.
The Clean Growth Strategy is key to the Industrial Strategy, to grow the UK's national income while cutting greenhouse gas emissions. Internationally, we work with businesses to build sustainable and inclusive supply chains and to tackle modern slavery. We also work with organisations such as the United Nations Global Compact - the world's largest corporate sustainability initiative.
The government recognises the importance of UK businesses acting responsibly and purposefully in their international operations, and is itself playing a leading part. The UK was the first country to launch a national action plan on business and human rights in response to the United Nations' Guiding Principles.
In our globalised economy, the Organisation for Economic Co-operation and Development Multilateral Enterprises Guidelines set out how internationalised businesses ought to behave. The government operates a National Contact Point, which considers complaints, often by civil society organisations, in relation to UK businesses' conduct overseas against this framework and offers a good conduit for conciliation services. The Department for International Trade will facilitate an OECD-sponsored peer review of the effectiveness of the UK's National Contact Point later this year.
The government will build on its conversation with the business community and others as to what it is to be a responsible business in our society, at home and abroad. The government will champion the positive contribution that business can make to society, and the importance of this for long-term business success. The government will continue to build its support for responsible business and will update on its approach in 2019, detailing how it is taking this important agenda forward, contributing to the objectives set out in the Industrial Strategy and in this Strategy.
The government will also establish a responsible business Leadership Group to lead the debate about the role of business in society and to develop actions - for both businesses and the government - to support businesses to fulfil this role. This Leadership Group will comprise senior business leaders, investor leaders, and social sector representatives, and will report to ministers from Department for Business, Energy and Industrial Strategy and the Department for Digital, Culture, Media and Sport. It will be established by the end of 2018.
Supporting Socially and Environmentally Purposeful Businesses
Across the UK, a growing number of businesses are adopting purposeful business models, looking to meet citizens' changing expectations of the social contribution of business. These businesses are moving beyond a focus on 'corporate social responsibility' as a distinct function alongside their corporate activity, and placing positive social and environmental impact at the core of their operations. This trend is not confined to niche businesses, and purposeful business models are increasingly being adopted by mainstream businesses. This reflects growing pressure from shareholders, workers, and consumers.
The government is backing the growing numbers of purpose-led businesses, which commit to social or environmental objectives alongside profit. In 2016, the government commissioned the independent Mission-led Business Review, chaired by Nigel Wilson, CEO of Legal and General Group Plc. The Review highlighted the burgeoning scale of this business movement, and some ways in which it could be encouraged further.
Since the Review, the government has encouraged the growth of purpose-led businesses and worked to make acting purposefully accessible to all businesses. The government encouraged business-led development of Purposely, a tool that enables social entrepreneurs to embed purpose into their business's DNA by using the flexibility of the Companies Act, and the government also established the Inclusive Economy Partnership to harness the power of business as a force for good.
In order to facilitate the continued growth of purposeful businesses, the government will explore further support for the development and expansion of the Purposely tool, which assists businesses to make the most of the flexibility within existing Company Law to embed purpose in their legal documents.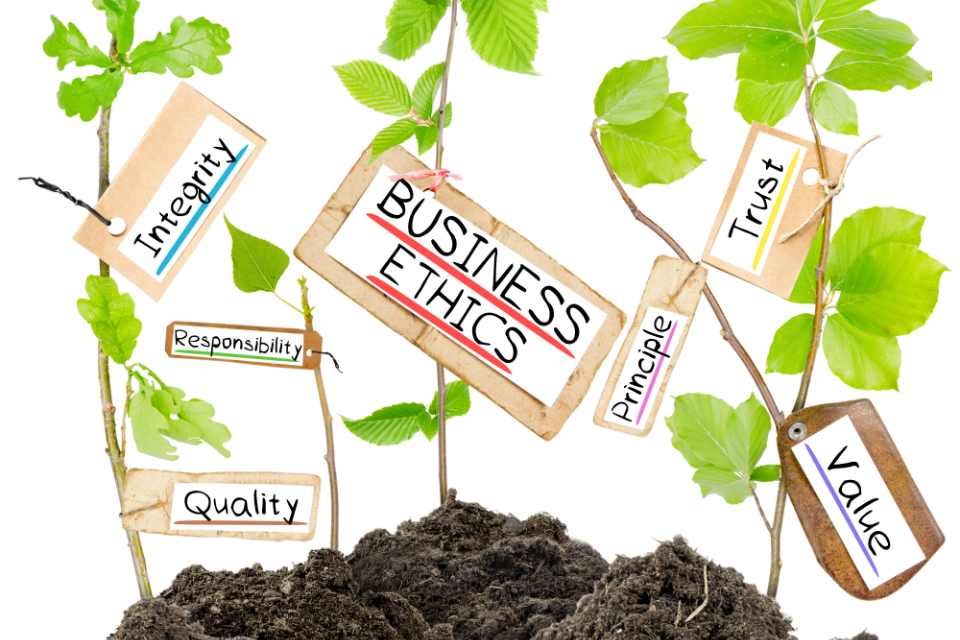 Updating corporate governance
The government sets the frameworks and so influences market conditions for corporate responsibility. Accordingly, we are working to keep our corporate governance framework up to date. The UK's framework supports our global reputation as a dependable place to do business. The Companies (Miscellaneous Reporting) Regulations 2018 have recently passed Parliament and have introduced new Companies Act reporting arrangements on executive pay, corporate governance arrangements and how directors should have regard to their company employee interests, and the need to foster relationships with suppliers, customers and others within the meaning of Section 172 (a)-(f) of the Companies Act 2006.
The Financial Reporting Council recently consulted on proposed changes to the principles of good corporate governance for listed companies, set out in the Corporate Governance Code. The Financial Reporting Council announced on 16 July a revised Code, which places emphasis on businesses building trust by forging strong relationships with key stakeholders. The Code also calls for companies to establish a corporate culture that is aligned with the company purpose and business strategy, promotes integrity, and values diversity.
The government will develop further its work with the business community on guidance on Section 172 to support wider good corporate practice. In this context, the Guidance developed by the Institute of Chartered Secretaries and Administrators Governance Institute in 2017 will be developed in the light of the intended Companies Act legislation, and the GC100 is updating their guidance for general counsels and company secretaries of FTSE 100 companies for later this year. The government welcomes other contributions to support good corporate practice by members of the business community and wider society.
Partnerships with business on social challenges
The government encourages businesses to contribute towards our society and environment through actions and investments. Many businesses already do this in a variety of ways. The government wants more to do so and is supporting this development.
The Grand Challenges set out in the Industrial Strategy (Artificial Intelligence and Data Economy, Clean Growth, the Future of Mobility, and Ageing Society) are set to transform industries and societies around the world. By addressing the Grand Challenges, we will make the UK world-leading in the industries of the future, and competitive in the face of the most significant global economic trends. The Grand Challenges represent a new approach and encourage collaboration between the government, business, academia, and civil society.
The Inclusive Economy Partnership supports greater collaboration between business, civil society organisations, and government departments to solve some of the toughest challenges in society. The Inclusive Economy Partnership harnesses the power of partnership through collaboration, innovation, and a shared determination to make the UK a better place to live and thrive.
The first phase of the Inclusive Economy Partnership brought together over 120 organisations to focus on three flagship challenges: financial inclusion and capability, mental health at work, and transition to work for young people. The programme is backing 18 small social innovators with impactful solutions to these challenges to scale their activity through partnerships with other organisations. It has also initiated a number of 'Big Idea' projects - new initiatives to tackle the challenges - with the backing of business, charities, and other government departments (see 'Case study: the Inclusive Economy Partnership').
Cabinet Office and the Government Inclusive Economy Unit will build on early experience of the Inclusive Economy Partnership, by working with business and civil society leaders to increase the impact on the challenges it is helping to solve through cross-sectoral partnerships. The government will publish an update on next steps for the Inclusive Economy Partnership by the end of 2018.
The government is also working in partnership with business to accelerate progress and help smaller businesses take action against modern slavery, through the government's Business Against Slavery Forum, chaired by the Home Secretary. The UK is the first country in the world to require businesses to report on the steps they have taken to tackle modern slavery. We have seen thousands of transparency statements published and many businesses are now more focused on this issue than ever before. CEOs from a range of multinational organisations work with the government to share experiences and galvanise action on this issue.
Promoting visibility and transparency
Businesses communicate what they do for society and the environment in a range of ways. The government encourages businesses to do this as effectively and visibly as possible. There are wide audiences including shareholders, investors, customers, suppliers, and employees, as well as the communities in which the companies operate.
Reporting is one of the ways in which companies communicate on these issues. In 2016, the government amended the Companies Act to transpose the European Union Directive on Disclosure of Non-financial and Diversity Information. This introduced an additional requirement for the Strategic Reports prepared by large companies to cover their social and environmental impacts, from financial years 2017 onwards. The Department for Business, Energy and Industrial Strategy will lead an evaluation of this reporting on social and environmental impacts.
The Government Inclusive Economy Unit will lead cross-government work to follow up the relevant recommendations from the advisory group on growing a culture of social impact investment in the UK, including further consideration of business transparency on social and environmental contributions, in the UK and internationally.
The government recognises the increasing business interest in the United Nations Sustainable Development Goals (see 'Sustainable Development Goals'), particularly as a means to frame and communicate what they do for society and the environment to wide audiences. The seventeen Sustainable Development Goals set an ambitious challenge for action worldwide, over the period to 2030, to combat the most pressing challenges of our time, including eradicating extreme poverty, ending hunger, protecting the environment and reducing inequalities. The Sustainable Development Goals are now the pre-eminent, comprehensive international framework for sustainable development.
Sustainable Development Goals
In 2015, the UK committed with other United Nations' countries to deliver the Sustainable Development Goals. The Sustainable Development Goals aspire to end poverty, protect the planet and ensure prosperity for all, by achieving 17 goals by 2030. The Sustainable Development Goals apply domestically (as well as internationally) and call upon the private sector (in particular, businesses, and investors) to contribute towards the achievement of the Sustainable Development Goals.
There are 17 Sustainable Development Goals, substantiated by a further 169 targets and indicators. The 17 Sustainable Development Goals comprise:
goal 1 - no poverty: end poverty in all its forms everywhere
goal 2 - zero hunger: end hunger, achieve food security and improved nutrition, and promote sustainable agriculture
goal 3 - good health and wellbeing: ensure healthy lives and promote wellbeing for all ages
goal 4 - quality education: ensure inclusive and equitable quality education, and promote lifelong learning opportunities for all
goal 5 - gender equality: achieve gender equality and empower all women and girls
goal 6 - clean water and sanitation: ensure availability and sustainable management of water sanitation for all
goal 7 - affordable and clean energy: ensure access to affordable, reliable, sustainable and modern energy for all
goal 8 - decent work and economic growth: promote sustained, inclusive and sustainable economic growth, full and productive employment, and decent work for all
goal 9 - industry, innovation and infrastructure: build resilient infrastructure, promote inclusive and sustainable industrialisation, and foster innovation
goal 10 - reduced inequalities: reduce inequality within and among countries.
goal 11 - sustainable cities and communities: make cities and human settlements inclusive, safe, resilient and sustainable
goal 12 - responsible consumption and production: ensure sustainable consumption and production patterns
goal 13 - climate action: take urgent action to combat climate change and its impacts
goal 14 - life below water: conserve and sustainably use the oceans, seas and marine resources for sustainable development
goal 15 - life on land: protect, restore, and promote sustainable use of terrestrial ecosystems, sustainably manage forests, combat desertification, and halt and reverse land degradation and halt biodiversity loss
goal 16 - peace, justice, and strong institutions: promote peaceful and inclusive societies for sustainable development, provide access to justice for all, and build effective, accountable, and inclusive institutions at all levels
goal 17 - partnerships for the Goals: strengthen the means of implementation and revitalise the Global Partnership for Sustainable Development
The government supports the realisation of the Sustainable Development Goals and it welcomes the emerging UK business response. Many of our leading businesses are considering their social and environmental responsibility, both what they do and how they communicate this, in the light of the Sustainable Development Goals. Many businesses are prioritising their efforts within the Sustainable Development Goals, for instance, acting to counter climate change, adopting sustainable resource use, guarding against modern slavery in supply chains, or supporting diversity and fairness in the workplace.
The government is exploring wider UK business engagement with the Sustainable Development Goals. The Department for Business, Energy and Industrial Strategy and the Government Inclusive Economy Unit are exploring how businesses are engaging with the Sustainable Development Goals to see how to respond to this trend. The government is interested to understand how businesses' use of the Sustainable Development Goals to frame their approach to social and environmental responsibility may facilitate comparison, raise standards, and stimulate investment.
The Department for International Development is supporting the World Benchmarking Alliance, which will rank the world's biggest companies on their contribution to achieving the Sustainable Development Goals. The government is also helping businesses which operate abroad to demonstrate the returns possible from investing in work that helps meet the Sustainable Development Goals.
Case study: the Inclusive Economy Partnership - using the power of partnerships to create positive social change
The Inclusive Economy Partnership, set up in September 2017, aims to develop best practice in partnerships between civil society, business, and the government, to tackle challenges affecting disadvantaged communities. The first phase of the partnership is focused on three social challenges: financial inclusion and capability, mental health, and transition to work for young people.
The Inclusive Economy Partnership development phase identified 18 civil society organisations who are working on the challenge areas and who had identified an opportunity to scale up their impact through partnerships. They are currently going through a process, facilitated by Nesta, to find suitable partners.
Inclusive Economy Partnership working groups also generated 'big ideas'. These 'big ideas' are brand new projects tackling these challenges and four are due to be initiated this summer 2018:
Nationwide Building Society are launching a project in collaboration with other Inclusive Economy Partnership members focused on harnessing the Open Banking changes to develop new technology solutions to financial inclusion and capability
the Department for Digital, Culture, Media and Sport is working with Inclusive Economy Partnership members and across government to identify new ways to provide access to affordable credit for those in problem debt
the Department for Work and Pensions is collaborating with Inclusive Economy Partnership members and the Disability Confident network to develop a new set of mental health and wellbeing metrics that organisations can voluntarily report against
Accenture, O2, Movement to Work, UnLtd and Youth Employment UK are teaming up with the West Midlands Combined Authority to work on a project that's focused on enabling young people in the West Midlands who are furthest away from the labour market to build skills and aspiration and create pathways to work they find meaningful
This final project will build links between the Inclusive Economy Partnership and the new youth initiative, which will be established with £90 million of dormant accounts funding (see 'Helping the most disadvantaged young people'.
Over 120 organisations are involved in the Inclusive Economy Partnership. Most of the 18 innovators are now in active partnerships or negotiating formal delivery partnerships as part of the process. At least three brand new collaborative projects are being initiated across each of the three challenge areas.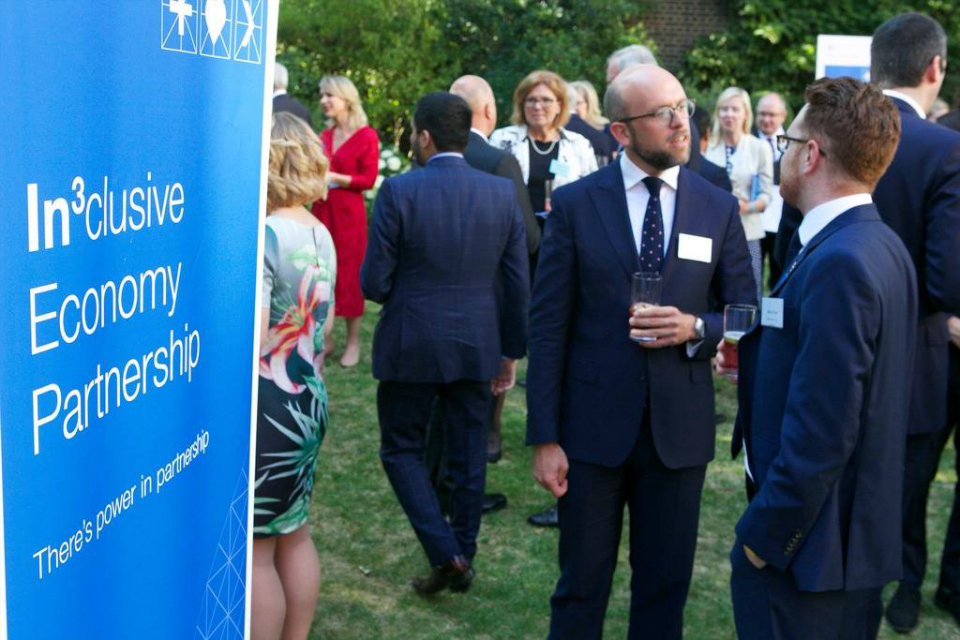 Mission 11: finance for good
Social impact investment
Social impact investing is a means of bringing significant commitments of capital to some of the UK's biggest opportunities for social progress, including in places where traditional investment capital does not flow in sufficient quantity. We should be thinking imaginatively about how to deploy a wide range of our country's resources in order to maximise the opportunities before us. This was strongly urged by participants in our engagement exercise.
The UK has seen significant growth in the social impact investment market and the government has played an important role in building this strong foundation. Big Society Capital was established in 2012 following the government's decision on the use of dormant accounts. Big Society Capital has committed up to £436 million of capital, leveraging over £804 million of co-investment into innovative investment models addressing entrenched social challenges. In the coming years Big Society Capital will focus its strategy on providing homes for people in need, supporting communities to improve lives, and investment in early action to prevent social problems.
Social impact investing is especially suited to providing individuals with opportunities to invest and save in line with their values. People increasingly seek to use their assets – their skills and their money – to create the world they want to live in. Social impact investing creates opportunities for people to embed their values in their saving and investment choices, empowering people to take a greater stake in a stronger, shared society. Pension investments are a particular area of opportunity here, as an example of the need for a wide conception of effective stewardship which ensures strong alignment with investor needs and preferences as well as consideration of wider stakeholders.
In June, the government published its response to the report: 'Growing a culture of social impact investing in the UK', which was produced by a government-appointed advisory group chaired by Elizabeth Corley, vice-chair at Allianz Global Investors.[footnote 65]
The government endorsed the ambition of the report, with ministerial determination 'that social impact investment should become 'business as usual' for individual and institutional investors'. The response set out the government's commitment to support ongoing work by industry, alongside government actions across a number of areas as set out below.
The government's response to the Corley Review
Improving deal flow and the ability to invest at scale:
the government is undertaking work to consider what measures it could take to unlock and boost social impact investment. For instance, the Secretary of State for Housing, Communities and Local Government is considering * how social impact investment might support left-behind parts of the country, and help tackle homelessness and provide housing for vulnerable people
the government will continue to implement the Life Chances Fund and to develop options for the use and growth of Social Impact Bonds
the government has committed to reviewing the Social Investment Tax Relief in 2019
Strengthening competence and confidence within the financial services industry:
the government is committed to partnering with and providing support to the financial services industry to help build social impact capabilities among investment professionals. It will work closely with regulators and statutory bodies to ensure that, as relevant to their respective mandates, social impact is considered in regulatory frameworks and understanding
Developing better reporting of non-financial outcomes:
following the transposition of the EU Directive on Disclosure of Non-financial and Diversity Information, the Department for Business, Energy and Industrial Strategy will lead an evaluation of company reporting on social and environmental issues
the government, as part of its Corporate Governance Reform package, will introduce changes to the Companies Act requirements (Section 172) to improve businesses' reporting on their impacts on employees and other key stakeholders
the government is exploring how businesses are using the Sustainable Development Goals to frame their social and environmental responsibility and communicate this more strongly
the Department for Business, Energy and Industrial Strategy will participate in the United Nations' Intergovernmental ISAR Experts Working Group
the Department for International Development will support the World Benchmarking Alliance to publish league tables ranking company performance against the Sustainable Development Goals
Making it easier for people to invest:
the government has published a consultation on changes to regulation in order to: allow for consideration of broader financial risks and opportunities, including those related to environmental, social and governance issues; strengthen pension schemes' ability to consider member concerns about investments, and; clarify the various ways pension schemes should engage with the firms in which they invest, alongside voting, as an important aspect of stewardship of pension scheme assets
the government departments will consider, at ministerial level, what more can be done to increase consideration of the wider impacts of pension investments – environmental and social, as well as financial. The government will focus on ensuring that current work is capitalised upon, on identifying and, where appropriate, proposing the removal of longer-term behavioural and legislative barriers, and on improving investor consideration and communication of impact issues
for example, the government has the aspiration that defined contribution pension schemes could, if they chose and in line with their fiduciary duty, target a minimum percentage allocation of their default funds towards investments that have an explicit social or environmental purpose, and report on that. The government would also like to see investment decisions give greater consideration to the interests of members, whether those are known, for example through member surveys, or can reasonably be assumed, for example through knowledge of broad public opinion or government ratification of relevant treaties. It will work with industry and regulators to explore these ideas, and others, in order to grow the impact of pensions in the UK
Community shares
Community shares is a sustainable social investment model that gives communities an opportunity to purchase a stake in their local community enterprise. It empowers communities by giving members, as part-owners, a direct say in the success of an enterprise, encouraging them to play an active part in its future.
The government has worked with Co-operatives UK and other partners to successfully increase the use of community shares as a way for community enterprises and businesses to engage their communities, raise finance and secure volunteers to help develop and sustain their business models. Between 2012 and 2017, the sector grew from £3 million of capital being raised by organisations to over £100 million, supporting an array of community projects that deliver important services in neighbourhoods through purchasing of community assets such as pubs and community centres and developing renewable energy schemes.
The government will work with civil society partners, including the Ministry of Housing, Communities and Local Government's Communities Partnership Board (a forum of social sector representatives) to explore ways of raising awareness and enabling use of this model in options to encourage community ownership of assets and within onward devolution approaches.
Financial inclusion
As stated above (see 'Introduction'), the government will direct funds for the establishment of a new Financial Inclusion organisation responsible for deploying £55 million of funding from dormant accounts. It will primarily address the problem of access to affordable credit and alternatives. Over three million customers in the UK currently use high cost credit. They can struggle to access mainstream credit and therefore turn to expensive credit provided by payday lenders, doorstep credit or rent-to-own services. There are social alternatives to high cost credit which promote financial resilience in customers as well as helping to cover short-term expenses. This funding will help the affordable credit sector to grow and support alternatives, through both investments and grants that support existing and new organisations.
The new organisation will aim to bring in co-funding from a range of investors, including the private sector. It will also build partnerships with the other organisations working hard to develop this sector, including the Financial Conduct Authority, the Financial Inclusion Commission, the End High Cost Credit Alliance, and the social sector more widely. The organisation will develop strategic partnerships with housing associations, as potential partners who deal with many customers at risk of financial exclusion. The direction for this funding was reached following an extensive evidence gathering and engagement exercise consisting of focus groups with individuals suffering from financial exclusion, workshops with the sectors responding to these issues as well as mainstream financial institutions, and input from the Inclusive Economy Partnership.
The organisation will also look to support other ways of helping individuals strengthen their financial resilience. It will work with providers of affordable credit to develop approaches to helping customers save money alongside taking out credit. It will also explore ways to help people protect themselves against income shocks, such as through insurance.
Mission 12: the role of technology
Tech for good
The government's Digital and Industries Strategies set out how we will build on our success to date to develop a world-leading digital economy that works for everyone. And as outlined in Chapter 3 (see 'Mission 9: A social sector confident with digital'), digital technology offers unprecedented opportunities to re-think the way in which we approach social challenges.
Digital organisations and workers are engaged in one of the most exciting, positive, and important projects in the world - solving problems by harnessing the potential of the latest and most innovative technologies. However, we should not downplay the risk of losing a public that feels excluded by fear of technology, a lack of confidence and skills, or simply an inability to get online.
In an increasingly digital world, we need to make sure that when confronting complex social and environmental issues, we are considering tech as part of the solution. Technology can make our services better and our products faster. It can create wider benefits for communities across the country. Part of maintaining trust is in demonstrating vividly and repeatedly that when society has a problem, technology can play a positive role in addressing it.
The government cannot drive the digital economy alone, just as organisations cannot solve social problems in isolation. The answer lies in working together to create the conditions for success. That is why the government is eager to explore what more we can do to convene and facilitate partnerships between experts in tech and experts in civil society.
The government has already played an active and pioneering role in supporting the emerging Tech for Good field. Social tech venture accelerators supported by government funding, such as Bethnal Green Ventures, were the first of their kind in the world. Programmes like these have now supported hundreds of social tech start-ups across the UK, be they for profit or not. The UK has a thriving Tech for Good ecosystem and as a result is viewed as a world leader in this area.
The government has also encouraged digital social innovation focused on specific issues. In the 2017 UK Digital Strategy, the government announced the Fintech For All Competition - a Tech Nation competition focused on encouraging the development of digital approaches to support financial inclusion. The competition received over 80 applications from fintech start-ups that serve over 680,000 customers across the UK.
Many Tech for Good organisations interface with the public sector as part of their operating model. We recognise that access to open data and the ability to integrate with public services will be an important part of developing the ecosystem. The government has also launched a £20 million GovTech Catalyst Fund, which will help public sector bodies take advantage of new and emerging technologies. It will provide support to define, develop, and test creative solutions to complex public sector problems. Contributing to the government's four Grand Challenges - on artificial intelligence and data economy, clean growth, the future of mobility, and ageing society - the competition is designed to incentivise Britain's tech firms to come up with innovative solutions to improve public services.
The government will continue to champion technology as a real force for social good. We will explore what more can be done to harness the power of technology to address complex social issues, including but not limited to tackling loneliness, healthy ageing, online safety, and digital inclusion.
Participants in the engagement exercise told us that the right funding and support at the right stage can make a big difference to social tech ventures in early stages. While 2017 was a record year for UK tech investment overall, social tech ventures find it particularly challenging to raise venture capital at later stages, in order to realise their full-scale potential. That is why we want to explore what more we could do to increase access to capital beyond seed stage for social tech ventures.
During the engagement exercise the government also heard that social tech ventures often find it difficult to articulate and define their business models, which can often be a barrier to funding. The government is interested in working with sector partners to explore if more could be done to segment and categorise social tech ventures.
The government is also interested in exploring how we could improve access to markets for social tech ventures. This links with implementation of the Social Value Act. The Knight Foundation, a not-for-profit focused on fostering informed and engaged communities, found that some of the biggest challenges facing civic tech organisations were related to the complexities of government procurement.[footnote 66]: The government will review the extent to which it is procuring social tech solutions as part of its service delivery. As part of this we will also explore the role of corporate partnerships in the Tech for Good ecosystem.
Research shows that more than half of UK citizens are interested in investments that support companies that are both profitable and make positive contributions to society, yet fewer than one in ten have actively engaged with such investments.[footnote 67]: To help enable individuals to better invest in line with their values, the government will look at how it can support the development of fintech applications that provide investors with direct sight of the social and environmental impact of their investments.
Ministerial statement: health and civil society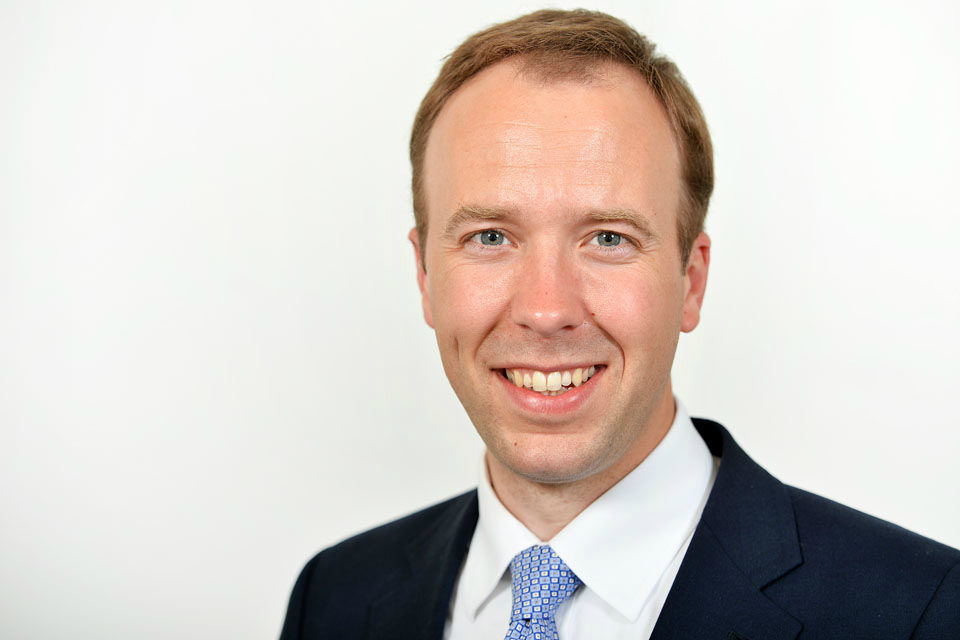 The Rt Hon Matt Hancock MP, Secretary of State for Health and Social Care says:
The NHS and our social care system simply could not operate without volunteers and civil society. There are 78,000 volunteers in NHS acute trusts alone, and many more people give their time in mental health, general practice, ambulance services and other health and care settings.

Civil society has a central role in our vision for healthy communities. We know that social networks are far more effective at conveying public health messages than expensive advertising campaigns. And often, the projects and services run by charities and social enterprises can be a better treatment than medicine. As part of a wider drive to personalise the NHS, social prescribing by which GPs refer people to workers who support them to participate in social projects, like a choir or gardening club - is one of the most promising developments in the modern NHS.

When it comes to coping with illness or injury and recovering after a period of poor health, civil society is a vital partner of the health and care system. From Macmillan Cancer Support to Help for Heroes, major national charities deliver vital resources and expertise to people in need of professional clinical and rehabilitative support. And at a local level, the network of social sector care homes, hospices and patient care groups deliver an extraordinary range of services, powered by experience and compassion.

The Department of Health and Social Care is committed to working closely with civil society. The reforms proposed in this Strategy - particularly around volunteering, around local investment and empowerment, and around commissioning - will help deliver a healthier nation.