Guidance
Civil Service Leadership Statement
Updated 25 August 2016
© Crown copyright 2016
This publication is licensed under the terms of the Open Government Licence v3.0 except where otherwise stated. To view this licence, visit nationalarchives.gov.uk/doc/open-government-licence/version/3 or write to the Information Policy Team, The National Archives, Kew, London TW9 4DU, or email: psi@nationalarchives.gsi.gov.uk.
Where we have identified any third party copyright information you will need to obtain permission from the copyright holders concerned.
This publication is available at https://www.gov.uk/government/publications/civil-service-leadership-statement/civil-service-leadership-statement
What is the Leadership Statement?
The 2014 Civil Service Reform Progress Report and Talent Action Plan committed us to developing a Leadership Statement that explicitly sets out the behaviour that is expected from all leaders across the Civil Service. It was envisaged that such a statement would articulate the difference that people wanted to see, providing the first step towards further cultural change.
We consulted civil servants across the country and produced a clear statement that reflects their comments about the positive attributes they want to see in their leaders and in their own approach to leadership.
Leadership: What it means to us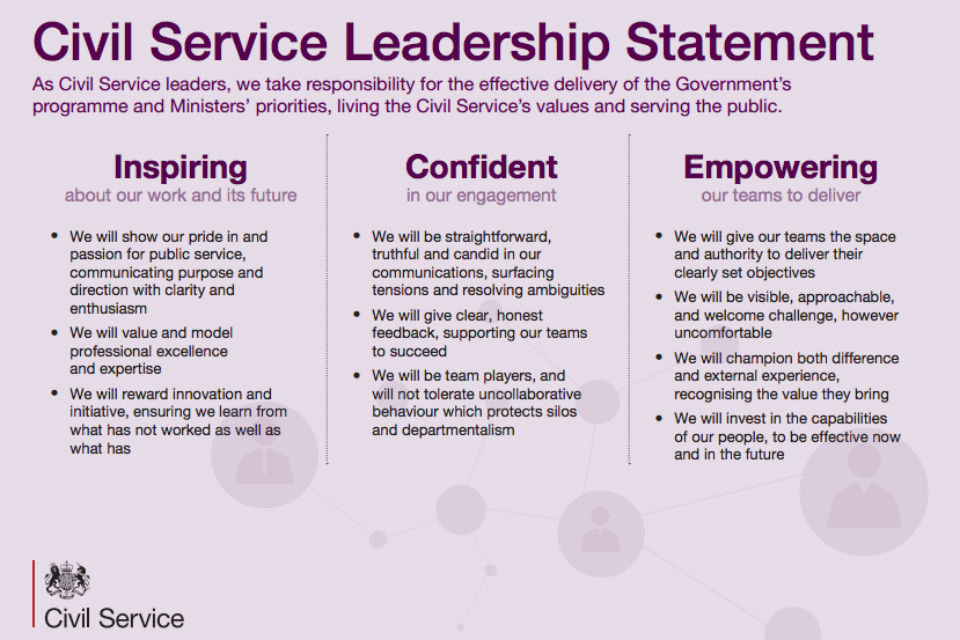 This statement of intent takes as its starting point the responsibility of the Civil Service for the effective delivery of the government's programme and ministers' priorities, living its values and serving the public. It highlights the 3 key characteristics that civil servants have indicated they expect from their leaders, and that we expect Civil Service leaders to live up to. They are:
Inspiring – about our work and its future
We will show our pride in and passion for public service, communicating purpose and direction with clarity and enthusiasm
We will value and model professional excellence and expertise
We will reward innovation and initiative, ensuring we learn from what has not worked as well as what has
Confident – in our engagement
We will be straightforward, truthful and candid in our communications, surfacing tensions and resolving ambiguities
We will give clear, honest feedback, supporting our teams to succeed
We will be team players, and will not tolerate uncollaborative behaviour which protects silos and departmentalism
Empowering – our teams to deliver
We will give our teams the space and authority to deliver their clearly set objectives
We will be visible, approachable, and welcome challenge, however uncomfortable
We will champion both difference and external experience, recognising the value they bring
We will invest in the capabilities of our people, to be effective now and in the future
What the Leadership Statement means for civil servants
Whilst the publication of the statement represents an important milestone, what is more crucial is what is done with it to ensure it has the desired impact. In response to comments from the consultation exercise, a range of initiatives are being pursued to help civil servants develop into the leaders needed now and for the future.
What the Leadership Statement means for you and your team
Examples of good leadership
You told us that hearing from inspirational and recognised leaders was really useful to be able to learn and develop your own leadership capabilities. So, we have commissioned a range of successful leaders to share their experiences.
Improve your leadership behaviours
Further help and information
Contact the Collective Leadership Team
Civil Service Group
1 Horseguards Road,
London,
SW1A 2HQ

Email: csleadership@cabinetoffice.gov.uk