Guidance
Introduction and recommended process for the Benchmarking Framework for library services (Version 1: September 2017)
Published 15 September 2017
© Crown copyright 2017
This publication is licensed under the terms of the Open Government Licence v3.0 except where otherwise stated. To view this licence, visit nationalarchives.gov.uk/doc/open-government-licence/version/3 or write to the Information Policy Team, The National Archives, Kew, London TW9 4DU, or email: psi@nationalarchives.gsi.gov.uk.
Where we have identified any third party copyright information you will need to obtain permission from the copyright holders concerned.
This publication is available at https://www.gov.uk/government/publications/benchmarking-framework-for-library-services/introduction-and-recommended-process-for-the-benchmarking-framework-for-library-services-version-1-september-2017
1.

Introduction
1.1

Sector-led improvement…an opportunity for library services!

Sector-led improvement is an increasingly important approach for public sector bodies. It requires leaders of public services and their teams to improve the way their organisations operate - not be driven by external pressures or requirements, or by an impending inspection or assessment, but because they are committed to continual improvement

It also means sectors producing their own improvement tools, which meet their specific needs, and organisations within each sector supporting each other to improve.
1.2

What is the Benchmarking Framework for library services?

This Benchmarking Framework reflects best practice in sector-led continual improvement. It's been designed by the sector to support library services to develop their organisational capability to achieve enhanced and sustainable positive outcomes for the communities they serve. The Framework is not a product, an award or a badge; it is a journey of improvement across all aspects of the library service and its work (underpinned by self-assessment).

The Framework pulls together recognised principles of excellent library organisations. It aims to provide a sound basis for cyclical self-assessment and improvement, as an integral part of the service planning process, bringing together a single approach to continual improvement rather than the plethora of separate schemes currently in use.

Library services could use it to support:
peer-led challenge and peer review
good practice benchmarking
partnership agreements
learning and development programmes
It could also be used in the future as the starting point for an external accreditation or certification scheme if there is a demand from the sector.
This is an improvement tool, not a compliance tool; no library service is expected to achieve all elements of the framework and no one ever will. Teams can choose which areas for improvement they want to work on, based on their specific circumstances.
Undertaking this work requires time, commitment and honesty. Using the framework is an investment which should help organisations improve, whilst demonstrating to partners, funders and onlookers that the organisation is serious about improvement. Not as a one-off but as a way of working.
1.3

Who is it designed for?

The Framework is designed to be used by any type of library service. It is likely to be most effective when applied to a whole service, rather than individual libraries. However community managed libraries should also find the framework useful, especially if they conduct self-assessment and improvement planning in collaboration with the council's library service.

You will need to work with teams responsible for areas such as developing overall council strategy, or managing public buildings to undertake the full the self-assessment. This in itself can create a valuable opportunity to enhance collaborative working. However where this is problematic you can focus your self-assessment initially on areas of work that you directly manage (for example service design, or innovation and delivery).
2.

Structure and content

The Framework is based on the 7 'design principles' contained within Libraries Deliver: Ambition for Public Libraries in England 2016 to 2021 alongside generic principles of organisational excellence for public cultural services, reflecting the Local Government Association's Culture and Sport Improvement Toolkit (CSIT). It also incorporates the 7 strategic Outcomes set out within Libraries Deliver: Ambition and the Society of Chief Librarians' Universal Offers.

The Framework consists of 2 sections:
the results of the library service (such as outcomes achieved)
how an excellent library service organisation should operate in order to achieve enhanced outcomes for local people (based on the 7 design principles)
Self-assessing using the criteria in these 2 sections should provide library services with a comprehensive view of their progress and generate targeted improvement activity.
2.1

Section 1: results achieved

The section seeks to stimulates thinking on what the library service has achieved in relation to:
strategic outcomes
user satisfaction
workforce satisfaction, development and resilience
value for money
This enables library services to assess the impact of leadership and organisational approaches.
2.2

Section 2: characteristics of an excellent library service

This looks at how the library service has operated to achieve its stated outcomes, looking at a number of characteristics. These are:
Characteristic 1: leadership
Characteristic 2: management system and governance
Characteristic 3: evidence-based decision making
Characteristic 4: community consultation and engagement
Characteristic 5: outcomes-focused strategy and planning
Characteristic 6: collaboration and enterprise
Characteristic 7: people management and development
Characteristic 8: managing financial and physical assets
Characteristic 9: service design, innovation and delivery
Characteristic 10: review, improvement and learning
Each of these has been defined based on established principles. They have also been structured in line with features of excellent organisations. This should help those carrying out the assessment to incorporate national initiatives and priorities into the framework.
Continual improvement across all these characteristics should result in:
increased capability to achieve better, more sustainable outcomes for communities served by the library service
enhanced user satisfaction
increased workforce satisfaction, development and resilience
greater value for money
This is shown in the diagram below: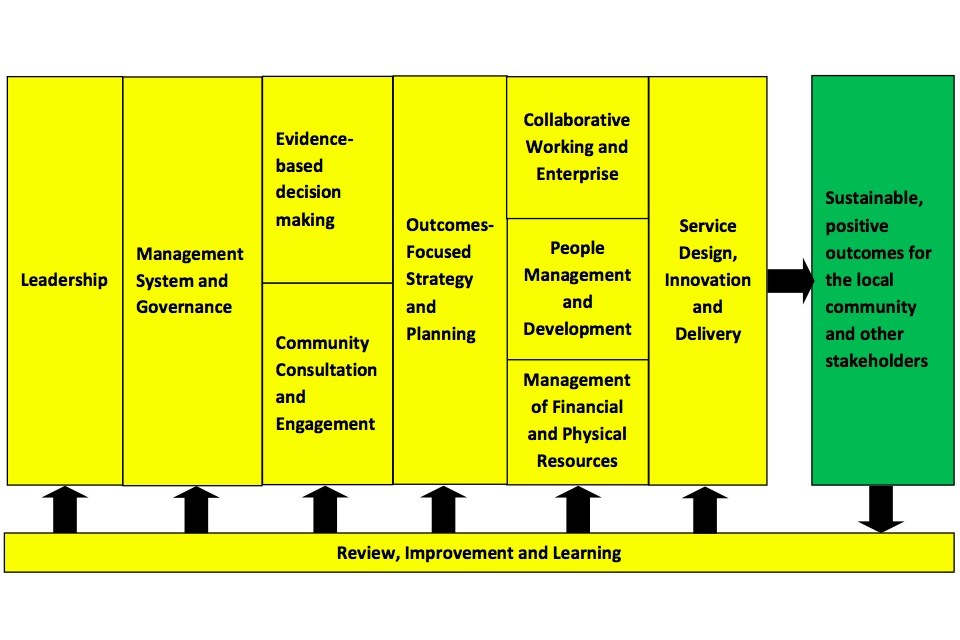 This Framework provides
links to guidance to help you understand the criteria and pursue improvement
pointers to sources of data which will help your team to conduct accurate and incisive self-assessment
Vision setting, self-assessment and improvement planning guidance and tools to help your organisation make good use of the framework
3.

Recommended process

To begin the process, you need a leader who is passionate about continual improvement and achieving positive outcomes for the community through the library service.

If this is you, lead your team through the following process:

Step 1. Produce your organisational model so everyone is clear about:
the desired outcomes
the services provided
the scope of the organisation, partners and leaders (see the downloadable organisational model template)
Step 2. Consult on and agree this with your senior leadership team. This will help scope the self-assessment and improvement activity.
Step 3. Engage other leaders (as identified in your organisational model) in this process and explain the reasons why their input is beneficial for the library service, the community and other stakeholders.
Step 4. Establish a self-assessment team. This should include:
leaders
partners
staff representatives (including volunteers)
a facilitator
a critical friend (for example, a peer from another library service)
Remind the team about the aim of the exercise, to:
enhance your capability to survive and thrive
make a tangible difference to people in the community you serve
Step 5. Plan a programme for the self-assessment and improvement planning work (this could be carried out through normal management team meetings or performance reviews). Decide whether to use the full self-assessment approach and template, or the alternative template.
Step 6. Collect, collate and review available data about the results achieved by the library service - such as outcomes, user satisfaction, workforce satisfaction and value for money. Identify current strengths and areas for improvement (this is not a reporting exercise).
Step 7. Conduct a vision setting session with the self-assessment team, to create a clear and compelling future for the organisation
Step 8. Use the data you've collected and the Framework to self-assess and reach consensus on the organisation's strengths and areas for improvement. Remember that you do not have to work on all areas for improvement.
Step 9. Undertake improvement planning sessions. Think creatively to agree and plan what you will take forward, and generate support to do this.
Step 10. Document and communicate the improvement actions as an integral part of your service plan.
Step 11. Implement the improvement actions, monitoring and reviewing progress until the change has been embedded into people's normal working practices.
Each year, return to step one and continue.