Alcohol: applying All Our Health
Updated 28 August 2019
© Crown copyright 2019
This publication is licensed under the terms of the Open Government Licence v3.0 except where otherwise stated. To view this licence, visit nationalarchives.gov.uk/doc/open-government-licence/version/3 or write to the Information Policy Team, The National Archives, Kew, London TW9 4DU, or email: psi@nationalarchives.gsi.gov.uk.
Where we have identified any third party copyright information you will need to obtain permission from the copyright holders concerned.
This publication is available at https://www.gov.uk/government/publications/alcohol-applying-all-our-health/alcohol-applying-all-our-health
This 'All Our Health' alcohol information has been created to help all health professionals:
understand specific activities and interventions that can prevent alcohol harm
think about the resources and services available in your area, that can help increasing or higher risk drinkers
Access the alcohol e-learning session
An interactive e-learning version of this topic is now available to use. PHE and Health Education England's 'e-Learning for Healthcare' have developed this content to increase the confidence and skills of health and care professionals, to embed prevention in their day-to-day practice.
Working to reduce alcohol harm in your professional practice
Since the early 1980s, alcohol sales and the amount that people drink has steadily increased, until peaking in 2008 and declining slightly since.
Some of this decline is due to more adults choosing to be teetotal, as well as fewer under 18's drinking alcohol.
However, drinking behaviour is different for different groups. It's the people who already tend to drink less that are cutting back, while those who are at high risk of health conditions, because they drink heavily, are drinking more now than they did before.
In England, over 10 million people consume alcohol at levels above the UK CMOs' low-risk drinking guidelines and increase their risk of alcohol-related ill health.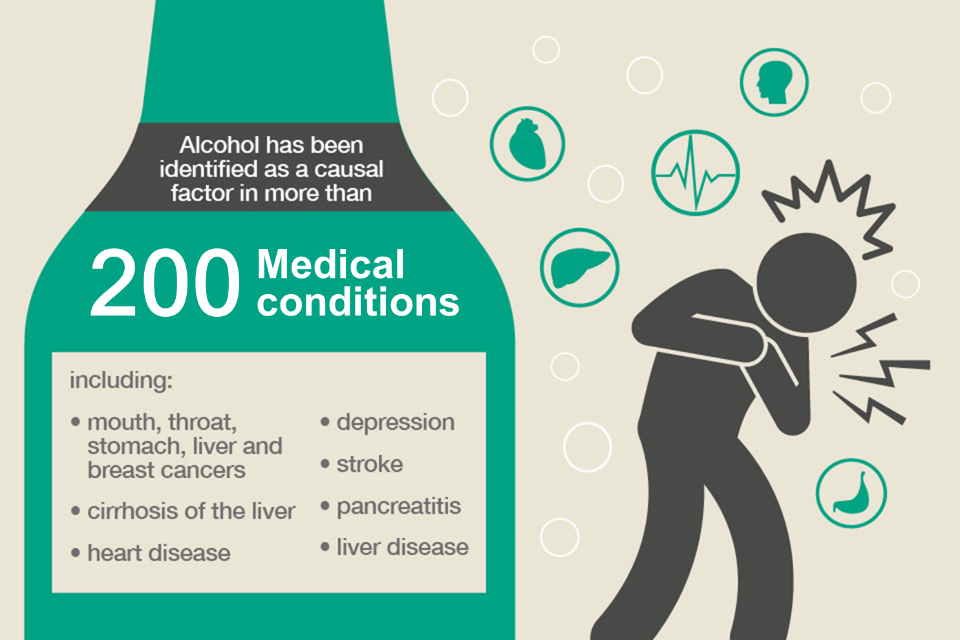 Alcohol misuse contributes (wholly or partially) to 200 health conditions, with many leading to hospital admission. This is due either to acute alcohol intoxication or to the toxic effect of alcohol misuse over time.
These conditions include some cancers, cardiovascular conditions, depression and liver disease. In 2017 to 2018, there were over 1.1 million admissions related to alcohol, of which alcohol was the main reason for admission for about 338,000 cases.
Taking action as a front-line health and care professional
You can access free alcohol identification and brief advice e-learning to become confident in identifying those at risk from alcohol and delivering brief advice to change behaviour.
You should ask patients about alcohol and provide simple, brief advice and support to help them minimise harmful alcohol consumption.
Identifying risk usually means asking a set of questions from a validated alcohol use screening tests and scoring the answers (or giving patients an AUDIT-C scratch card to self-complete) then feeding back to the patient what their score indicates about their health risk.
You should also:
encourage patients to think about their health risk (and cut back if indicated) and provide a patient information leaflet for calculating alcohol units
direct patients who are drinking above low risk to trusted sources of information such as the NHS website and One You or apps such as 'Days Off'
make yourself aware of local specialist services via your local authority public health team, or use this alcohol addiction services search facility
check that patients with alcohol problems are registered with a GP and receiving primary health care, vaccinations and screening programmes
ask who is leading delivery of the screening and brief advice for alcohol and tobacco use in inpatient settings CQUIN in your trust, know what's involved and become a champion
If your patients show signs of alcohol dependence, refer them to specialist services.
Read our blog about brief advice, motivational interviewing and health coaching to help you have non-judgemental conversations that are tailored to individual patients.
Read our blog about the type of local services that may be available, and how to find them.
Taking action as a team leader or manager
Ensure the teams you manage are aware of alcohol services and interventions in your local area.
Promote a team culture where all staff know that they should talk to their patients about healthy lifestyles - 'Making Every Contact Count' initiatives should include alcohol screening and advice.
Taking action as a senior or strategic leader
Consider whether your local alcohol partnership would benefit from undertaking an evidence-based self-assessment of systems and services.
Ensure that the screening and brief advice for alcohol and tobacco use in inpatient settings CQUIN is included in the NHS Standard Contract.
Facilitate the successful delivery of the screening and brief advice for alcohol and tobacco use in inpatient settings CQUIN by ensuring that there is strong leadership at all levels of the trust, and that staff members feel supported to deliver identification and brief advice as part of usual care.
Ensure there is a system in place to record the interventions in patient notes and report to the board on performance.
Be aware of the structures and interventions which are likely to exist at a local population level, which include alcohol as a part of Health and Wellbeing Boards' Joint Strategic Needs Assessment (JSNA) and that there are commissioned services to address the needs of the population.
Ensure commissioned alcohol services adhere to clinical and public health standards (see NICE Alcohol-use disorders: diagnosis and management quality standard QS11).
Ensure health concerns are represented in local [alcohol licensing]((https://www.gov.uk/government/collections/alcohol-licensing-and-public-health) process and decisions.
Ensure data is shared between health, social care and community safety organisations to target prevention activity and coordinate care.
Understanding local needs
The primary measures of the impact of alcohol harm on a population are Public Health Outcomes Framework indicators 2.18 (alcohol-related admissions to hospital) and 2.5iii (successful completion of alcohol treatment).
The harm caused by alcohol misuse is so far-reaching; it also impacts significantly on a range of other outcomes for individuals and communities.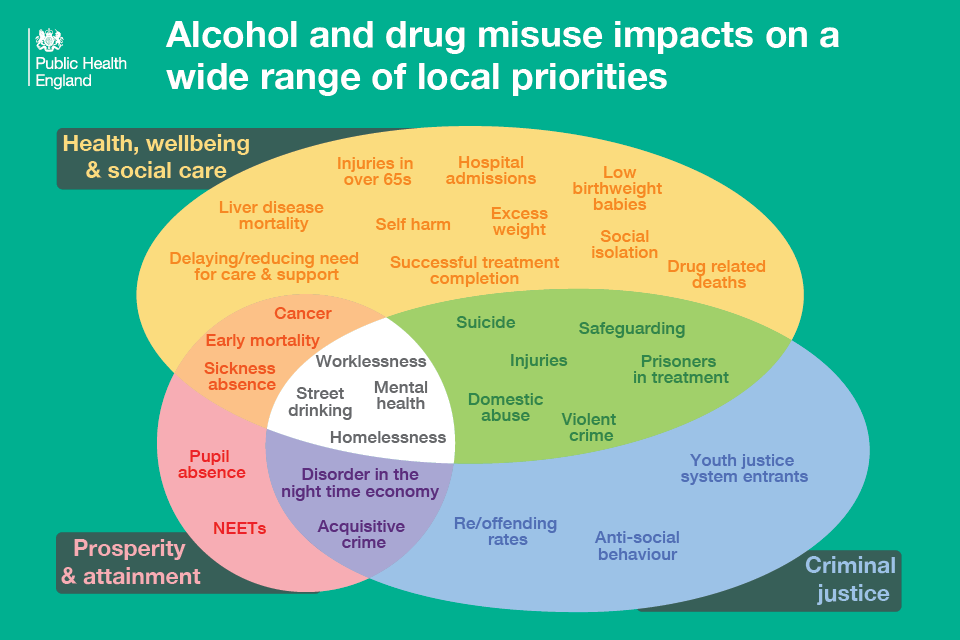 PHE's Fingertips combines a series of products that provide local data alongside national comparisons to support local health improvement including local alcohol profiles for England (LAPE) which provide information for local government, health organisations, commissioners and other agencies to monitor the impact of alcohol on local communities, and to monitor the services and initiatives that have been put in place to prevent and reduce the harmful impact of alcohol.
The public health dashboard makes data about many aspects of alcohol use accessible to everyone. It sets out our best current local prevalence estimates alongside the key performance measures for treatment services, including recovery outcomes.
Alcohol profiles: indicators
Mortality indicators include:
years of life lost due to alcohol (1.02)
alcohol-specific mortality (2.01)
mortality from chronic liver disease (3.01)
alcohol-related mortality (4.01)
Hospital admissions indicators include:
admission episodes for alcohol-specific conditions (6.02)
admission episodes for alcohol-related conditions (Broad) (9.01)
admission episodes for alcohol-related conditions (Narrow) (10.01)
Age groups indicators include:
admission episodes for alcohol-specific conditions – under 18s (5.02)
admission episodes for alcohol-related conditions (Narrow) - under 40s (10.06)
admission episodes for alcohol-related conditions (Narrow) - 40 to 64 years (10.07)
admission episodes for alcohol-related conditions (Narrow) - over 65s (10.08)
Alcohol-related conditions indicators include:
admission episodes for alcohol-related cardiovascular disease (Broad) (9.03)
admission episodes for mental and behavioural disorders due to use of alcohol (Broad) (9.04)
admission episodes for alcoholic liver disease (Broad) (9.05)
admission episodes for alcohol-related unintentional injuries condition (Narrow) (10.03)
admission episodes for mental and behavioural disorders due to use of alcohol (Narrow) (10.04)
admission episodes for intentional self-poisoning by and exposure to alcohol (Narrow) (10.05)
incidence rate of alcohol-related cancer (13.01)
Other impact indicators include:
claimants of incapacity benefits - working age (11.01)
alcohol-related road traffic accidents (12.01)
Treatment indicators include:
number in treatment at specialist alcohol misuse services (14.01)
successful completion of treatment for alcohol (15.01)
proportion waiting more than 3 weeks for alcohol treatment (16.01)
Consumption and availability indicators include:
volume of pure alcohol through the off-trade: all alcohol sales (17.01)
percentage of adults who abstain from drinking alcohol (19.01)
percentage of adults binge drinking on heaviest drinking day (19.02)
percentage of adults drinking over 14 units of alcohol a week (19.03)
Measuring impact
As a health professional, there are a range of reasons why it makes sense to measure your impact and demonstrate the value of your contribution. This could be about sharing what has worked well in order to benefit your colleagues and local people or help you with your professional development.
The Everyday Interactions measuring impact toolkit provides a quick, straightforward and easy way for healthcare professionals to record and measure their public health impact in a uniform and comparable way.
The alcohol impact pathway is recommended for healthcare professionals to record and measure actions undertaken as part of routine care which impact on adult obesity.
Guidance and resources
NICE PH24 provides guidance for health and social care professionals on preventing alcohol use disorders.
A recent Cochrane review presents the evidence for alcohol brief interventions in primary care settings.
Advice for patients and the public
NHS.UK provides information about alcohol for the public.
Professional resources and tools
PHE produce a range of alcohol and drug misuse prevention and treatment resources. These include tools to support the commissioning of alcohol services, support around social return on investment, the case for investing in alcohol interventions, and the impact of commissioning decisions on outcomes.
The adult alcohol and drug treatment commissioning tool supports areas in estimating local spend on treatment interventions and cost-effectiveness. The Tool also includes prevalence data for alcohol and opiate users, estimates of met need and a future scenario planning function.
NICE alcohol-use disorders pathways set out a structured approach to identify alcohol-related harm through the use of risk factors, screening tools and effective interventions.
Good practice examples
Case studies are available from a mental health provider and an acute provider.