Guidance
Alcohol: applying All Our Health
Updated 7 February 2018
© Crown copyright 2018
This publication is licensed under the terms of the Open Government Licence v3.0 except where otherwise stated. To view this licence, visit nationalarchives.gov.uk/doc/open-government-licence/version/3 or write to the Information Policy Team, The National Archives, Kew, London TW9 4DU, or email: psi@nationalarchives.gsi.gov.uk.
Where we have identified any third party copyright information you will need to obtain permission from the copyright holders concerned.
This publication is available at https://www.gov.uk/government/publications/alcohol-applying-all-our-health/alcohol-applying-all-our-health
Introduction
Alcohol-related harm is a major health problem. Reducing alcohol-related harm is one of the key indicators in health improvement.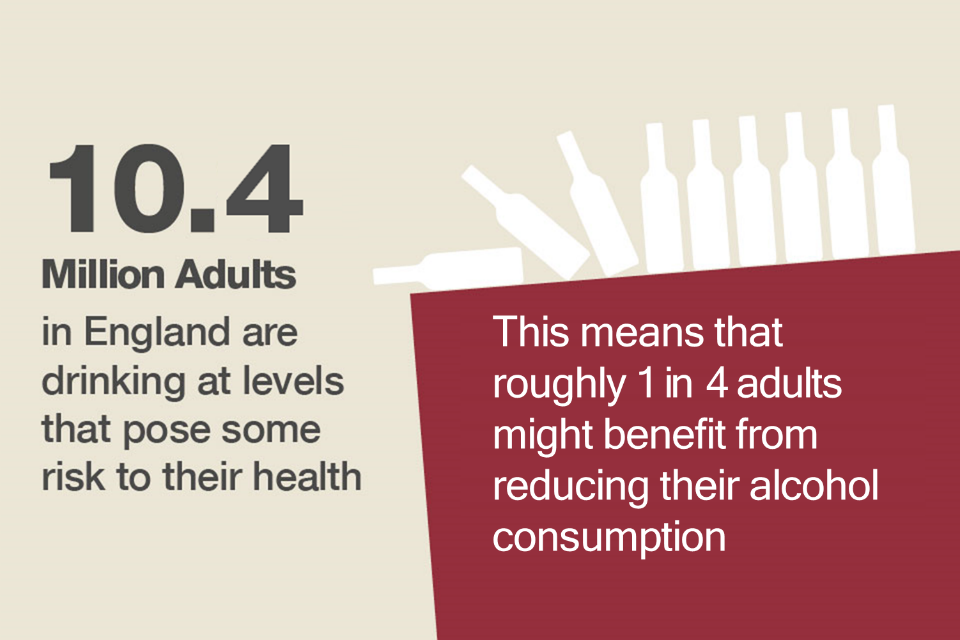 Facts about alcohol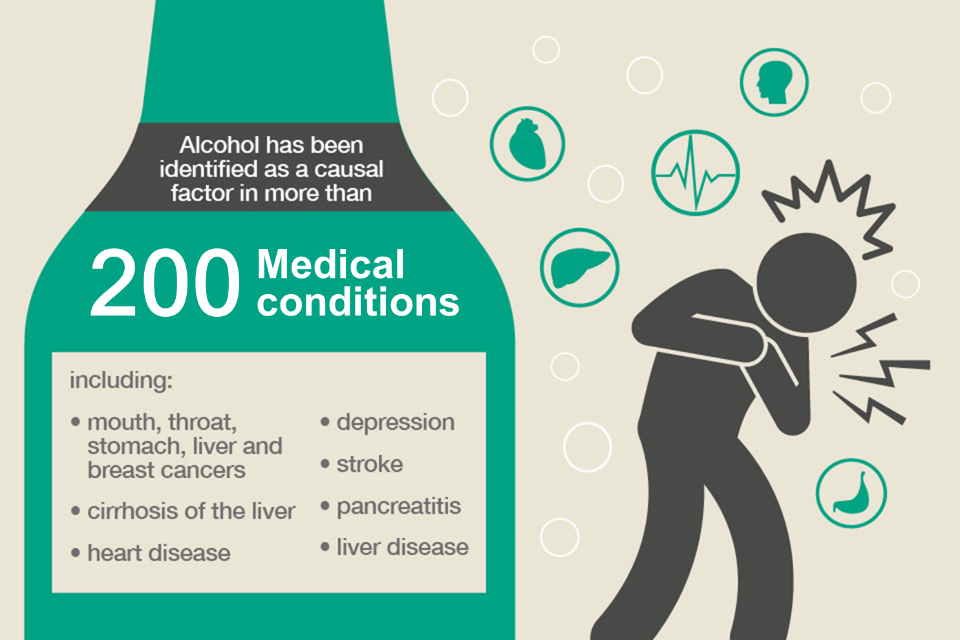 Some 27% of men and 13% of women in England drink alcohol in a way that presents increasing risk to their health and wellbeing, an estimated 10.4 million people. This was most common among men and women aged 55 to 64. In addition, 4% of men drank over 50 units and 3% of women drank over 35 units in the last week, significantly raising the risk of harm.
It is estimated that 1.4% of the adult population in England (595,000) is dependent on alcohol and potentially in need of specialist assessment and treatment.
The Global Burden of Disease Study 2016 revealed that, in England, alcohol misuse is the biggest risk factor for early death for those aged 15 to 49 years. For all ages it is the sixth most important.
More working years are lost due to alcohol than the 10 most frequent cancer types combined. In 2015 there were an estimated 167,000 working years lost due to alcohol, 16% of all working years lost in England.
NHS Digital reports there are over 1 million alcohol-related hospital admissions every year, of which include 339,000 were where an alcohol-related condition was the primary reason for admission.
Core principles for healthcare professionals
Healthcare professionals should:
know the needs of individuals, communities and population and the services available
think about the resources available in health and wellbeing systems
be aware that different degrees of alcohol misuse will require different levels of intervention and understand specific activities that can prevent, protect, and promote
Interventions
Local population level
Healthcare professionals (which include directors of public health and commissioners) should be aware of the structures and interventions which are likely to exist at a local population level, which includes:
alcohol as a part of Health and Wellbeing Boards' Joint Strategic Needs Assessment (JSNA) and that there are commissioned services to address the needs of the population
commissioned alcohol services adhere to clinical and public health standards (see NICE quality standards)
public health and other health concerns are represented in local alcohol licensing process and decisions
alcohol treatment and other health providers collect data on patients who are experiencing alcohol problems
data is shared between health, social care and community safety organisations to target prevention activity and co-ordinate care
Community level
Community health professionals (including, commissioners) and providers of specialist services can have an impact by:
developing targeted social marketing and public health campaigns to encourage lower-risk drinking in the population
ensuring local 'Making Every Contact Count' initiatives include alcohol screening and structured advice
ensure local health trainers screen for alcohol misuse and support peers to reduce drinking to lower-risk levels
getting to know the local alcohol support and treatment services and how to make referrals to them, using the national listing on NHS Choices
running health clinics in alcohol treatment services
commissioning hospital based alcohol services to provide co-ordinated hospital care, discharge planning and community care to promote treatment compliance and reduce the need for re-admission
identifying regular and high users of NHS services for better co-ordinated care and assertive community treatment
commissioning community-based, alcohol outreach workers, to work with regular attendees and vulnerable groups such as street-drinkers
Family and individual level
Healthcare professionals can have an impact on an individual level by:
providing alcohol screening (using validated tools) and structured, brief advice to individuals drinking above low risk levels. There are informed by training resources and e-learning courses available
ensuring that alcohol screening and brief advice is delivered effectively in line with NHS Health Check guidance and for patients registering with GPs in line with GMS contract requirements and guidance for general medical services (PDF, 1.2MB, 101 pages)
directing individuals drinking above low risk levels to appropriate support material available on alcohol learning resources including One You Drinks Tracker and identification and brief advice tool
providing extended interventions to those who do not respond to brief intervention
referring those with potential alcohol dependence to specialist alcohol treatment service and supporting individuals to attend appointments and engage in treatment
checking that patients with alcohol problems are registered with a GP and receiving primary health care, vaccinations and screening programmes
providing holistic health assessments for people undergoing alcohol treatment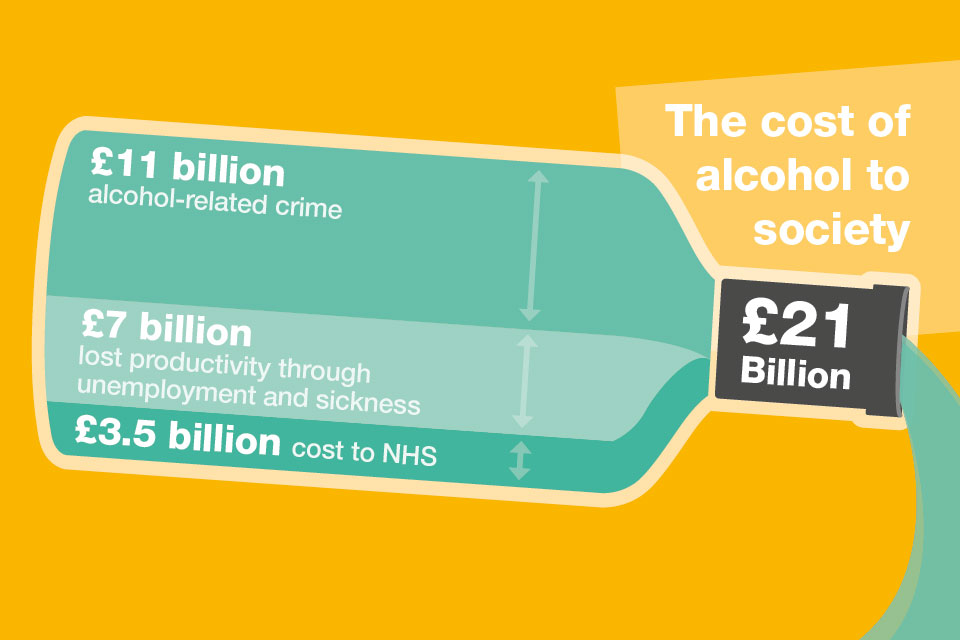 Measuring outcomes
The primary measures of the impact of alcohol harm on a population are Public Health Outcomes Framework indicators 2.5iii (successful completion of alcohol treatment) and 2.18 (alcohol-related admissions to hospital). The harm caused by alcohol misuse is so far-reaching, it also impacts significantly on another 22 indicators in the framework.
Improving the wider determinants of health indicators include:
first-time entrants to the youth justice system (1.4)
16 to 18 year olds not in education, employment or training (1.5)
sickness absence rate (1.9)
killed or serious injured casualties on England's roads (1.10)
domestic abuse (1.11)
violent crime (including sexual violence) (1.12)
statutory homelessness (1.15)
Health improvement indicators include:
low birth weight of term babies (2.1)
emotional wellbeing of looked-after children (2.08)
hospital admissions as a result of self-harm (2.10)
excess weight in adults (2.12)
people entering prison with substance dependence issues who are previously not known to community treatment (2.16)
take-up of the NHS Health Check programme by those (2.22)
falls and injuries in the over 65s (2.24)
Healthcare public health and preventing premature death indicators include:
infant mortality (4.1)
mortality from causes considered preventable (4.3)
mortality from all cardiovascular diseases (including heart disease and stroke) (4.4)
mortality from cancer (4.5)
mortality from liver disease (4.6)
suicide (4.10)
emergency readmissions within 30 days of discharge from hospital (4.11)
hip fractures in over 65s (4.14)
PHE's Fingertips combines a series of products that provide local data alongside national comparisons to support local health improvement including local alcohol profiles for England (LAPE) which provide information for local government, health organisations, commissioners and other agencies to monitor the impact of alcohol on local communities, and to monitor the services and initiatives that have been put in place to prevent and reduce the harmful impact of alcohol.
Alcohol profiles indicators
Mortality indicators include:
years of life lost due to alcohol (1.01)
alcohol-specific mortality (2.01)
mortality from chronic liver disease (3.01)
alcohol-related mortality (4.01)
Hospital admissions indicators include:
admission episodes for alcohol-specific conditions (6.02)
admission episodes for alcohol-related conditions (Broad) (9.01)
admission episodes for alcohol-related conditions (Narrow) (10.01)
Age groups indicators include:
admission episodes for alcohol-specific conditions (5.02)
admission episodes for alcohol-related conditions (Narrow) - under 40s (10.06)
admission episodes for alcohol-related conditions (Narrow) - 40 to 64 years (10.07)
admission episodes for alcohol-related conditions (Narrow) - over 65s (10.08)
Alcohol-related conditions indicators include:
admission episodes for alcohol-related cardiovascular disease conditions (Broad) (9.03)
admission episodes for mental and behavioural disorders due to use of alcohol condition (Broad) (9.04)
admission episodes for alcoholic liver disease condition (Broad) (9.05)
admission episodes for alcohol-related unintentional injuries condition (Narrow) (10.03)
admission episodes for mental and behavioural disorders due to use of alcohol condition (Narrow) (10.04)
admission episodes for intentional self-poisoning by and exposure to alcohol condition (Narrow) (10.05)
incidence rate of alcohol-related cancer (13.01)
Other impact indicators include:
claimants of incapacity benefits - working age (11.01)
alcohol related road traffic accidents (12.01)
Treatment indicators include:
number in treatment at specialist alcohol misuse services (14.01)
successful completion of treatment for alcohol (15.01)
proportion waiting more than 3 weeks for alcohol treatment (16.01)
Consumption and availability indicators include:
volume of pure alcohol through the off-trade: all alcohol sales (17.01)
percentage of adults who abstain from drinking alcohol (19.01)
percentage of adults binge drinking on heaviest drinking day (19.02)
percentage of adults drinking over 14 units of alcohol a week (19.03)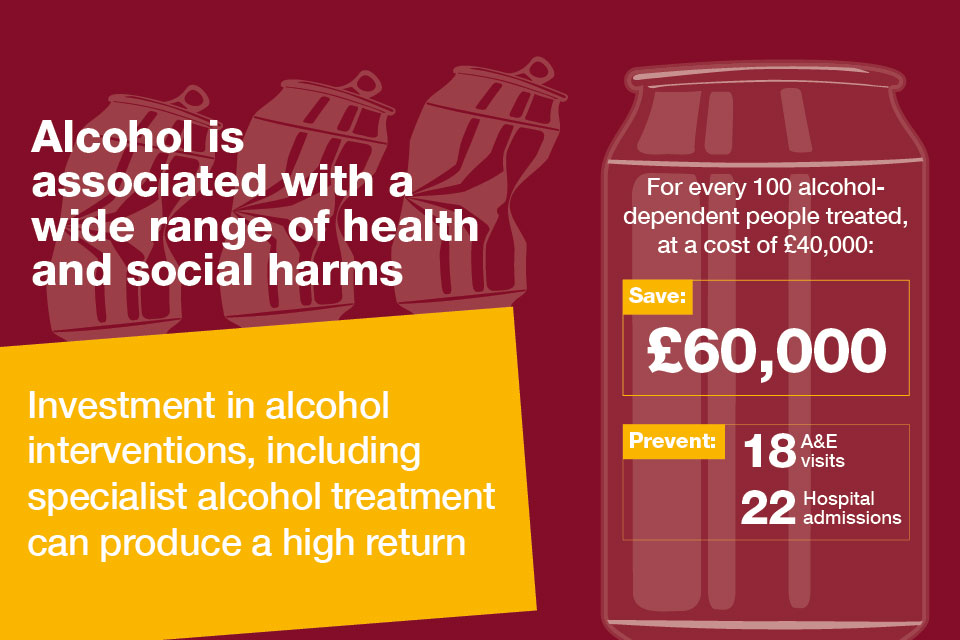 The Everyday Interactions measuring impact toolkit provides a quick, straightforward and easy way for healthcare professionals (HCPs) to record and measure their public health impact in a uniform and comparable way.
The alcohol impact pathway is recommended for healthcare professionals to record and measure actions undertaken as part of routine care which impact on adult obesity.
Guidance
NICE pathways set out a structured approach to identify alcohol-related harm through the use of risk factors, screening tools and effective interventions.
Alcohol-use disorders: prevention (PH24) is one of 3 pieces of NICE guidance addressing alcohol-related problems among people aged 10 years and older.
Alcohol-use disorders: diagnosis and management (QS11) covers the care of children (aged 10 to 15 years), young people (aged 16 to 17 years) and adults (aged 18 years and over) drinking in a harmful way and those with alcohol dependence.
Alcohol-use disorders: diagnosis, assessment and management of harmful drinking and alcohol dependence (CG115) is evidence-based advice on the diagnosis, assessment and management of harmful drinking and alcohol dependence in adults and in young people aged 10 to 17 years.
Alcohol-use disorders: diagnosis and management of physical complications (CG100) covers the care of adults and young people (aged 10 years and older) who have any physical health problems that are completely or partly caused by alcohol use.
Co-existing severe mental illness and substance misuse: community health and social care services (NG58) covers how to improve services for people aged 14 and above who have been diagnosed as having coexisting severe mental illness and substance misuse.