Yvonne Arnaud Theatre in Guildford and a house in Somerton Erleigh listed by Ed Vaizey
Culture Minister praises buildings as fine examples of post-war design.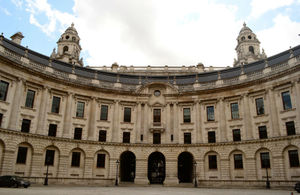 One of the first post-war provincial theatres to be funded by public subscription, the Yvonne Arnaud in Guildford, Surrey, has been listed Grade II by Culture Minister Ed Vaizey.
The Yvonne Arnaud theatre, named after a locally based actress who brought it to fruition, was designed and built in 1963-65 by John Brownrigg of Scott Brownrigg and Turner.
It has been listed in recognition of its design with a distinctive, sculptural form and exposed concrete structure, interesting plan, and auditorium which is of particular interest.
In addition, a private house in Somerset built in 1972-73 by the post-war architectural partnership Stout and Litchfield, Somerton Erleigh, has also been given Grade II listing.
Ed Vaizey has listed it in recognition of its special architectural interest illustrated in its unusual and intricate geometric plan, high-quality interior fittings, strong relationship with its landscape and the fact that it remains largely unaltered since it was first built.
"Both the Yvonne Arnaud theatre and Somerton Erleigh are fine examples of post-war design that showcase the architectural talents of the period in buildings designed for private and public use, and they clearly merit the extra layer of protection that listing provides," said Ed Vaizey.
Both listings follow expert advice from English Heritage.
Further information
Published 12 October 2012