Year of Code and £500,000 fund to inspire future tech experts launched
New £500,000 fund to train teachers in software coding, announced by Chancellor of the Exchequer and Education Secretary.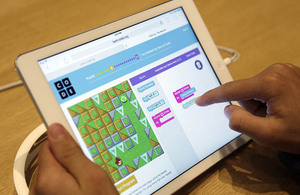 The Chancellor of the Exchequer and Education Secretary have today (Tuesday 4 February) announced a new £500,000 fund to train teachers in software coding, so our schools can inspire the next generation of tech entrepreneurs.
The government will provide match funding from industry and business, allowing new and existing teachers to be trained by the experts. This will equip schools to teach the new computing curriculum introduced this September and designed with input from the Royal Society of Engineering, and industry leaders such as Google and Microsoft.
Introducing children to skills like computing and coding from an early age is all part of the government's long term plan to ensure young people have the first class education they need to succeed, and make sure Britain leads the global race in innovation.
Today's funding announcement will be made as ministers launch the Year of Code, a campaign which will run throughout 2014 to get young people excited about the power and potential of computer science.
The Chancellor said:
Backing technology and making sure our children are equipped with the skills for the future is a key part of our economic plan.
We are already making Britain the place to start and grow a tech company. This year by introducing coding into the curriculum we are also making sure Britain is the place to learn to code.
And today we are announcing half a million in funding to allow teachers of the new computing curriculum to be trained by industry experts. In the 21st century, the ability to code and program a computer is no longer a nice-to-have, it's an essential.
Education Secretary, Michael Gove said:
The new computing curriculum will give our children the skills they need to succeed in the 21st century. That is why we replaced the obsolete and boring curriculum with one that is forward-thinking, modern, and drawn up by teachers, industry experts and leading technology firms.
I want IT firms, university computing departments and software developers to use this fund to share their knowledge with the next generation.
From this school year, expert computing organisations willing to provide 50 per cent of funding for projects to train teachers in delivering the new, more demanding computing curriculum, will be able to bid for match-funded grants.
The Year of Code campaign will see a series of events take place over the next 12 months to promote computing. It will include a week-long programme in March encouraging all schools to teach every pupil at least one hour of coding in that week.
Schools will start teaching the new computing curriculum in September, though some have already brought it in.
It replaces the old ICT programme of study, which focused on computer literacy, with more up–to–date content teaching children how to code, create programmes and understand how a computer works.
The programme was drawn up with teachers and experts including the British Computer Society (BCS) and the Royal Academy of Engineering, with input from Microsoft, Google and leaders in the computer games industry.
At the same time the government has put in place new systems to ensure teachers at primary and secondary level are equipped with the skills they need to teach the new curriculum.
These include:
providing the BCS with more than £2million to set up a network of 400 'Master Teachers' to train teachers in other schools and provide resources for use in the classroom
providing £1.1million to Computing at School help train primary teachers already working in the classroom – through online resources and in school workshops
increasing bursaries for those wanting to become computing teachers. Scholarships of £25,000 – backed by Microsoft, Google, IBM and Facebook – are being offered to computer science teachers
This latest initiative will complement the work already going on and has been backed by the computer industry.
Mike Warriner, UK Engineering Director at Google said:
The UK has a proud computing history but with more and more industries wanting computer scientists, coding has never been in more demand. It's great that teachers will be trained with the skills they need to teach children from a young age and hopefully inspire the next generation of developers and programmers.
We're passionate about this area too and we have already invested more than £1,000,000 over the last year to support organisations like Code Club, Teach First and the Raspberry Pi Foundation to help education experts bring computer science skills to more children in the UK.
Michel Van der Bel, Microsoft's UK Vice President said:
This is fantastic news for both teachers and pupils. As a long term partner to the education sector, we know how critical it is that we provide our teachers with the tools they need to deliver this new subject.
We're already helping teachers in a variety of ways. From the brand new "Switched On Computing" teaching materials through to our teacher training roadshow. I am confident that through this combination of funding, materials and activities, teachers will be hitting the ground running come September.
Further details on how to bid for grants from the fund will be released later this month.
Published 4 February 2014