News story
Wrexham construction contract signed
Construction work on a new prison in North Wales is set to be stepped up after the contract to build it was officially signed.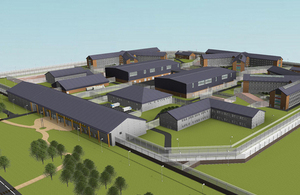 The Ministry of Justice signed the £156.9 million contract with Lend Lease as the project reached its latest key milestone.
The signing of the contract means that construction work can begin in earnest following months of preparatory work that has included levelling the site, erecting the secure perimeter fence and digging foundations for the first houseblock.
Prisons Minister Andrew Selous said:
I'm delighted that the contract has now been signed to signal the start of full construction works in Wrexham.

This prison will be a huge benefit to the estate and North Wales with the project set to boost the regional economy by around £23 million a year and create up to 1,000 jobs once operational.

Lend Lease have also committed to spend at least £30 million with local businesses during construction, and with £1.2 million already spent they are currently ahead of their target.
The estimated overall cost of the project is £212 million - substantially under the original £250 million estimate - and includes a design and construction cost of £156.9 million.
The prison will provide around 2,100 Category C places for male offenders from North Wales and North West England, including a small remand function serving the courts in North Wales. It will include places for education, 12 large workshop spaces, and resettlement functions, helping offenders who will be held closer to home reintegrate into their communities on release.
Wales Office Minister Alun Cairns said:
It's great news for Wrexham and Wales that the prison contract has been signed and construction can now get underway.

The prison will give a massive boost to the North Wales economy by creating hundreds of jobs and countless opportunities for local businesses in Wrexham and the surrounding areas.

This is a tangible example of the UK government's commitment to ensuring that Wales has world class infrastructure and is part of our long term plan to rebalance the economy. Strong public services need a strong economy.
Last month it was announced that the prison would be operated by HM Prison Service and recruitment for the project director has already begun. The director will work closely with the Welsh Government and the local health board to agree the education and health provision, before taking on the role of Governor as the prison starts taking prisoners from early 2017.
Published 26 March 2015